At present, the quarterback is the most glamorous position not only in NFL but in American sports.
Over the history of the game, many quarterbacks have left their legacy. But it takes something extraordinary to be considered among the greatest.
Speaking of greatest, everybody must have an idea Tom Brady is undisputed number 1.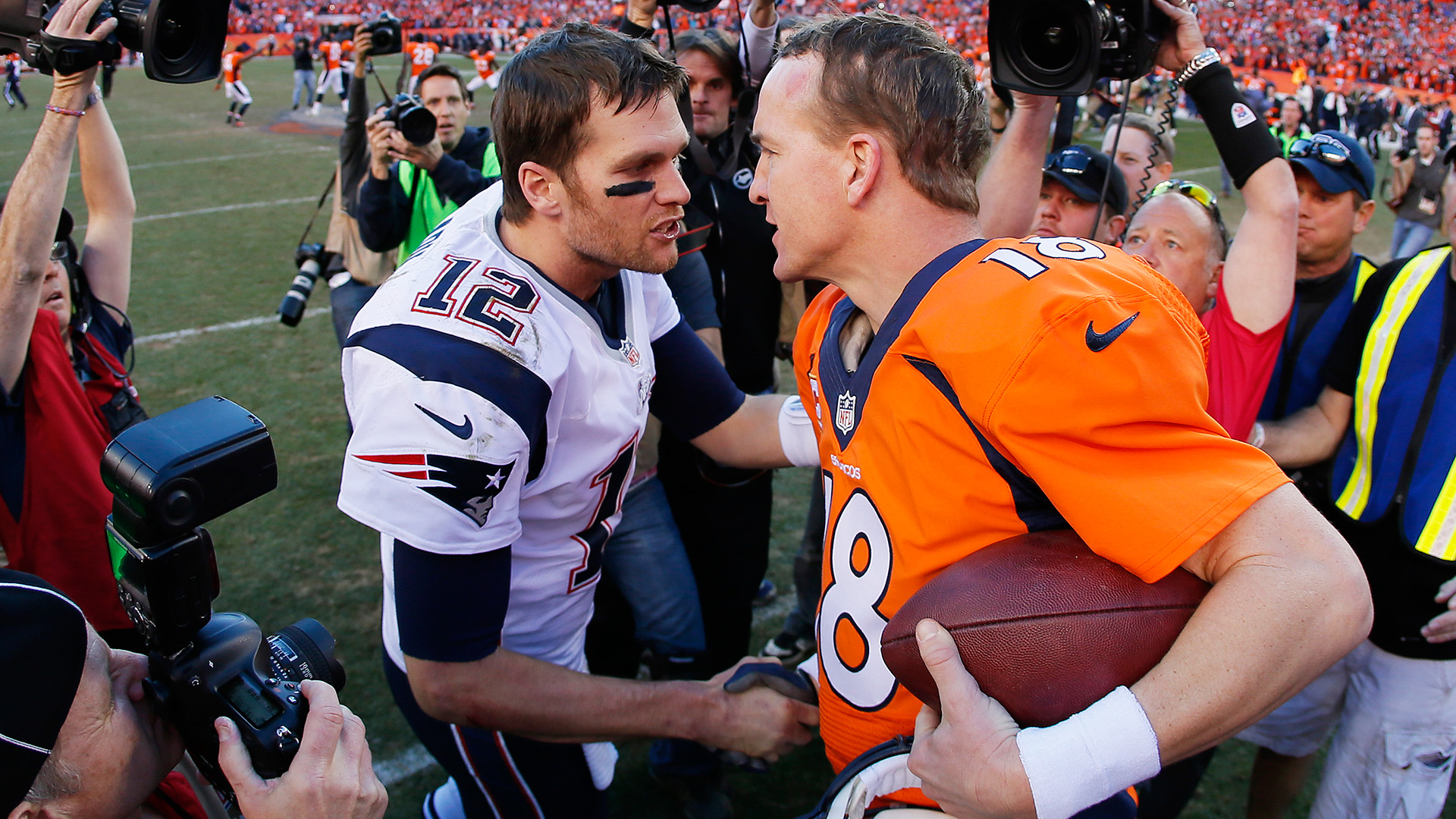 However, to find out who are other names on our top 10 greatest quarterbacks list, let's dive into our list quickly.
10. Roger Staubach
Dallas Cowboys
2x Super Bowl Champion
Career: 1969-1979
Roger Staubach is the most beloved quarterback of the Dallas Cowboys.
Former US Navy officer was nicknamed "Captain America" for being the quarterback of America's Team (Dallas Cowboys).
Likewise, for his scrambling ability, he was called "Roger Dodger" and "Captain Comeback" for his ability to pull out game-winning plays.
Losing 4 seasons serving in the Navy and ending his career with injuries, mainly concussions, slightly impacted his career.
Although not posting flashy career records, he had an incredibly successful NFL career enough to ranks him 10th.
During his 11 years as a pro, he made into Pro Bowl 6 times. Likewise, he helped the Cowboys to clinch victory in Super Bowl VI and XII. In addition, he won Finals MVP in Super Bowl VI.
Moreover, he is the fourth player to win both the Heisman Trophy and Super Bowl Finals MVP.
Furthermore, Roger Staubach is the class of 1985 Pro Football Hall of Fame inductee.
25 Famous Roger Staubach Quotes >>
9. Brett Favre
Atlanta Falcons, Green Bay Packers, New York Jets, Minnesota Vikings
1x Super Bowl Champion/ 3x NFL MVP
Career: 1991-2010
Brett Favre retired as one of the NFL's greatest. He was nicknamed The Gunslinger for his strong arms, swagger, and unpredictability.
He led NFL in passing yards, passing touchdowns, and quarterback win when he ended his career.
Favre recorded 71,838 yards, 508 touchdowns, and 196 wins over the course of 2 decades in the NFL.
His 297 (321 including playoffs) consecutive starts is an impressive NFL record itself.
Likewise, Favre is the lone quarterback to earn three successive NFL MVP awards. He also has won a record 4 NFL passing touchdown titles.
Furthermore, he is 11 time Pro Bowl and 3 times First-Team All-Pro. Favre's maiden Super Bowl championship came in Super Bowl XXXI with the Packers.
Top 10 Best Football Movies of All Time>>
8. John Elway
Denver Broncos
2x Super Bowl/ 1x NFL MVP
Career: 1983-1998
John Elway is the ultimate franchise player of the Denver Broncos.
He is well known for his running ability. Moreover, he is the only quarterback to complete a rushing touchdown in four Super Bowls.
Over his 16 years, Elway rushed for 3,407 yards and scored 33 touchdowns.
Likewise, he was clutch during playoffs, recording a fourth-quarter comeback four times and game-winning dives 6 times.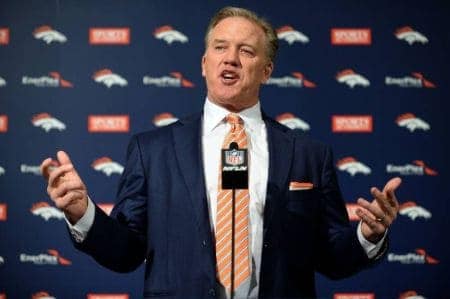 Moreover, the 1987 NFL MVP is the first quarterback to start in five Super Bowls. But he lost on the first 3 occasions, later winning the last two.
Elway ended his career with 300 touchdown passes, 226 interceptions, and 148 wins.
Importantly, he retired as second in passing yards and completions in NFL. In his career, he reached 51,475 yards and 4,123 completions.
Furthermore, he holds 33 franchise records of Broncos to date. Later, in 2004 Elway was inducted into the Pro Football Hall of Fame.
7. Aaron Rodgers
Green Bay Packers
1x Super Bowl Champion/ 3x NFL MVP
Career:2005- present
Aaron Rodgers is probably the most talented quarterback in NFL history. But he has not been quite successful in the postseason.
His only SuperBowl victory came in 2011 (Super Bowl XLV), where he earned MVP too. Besides, that Rodgers is also 3 times league MVP.
Furthermore, he has 3 First Team All-Pro and 9 Pro Bowl selections to his name.
But the truly exceptional skill of Rodgers is his passing accuracy. As a result, he holds many records in the NFL history book.
Rodgers's 1.35 interception percentage is the lowest in NFL history. In addition, he also holds the lowest interception percentage in a season with just 0.3.
He is the only quarterback to throw 300 and 400 touchdowns before tossing 100 interceptions. Moreover, he made 402 successive passes without interceptions.
His 103.9 career passer rating ranks third in NFL history, but he is the first to record a career passer rating over 100.
Aaron Rodgers Net Worth: Income, Investment & Charity >>
Likewise, before Patrick Mahomes came to the scene in NFL, he had the best touchdown to interceptions ratio with 4.63.
Rodgers is no doubt, one of the greatest quarterbacks in the NFL, and his playoffs records do not change it.
6. Dan Marino
Miami Dolphins
1x NFL MVP
Career-1983-1999
Dan Marino is probably the greatest quarterback to never win a Superbowl championship. That's the only reason he is ranked lower on our list.
He led the Dolphins to 10 playoffs and one final without a supporting cast. But could not win the coveted trophy in his career.
One thing he did better was evaluating the performance of his teammates.
During his MVP-winning season in 1984, he set many single-season records like 5,084 passing yards, 48 touchdown passes, 9 300 yards passing matches.
Talking of his accolades, he has 9 Pro Bowl, 3 First Team All-Pro selections to his name. Likewise, Marino led NFL in passing yards 5 times and passing touchdowns 3 times.
After retirement
Marino retired with nearly 40 NFL records, but most of the mare already broken.
When he retired, he held career records like most passing attempts and completion with 8,358 and 4,967.
Likewise, he also had records for 61,361 passing yards and 420 career touchdown passes.
Moreover, he is the first quarterback to complete 50,000 and 60,000 passing yards and to hit 400 touchdown passes.
Dan Marino is a 2005 class Pro Football Hall of Fame inductee.
Top 20 Richest Soccer Players in the World >>
5. Drew Brees
San Diego Chargers, New Orleans Saints
1x Super Bowl Champion
Career: 2001-2020
One of the prolific passers in NFL history has to be Drew Brees. But, unfortunately, the future Hall of Famer retired recently after the end of the 2020/21 season.
Statistically, he is probably the most dominant quarterback ever. He didn't have strong-arm or athleticism, but one thing he did was produce every year.
Brees ended his career with 80,358 passing yards, 7,142 completions, an NFL record for the respective category.
He is also the NFL leader for most successive matches, with a touchdown pass lasting 54 games.
Brees holds a league record of 7 times passing yard leader and 4 times passing touchdown leader.
Likewise, Brees led the league in passer rating 2 times and completion percentage 6 times.
Drew Brees Net Worth: Cars, Contract & Endorsements >>
After joining Saints in 2006, he led them to their only Super Bowl title in 2009. Later he won Finals MVP but failed to earn NFL MVP in his career.
Furthermore, he is 2 times NFL Offensive Player of the Year and has 13 Pro Bowl selections.
4. Johnny Unitas
Pittsburgh Steelers, Baltimore Colts, San Diego Chargers
1x Super Bowl Champion/ 2x NFL MVP
Career: 1955-1973
Johnny Unitas is a revolutionary figure in NFL, popularizing and helping to put the game on the map.
Unitas is known as the "Golden Arm" and a prototype of a modern-day quarterback.
Moreover, he probably threw the most catchable football, leading one of the most deadly passing offenses in NFL history.
Likewise, long before Joe Montana, Unitas already exemplified calm traits .
Besides it, he showed exceptional leadership qualities making his teammates believe in victory. As a leader, he always prioritized moving the ball, scoring points, and winning the game.
As 9th round pick Unitas claimed one Super Bowl, 3 NFL Championship, and 3 NFL MVP. Likewise, he made it into 5 First-Team All-Pro.
Unitas retired with several NFL records; most of his records are already surpassed. For example, he held the record for most Pro Bowl selection by a quarterback with 10 appearances.
Likewise, also had a record for the most successive game with a touchdown pass with 47 games.
Johnny Unitas is a 1979 class Pro Football Hall of Fame inductee.
3. Peyton Manning
Indianapolis Colts, Denver Broncos
2x Super Bowl Champion/ 5x NFL MVP
Career:1998-2015
If someone wants to develop a perfect quarterback in the lab, the first thing one would hand him will be Peyton Manning's brain.
Throughout his career, Mannings made offensive line task simple by avoiding pressures. As a result, he is one of the best quarterbacks in the NFL; his record 5 NFL MVP awards proves why.
Furthermore, Mannings is a two-time Superbowl champion. Similarly, he is the first quarterback to win 200 career games in NFL as a starter.
He is also 7 times All-Pro, 2 times Offensive Player of the Year, 14 Pro Bowl selections under his resume.
Manning surely holds the NFL record for most passing touchdowns and passing yards in a single season with 55 touchdowns and 5,477 passing yards.
Likewise, his career 71,940 passing yards and 539 touchdowns rank third in the respective category.
On 8th August 2021, Mannings will be inducted into the Pro Football Hall of Fame.
Top 10 Best NBA Players of All Time>>
2. Joe Montana
San Fransico 49ers, Kansas City Chiefs
4x Super Bowl Champion, 2x NFL MVP
Career: 1979-1994
Joe Montano was considered the greatest quarterback until Tom Brady won his fifth and sixth title.
He earned himself the nickname Joe Cool for his calmness even under pressure situations.
Montana always delivered when his team needed him. In his career, he helped his side to 32 4th quarter victories coming from behind.
Likewise, Montana won all the Super Bowl he played. Similarly, he was named Super Bowl Finals MVP three times out of four.
Montana 122 passes in four games without interceptions and a passer rating of 127.8 is the NFL Super Bowl record yet to be broken.
He was named NFL MVP in 1989 and 1990. Likewise, he is 2 two-time NFL passer rating leader and an NFL passing touchdown leader.
Similarly, he led the league in NFL completion percentage 5 times.
Montana ended his career with 8 Pro Bowl and 3 First-team All-Pro selections. Later, in 2000 he was enshrined into the Pro Football Hall of Fame.
1. Tom Brady
New England Patriots, Tampa BayBuccaneers
7x Super Bowl Champion/ 3x NFL MVP
Career-2000- present
The number 1 spot on our 'best quarterbacks ever' list is taken by the goat Tom Brady. The 199th overall pick is the greatest winner NFL has ever seen.
Joe Montana himself declared Tom Brady as the greatest NFL player of all time. That's the fact nobody denies.
Tom Brady Net Worth: Lifestyle, Charity & Endorsement >>
Nobody has matched his 7 Super Bowl Championship and 5 Super Bowl Finals MVP. Moreover, after winning his 3rd NFL MVP at the age of 40, Brady became the oldest MVP in NFL history.
Furthermore, the records hold by Brady are ridiculous. He is the only quarterback to feature in two All-Decades teams.
In his whole career, he never had a losing season. Likewise, he holds quarterback record for mot Pro Bowl selection with 14.
Brady's 91,653 passing yards and 664 touchdown passes are the most by any quarterback in NFL history.
Similarly, he has won 264 games, played in 364 matches, and started 344 of those. Thus, he is a leader in all of that respective categories by a quarterback.
The whole book can be written just related to the records held by Tom Brady. At the age of 43 also, he is going strong without showing signs of slowing down.
<<<Best Running Backs Cleats From Nike and Adidas>>>
Tom Brady is a dominant and verified champion. There was not and will not be an American footballer like him.
Summary
Ranking the quarterback is probably a difficult task comparing other positions. Some notable names miss out, but they would appear on others' top 10 lists.
Let's look at a quick summary before ending our article.
Tom Brady
Joe Montano
Peyton Manning
Johnny Unitas
Aaron Rodgers
John Elway
Brett Favre
Roger Staubach