The Serbian Giant Marko Gudurić is a hot topic in the Turkish Basketball League. Marko plays for the renowned Fenerbahçe and even represents the senior Serbian National Basketball.
Additionally, he was a prodigy at the Crvena Zvezda Belgrade youth system. It's where he started his journey in a shooting guard position.
Further, Marko Gudurić left a legacy on Zvezda after returning to the club in 2015 and completing two seasons with them.
Additionally, he demonstrated his exceptional skillset on his Euro League debut with Zvezda. Furthermore, Marko Gudurić is twice the number of Serbian and Adriatic league titles.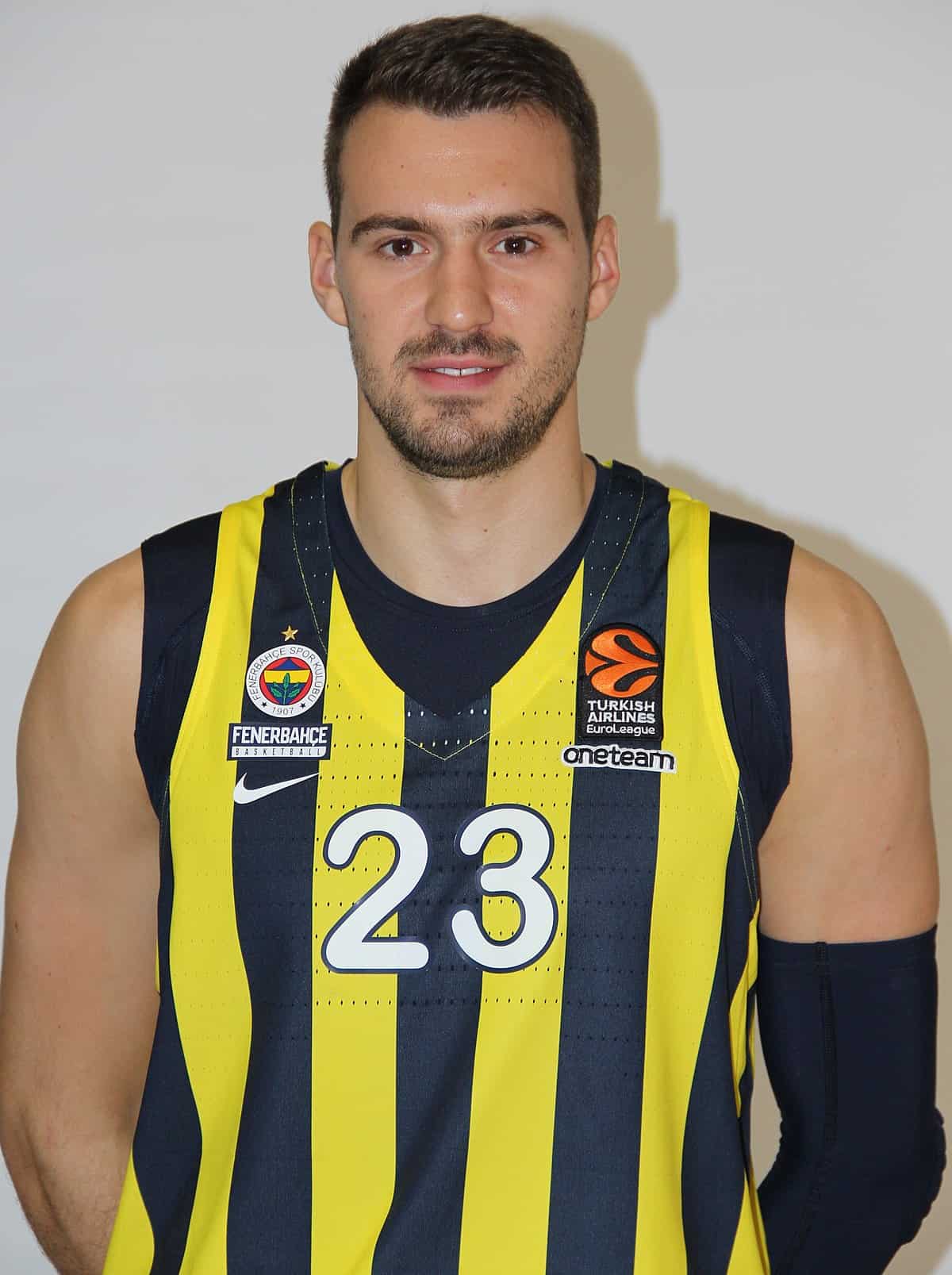 Further, Marko also led Fenerbahçe to win the Turkish Championship in 2018 and Turkish Cup in 2019.
Additionally, he won the Serbian Cup with his team and was named the MVP of the tournament.
Marko Gudurić

| Quick Facts
Name
Marko Gudurić (Марко Гудурић)
Profession
Basketball player
Team
Fenerbahçe
Position
Shooting guard
Debut team
Crvena Zvezda
Birthdate
March 8, 1995
Age
28 Years Old
Body type
Athletic
Zodiac sign
Pisces
Hair Color
Black
Eye color
Brown
Skin type
Fair
Birthplace
Priboj, Serbia
Nationality
Serbian
Height
6 feet 6 inches(198 cm)
Weight
91 kg(201 lb)
Build
Athletic
Relationship status
In a relationship
Affiliated teams
Crvena Zvezda
FMP
Fenerbahçe
Memphis Grizzlies
Serbian National team
Net worth
$8 million
Social media
Instagram
Merch
Fenerbahce Jersey, Fenerbahce Poster
Last Update
June, 2023
Marko Gudurić

|

Early Life – Growing Up In Terror

Marko Gudurić grew up in the mountain town of Priboj, Serbia. He was born on March 8, 1995.

As a kid, he used to play Basketball outdoors with his friends. However, his childhood was marked by terror. Nonetheless, it was what drove him toward his dreams.

Marko's hometown was under strike by NATO for three months in 1999. The attacks were thought of as ethnic cleansing of the Albanians. Not to mention, it led to the death of 537 civilians.

Marko Gudurić recalls that his childhood was difficult because of such terror attacks.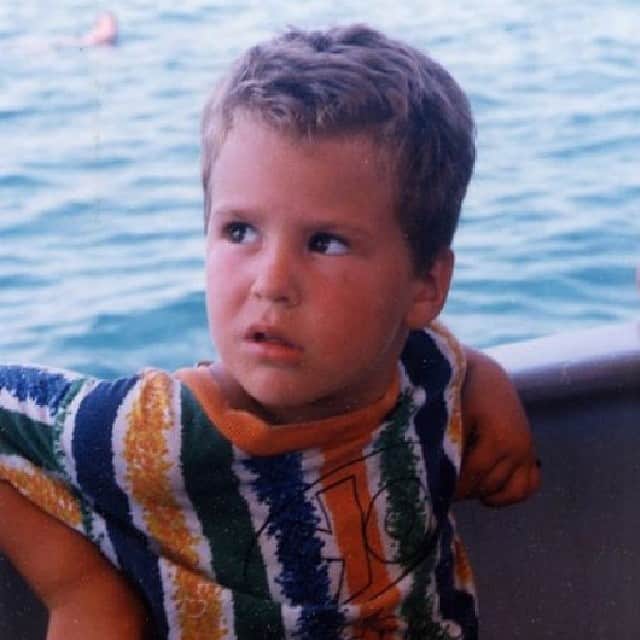 Besides, he explains. Basketball was a big sport in Serbia. Further, he adds that the game got bigger after Yugoslavia "Current Serbia" won 81-78 against the U.S.
The team goes on to progress through the quarterfinals during the world championship.
Moreover, the victory brought pride to Marko's country despite the geopolitical turbulence. Amid all the chaos, several other people celebrated the victory in Belgrade.
After he turned 15, Marko Gudurić and his family settled in Belgrade, the capital of Serbia.
Further, he joined Crvena Zvezda at the age of 18. Additionally, he participates in the 2017 Euro League with elite Turkish teams.
Marko Gudurić

|

Personal Life, Relationship & Parents

As a sports professional, Markos does not seem to prefer the limelight. Additionally, he has not shared any personal information with the media due to his painful past.

Nonetheless, Markos keeps his fans updated regarding his family and relationship. He has shared numerous photos of his long-time girlfriend on Instagram.

However, despite being in a relationship for a long time, Markos has not revealed her name yet.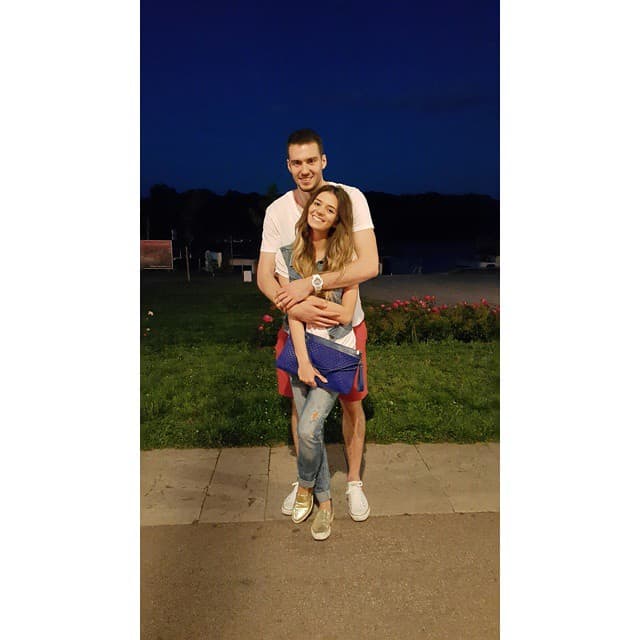 Similarly, regarding his family, not much information is available to the media and the fans.
But Markos did upload pictures of his family on Instagram in recent times. However, his parents' names are still not disclosed due to personal reasons.
You might also like to read about Ben Hansbrough's Bio: Wife, Net Worth, Basketball Career & Real Estate >>
Marko Gudurić

|

Professional Career
Crvena Zvezda
In April 2013, Marko Gudurić signed with Crvena Zvezda and started his youth career in the team. Consequently, he played two seasons with FMP, which is Crvena Zvezda's development team.
Furthermore, Marko re-signed a four-year contract with Crvena Zvezda on September 30, 2015. He made his professional debut in the Euro League on October 15, 2015, against SIG Basket.
He recorded four assists, six points, four steals, and three rebounds during the match.
Besides, the dunk he made against Real Madrid on November 27, 2015, is one of his career's best moments.
The crucial dunk gave his team a +4 lead a minute before the game ended. Further, Marko Gudurić played against Bayern Munich to qualify for the TOP 16 of the Euro League.
The match took place on December 18, 2015. Marko recorded 16 points in a fantastic comeback in Pionir hall during the game.
Moreover, he records a 3-point buzzer-beater in a match against Partizan.
The match ended with a 86-87 win for the Zvezda on July 5, 2016. Besides, Marko Gudurić began his sophomore season with a victory against FC Barcelona Lassa.
With Fenerbahçe
After his stint at Zvezda, Marko signed a four-year contract with Fenerbahçe on July 14, 2017. Guduric led his team to the Final Four of the 2018 Euro League.
It was the club's fourth consecutive time reaching the final four.
However, Fenerbahçe lost 80-85 against Real Madrid in the final game. Further, he was in his best form at the club.
Fenerbahçe recorded 1.6 rebounds, 6.7 points, and 1.9 assists per game over 36 Euro League games.
Besides, Fenerbahçe reached the finals for the fifth consecutive time. It led Fenerbahçe to name Marko the most valuable roster piece by the 2018-2019 season.
However, the team loses the semifinals at the 2019 Euro League against Anadolu Efes.
Marko Gudurić recorded 2.2 assists per game, a career-high 9.4 points, and a shooting 47.7% three-point field goals.
Moreover, Fenerbahçe faces a crushing defeat in the Turkish League Championship.
Memphis Grizzlies
His time with Fenerbahçe did not last long as he signed a two-year contract with Memphis Grizzles on July 31, 2019. The agreement was worth $5.4 million.
After winning the Turkish League Trophies and Turkish Cup with Fenerbahce, Marko set his sight overseas.
Gudurić made his debut for the Grizzlies in NBA on October 23, 2019. He came off the bench and recorded rebounds, nine points, and two assists.
Marko made 25 appearances out of 44 games during his rookie year in the NBA. Besides, he records 1.7 rebounds and 3.9 rebounds per game.
However, the Grizzlies thought he was an ideal choice and waved him on December 15, 2020.
Swinging and missing with Marko Gudurić
Like the saying, sometimes you hit home runs, and sometimes you swing and miss. Unfortunately, it was a miss with Marko Gudurić for the Grizzlies.
The team thought Marko was a miss, which the team could afford.
The Memphis Grizzlies signed Marko Gudurić from the Euro League as a promising player. Further, his 3-point percentage caught the team's eye during Marko's season overseas.
It led Xach Kleiman, EVP of Basketball Operations at Grizzlies praise his skill set. He described Marko Gudurić as a player who can control and defend at the same time.
Additionally, Xach stated that Marko is a high player, which led him to bring Marko on the team roaster.
The Grizzlies hoped Marko Gudurić would become an international steal like Rudy Fernandez and Joe Ingles. However, they ended up comparing him to Casey Jacobsen.
According to the Grizzlies, Marko's style of play did not work well with the team. Additionally, they describe it as perplexing.
Nonetheless, he was praised in comparison to the overseas project Rade Zagorac. Gudurić was able to pull off flashy moves during the NBA game.
His excellent moves in the game were his drives toward the rim and hitting a Harden-Esque stepback jumper.
Further, his crossing over Shai Gilgeous Alexander was regarded as exceptional.
However, Marko's turnover percentage and inability to hit outside jumpers took him out of the team.
Consequently, it led to his fall and Marko as an afterthought for the Grizzlies regarding their team roster construction.
His best at the Grizzlies
Marko performed his best in 3 out of 9 games with the Grizzlies.
Further, he was able to achieve the following records:
11/06 – Minnesota: 4 assists, 7 points, 3-5 shooting (1-1 from 3), 4 rebounds, +9

11/09 – Dallas: 4 assists, 14 points, 2 steals, 3 rebounds, 5-9 shooting (1-2 from 3), -4

11/13 – Charlotte: 6-9 shooting (4-6 from 3), 17 points, +5
During the stretch of these games, Marko Gudurić demonstrated traits that got him into the Grizzlies.
Additionally, he exceptionally created space and dribbled past opponents with ease.
Besides, Marko served the team as a secondary playmaker who kept the ball moving.
Marko could have found his confidence if his form had lasted longer. Besides, the team would have kept him in the rotation.
His worst at the Grizzlies
His stint at the Grizzlies was somewhat challenging for Marko. His outshot started to disappear for someone who used to hit 3s before joining the NBA. It ultimately played an essential part in his confidence.
Marko's lack of confidence was evident during his game. Further, Marko was hesitant to let 3's fly. Besides, he could not add in more shuts with a consistent rhythm.
Due to his inconsistency, Marko permanently fell out of the club's rotation on December 16.
It led him to play sporadic garbage time minutes for the team. Mark was never a regular starter for the rest of the season.
Marko Gudurić worst game by the score are as follows:
11/15 – Utah: 0-6 shooting (0-4 from 3), 0 points, 1 turnover in 12 minutes, 2 fouls

11/19 – Golden State – 2 fouls, 0 points, 2 turnovers in 6 minutes

1/26 – Phoenix – 2 turnovers in 5 minutes, 0 points
What's Next for Marko Gudurić?
The Grizzlies describe Gudurić as a calculated risk. Also, the club explained that he did not cost much and was not looking forward to paying him.
Besides, Marko possessed an intriguing skill set essential to rebuild the team. The Grizzlies were hoping they could fit Marko on the franchise cornerstones.
Marko could have joined the team alongside Jaren Jackson Jr and Ja Morant. Mark was seen as a knockdown shooter at the start of his NBA career.
However, other players could make ground on him on the team rotation.
Besides, the club had to pay Marko for another year's guaranteed money.
However, as witnessed by Dion Walters and Miles Plumlee's departure. The Grizzlies did not mind cutting ties with Marko.
The Grizzlies were looking forward to offering him to an exciting club at a lower price. On the other hand, they looked forward to a potential trade similar to Kyle Anderson and Gorgui Dieng.
On the other hand, the Grizzlies even looked for potential ways to rekindle Marko's shooting touch.
You might also like to read about DeAndre's Bembry Bio: Basketball Career, Family Tragedy & Contract >>
Fenerbahce welcomes back Marko Gudurić
After spending a season with Memphis Grizzlies in the NBA, Marko made his return to Fenerbahçe. He was signed with the club from 2017 to the end of 2019.
Further, Markos has signed a contract worth 2.5 million with Fenerbahçe. The agreement will last until the end of the 2022-2023 season.
His stint at the Grizzlies was not fruitful, as anticipated by many pundits. Nonetheless, Marko could average 3.9 PPG on .395/.301/.923 shooting in 11.0 minutes per contest.
Additionally, Markos helped his struggling team to a perfect start in the 2020-21 Turkish Airlines Euro League season.
After returning to Turkey, he talks with Eurohoops about how things did not work out for him. Markos left the club despite having his second year left on his contract.
Further, Markos and Mario Henzonja were two players among the 17 who departed from the Grizzlies.
Marko explains that it's all in the past and looks forward to working with Fenerbahçe.
Additionally, he is one of the participants in the Euro League Final Four for Fenerbahçe. Besides, coach Kokosokov believes Markos is an excellent addition to his roster.
Furthermore, Markos put an excellent performance against ALBA Berlin in Round 25. He records a rebound, 12 points, a steal, and four assists during his win against the opponent.
Analysis
Marko Gudurić has made a ten-start for Fenerbahçe this season. Besides, he looks forward to being a productive part of the team. Also, he has scored in each of his last four matches.
Further, Markos has shot 44.9 percent from the three-point range and 51.1 percent from the field. Thus, he is in good form with a decent stat that speaks volumes.
National Team Career
Marko Gudurić represented Serbia during the EuroBasket 2017. Additionally, he won a silver medal for his performance. However, his team loses the final game against Slovenia.
Moreover, Serbia was considered the favorite to win the 2019 FIBA Basketball World Cup.
Unfortunately, Serbia goes on to lose against Argentina in the quarterfinals.
Nonetheless, they finished in fifth place with wins over the Czech Republic and the United States.
Further, Markos accumulated 1.1 rebounds, 5.6 points, and 1.1 assists over seven tournament games.
You might also like to read about Troy Brown Jr. Bio: Basketball Career, Family, NBA & Net Worth >>
Career Highlights
He joined Crvena Zvezda Belgrade (Serbia) juniors.

Markos was a starter for FMP Zeleznik during the 2013-14 season.

He was a part of Zeleznik's team in the 2014-15 championship.

Markos signs for the Crvena Zvezda Belgrade in the 2015-16 season.

He Started for the Zvezda in the 2016-17 championship.

Markos joined Fenerbahçe for the 2017-18 season.

He played with Fenerbahçe during the 2018-19 championship.

He signed with Memphis Grizzlies in the 2019-20 season Memphis Grizzlies.

Made his return back to Fenerbahçe.
Miscellaneous
Serbian National Championship with Crvena Zvezda Belgrade (2015-16 and 2016-17).

Turkish National Championship with Fenerbahce Istanbul (2017-18).

Serbian National Cup with Crvena Zvezda Belgrade (2017).

Turkish National Cup with Fenerbahce Istanbul(2019).

Adriatic League with Crvena Zvezda Belgrade (2016 and 2017).

Gold medal (2015 European U-20 Championship).

Silver medal (2017 European Championship).
Marko Gudurić

|

Age, Height & Weight

Guduric is one of the most exceptional players Serbia has to offer. At 25, his ability to control the ball and speed is unrivaled in the Euro League.

Additionally, his immense physical stature has helped him dominate the game.

He currently stands at 6 feet 5 inches and weighs around 91 kg. Further, he keeps himself in top form as a professional basketball player.

Besides, he is known for his rigorous gym routine and strict diet to maintain his form.
Marko Gudurić

|

Salary & Net worth

As a famous basketball player, Marko is popular and has earned immense respect from fans and clubs.

Besides, he has been a part of elite clubs in the world of basketball. Further, Marko was offered an annual $2,625,000 salary during his time with the Grizzlies.

Moreover, his stint at Fenerbahçe has also earned him a hefty salary. Markos's estimated net worth as of 2021 stands at around $8 million.
Marko Gudurić

|

Social Media Presence

Marko receives love and support from fans from all over the world. Besides, he is an inspirational figure in Serbia.

So, the local fans show him a tremendous amount of respect and gratitude.

Instagram – 99.8k Followers
Queries on Marko Gudurić
Is Marko Gudurić married?
No, he is not married, but he is in a relationship with his longtime girlfriend.
Did Marko play for the Memphis Grizzlies?
Yes, Marko played for the Grizzlies after a spectacular season with Fenerbahçe.
Why did Marko Gudurić leave Memphis Grizzlies?
Marko left the Grizzlies because his style of play did not match the team's strategy.
What is Marko Gudurić's Fenerbahce statistic like?
Marko Guduruc maintains the Fenerbahce statistics of 3.9 points, 3.9 free throw percentage, and 30.1 three-pointers. Moving on, he has 1.7 rebounds, 1.0 assists, 0.3steals, 0.2 blocked shots, and 0.8 turnovers.
Does he have any children?
No, he does not have any children; Marko is currently unmarried.