Most people believe that if a player doesn't get drafted, his NBA career is over. However, this is proved wrong by former NBA player Matt Carroll.
Matt was never drafted in NBA but still managed to become one of the prominent players in the NBA. The player dedicated his ten years to play in NBA, debuting in 2003 and retiring in 2013.
The shooting guard started his NBA career with Portland Trail Blazers and played for several other teams such as San Antonio Spurs, Charlotte Bobcats, and New Orleans Hornets.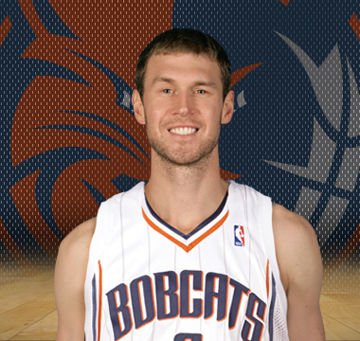 Before debuting in the NBA, Matt was already a basketball star who played in the National Team for the USA.
This article will look a little deeper into Matt Carroll's early life, financial worth, professional career, and personal life.
Before that, let's take a look at his quick facts.
Quick Facts
Full Name
Matthew John Carroll
Name
Matt Carroll
Nick Name
Matt
Date of Birth
August 28, 1980
Age
42 years old
Birth Place
Pittsburgh, Pennsylvania
Nationality
American
Ethnicity
White
Zodiac Sign
Virgo
Height
6'6″ (1.98 m)
Weight
212 lb (96 kg)
Hair Color
Brown
Eye Color
Brown
Father's Name
John Carroll
Mother's Name
Not available
Siblings
One brother; Pat Carroll
High School
Hatboro-Horsham High School
Education
Graduate
University
University of Notre Dame
Marital Status
Married
Wife
Melanie Carroll
Marriage Year
2005
Children
Four; Matty, Charlotte, Nicholas, and Rosalie Carroll
Profession
Former NBA Player
Position
Shooting guard
Leagues
National Basketball Association (NBA)
NBA Draft
Undrafted
Debut Year
2003
Retirement
2013
Playing Teams

Portland Trail Blazers
Roanoke Dazzle
San Antonio Spurs
Roanoke Dazzle
Charlotte Bobcats
Dallas Mavericks

International Award

Gold at 1998 FIBA Americas U1 Championship
Silver at 199 U19 World Championship

Awards and achievements

NBA D-League MVP in 2005
First-team All-Big East in 2003
Two times Mr. Basketball.

Net Worth
$1-$5 million
Social Media
Twitter
Merch
Basketball Trading Card
Last Update
March 2023
Matt Carroll | Early Life
Matthew John Carroll was born on August 28, 1980, in the city of Pittsburgh, Pennsylvania. He is the son of John Carroll (father). Unfortunately, his mother's whereabouts are unknown.
Furthermore, he has a brother, Pat Carroll, who is also a basketball player at Saint Joseph's University.
Sadly, there are no details on the childhood and family of Matt Carroll. But it is known that Matt had a passion for basketball since his childhood and started playing it from an early age.
Based on how both sons are basketball players, it can be said that Carroll's parents were supportive of them despite which career path they chose.
For education, Matt attended Hatboro-Horsham High School and graduated from the University of Notre Dame in 2003.
Age, Height & Weight
Matt Carroll was born in 1986, which makes him [calculate years datestring="08/28/1980″] years old. People born in August are Virgo.
Furthermore, Matt was born in Pittsburgh, Pennsylvania, and identifies himself as an American of white ethnicity.
Also, Carroll is 6 feet 6 inches (1.98 meters) tall and weighs around 212 pounds (96 kg). He has a physically healthy and athletic physique.
You may like reading about Ryan Hollins Bio: NBA & Net Worth>>>
Matt Carroll | Early Career
Matt was a famous basketball player in his high school, as he was a record-breaking senior shooting guard.
He finished his high school career with the second-highest scoring total in the history of southeastern Pennsylvania.
Also, Matt was just behind former Los Angeles Lakers player Kobe Bryant in the state's history.
Furthermore, Carroll surpassed Bryant by being the first and only player from Pennsylvania to be crowned Mr. Basketball twice.
Making to the United States Junior National Team
Carroll's talent was recognized by basketball experts around the country, who picked him for the United States Junior National Team twice.
When Carroll was selected, he was teamed with professional players to play matches against the Dominican Republic and Portugal teams in 1998 and 1999, respectively.
Apart from being a member of the United States junior national team, Carroll has also made it into the lineups of prep all-star games such as the Magic Johnson Roundball Classic.
Becoming the University Basketball Star
Carroll enrolled at the University of Notre Dame where he was a prominent player in the college basketball team. He ranked sixth on Notre Dame's all-time top scorer's list.
Apart from this, Carroll is also Notre Dame's second-best all-time performer in three-point field goals made and ranked second in free throw percentage.
Furthermore, he was chosen to the Associated Press All-American Honorable Mention Team and the All-Big East First Team team in his senior year.
Matt Carroll | Professional Career
NBA Draft
Matt Carroll was already a basketball star even before starting his professional career. Everyone had high hopes for Matt when he entered the 2003 NBA draft.
But unfortunately, Carroll went undrafted. However, just because he was undrafted doesn't mean that it was the end of his NBA career.
Carroll became a free agent and signed with the New York Knicks, with whom he had played in their summer league.
Furthermore, he spent the 2003–04 training camp with the Knicks and was one of the team's final cuts to join the professional team.
On November 7, 2003, Carroll signed as a free agent with the Portland Trail Blazers, and he participated in 13 games with them.
After a year, Carroll joined the Roanoke Dazzle of the NBA Development League. He later joined the Spurs.
Carroll re-signed with the Roanoke Dazzle on December 11, after a successful season with the team, earning him the NBADL Most Valuable Player title.
Also, he was the most among all scorers in the NBADL. In January, Carroll scored a season-high point and was awarded NBADL Player of the Month.
However, Carroll had a lot of change in his teams, and he played for several teams such as Charlotte Bobcats, Dallas Mavericks, New Orleans Hornets, etc., before professionally retiring in 2013.
Why did Matt Carroll Retire from the NBA?
Matt Carroll officially retired in 2013, ending his ten-year-long NBA career. Bobcats traded the shooter to the Hornets, due to which he could not play much in his 2012/13 season.
He had a lot of team change which had a huge impact on his career as a whole. After being traded several times, there was a rumor that Carroll showed a lack of interest in playing.
However, Matt addressed this rumor, saying that he initially did not want to retire early, but he feels sad about retiring as he has been playing basketball for his entire life.
Furthermore, he added saying that life without basketball for him is like a fish without water and thus, wanted to stay connected to basketball by any means.
Thus, even after retiring as an NBA player, Carroll has been working as a basketball coach for the Sixers. He coached Brett Brown.
Currently, he is the director of player programs and analyst for the Hornets.
Read about Josh Magette Bio: Early life, Stats, NBA, Awards &Net Worth>>>
Matt Carroll | Awards and Achievements
NBA D-League MVP in 2005
NBADL Player of the Month
First-team All-Big East in 2003
Two times Mr. Basketball.
Gold at 1998 FIBA Americas U1 Championship
Silver at 199 U19 World Championship
Matt Carroll | Wife and Children
Matt Carroll is married to Melanie Carroll. The couple married in 2005 and are blessed with four children; Matty, Charlotte, Nicholas, and Rosalie Caroll.
Though not much information about them is available, it is sure that Carroll has a happy family and loves his wife and children so much.
Even in his Twitter bio, he has introduced himself as the father of four.
Social Media Presence
Matt Carroll maintains a strong presence on social media, especially on Twitter. He does not use any other social media apart from it.
Also, Carroll has verified a Twitter account with thousands of followers. He posts regular updates on what is going on in his personal and professional life.
Apart from that, he is vocal about his opinions and thoughts, which he openly shares on his Twitter.
For a glimpse into Matt's personal and professional life, make sure you follow him on Twitter.
You may also like reading about Troy Williams Bio: NBA & Net Worth>>>
Matt Carroll | Net Worth and Salary
The net worth of Matt Carroll is estimated to be anywhere between $1 million to $5 million. His net worth is derived from his primary profession as an NBA player.
The athlete signed a rookie deal with the Portland Trail Blazers for $349,032. Then he signed a deal with the Charlotte Hornets for $1,100,000 (2005), $1,188,000 (2006) and $5,450,000 (2005).
Furthermore, Carroll signed his career's most expensive deal with Dallas Mavericks worth $5,050,000 in 2008.
Thus, the player earned millions of dollars being an NBA player playing for different teams.
It's unknown how much Carroll earned as a coach and sports analyst, but based on his expertise and experience, he probably made good fortunes out of them as well.
Frequently Asked Questions (FAQS)
Does Matt Carroll play football as well?
No, Matt Carroll does not play football. The player has dedicated his whole life to basketball and is a former NBA player.
Not to be confused with Matt Corrall, who is an American Football quarterback.
Why was Matt Carroll not drafted in NBA?
Despite having a stellar college career, Matt was not drafted into NBA. There is no exact reason why but people believe that it may be because he rushed to enter the draft without any preparation.
What are the overall NBA statistics of Matt Carroll?
In his NBA career, Matt Carroll played 518 games with an average of 1.9 rebounds, 0.5 steals, 0.7 assists, 0.1 blocks, 6.6 points per game.
Overall, he has scored 3013 points, 863 rebounds, and 313 assists.