Matt Serra, aka "The Terror," is a professional Mixed Martial Arts wrestler who has made a good UFC name.
He is also a former UFC Welterweight Champion and was ranked #1 with a record of 14-4-0 between 2008 and 2009.
Similarly, in 1999 Matt won a gold medal in Purple Belt Medio. Aside from that, in 2018, he was inducted into the UFC Hall of Fame.
We can easily guess how big of a name Matt is in MMA and UFC. He has made a name, reputation, and fame for himself.
Similarly, he has become an inspiration to many aspiring wrestlers, boxers, and other individuals.
Today, along with his professional career in UFC, we will discuss his age, early life, personal life, and many more.
But first, let us have an instant look at the quick facts.
Quick Facts:
Name
Matthew John Serra
Birthplace
East Meadow, New York, United States
Birthdate
June 2, 1974
Age
49 years old
Nationality
American
Ethnicity
Italian-American
Religion
Unknown
Nickname
The Terror
Height
5'6″/1.68 m
Weight
77 kg/170 lb
Hair Color
Bald
Eye Color
Dark Brown
Profession
Mixed Martial Artist
Affiliation
UFC
Team
Serra Jiu-Jitsu
Rank
4th-degree black belt in Brazillian Jiu-Jitsu
MMA debut
1991
MMA win-loss record
11-7
Sibling
4
Father Name
Janice Serra
Mother Name
Unknown
Style
BJJ, Wrestling, Boxing
Reach
173 cm
Fighting Out of
East Meadow, New York
Horoscope
Gemini
Instructor
Renzo Garcia
Education
East Meadow High School
Net Worth
$700 thousand
Yearly Salary
$515,000
Division
Two times Welterweight Champion
Lightweight Champion
Sexual Orientation
Straight
Marital Status
Married
Wife
Ann Serra
Children
Angelina Serra
Co-owns
Two Brazillian Jiu-Jitsu schools in Newyork and Huntington
Achievements
The Ultimate Fighter 4 Champion
ADCC Finalist
World Bronze Medalist
Pan American Champion
Social Media
Twitter Instagram
Merch
Title Shot Gold Trading Card, Clipping Magazine Photo
Last Update
November, 2023
Matt Serra | Early Life, Family & Education
Matthew John Serra, famously known as Matt Serra, was born in East Meadow, New York, the United States, on June 2, 1974.
Likewise, he was born to Janice Serra (Father). His Father was a policeman in New York City.
Besides, nothing has been mentioned about Matts's mother, except that she was a housewife.
While Matt's Father was busy serving the nation, his mother looked after their kids.
Similarly, Matt has an older brother, an older sister, and two younger brothers. Hence, his childhood was spent with his siblings.
Education
Serra inherited a passion for boxing and martial arts from his Father. Janice loved martial arts, and Matt followed in his Father's footsteps.
Matt, as a teenager, started competing in wrestling. Similarly, Serra went to East Meadow High School, and before graduation, he even enrolled in USMC delayed entry program.
However, his military career ended after he got into a fight with someone at the pizzeria.
Although he fought in self-defense, the feud damaged the other person's ear.
Hence, the charges were made against him under the disfigurement. Therefore, Matt's career officially ended before it even started.
Matt Serra Career & Stats
After Matt's unsuccessful attempts to join the military, he decided to pursue his passion, fighting.
Likewise, when Matt was 18, he joined Brazillian Jiu-Jitsu after finding it in Black Belt Magazine. Since then, Matt's life has never been the same.
MMA Career
After Joining MMA, Serra had his first biggest win at the 1999 Brazillian Jiu-Jitsu Pan American games.
Similarly, in the same year, he secured third place in Brazil's world championship in the brown belt division.
Likewise, Matt has won various matches in his MMA career, including a victory over Takanori Gomi after choking him out in ADCC Submission Wrestling World Championship.
Also, his MMA career was full of ups and downs, many bouts of him were canceled, and sometimes the opponents suggested that he call off the match.
However, Matt never gave up and was consistent in his work. Nonetheless, Matt had a fantastic MMA career, and he became successful in gaining some fame for him.
Besides, people adored him for his passion. Similarly, everyone was aware of Matts's popularity, so it didn't take long for UFC to sign him.
UFC Career
After he left his MMA career, Matt Serra joined UFC, and not so surprisingly, Matt won the first match on his debut day.
Afterward, he faced Chris Lytle in the final round, and amazingly via split decision, Matt won that match.
Soon after his victory against Chris, he got a sure-shot Champion match for Walter's weight championship. Undoubtedly Matt received great fame in a short time in UFC.
Not so surprisingly, Serra again won the title match against St-Pierre via TKO. However, after the game ended, Serra was considered the underdog.
Despite that, the match is regarded as the biggest upset in MMA history. Period!
UFC Coach
As he grew old, he decided to choose a new path. He further chose to continue his career but with a slight twist, this time as a coach.
However, Serra's magic didn't work out this time; in the first two matches, his trainees were performing well, but after that, they were disappointed.
Likewise, Matt started having problems with his best friend Scarola, who later opened his fighting institute.
However, this feud was painful for both of them as they were best friends and shared a perfect bond.
But sadly, during the judgment day, they faced each other. That day Serra suffered badly from an injury.
Similarly, Serra desperately wanted a rematch and said he was recovering rapidly.
Finally, Serra faced Matt Hughes. However, Serra lost the rematch in the final round. Soon after that, Serra himself confirmed his retirement from UFC in 2013.
Not to mention, Serra revealed in 2014 that he was the one to shout offensive terms at Anderson Silva in Chris Weidman vs. Silva at UFC 168. In a clip where Anderson had broken his leg during the fight, Matt can be heard shouting, "Good, F*** him."
Lastly, in 2018 Matt Serra was inducted into the UFC Hall of Fame in the pioneer wing.
Undoubtedly Matt had a great career, and he also became successful in winning a lot of hearts. Similarly, he is also considered one of the best fighters in MMA and the UFC.
Matt Serra | Body Measurements
Serra, the fighter, was born on June 2, 1978, and at the time of writing, he is 49 years old.
Similarly, he is an American by nationality and American- Italian by ethnicity. Likewise, Matt stands 5ft. 6 inches tall and weighs around 77 kg.
And with such height and weight, Matt has maintained his physique with an appropriate diet and workouts. He tends to hit the gym most of the time.
Moreover, Matt is a handsome bald man with dark brown eyes, and his reach is 173cm in MMA and UFC.
According to Matt Serra's birth chart horoscope, he is a Gemini. People with this zodiac sign are usually hard-working, passionate, and dedicated to their world.
Undoubtedly, Matt is one reliable and hard-working person. His hard work and dedication have earned him respect, a name, and fame.
Matt Serra | Highlights
and achievements
Also, have a look at Matt Serra's achievements in his professional career:
UFC Hall of Fame (Pioneer wing, class of 2018)
The Ultimate Fighter 4 Welterweight Tournament Winner
The first fighter to win both a The Ultimate Fighter Tournament and UFC Championship
UFC Welterweight Championship (One time)
2000 Black Belt 77kg (No-Gi): Silver Medalist
2000 Brown Belt Medio: Bronze Medalist
1999 Purple Belt Medio: Gold Medalist
Matt Serra | Net Worth & Salary
Matt Serra has earned a good amount of money in his career. Because of Matt's hard work and dedication, he has achieved a lot in his life.
Talking about his net worth, Serra currently has a value of $700 thousand. As Matt started from ground level, it was a good amount of money for him.
Yet, he is still trying his best and working hard to earn more. Similarly, Matt earns around $515,000 every year.
Besides that, he co-owns two Brazillian Jiu-Jitsu schools in New York and Huntington. These two schools are his additional source of income.
Likewise, Matt is also the ambassador for XYIENCE, which is also the official energy drink of UFC. However, the amount Matt charges for his brand endorsements is not disclosed yet.
Further, Matt hasn't disclosed his property. He is a private person; he likes to keep his life confidential, which might be the reason for not disclosing his property.
Matt Serra | Personal Life & Wife
Matt Serra's personal life has been full of ups and downs; he had his hardships and struggles and made his path to success.
However, the most beautiful chapter of his life is his wife, Ann Serra. Ann Serra and Matt tied the knot in May of 2007.
But not much has been mentioned about their love story before marriage.
Soon after their marriage, the lovebirds welcomed their first child in 2009, and their second child, a baby girl, was born in April 2011.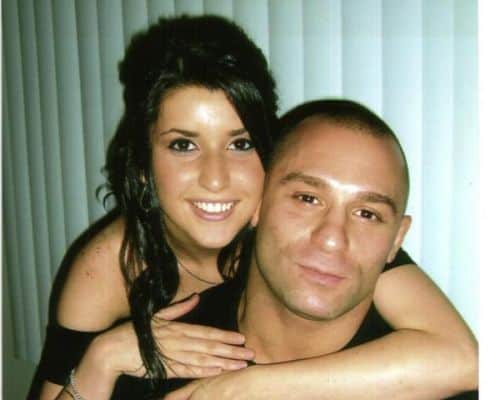 Though not much has been mentioned about his family, we can indeed say that Matt loves and prioritize them a lot.
For years, Matt's wife has stood beside him as a rock and helped him achieve his aim. Ann is Matt's lucky charm, motivator, and support system.
Unfortunately, Matt faced controversy when he and his best friend faced each other in a match. But later, Matt Serra sorted everything, even though it greatly affected him.
Social Media Presence:
Matt Serra is quite active on social media. You can follow him via these links:
Instagram: 272k followers
Twitter: 75.4k followers
Some FAQs:
What is Matt Serra's fight record?
Matt Serra has a professional fight record of 11 wins, 7 losses, and 0 draws.
Who did Matt Serra face in the last fight?
Matt Serra's last fight was against Chris Lytle. Matt faced Chris at UFC 119 on September 25, 2010. He lost the battle via unanimous decision.
Did Matt Serra and Aljamain Sterling have a fallout?
In March of 2021, Aljamain decided to cut his coach, Serra, out of his corner in a match against Petr Yan. Matt considered the move rather disrespectful and vowed never to corner Sterling again.
Who won Matt Serra vs. Din Thomas?
Thomas won the fight against Serra via a split decision.
Has Matt Serra fought Frankie Edgar?
No, the two fighters have not fought each other. Moreover, the fighters have quite a good relationship.
What was Matt Serra's entrance song at UFC 60-69?
Matt Serra's entrance song at UFC 60-69 was "Like That" from artist Memphis Bleek.
Does Matt Serra own Serra Automotive?
No, the former MMA fighter is not the owner of Serra Automotive.
What happened between Matt Serra and Joe Scarola?
After Joe left The Ultimate Fighter 6: Team Hughes vs. Team Serra, Matt and Joe's relationship completely shattered. The former MMA fighter completely cut Scarola out of his life.
Does Matt Serra have a torn bicep?
Yes, Matt Serra has a torn bicep. He mentioned it in one of his interviews, saying,
"My left arm was getting huge. My right arm is already smaller because I don't have a bicep from when I tore it back in the day, getting ready for a UFC fight. So I'm walking around looking like Hellboy."