Adrian Griffin wife, Kathy S Griffin, married the new Milwaukee Bucks' coach in 2016. Kathy doesn't share any kids with Adrian.
A former NBA player and now a former assistant coach, Adrian Griffins' family are over the moon after the recent announcement of him becoming the new coach of the Milwaukee Bucks.
The former assistant coach of the Toronto Raptors, Adrian, won the 2019 NBA Championship with a team that featured Kawhi Leonard, Jeremy Lin, and Kyle Lowry.
Now he will be looking to repeat the feat as a head coach with the two-time MVP Giannis Antetokounmpo. It has been reported Giannis was part of the meeting that decided on the new coach's hiring.
The new Bucks' coach has already been inundated with congratulatory messages from his kids, who have followed in his footsteps.
Adrian Griffin Wife Kathy S Griffin Is An Alumni Of Illinois University
Adrian Griffin's wife, Kathy S Griffin, is a graduate of Illinois University. She tied the knot with Adrian in 2016, one year after his divorce from ex-wife Audrey Griffin.
Born on April 28, 1977, Kathy is three years younger than her husband, Adrian. One of the first pictures of the couple dates back to July 2016, with Adrian sharing a couple of pictures of his date night with Kathy in Oklahoma.
Two months after his first photo with Kathy, Adrian, in his next snap with her, had started to refer to Kathy as his wife. And despite becoming Mr and Mrs, Adrian to date hasn't shared any pictures from his wedding ceremony with his wife.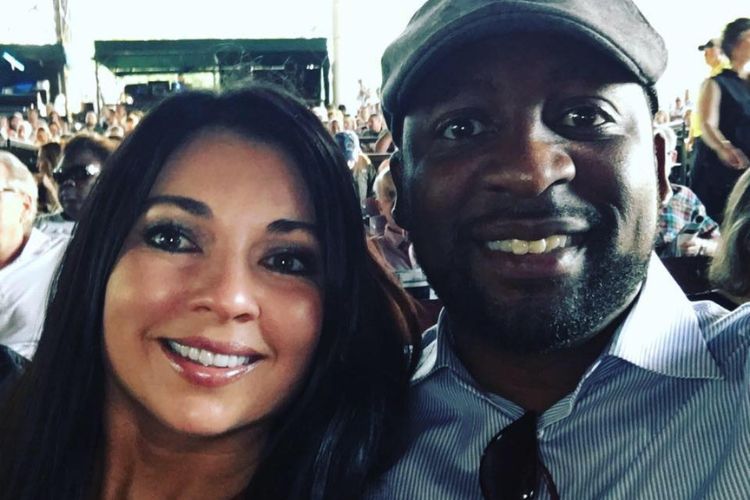 In 2017, Adrian shared a cute habit of Kathy with his Facebook friend. The former assistant coach of the Raptors posted a picture of his travel bag with a sticky note attached.
Adrian said he was grateful for Kathy and her affectionate display and added he always looked forward to reading them.
In May 2017, the couple took a trip to Venice, Italy, where they had their official Honeymoon. Adrian stated it was a ten-day trip that was everything one could hope for.
Cute and romantic pictures are the norm of the basketball couple. After winning the NBA Championship in 2019, Kathy was the first person Adrian thanked in his Facebook post.
He shared an appreciation post for his wife, thanking her for watching films with him until 2 AM to packing his suitcase. Kawhi Leonard might have been the 2019 Final MVP, but for Adrian, Kathy was his MVP.
Adrian Griffin Shares Four Kids From His Previous Marriage
Adrian Griffin was previously married to Audrey Griffin, with whom he shares four kids. The Bucks' coach doesn't have kids from his second marriage to Kathy.
His eldest daughter Vanessa Griffin is the only child out of the public limelight. In one of his tweets, Adrian mentioned Vanessa Vanessaending Iowa State and had started her eyelash business called Lashbender.
Alan Griffin Is The Eldest Son Of The Bucks' Coach
Born on April 14, 2000, Alan Griffin is a Syracuse University graduate, having previously attended Illinois University.
After graduating from Archbishop Stepinac, Alan committed to Illinois University, where he played two years of basketball. He played 58 games for Illinois and averaged 12.9 minutes for the team.
He transferred to Syracuse University in his junior year and recorded his second career double-double in his debut. After remaining undrafted in the 2021 NBA draft, Alan took his talent to the Candian Elite Basketball League.
The 23-year-old is currently on the Newfoundland Growlers' roster and has previously played in the G-League for Rio Grande Valley Vipers and Westchester Knicks.
AJ Griffin Is A Player For Atlanta Hawks
AJ Griffin, also known as Adrian Griffin Jr., is the second son and third child of the Milwaukee Bucks coach and his ex-wife.
The 19-year-old was the 16th overall pick of the Atlanta Hawks in the 2022 NBA draft. Standing at 6ft 6, AJ plays as a forward/ guard for the Hawks.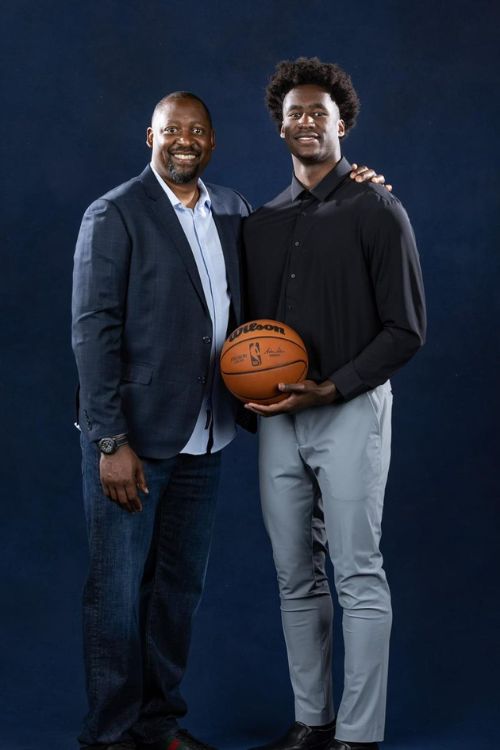 Last year AJ scored a game-winning shot against his dad's former team Toronto Raptors. Kathy said that was the only way she wanted her husband's team to lose against her son's team. Kathy shared a Facebook post about the incident a few days after the game.
AJ was a five-star recruit from Duke University and only played freshman season at the North Carolina-based university.
He graduated high school from Archbishop Stepinac and ranked no.9 on ESPN's list for the class of 2021.
Aubrey Griffin Is A Graduate Of The University of Connecticut
The youngest member of the Griffin family, Aubrey, graduated from the University of Connecticut in May of this year.
Born on November 6, 2001, Aubrey ranked 33rd in ESPN's list of the class of 2019. Standing at 6ft 1, Aubrey is a forward and starred in three seasons, missing out on 2021 in full length because of injury.
Aubrey racked up 96 games for UConn and averaged 8.2 rebounds in her collegiate career. Aubrey hasn't announced her next move in her basketball career after graduation.