Skiing is slowly gaining the attention of many youngsters. Rather than limiting it to a hobby, pro skiers are making primary career goals these days.
Among such brilliant skiers is Michelle Gisin. The Swiss World Cup alpine skier, Gisin, is an Olympic gold medalist in the combined event at the 2018 Winter Olympics in Pyeongchang.
Furthermore, the Swiss skier currently competes in all disciplines, Slalom, Combined,
Downhill, Super-G, and Giant Slalom.
Michelle Gisin looked up to her siblings, Marc Gisin and Dominique Gisin, who were professional alpine skiers too.
Michelle Gisin is in her prime and has continually accredited her victories to her hard work and dedication.
Therefore, before further details about her, let's analyze quick facts.
Full Name
Michelle Géraldine Gisin
Date of Birth
December 5, 1993
Birth Place
Samedan, Graubunden Switzerland
Nick Name
N/A
Nationality
Swiss
Zodiac Sign
Sagittarius
Age
29
Height
5 feet 9 inches
Weight
70 kgs
Hair Color
Brunette
Eye Color
Black
Build
Athletic
Father's Name
Beat Gisin
Mother's Name
Bea Gisin
Siblings
2 (Marc Gisin and Dominique Gisin)
Marital Status
Unmarried
Boyfriend
Luca De Aliprandini
Profession
Alpine Skier
Active Years
2012-present
World Cup Debut
2012
Disciplines
Slalom, Combined,
Downhill, Super-G, and Giant Slalom.
Olympic Wins
2022, 2018 (2 golds)
World Championship
2017, 2021 (2 medals)
World Cup Seasons
Ten seasons
Website
Michelle Gisin
Net Worth
$1-5 million
Social Media
Instagram, Twitter, Facebook
Merch
Skiing Goggles
Last Update
November, 2023
Michelle Gisin | Early Life &
Swiss alpine skier Michelle Gisin was born on December 5, 1993, to Beat and Bea Gisin. The youngest in the family, Michelle, grew up with two siblings, Marc Gisin and Dominique Gisin.
Furthermore, Gisin's sister, Dominique, is also an alpine skier who earned an Olympic gold medal. At the same time, their brother, Marc, made a name in a few seasons on Kitzbuhel's legendary Streif.
The Gisin family is athletic. Michelle's parents are trained, gym teachers. The Engelberg natives owned a sports shop called Gisin Sport in the ski resort and were kin to nurturing their children's love for Skiing.
Gisin's sister, Dominique, retired from the circuit in 2015 and graduated with a physics degree at age 30.
Michelle revealed that she used to cry when her siblings went out racing. She added that none of the Gisin siblings took up skiing for the glory.
Gisin is grateful to have been born into a passionate family about Skiing. She attended Engelberg Abbey School and graduated from Sportmittelschule Engelberg in 2012.
Michelle Gisin | Age, Height & Weight
Swiss skier Michelle Gisin stands at 5 feet 9 inches and weighs 70 kg.
Furthermore, she boasts brunette hair that compliments her perfectly fair skin and dark brown eyes.
Growing up in a sporty family, Michelle naturally took up the outdoorsy attitude and is an extrovert.
She is a pure Sagittarius, curious, has multiple interests, and is self-sufficient.
Michelle Gisin | Career
The Engelberg native Michelle Gisin started her career at the young age of 18. She embarked on remarkable success in the Swiss Junior National Championships in 2011.
She completed third in the Downhill in 2011 and won the super combined in 2012. Similarly, Gisin claimed her first silver medal in the Slalom at the FIS Junior World Ski Championships in February 2013.
Since Junior Skiing in the Olympics, Gisin earned several titles, broke records, and won a handful of medals, including the gold medal in the 2018 Olympics in Pyeongchang.
World Cup Debut & Success
Swiss Olympic gold medalist Michelle Gisin made her World Cup debut in 2012 at 19.
However, Gisin made her breakthrough at the senior level World Cup meeting in Vald'Isere in 2016. She declared seventh place in her first World cup and finished second in combined, taking the first podium.
Likewise, Michelle earned a silver medal in the combined finishing in the same season.
In 2017, Gisin took eighth place in the first two downhills at the Canadian resort. She restored her domination and took her first top ten finish in a Super-G.
Gisin finished third in the World Cup overall in 2020/21.
World Championships
Swiss alpine skier Michelle has claimed two medals at the World Championships Alpine combined.
She registered her first silver medal at the 2014 Junior World championship.
Victory at the 2018 Winter Olympics
Michelle Gisin made her 19-year-old self proud as she won the gold medal in the combined at the 2018 Winter Olympics.
Likewise, she was the third fastest in the downhill leg and defeated Olympic gold medalist Mikaela Shiffrin twice to secure gold.
Because she was struggling with the Slalom the whole season, Michelle did not feel she could make it. Additionally, she admitted that she was excited to have found her run.
While talking about her competitor Shiffrin and Wendy Holdener, Michelle said, "It's amazing to be on the podium with two such amazing skiers."
Moreover, Michelle credited her sister Dominique's downhill triumph at Sochi as her inspiration to "reach for the stars."
At the 2022 Beijing Olympics
Switzerland aspires to bring the gold back home in Beijing Olympics 2022. The reigning Olympic champion, Michelle, shared her excitement via Instagram, captioning her season.
Michelle entered the Olympics with a podium in Slalom giant slalom and finished in the top six in Downhill.
She admitted that the last season was very intense as she focused on many races of all disciplines.
Michelle won the gold medal in the women's combined Slalom on February 17, 2022.
According to ABC News, Michelle said, "it's a pity that Mikaela did not finish," and continued to say that she would love to have battled for gold with her.
Although it was a sad day for Mikaela Shiffrin, Gisin encouraged her, saying, "47 slalom wins? You're a badass."
Heartbreaking day for @MikaelaShiffrin, but Swiss competitors @michellegisin and @WendyHoldener (who went 1-2) gave her some words of encouragement. 💞

"47 slalom wins?! You are a badass," Michelle said. Back at ya Michelle! Congrats!🇨🇭#wendyBeijing2022 pic.twitter.com/jgycXAoXpg

— U.S. Ski & Snowboard Team (@usskiteam) February 17, 2022
Before gold, Gisin claimed the bronze medal in the super-G on February 11.
Michelle Gisin | Net Worth
The Beijing Olympic contender Michelle Gisin's net worth has grown significantly since her career took off.
Furthermore, winning a gold medal in the 2018 Olympics has established her as a national hero, resulting in more prominent endorsements.
Earnings from Career & Endorsements
Michelle Gisin started skiing from an athletic family when she was just one year old. She has been professionally skiing since 2011 and has acclaimed several titles, a few medals, and has become a national hero.
Therefore, Michelle Gisin's net worth is estimated at $1 million-$5 million.
Although ski racing is considered a notoriously expensive sport, the wage gap seems to be appalling. An alpine skier's average salary is around $30,000 per year.
Lindsey Vonn, the female pioneer of alpine skiers, expressed her concerns about the wage gap in pro skiing in 2018.
However, Olympic gold medalists can cash out their gold and earn good prize money.
Therefore, Michelle Gisin's net worth will increase significantly, given the hype of her back-to-back wins.
Lucrative Sponsorships
Besides career earnings, Michelle also bags a reasonable sum from sponsorships.
Her main sponsors are NOCO, Helvetia, Rossignol, Swix, POC, Ortega, Thommen, Norqain, Fit4future, and Idiag, among many others.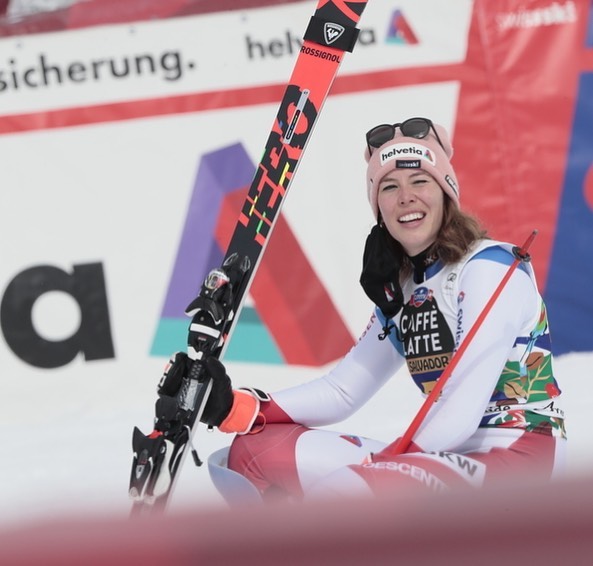 Therefore, Gisin's earnings are backed up considerably by her endorsements and ambassadorship.
Earnings from Merchandise
Michelle Gisin's merch also adds a few more dollars to her pocket, along with career and endorsements.
Beanie: CHF 40 ($43.41)
Keychain: CHF 30 ($32.56)
Throat tube: CHF 25 ($27.13)
Beanie: CHF 20 ($21.70)
Likewise, she also published a book called A True Athlete, where she shares her 30 hours at PyeongChang 2018 Olympic Winter Games.
Find Out "What is Franz Klammer's Net Worth? "
Michelle Gisin | Boyfriend
Switzerland's pride, Michelle Gisin, is adorable. Her down-to-earth personality and nature to shoot higher are pretty admirable.
Gisin's boyfriend, Luca De Aliprandini, agrees too. The couple has been committed to one another since 2014.
Luca and Gisin's romance began in the training camp. However, Luca had already fallen for the Swiss skier as he liked many of her pictures on social media.
The Trentino native, De Aliprandini, revealed that his sweetheart didn't want him at first. But now, Michelle accepts that he is her strength.
Learn"Who Is Aksel Lund Svindal's Girlfriend?"
Michelle and Luca, The Spirited Couple
Although the athlete couple is on the road for most of the year, they celebrate the holiday together. During an interview with FIS, Michelle said they don't see each other during seasons.
However, the power duo makes up their time apart during summer. Additionally, Luca and Michelle train together.
Furthermore, they complement one another as Gisin helps Luca become more professional and precise.
Moreover, Skiing is a massive part of their lives, and they share similar aptitudes. Luca admitted that both are ambitious, and they are actively competing.
Michelle and Luca had a healthy competition but canceled tennis to save their relationship.
Besides competing with one another, the skiing couple celebrates their victories together. Luca probably is waiting for Beijing Olympics to end to congratulate his lover.
Michelle Gisin's boyfriend, Luca De Aliprandini, specializes in giant slaloms. He represents Team Italy in Beijing 2022. Unfortunately, he could not finish the race in the giant Slalom on February 13.
Social Media Presence
Michelle Gisin is active on social media. She shares her career milestones, primary relationship goals, and family pictures on social media.
Gisin currently boasts 102k followers on Instagram. Likewise, her Twitter follower count has reached 24.3k followers, and Facebook is shy of 10k followers to contact 100k.
Look into the Life of the Former Austrian Skier, Mario Matt>>
Interesting Facts
Besides Ski, Michelle loves windsurfing and golf.
Gisin loves reading books.
FAQs
What does Michelle Gisin like the most when on the World Cup Tour?
Seeing the world and competing at the highest level is what she likes the most when she is on World Cup Tour.
Who Is Michelle Gisin's Husband?
As mentioned earlier, Michelle is with Italian skier Luca De Aliprandini. The couple has been dating for seven years now, but the wedding bell is still a distant sound.
Moreover, Gisin's boyfriend, Luca, thinks she won't leave him if he doesn't propose to her soon. He further added that 2021 was a crazy year, and they'd agreed to let the year sink in first.