Mike Trout has never explicitly talked about his religion. But the Angels player is believed to be a Christian.
Born and raised in Vineland, New Jersey, Trout grew up in an athletic family. His father, Jeff Trout, is a former baseball player and played at Millville and Delaware.
Mike later broke his father's record at Millville, and we know what happened next. The Angels center fielder has been with the side for the past 13 seasons.
In these 13 years, Trout has proved that he is one of the best to have ever played this game, but at the same time, he hasn't achieved team success. Angels have only made the postseason only once in Trout's 13 years.
Rumors are circulating whether Trout will follow his teammate, Shohei Ohtani, and leave the Angles. But there is also hope that Trout will return with the Angels for the 2024 MLB Season.
Mike Trout Religion: Is The Angels Fielder Christian?
The MLB star Mike Trout is believed to follow Christianity as his religion. Unlike many other MLB players, Trout isn't a player who talks much about his faith.
But previously, in 2014, Trout shared a post on Thanksgiving writing, "Faith, family, friends & football," on Facebook and X (formerly Twitter). The Angels player is also not the kind of guy who shares family Christmas pictures on his Instagram.
But his wife, Jessica Trout, has shared family Christmas snaps in the past. In 2020, Jessica shared a family photo of Mike and their son, Beckham Aaron Trout. The couple was celebrating its first Christmas as a family of three.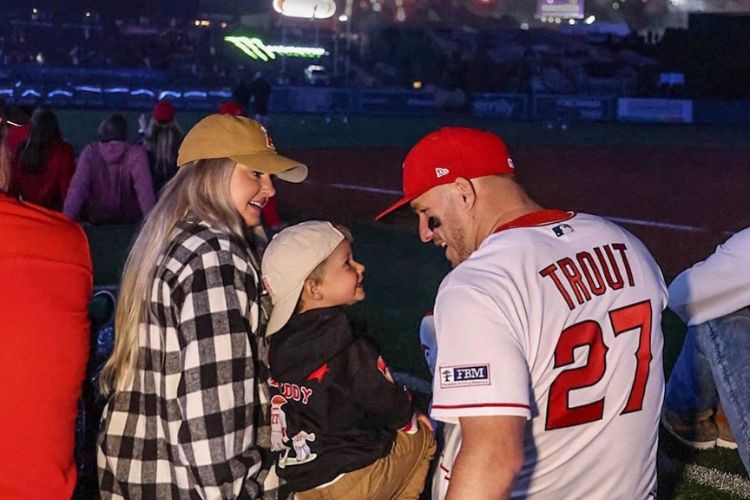 On July 30, 2020, when Beckham was born, Trout shared a photo of his newborn baby. He captioned the post, "Our greatest gift from above. We are so in love!"
In his previous interviews, neither Trout nor his parents talked about their religion or the faith they follow.
Both his parents, Jeff and Debbie, are former athletes. A former baseball player, Jeff played for Millville High School and later played four years at the Minnesota Twins farm system.
Jeff crossed paths with Debbie at the University of Delaware, and the couple went on to raise three kids. Debbie and Jeff raised their kids in southern New Jersey, where Mike Trout broke out as a baseball prodigy.
Mike Trout Next Team
The Los Angeles Angels center fielder, if reports are to be believed, wants to stick with the team for another season. The upcoming season will be Mike's 14th season with the team.
2023 was a tough season for the 11-time All-Star player. He took the field for the last time on August 22 and has opened up about his struggles in a recent interview.
Trout said he had hired many people to work on his body, but a freak thing happened, leading him to break his hand. And when he returned to the field, it backfired for Trout.
In recent years, Trout's availability has been questioned. In 2021, he only played 36 games, and in 2022, Trout played 119 games. This season it was 82.
In September, it was reported that the future Hall of Famer had requested a private conversation with the front office of Angels. He questioned the direction the team was heading.
The New York Post writer Jon Heyman wrote he doesn't believe Trout will ask to be traded. But if he does, Heyman believes it would be to Phillies or Yankees.
But MLB reporter Bob Nightengale had a different story. He reported the Angels would be open to trading Trout during the offseason.
BetOnline.ag has favored the Dodgers and the San Francisco Giants to be Trout's next team. The Mets, Padres, and Yankees are next in line.
When asked about his future, Trout said, "I have seven years left on the contract. There is a lot of speculation out there."
He further said, "And as I said, I come in every year, I sit back two to three weeks, enjoy the family, clear my mind, and then have conversations with the front office every single offseason. Nothing has changed."