Michael Nelson Trout, aka Mike Trout, is an American baseball central fielder who plays for the Los Angeles Angels in MLB. Mike has been a ten-time MLB All-Star, a three-time American League (AL) Most Valuable Player (MVP), and a nine-time winner of the Silver Slugger Award.
The Angels picked him in the first round of the 2009 MLB draft. Trout made his brief major league appearances in 2011 prior to becoming a regular player for the Angels the following season.
He is considered the most exceptional player in the history of baseball as well as the best baseball player in the MLB. Mike led the American League in wins above replacement in each of his first full five seasons.
Recently, the MLB star took to social media on December 25, 2022, to thank everybody who supported him. Mike thanked the fans, friends, and families for the amazing year.
Seeing his social media post, One of the Angeles Angles fans tweeted, "Love this guy. Happy holiday Mike." Trout has been a role model for many young fans to look up to.
There are many details about his early life, education, career, personal life, and net worth. So, please stick to the article to the end.
Before we go into details, here are some quick facts below.
Mike Trout | Quick Facts
Full Name

Michael Nelson Trout

Birth Date

7 August 1991

Birth Place

Vineland, New Jersey

Zodiac Sign

Leo

Nick Name

The Millville Meteor, Prince Fish, God's Gift, King Fish 2.0

Religion

N/A

Nationality

American

Ethnicity

White

Father's Name

Jeff Trout

Mother's Name

Debbie Busonick Trout

Siblings

Teal Trout (Older Sister), Tyler Trout (Older Brother)

Education

Millville Senior High School

Age
31 Years Old
Height

6'2″/1.88 m/188 cm

Weight

106 kg/235 lb

Body Build

Muscular

Hair Colour

Brown

Eye Colour

Brown

Married

Yes

Spouse

Jessic

a

Cox

Child

Aaron Trout

Profession

Baseball Player

Position in team

Centre fielder

Jersey Number

#27

Bats

Right

Throws

Right

Affiliations

Los Angeles Angels (MLB)

Net Worth
$140 million
Social Media
Instagram, Twitter
Merch

Jersey

, Rookie Card, Autographed MLB Gloves
Last Update
March, 2023
Mike Trout | Early Childhood And Education
Mike was born on 7 August 1991 in Vineland, New Jersey, to loving and supporting parents, Jeff Trout and Debbie Busonick Trout.
His father, Jeff, played baseball at the University of Delaware and was stated the All-American's second baseman in 1982 by both Baseball America and the American Baseball Coaches Association.
He played an outstanding game while Minnesota Twins also selected him as the second baseman in 1983. Sadly, Jeff had to retire earlier due to several knee injuries.
While growing up, Mike was a massive fan of the Philadelphia Phillies and attended their World Series parade in 2008. He has two older siblings, Teal Trout (sister) and Tyler Trout (brother).
Mike started playing baseball in Cal Ripken Baseball, a division of the Babe Ruth League. His primary position as a baseball player was the shortstop position, and wore a #2 jersey.
He switched his jersey number to #1 in his high school days. Trout studied Lakeside Middle school and is a 2009 graduate of Millville Senior High School.
Moreover, the baseball center fielder played baseball at East Carolina University before entering the 2009 MLB Draft.
Mike Trout | Age, Height, And Physical Appearance
Mike is 31 years old, and since he was born on 7 August, his zodiac sign is Leo, the mighty lion. He stands at 1.88 m tall and weighs about 235 lb.
Undoubtedly, Trout is an ambitious person. He has already achieved great success in his life and is hungry for more.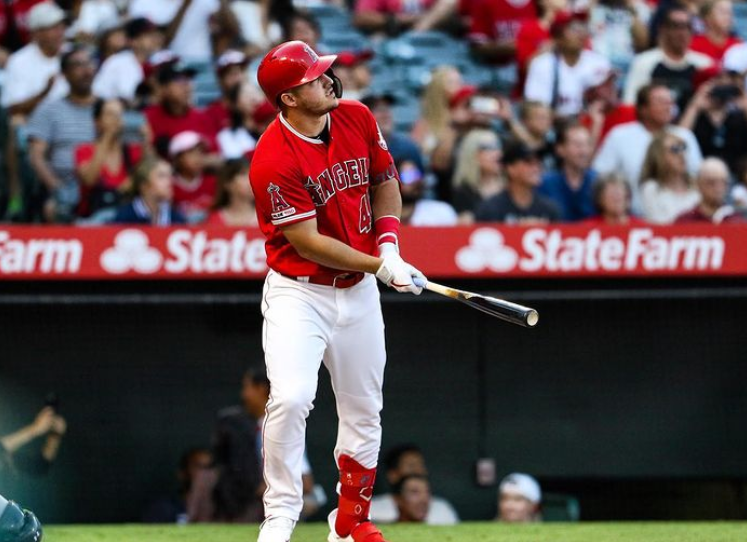 The baseball center fielder follows a strict diet regimen to remain healthy and hit the gym five days a week to keep him at the top level.
Mike's brown hair and brown eyes compliment his smooth skin, not to mention his muscular body structure.
Mike Trout | Career
Mike is one of the most famous sportspeople of the 21st century. Here is his career in detail.
High School Career
Mike played baseball and basketball during high school, earning five letters (three in baseball and two in basketball). He started making headlines as a sophomore when he began playing for the Millville Senior High Thunderbolts.
One of his best baseball moments was playing against the school's biggest rival, the Vineland Fighting Clan.
Millville hadn't beaten Vineland since 2003, so it was a glorious moment when Mike led a squad of nine seniors and fired a complete-game two-hitter to win 2-1.
He threw a no-hitter against Egg Harbor Township High School during his junior year.
While Mike played as a pitcher and shortstop, he was shifted to outfielder during his senior year. Then, he hit 18 home runs, a New Jersey high school record.
Trout played travel ball with the Tri-State Arsenal, including the Perfect Game WWBA Championships in Jupiter, Florida, in 2007 and 2008.
In the summer before his senior year, he attended the Area Code Games, where he went 6-for-11 against some of the country's best players.
Because of his contribution, Millville even thought of retiring Mike's jersey but later started rewarding them to the team's captain. It has been going on since 2012.
Draft And Minor League
The Los Angeles Angels selected Mike 25th overall in the 2009 MLB draft. He started his professional career in 2009 by playing for the Arizona Angels (a farm team of Los Angeles Angels) of the rookie-level Arizona League.
Moreover, he hit .360 with a .418 on-base percentage (OBP) and .506 slugging percentage (SLG) with one home run, 25 runs batted in (RBIs), and 13 stolen bases in 187 plate appearances over 39 games.
Mike started the 2010 season playing for Cedar Rapids, hitting .362 with a .454 OBP and a .526 SLG with six home runs, 39 RBIs, and 45 stolen bases in 82 games. He was promoted to Rancho Cucamonga Quakes of the class A- Advanced Class-A club.
He was awarded the Baseball America All-Star and Topps Minor League Player of the Year Award after his 2010 season making him the youngest player (19 years old) to win this award.
Mike started the 2011 season with the Arkansas Travelers of the Class SS Texas League. He hit .324 with nine home runs, 27 RBIs, and 28 stolen bases in his first 75 games.
Los Angeles Angels
2011-2014
Mike was promoted on 8 July 2011 after the outfielder Peter Bourjos sustained an injury. However, he initially struggled and was sent back to the minors. He again got promoted on 19 August and made his major league debut, going 0-for-3.
He played 40 big-league games with five home runs and a .220 average with .281 OBP and .390 SLG. On August 30, he became the youngest Angel to hit two home runs in one game.
Mike recorded his first career four-hit game on June 4, 2012, and his second just 15 days later. He was named American League co-Player of the week with Torii Hunter.
Moreover, he broke an Angels' franchise and American League rookie record when he crossed home plate in 14 consecutive games after scoring a run in a match on 22 July 2012.
Rookie Awards & More Records
On 12 November 2012, Mike won the BBWAA Jackie Robinson Rookie of the Year Award and was the youngest player to win the AL Rookie of the Year Award. He also won the Heart and Hustle Award, the Silver Slugger, and the Fielding Bible Award.
In the 2013-14 season, he was moved to the left-field position, where he hit .261 with two home runs and 16 RBIs in April. Mike hit his first career slam, capping 10 run inning for the Angels.
Trout was moved back to the center-field position on April 30. He finished the 2013 season with 9.2 WAR (highest in baseball) and a 15.4% walk rate.
In 2014, he signed a one-year contract with the Angels worth $1 million.
Mike also won his first Most Valuable Player (MVP) award in an All-Star game. He was also named the American League (AL) MVP.
Moreover, the baseball center fielder played 157 games in 2014 and batted .287 with 36 home runs, 39 doubles, nine triples, 111 RBIs, 16 stolen bases, and 115 runs scored.
2015- 2018
On 17 April 2015, he became the youngest player to reach 100 home runs and 100 stolen bases, a record previously held by Alex Rodriguez. He finished the 2015 season with 41 home runs and 90 RBIs.
He also won his fourth Silver Slugger Award and second AL MVP award. Mike played 159 games in the 2016 season with a .315 batting average, 29 home runs, 30 stolen bases, and 100 RBI.
On his 26th birthday, he doubled down the third base line for his 1000th career hit.
Because of his thumb injury, he played in only 114 games but achieved 92 runs, 33 home runs, 22 stolen bases, 94 walks, and a batting average of .306.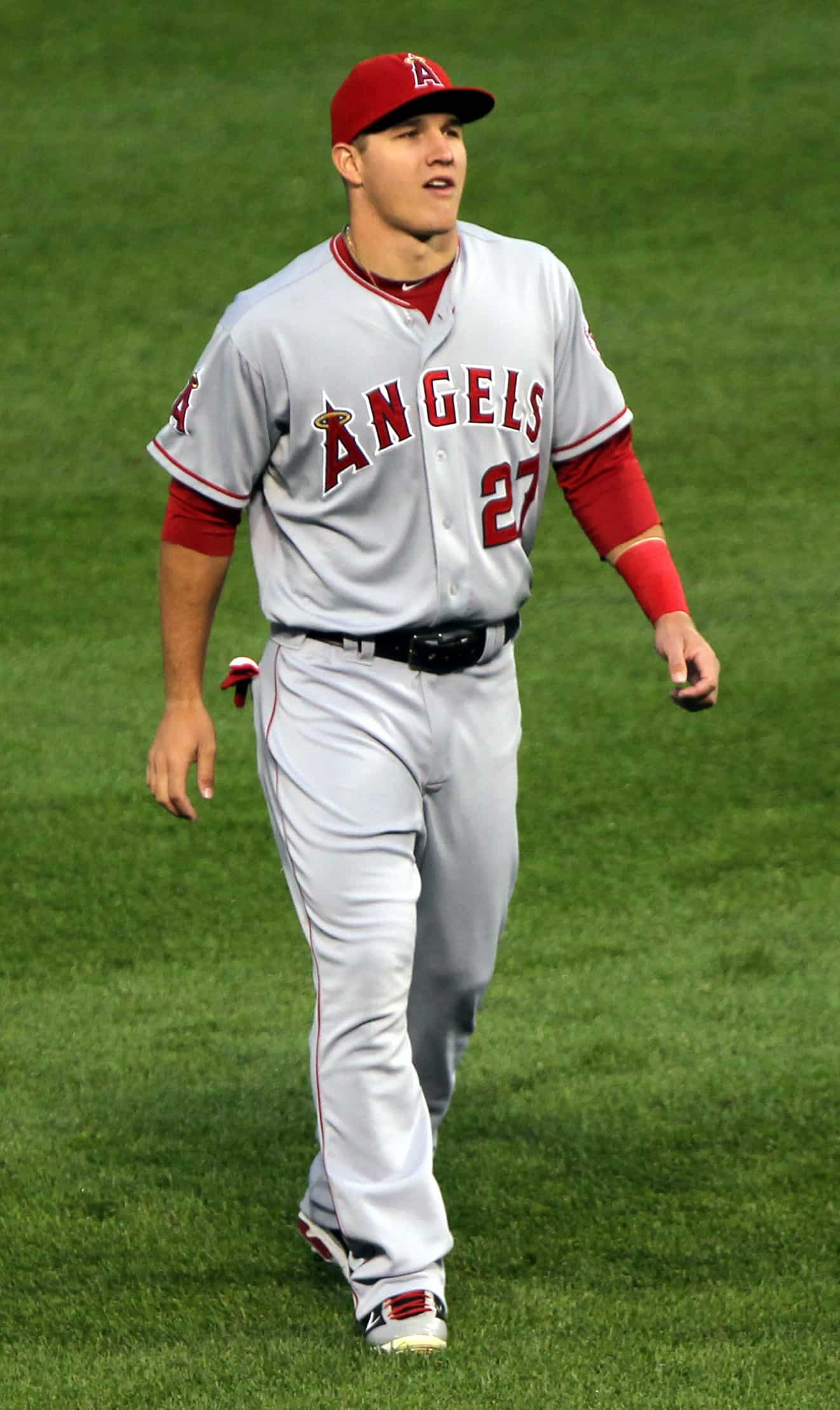 For the 2018 season, he batted .312/.460/.628 with 101 runs scored, 39 home runs, 79 RBIs, 24 stolen bases, and a 92.31 stolen base percentage.
2019-2020
On March 20, 2019, he signed a 12-year, $426 million contract with the Angeles, making him the richest contract in the history of North American sports.
Following his home series, Mike was named AL Player of the Week for the fourth time in his career and eight straight All-Star games.
Overall, he ended the season with a career-high 45 home runs and led the AL in OBP and SLG. Trout won the AL Hank Aaron Award on 24 October 2019. He also got his third AL MVP.
On 5 September 2020, he hit his 300th career home run, breaking the Angels' all-time home run record. Mike finished the season hitting .281/.390/.603 with 17 home runs in 53 games.
2021
Mike started the season with a hit of .333/.466/.624 in 8 home runs. Unforutanrly, he appeared to string his right calf while practicing for the bases.
Later, he was placed on the 10-day injured list and was forced to miss six to eight weeks. Mike was again placed on the 60-day injured list on September 25 because of excessive time takings on recovery.
The Angeles confirmed on September 25 that he would be shut down for the rest of the season.
2022
Speaking with the press on March 13, Angels manager Joe Maddon said that the team is considering moving Trout out of the center field position to prevent injuries.
He would go to the corner spot while the former prospect Brandon Marsh would take charge as center field position. Mike was surprised when he came to know about the change.
Trout later talked with his manager and stated that he preferred to play in the center field and doesn't want to change position, and there would be no positional switch.
He scored the 1000th run of his career, making him the second player in Angels history to score 1000 or more for the franchise.
The baseball center fielder finished the 2022 season batting .283 with 40 home runs and 80 RBIs in 119 games.
Mike Trout | Net Worth
His net worth is said to be $140 million. On 20 March 2019, he signed a 12-year contract worth $426 million with the Angels. It is an extension following his initial agreement back in 2014.
Mike has huge career earnings from endorsement and sponsorship agreements. He has been a partner and an investor in Bodyarmor SuperDrink since 2012.
Furthermore, he also has sponsorships with Subway, Rawlings, Land Rover, and SuperPretzel. Also, in 2014, Nike started selling Mike Trout-branded shoes. He has an estimated $2.5 million in endorsement deals.
Mike Trout | Personal Life
Mike got engaged to Jessica Cox, sister of Aaron Cox, in July 2016. They first met at High school, and their relationship evolved into romance as Jessica became Mike's high school sweetheart.
He proposed to Jessica in an unforgettable way where he had an airplane flying in the sky pop the question to Jessica.
The couple got married on 9 December 2017 at a pastoral estate in Allentown, New Jersey. They had their first child, Beckham Aaron Trout, on 30 July 2020.
Moreover, the baseball center fielder and his wife have a charity event of their own called Big Brothers and Big Sisters of Orange Country, which supports kids with no parents or single parents.
Mike Trout, Aka Weather Geek
Mike Trout has many talents and a repertoire under his name. Now, we can also add "weather correspondent" to it.
For the confused sole, yes, we are talking about Angels' center fielder, Mike Trout. Many might not know this, but the MVP player is a huge weather geek.
Back in 2016, Friday night, Mike shared a short video of himself driving through a snowstorm back in New Jersey.
For this, he even called The Weather Channel and reported the conditions in Millville, New Jersey.
Mike Trout |
Social Media Presence
The baseball center fielder is active on several social media platforms like Instagram and Twitter. His social media post primarily includes pictures from baseball games.
Twitter: 2.5 million followers
View this post on Instagram
Instagram: 1.9 million followers
Besides, Mike is a family man who loves to travel and spend time with his family. He loves to take his son Aaron Trout on walks and loves to share their bindings with his followers.
Mike Trout | Popularity
The baseball center fielder has been the center of popularity because of his successful baseball career.
The graph shows his search trend for the course of 12 months.
Mike Trout | Frequently Asked Questions(FAQs)
Did Mike Trout get drafted out of high school?
He was drafted by the Los Angeles Angels right out of high school.
How fast is Mike Trout's mph?
When asked about his speed, it is said that Mike Trout sprints at 29.3 ft/sec. He has also clocked in 6.5 seconds in the 60-year dash.