Players indeed have various unique nicknames that define them. One of the unique nicknames is of a famous baseball pitcher Miles Morales the "Lizard King."
Miles Morales is an American professional baseball pitcher currently signed with the St.Louis Cardinals of the MLB.
His exceptional talent earned him achievements such as the 2018 Major League Baseball All-Star and National League Wins Leader.
He has played for various famous baseball teams such as -San Diego Padres, Texas Rangers, and Yomiuri Giants of the NPB.
Moreover, let's dive a little deeper into the life of the exceptional baseball pitcher, the "Lizard King."
First, let's look into some of Miles Morales's quick facts.
Miles Mikolas | Quick Facts
Full Name
Miles Tice Mikolas
Birth Date
August 23rd, 1988
Birth Place
Jupiter, Florida
Age
34 Years Old
Nickname
Lizard King
Religion
Not Available
Nationality
American
Ethnicity
White
Education
Jupiter Community High School, Nova Southeastern University
Horoscope
Virgo
Father's Name
Stephen Mikolas
Mother's Name
Elaine Mikolas
Siblings
Not disclosed
Height
6'4" (1.93 m)
Weight
98 kg
Build
Athletic
Shoe Size
Not available
Hair Color
Dark Brown
Eye Color
Dark Brown
League
MLB, NPB
Team
St. Louis Cardinals
Number
39
Marital Status
Married
Spouse
Lauren Mikolas
Children
Lillianne Mikolas, Madelyn Mikolas, Miles Jr. Mikolas
Profession
Professional Baseball Athlete
Position
Pitcher
Former Teams
San Diego Padres

Texas Rangers

Yomiuri Giants

Net Worth
$70 million
Career Highlights & Awards
All-Star- 2018

NL wins leader- 2018

Social Media
Instagram, Twitter, Facebook
Merch
Trading card, MLB Jersey, Autograph
Last Update
March, 2023
Miles Mikolas | Early Life, Family, & Education
Miles Mikolas, famous for his nickname "Lizard King," was born on August 23rd, 1988, in Jupiter, Florida, to his parents Stephen Mikolas and Elaine Mikolas.
Reportedly, Miles is not an only child and has two siblings. However, the information regarding his family has not been disclosed by him.
Miles grew up in Jupiter, the home of the Cardinals' spring training. He spent his childhood watching the Cardinals pitching just like the one he has become and the world has known.
According to the horoscopic charts, Miles is a Virgo. The most common traits in Virgos are hard-working, reliable, and patient.
We can undoubtedly observe these traits in Mikolas throughout his career as a professional baseball pitcher.
Age, Height, and Body Measurements
Moreover, Miles turned 34 years in [current year].
He stands at a striking height of 6'4" (1.93 m) and weighs 98 kgs, considered an asset for his baseball career.
Also, he has dark brown hair and dark brown eyes. Sadly the body measurement of the Baseball athlete is unknown at the moment.
Education
As for his education, Miles attended Jupiter Community High School, located in Palm Beah County, Florida, and graduated in 2006.
Likewise, he attended Nova Southeastern University (NSU) for his college, where he played college baseball for his college team called Nova Southeastern Sharks.
He was considered one of the exceptional baseball pitchers in the college games.
In his junior year in 2009, his stats of 7-2 with a 2.06 Earned Run Average in 11-starts caught the attention of the San Diego Padres, a Major League Baseball team.
His remarkable hard work indeed payoff.
Miles Mikolas | Career and Profession
San Diego Padres
San Diego Padres, the MLB team, drafted Miles during the 2009 Major League Baseball Draft during the seventh round.
During 2010, he pitched as a reliever for the Fort Wayne TinCaps, a Class-A Minor League Baseball team that plays in the Midwest League affiliated with the San Diego Padres.
During his game with the Fort Wayne TinCaps in 2010, his stats were 6–3 with 13 saves and a 2.20 ERA (Earned Run Average) in a total of 60 games, leading the league with second-most saves in the Midwest League.
Mikolas's exceptional achievements during the games named him the Midwest League All-Star.
Season 2011
Miles began the 2011 season playing with San Diego Padres farm team, High-A Lake Elsinore Storm.
A minor league baseball team is considered a Class A-Advanced team of the California League.
His stats for the season 3-0 with 12 saves, considered fourth in the California League, and 1.13 ERA in 34 games promoted him to the Double-A San Antonio Missions on July 4th, 2011.
Mikolas finished the 2011 season by going 1–0 with nine saves and compiling a 1.67 ERA as a reliever for the Missions over 28 games.
You Might Also Like Fellow Baseball Athlete Justin Bour Bio: Wife, Net Worth, Team, Contract & MLB>>
Season 2012
During 2012 Miles received a non-roster invitation to spring training, a series of practices and exhibition games conducted before the start of the regular season, and was assigned to the minor league camp later in the spring.
He started the minor league with San Antonio.
On May 5th, 2012, Mikolas made his professional debut at Petco Park as he was called up directly by the Double-A San Antonio to play in the majors for the first time.
He played against the Miami Marlins, whom he grew up supporting. He faced Giancarlo Stanton as his first batter and hit a home run.
After making 13 appearances and allowing five earned runs in 13 2/3 innings, he was sent down by San Antonio to the Triple-A Tucson Padres (a Triple-A affiliate for the San Diego Padres) on 5th, 2012.
However, he was recalled on July 5th, 2012, and made two more appearances before returning to the Tuscon padres.
During 2013 with the Tucson Padres, his stats were 4–2 with a 3.25 ERA and 26 saves, considered third in the Pacific Coast League.
Miles pitched ​1 2/3 scoreless innings for the Padres. Later, Mikolas was allocated for assignment by the Padres on November 20th, 2013.
Texas Rangers
After the 2013 season, the Padres traded Miles to the Pittsburgh Pirates and Jeff Decker for Alex Dickerson.
During the same offseason, the Pirates traded Mikolas to the Texas Rangers in exchange for Chris McGuiness.
He began the 2014 season with the Round Rock Express, a Triple-A affiliated to the Houston Astros Major League Club.
Later, on July 1st, 2014, Mikolas was called up by the Texas Rangers for their 25-man roster.
Mikolas started his first career game against the Baltimore Orioles, where he gave three hits and three runs in ​5 1/3 innings.
He spent the remainder of the season with Texas, with stats 2–5 with a 6.44 ERA in ten starts.
Yomiuri Giants
The Texas Rangers released Miles after the 2014 season. After, he signed a one-year contract with the Yomiuri Giants of Nippon Professional Baseball worth $700,000 for the 2015 season.
With his remarkable performance in the 2015 season, Mikolas was re-signed by the Giants for two years.
For three seasons with the Giants, he pitched to s 31–13 record in 62-starts with a 2.18 ERA.
St. Louis Cardinals
Miles signed a two-year contract with the St. Louis Cardinals on December 5th, 2017, worth $15.5 million.
While playing for the Cardinals, he won his debut against Milwaukee Brewers with the 8–4 on April 2nd, 2018, at Miller Park.
While batting, he hit a two-run home run for his first major league hit. Miles completed ​while allowing three home runs and four runs total and striking out five with walking none.
Season 2018
Miles threw his first major league complete game, a shutout, against the Kansas City Royals on May 21st, 2018, at Busch Stadium, where he struck out nine, walked one, and gave up only four hits while the St.
Louis Cardinals defeated Kansas City by 6–0.
With his 9–3 record, a 2.63 ERA, and a 1.03 WHIP, Miles Mikolas was named the 2018 Major League Baseball All-Star Game by the Washington Nationals. It was his first All-Star selection.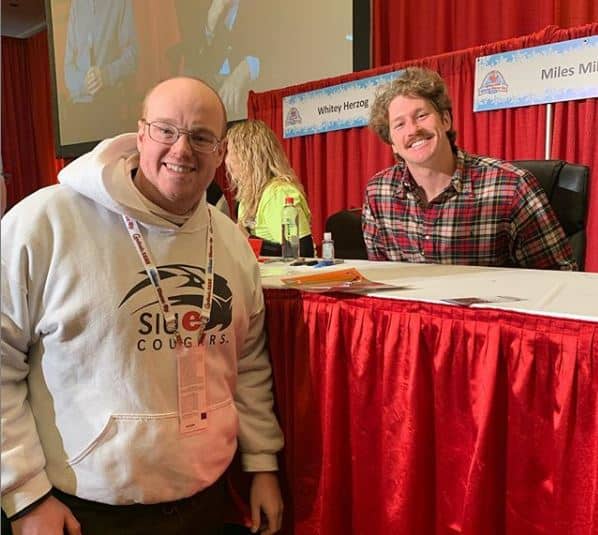 Miles finished his 2018 season with 18–4, a league-leading record, .818 won-loss percentage, a 2.83 ERA- fourth in the National League.
His 18 wins were tops in the National League. He also led all major league pitchers in the first-strike percentage.
Moreover, Miles had the highest zone percentage of all major league pitchers. Also, on defense, he was second among National League pitchers in range.
Mikolas came in sixth in the voting for the 2018 NL Cy Young Award.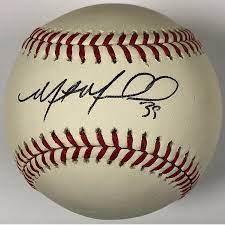 You Might Also Like Fellow Baseball Athlete Ben Zobrist Bio: Age, Career, Wife, Net Worth, Retirement>>
Season 2019
St, Louis Cardinals, and Mikolas agreed on a four-year extension worth $68 million on February 26th, 2019.
During the 2019 regular season, he finished the season with a 4.16 ERA, a 9–14 record, and striking out 144 over 184 innings.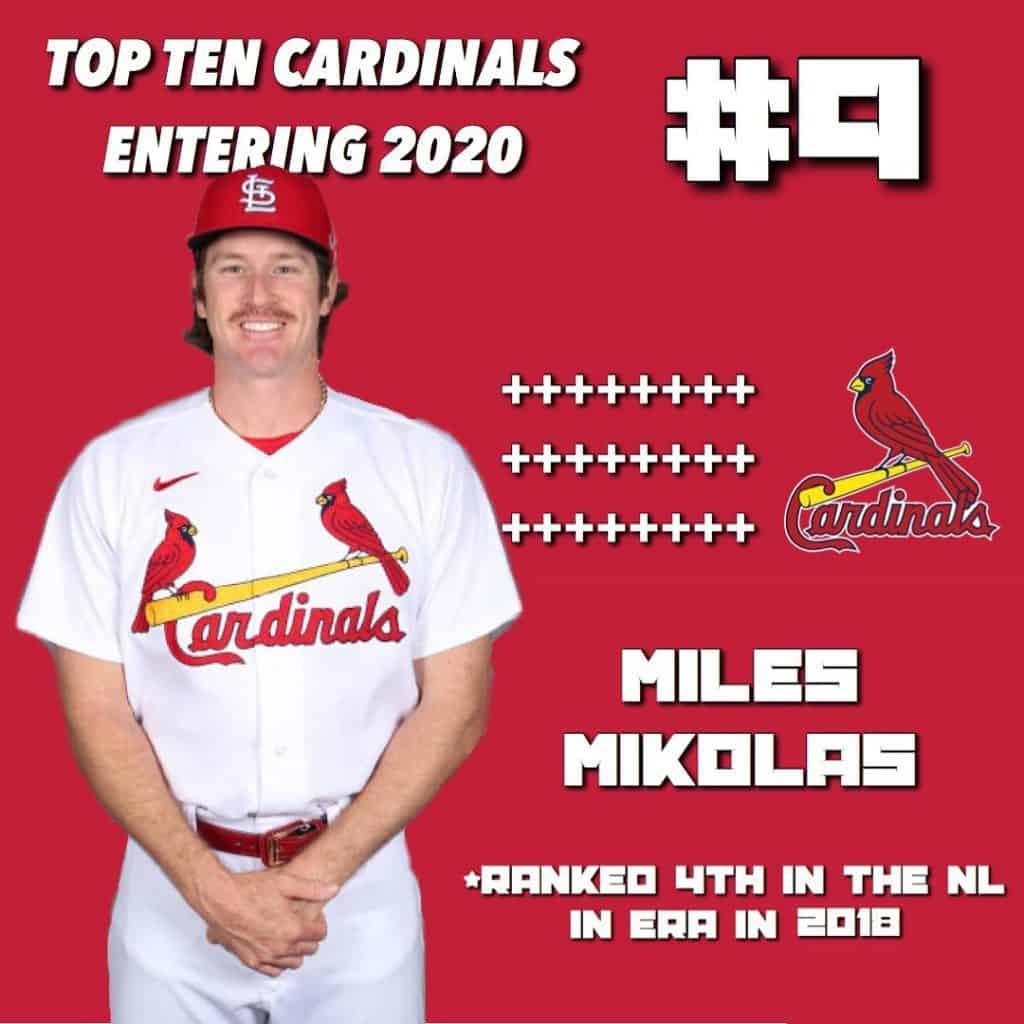 He was named St. Louis' Game 1 starter for the 2019 National League Division Series.
Sadly, on July 28th, 2020, Miles was declared out for the season as he didn't appear in a game due to undergoing surgery to repair a flexor tendon in his right arm.
You can view Miles's game log from here.
Miles Mikolas | Net Worth and Career earnings
Reportedly, "Lizard King" Mike Mikolas is the eighth best-paid player of the St. Louis Cardinals and the 90th best player in the MLB.
Looking back at his contract details, he had a salary of around $125,000 with the San Diego Padres.
While playing for Texas Rangers, his salary was about $502,301, and with St.Louis Cardinals, he signed a deal worth $15.5 million in 2017.
The Cardinals later extended the contract to $68 million on February 26th, 2019. Thus, Miles Mikolas Net Worth can be estimated to be around $70 million.
Miles Mikolas | Wife and Children
Apart from being a famous baseball pitcher, Mile is renowned as a loving husband and father of his beautiful children. Mikolas tied the knot with his lovely wife, Lauren Mikolas, in May 2015.
Gorgeous Lauren Mikolas was a former primary school teacher and a UFC ring girl. Moreover, the couple is blessed with three children.
Their first born's name is Lillianne Mikolas, and she was born in March 2017.
In July 2018, they were again blessed with beautiful twin babies Madelyn Mikolas and Miles Jr. Mikolas.
Miles Mikolas | Social Media Presence
Mikolas is not quite active on social media.
Miles occasionally shares moments of his family and the news regarding his carer on his social media. He has around 20.9k followers on Instagram.
He also irregularly uses Twitter and has around 34k followers.
Lastly, Mikolas has a Facebook page with around 2k followers, where he is hardly ever active.
Common Queries about Miles Mikolas
Is Mike Mikolas Injured?
Miles Mikolas underwent surgery to repair a flexor tendon in his right arm and missed the remaining 2020 season.
Will Miles Mikolas return in the 2021 season?
According to various sources, Miles Mikolas may come back to play during the 2021 season.
Why is Miles Mikolas called the "Lizard King"?
Miles is called the "Lizard King" as, during the 2011 Arizona Fall League, he ate a lizard in the bullpen for a bet.
Is Mikolas involved in Politics?
No, he is not involved in politics.
What is the average velocity of Miles?
His average fastball velocity is 89.8 mph.