The Utah Jazz tied the series, defeating the Memphis Grizzlies 141-129.
As Donovan Mitchell returns for the first time after missing seventeen games.
The Jazz players showed phenomenal performance dominating the Grizzlies for most of the quarter.
The Grizzlies star point guard Ja Morant showed incredible performance, setting records and giving a historic night for the NBA despite the loss.
Donovan Mitchell return and led the Jazz to the win.
After missing 17 games including Game 1 of Playoffs round 1, Donovan Mitchell returned for the Jazz in Game 2 and immediately made a great impact on the Jazz's game.
As they won Game 2 and tied the series 1-1 after losing out to the Grizzlies in Game 1.
Mitchell led the starters scoring 25 points with 2 rebounds playing only 26 minutes.
Another phenomenal performance came from the Jazz's star center Rudy Gobert as he dropped 21 points, 13 rebounds double-double along with three assists and four blocks.
He was all around the court, going off at both offensive and defensive end.
His denial of Ja Morant at the rim is one of the highlights of the game.
Similarly, Mike Conley Jr. also went off scoring 20 points and 15 assists double-double along with 4 assists.
21 PTS, 12 REB for Gobert.
20 PTS, 13 AST for Conley.
47 PTS for Morant.@memgrizz 122@utahjazz 133

4:25 to play on TNT. #NBAPlayoffs

— NBA (@NBA) May 27, 2021
His playmaking contributed a lot to the huge scoring night for the Jazz.
Royce O'Neale contributed 14 points along with 8 rebounds and 4 assists.
Bojan Bogdanovic made 18 points along with 3 rebounds and an assist.
On the other hand NBA Sixth Man of the year 2021, Jordan Clarkson led the bench scoring 16 points along with 6 rebounds and an assist playing 22 points all coming off the bench.
While Joe Ingles contributed 14 points, 3 rebounds, and 3 assists.
Other bench players also contributed to the win as Georges Niang scored 8 points playing 15 minutes and Derrick Favors dropped 5 points and 3 rebounds playing 12 minutes.
Ja Morant huge scoring night.
There was no slowing down for the Grizzlies star point guard and NBA Rookie of the Year 2020 Ja Morant, as he dropped 47 points in Game 2 against the No.1 seed Utah Jazz.
Despite Rudy Gobert defending him, he just continued to fire up as he made those shots and created a historic night of his career.
Gobert even made a huge block on Morant but still, he remained unfazed and continued to attack.
"Not afraid," Morant said. "I mean, that is his job, to protect the rim. That's my job when I am attacking the rim is to go finish. Obviously, he got a good block, but as you have seen throughout the game, I was right back inside the paint."
He dropped 47 points, 4 rebounds, and 7 assists and made a franchise record for points in a playoff game, and this is his only second playoff game.
"Give credit to Ja, he had 50 damn near."

Spida showing respect to Ja Morant after Utah's win. pic.twitter.com/Qx4uVPfBhr

— NBA on TNT (@NBAonTNT) May 27, 2021
His points this game is the most by a player 21 or younger in NBA history.
He joins elite players Lebron James, Luka Doncic, Magic Johnson, and T-Pac that had 40-point playoff games at age 21 or younger in NBA history.
He also becomes the player with the most points on the list.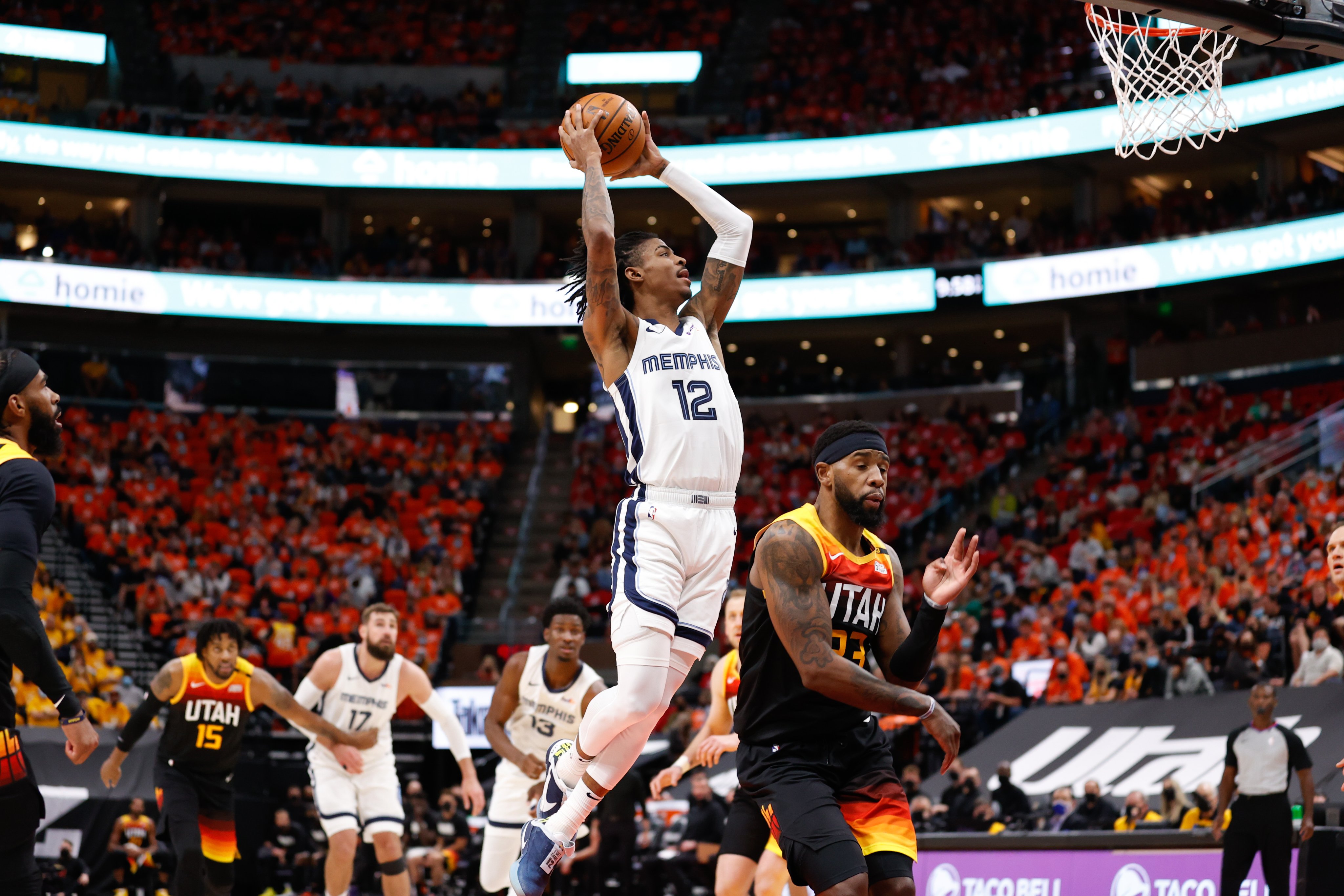 Similarly, he beats Luka Doncic and Kareem Abdul-Jabbar for the most points in the first two career playoff games in NBA history falling only two points shy of the record set by George Mikan.
"It is an honor to be able to do that (a record). I am blessed to be in the position that I am in, to play the game at the highest level, but that's not on my mind at all. We lost. Obviously, it wasn't enough." Memphis star Ja Morant after a career-high 47 points.
However, the Grizzlies lost to the Jazz despite Morant's huge scoring night.
Despite being the youngest team they are doing great and putting up a fight.
The Grizzlies are the youngest team in the NBA playoffs this season with an average of 24.3 years.
With the team full of young players the team is doing great putting up a fight against the veteran teams.
The Grizzlies put up a fight in Game 2 as well despite the loss.
Memphis lost the game but gained even more confidence if that's possible after it stunned the Jazz 112-109 on Sunday night in the series opener.
"Lot of great stuff tonight. But we showed these guys we can compete. They love to compete. We can beat this team, " said Memphis coach Taylor Jenkins. We have done it. He added, "We can compete with them."
"We are going to learn and grow and keep giving our best effort moving forward."
Especially in the third quarter as they cut the huge 20 point lead of the Jazz to two points.
"Really proud of our group in that third quarter to bounce back, cut the lead to a one-possession game," Jenkins said. "But 50-50 balls, second-chance points in that fourth quarter, you can't have those down the stretch in a close ball game.
The Grizzlies starters put on a show in game 2 as well.
Besides Ja Morant, Dillon Brooks dropped 23 points, 2 rebounds, and an assist.
While, Jonas Valanciunas contributed 18 points, 6 rebounds, and 3 assists.
Jaren Jackson Jr made 16 points, and 3 rebounds meanwhile Kyle Anderson dropped 11 points, 6 rebounds, and 3 assists.
🦄🦄🦄🦄@jarenjacksonjr | #NxtUpMemphis pic.twitter.com/V1sLcnmFAb

— Memphis Grizzlies (@memgrizz) May 27, 2021
As the series is tied now it will be more interesting to see who makes it to the next round.