Miyuu Yamamoto, aka Fighting Queen Bee, has perfectly defined age as just a number. At the age of enjoying retirement life, Yamamoto started her Mixed Martial Art (MMA)career.
Having already won the three World Wrestling Championships, Yamamoto is now making her name in MMA.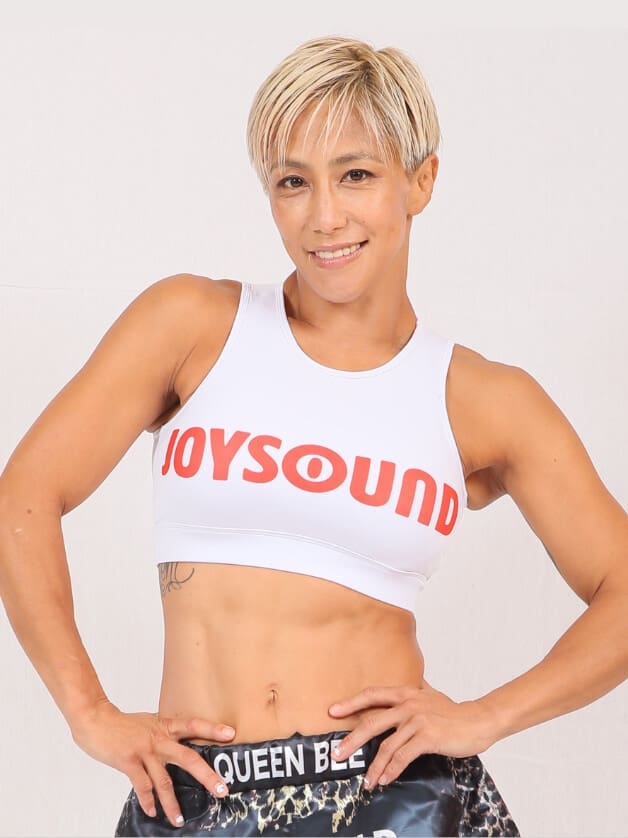 Yamamoto is 46 years old Japanese/ Canadian MMA fighter. Currently, she represents KrazyBee and fights in RIZIN Fighting Federation in the atomweight division.
As of 2023, Yamamoto holds a record of 6-5-0 in MMA. So, what made Yamamoto strive for the MMA? Let's find out.
Quick Facts
| | |
| --- | --- |
| Full Name | Miyuu Yamamoto |
| Date of Birth | 1974/ 08/ 04 |
| Age | 48 years old (as of July 2021) |
| Place of Birth | Kawasaki, Kanagawa, Japan |
| Gender | Female |
| Nick Name | Fighting Queen Bee |
| Religion | Buddhism |
| Nationality | Japan/ Canada (Dual Citizenship) |
| Ethnicity | Unknown |
| Education | Unknown |
| Horoscope | Leo |
| Father's Name | Ikuei Yamamoto |
| Mother's Name | Unknown |
| Siblings | Norifumi Yamamoto (Brother) and Seiko Yamamoto (Sister) |
| Height | 5 ft 6 inches (168 cm) |
| Weight | 50 kgs (110lbs) |
| Body Mass Index (BMI) | 17.8 |
| Body Measurement | Unknown |
| Blood Group | A |
| Tattoo | Yes |
| Hair Colour | Blonde |
| Eye Colour | Black |
| Marital Status | Married |
| Husband | Kyle Aguon (2020) |
| Ex-Husband | Akira Sasaki (2006-2011), Enson Inoue (2000-2004) & Nobuyasu Ikeda (1995-1999). |
| Children | Three children |
| Children name | Erson Yamamoto (Eldest Son), Middle son name unknown, and Mia Yamamoto (Daughter) |
| Profession/ Job | Freestyle Wrestling/ Sportscaster/ MMA |
| Category | Atomweight (2016- present) |
| Record | MMA record ( 6-5) |
| Association | RIZIN Fighting Federation |
| Reach | Not available |
| Stance | Not available |
| Shoe number | Unknown |
| Salary | Under review |
| Net worth | $1 million (estimate) |
| Instagram | miyuu_krazybeee |
| Youtube | 山本美憂 MiyuuYamamoto |
| Shoe number | Unknown |
| Agent | Krazy Bee |
| MMA Merch | Tshirts, Hoodies, Gloves |
| Last Update | March, 2023 |
Miyuu Yamamoto | Early Life and Family
Miyuu Yamamoto, the MMA fighter, was born on 4th July 1974 in Kawasaki, Kanagawa, Japan. She is 46 years old and holds dual citizenship.
Yamamoto is Japanese by birth, but after moving to Canada, she also got her Canadian Citizenship.
Yamamoto's father, Ikuei Yamamoto, is a former Olympian who participated in the 1972 Berlin Summer Olympics. The name and other details of Yamamoto's mother are unknown.
Alongside her brother (Norifumi Yamamoto) and sister (Seiko Yamamoto), she was trained by his father at an early age.
Since her childhood, Miyuu was raised in a wrestling environment. Later it helped Yamamoto to establish herself as a decorated female wrestler.
When she was 13 years old, only Yamamoto won the 1st Japan Women's Championship. Later she defended her title for four consecutive years.
However, Yamamoto couldn't represent Japan in World Championship due to the age limit.
Siblings
Miyuu Yamamoto is the eldest child of their parents. She has a younger sister Seiko Yamamoto and had younger brother Norifumi Yamamoto who sadly passed due to cancer.
Seiko Yamamoto
Seiko Yamamoto is a 40 years old Japanese wrestler like her sister Miyuu Yamamoto. She began her wrestling training at just the age of three.
She is also a four-time World Wrestling Champion and two-time Asian Wrestling Champion. Seiko made her professional debut in 1999 and retired in 2009.
Norifumi Yamamoto
Norifumi Yamamoto was a Japanese MMA fighter and kickboxer. At first, just like his sisters, he was a wrestler too.
But Norifumi, at age 21 years old, made a transition into MMA. Norifumi was firstly trained by Enson Inoue, who was Yamamoto's fiance at that time.
Noifumi competed in different MMA promotion companies like Sotto, Hero, and Dream before making his way to UFC.
He made his UFC debut in 2011 and competed in the bantamweight category. Norifumi holds a UFC record of 18-6-2.
Norifumi was diagnosed with cancer in 2016. He died on 18th September 2018 because of stomach cancer.
At the beginning of Miyuu MMA's career, Norifumi was her first coach. He was the first sibling to start wrestling first.
Miyuu Yamamoto | Body Measurement
The body physique of Miyuu Yamamoto is not normal in comparison to other women her age. Likewise, Yamamoto has maintained her physical fitness at the top level to perform in combat sports.
Yamamoto stands 5 ft 6 inches tall and weighs around 50 kgs (110 lbs). She has a mesomorph-built body with amazing six-pack abs.
Likewise, even at such an age, Yamamoto trains regularly to stay in the best shape and improve her fighting skills.
Yamamoto also has a unique hairstyle. She has already colored her hair blue, red, and pink.
Read also: Vickie Guerrero: Eddie Guerrero, Husband, Wrestling, Heel & Net Worth >>
Miyuu Yamamoto | Career
Wrestling
Before MMA, Yamamoto had already made an impressive resume in the Wrestling world. She became the youngest and 3-time world champion during her wrestling career.
During her career, Yamamoto took many breaks, maybe because of marriage and pregnancy.
World Wrestling Championship
When Yamamoto was 17, she participated in her first world championship and won it. For Yamamoto's first championships, she competed in 47 kgs and defeated Pan Yanping from China.
Yamamoto is the youngest World Wrestling Champion.
Later in 1994 and 1995, Yamamoto became world champion in the 50 kgs and 47kgs categories, respectively.
In 1995 Yamamoto took her first retirement. But returned temporarily in 1999 and participated in Queens Cup. She also won Asian Championship and All Japan Women Championship in the same year.
Zero Appearance in Olympics
After retiring in 2000, Yamamoto returned to active service in 2004. Women wrestling became an official Olympics event for the first time in 2004, during the Athens Olympics.
But Yamamoto secured the third position in the selection tournament known as Japan Queens Cup. So she could not participate in the Olympics.
In 2011 Yamamoto again returned to Wrestling. She intended to participate in the 2012 London Olympics.
Similarly, Yamamoto won The All Japan Women Open Championship in October. But in the selection tournament, she lost in the second round.
After acquiring Canadian citizenship in December 2015, Yamamoto aimed to compete in Rio Olympics 2016.
Even though Yamamoto was a Canadian citizen, she couldn't participate in the Olympic trials. So, after 2016 she decided to compete in MMA, leaving wrestling behind.
Sports Caster
Yamamoto also worked as a sportscaster in the Sports Biz group. She worked as a sportscaster while taking a break from wrestling.
Yamamoto was also a leader of Kids Wrestling, which was organized by the Japan Sports Network.
Priscila Cachoeira Bio: MMA, ESPN, Drugs & Record >>
Coaching
In 2012 Miyuu Yamamoto was appointed to the York University wrestling coaching staff. She was the assistant coach of the team.
Although she is not involved in wrestling now, she wants to open a wrestling class soon.
Mixed Martial Artist
At the age of 42, Yamamoto signed with RIZIN Fighting Federation in 2016. Even at old age, she accepted a new challenge and has shown the highest level of competitiveness.
Yamamoto has performed exceptionally well in sports; she is starting as a rookie.
Yamamoto made her RIZIN debut on 25th September 2016 against Rena Kubota in the Rizin Fighting World Grand Prix. She lost in the first round by submission.
In Yamamoto's debut, her son also competed. It was the first time in RIZIN history that mom and son fought on the same card.
Yamamoto suffered a back-to-back loss after Andy Nguyen defeated her on 31st December 2016 by Technical Submission.
Finally, on 30th July 2017, Yamamoto registered her first victory in RIZIN FF. She defeated Cassie Robb by unanimous decision.
In the next fight against Irene Cabello Riveria on 15th October 2017, she suffered defeat by submission.
Things didn't go quite well for Yamamoto in her RIZIN career. She started with three wins and one loss. It was not a surprise because she competed in the blooming atom weight division.
Four Fight Winning Streak
After her loss against Irene, Yamamoto started her longest win streak in RIZIN with four wins. Yamamoto firstly defeated Saori Ishioka on 28th July 2018 with a split decision.
Later, on 30th September 2018, Yamamoto defeated Andy Nguyen, who she previously lost in her second fight. She won the fight by unanimous decision.
After that, on 31st December 2018, Yamamoto defeated Mika Nagano also by a unanimous decision.
Later in her next fight, she got one of the biggest wins in her career after she defeated the top 5 rank atom weight, Kanna Asakura, by unanimous decision.
Yamamoto's amazing four-win streak kept her first title fight opportunity. She was just one win shy of it.
Unfortunately, she was defeated by TKO in her next fight against experienced Korean fighter Seo Hee Ham (punches).
On 31st December 2019, Yamamoto defeated Suwanam Boonsorn by a unanimous decision. To date, it's her last win in RIZIN FF.
Title Fight
On 31st December 2020, Yamamoto finally got the title shot for the vacant RIZIN FF super-atom weight title. Yamamoto was set to face her career's biggest fight to date.
Also, she was about to face former titleholder Ayaka Hamasaki. Sadly, Yamamoto was defeated in the first round by submission.
Yamamoto's defeat to Hamasaki was her last appearance in RIZIN FF before the Covid 19 pandemic spread worldwide.
During this pandemic, Yamamoto didn't take a rest and devoted herself to improving her MMA skills. Overall since her debut back in 2016, Yamamoto presently holds a 6-5 record in MMA.
Miyuu Yamamoto believes her MMA career has allowed her to train together with her family. Particularly, she believes it is a family reunion.
Major Achievements and Highlights
World Wrestling Championship
1991 Tokyo first place (47kg)
1994 Sofia first place (50kg)
1995 Moscow first place (47kg)
1998 Poznan second place (46kg)
Asian Wrestling Championship
1999 Tashkent first place (46kg)
Miyuu Yamamoto | Personal Life
Marriage/ Husband
In 2020 Miyuu Yamamoto married Kyle Aguon. He is also an MMA fighter competing in RIZIN.
Kyle holds a record of 13 wins and nine losses. Kyle is her fourth husband. He also owns two coffee shops in Guam.
Miyuu also wants to open her own coffee shop in Japan. After retiring, she wants to travel the world and try different coffee types.
Ex-Husband
Just like Kyle, all of Miyuu's previous husbands are an athlete. Yamamoto first married in 1995 to Nobuyasu Ikeda. He was a Japanese professional footballer who played in the J league.
On 8th September 1996, she gave birth to their first child, Arson Yamamoto. They divorced in 1999.
In July 2000, she married Enson Inoue, a Japanese/American professional MMA fighter. But in 2004, they got divorced.
Later in April 2006, Yamamoto married Akira Sasaki. He was a professional alpine skier who represented Japan in the winter Olympics.
Soon in the same year, Yamamoto gave birth to her second son in December. Later, in November 2008, Yamamoto gave birth to her only daughter Mia. Likewise, they got a divorce in 2008.
Children
Miyuu Yamamoto has three children. Erson is the name of the oldest son, and Mia, her daughter.
The name of her youngest son and any other information Yamamoto children expect Arson is not disclosed to date.
In an interview with RIZIN FF, she disclosed her children also live with her in Japan.
Arson Yamamoto is a 24 years old professional MMA fighter. His grandfather, Ikuei, taught him wrestling.
Before turning professional, Arson won many junior tournaments. He is nicknamed Badman in MMA.
Arson also currently fights in RIZIN FF like her mom and stepfather. Arson holds the record of 3 wins and five losses.
Read also: Daron Cruickshank: Family, MMA, Eye Injury & Net Worth >>
Miyuu Yamamoto | Social Media Presence
Miyuu Yamamoto is quite active on social media. Yamamoto, in August 2020, started to upload videos on her youtube channel.
To date, she has already posted 34 videos on youtube. The subscribers count on her youtube is private.
Likewise, Yamamoto is slowly gaining fame on Instagram also. She usually uploads vlogs about her lifestyle, training, traveling, and also some Q&A.
Yamamoto also has a huge fan following on Instagram. She has 32k followers on her Instagram.
Miyuu Yamamoto | Net Worth, Salary, and Income
The salary details and net worth is not revealed to the public yet. Like other MMA promotion companies, RIZIN FF doesn't disclose their fighter's details to the public.
But according to various online sources, Yamamoto estimated net worth is around $1 million.
In the past, wrestling and sports hosting were a major source of Yamamotos income. Presently she makes a living from MMA.
Yamamoto is affiliated with Krazy Bee gym and also has an endorsement deal with Sunchorella.
By collaborating with Krazy Bee and Sunchorella, Yamamoto has already released various merch such as bottles, t-shirts, hoodies, etc.
Miyuu Yamamoto | Frequently Asked Questions (FAQs)
When did Miyuu Yamamoto start her MMA career?
Miyuu Yamamoto started her career in 2016 and signed with RIZIN Fighting Federation. On 25th September 2016, she made her professional MMA debut against fellow Japanese fighter Rena Kubota.
Who won Miyuu Yamamoto vs. Irene Rivera?
Rivera won the match against Yamamoto via submission in 2017.
When is Miyuu Yamamoto's next fight?
Yamamoto's next fight is not decided yet due to Covid 19 restriction. Soon in 2021, she may compete in her next fight.