History-maker Japanese athlete Mizuki Saito is the first Japanese to win the World Championships gold medal in the non-Olympic discipline.
To begin with, Saito started his career by joining the local gymnast club, as he was passionate about it from a young age.
However, this passionate gymnast never thought he would be recruited into the national team someday.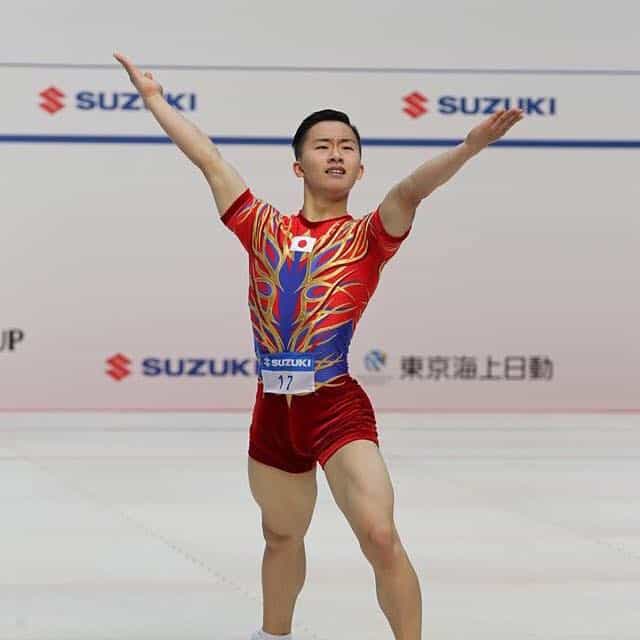 Today, Mizuki Saito is a national aerobatic gymnast who has won the aerobatic individual men's gymnast championship two times and an aerobatic gymnastic trio championship one time.
This article will talk about Miziku Saito's journey, achievements, and overall life as an award-winning aerobatic gymnast.
However, before the deep plunge into his life story, here are some quick facts to know the athlete better.
Quick Facts
Full Name
Mizuki Saito
Japanese Name
斎藤美月
Nickname
Saito
Birth Date
October 2, 1996
Age
26 years old
Birth Place
Ota, Japan
Residence
Ota, Japan
Nationality
Japanese
Ethnicity
Asian
Education
Bachelors in Physical Education
University
Gunma University
Star Sign
Libra
Father's Name
Not Available
Mother's Name
Not Available
Siblings
Not Available
Height
Not Available
Weight
Not Available
Eye color
Black
Hair Color
Black
Marital Status
Unmarried
Spouse
None
Children
None
Profession
Aerobic Gymnast
Club
SKJ Aerobic Athlete Club
Coach
Yoshie Sugihara
Achievement
First Japanese to win Aerobic World Championship
Awards

Gold medalist at 2016 Aerobic Gymnast Wit's Championship- Individual men
Gold medalist at 2018 Aerobic Gymdoesn'trld Championship- Individual men
Bronze medalist at 2019 Aerobic Gymnast World Championship- Individual men
Gold medalist at the 2017 Aerobic Gymnast World Cup-Trio

Net Worth
$1 million
Social Media
Facebook, YouTube
Last Update
May, 2023
Mizuki Saito | Early Life
On October 2, 1996, Mizuki Saito was born in Ota, Japan. Unfortunately, there has not been much information about his family background and childhood.
However, it is known that Saito holds a university degree in Physical education from Gunma University.
Saito keeps his personal life private and makes a low-key appearance, so his details are unknown.
Mizuki Saito | Professional Career
Mizuki Saito is a child prodigy who started doing gymnastics and aerobics when he was just five years old. After that, he joined SKJ Aerobic Athlete Club and polished his god-gifted gymnastic skill.
As a result, Saito emerged as one of the best gymnasts on the team and started to compete locally, representing his club SKJ.
While participating in minor tournaments in his hometown, his exemplary skills stood out and caught his attention at the national level. Consequently, he was recruited to the national team and coached by Yoshie Sugihara.
First International Tournament.
After being recruited to the Japanese National Team, Mizuki Saito was offered the opportunity to compete in international tournaments.
Mizuki Saito's first international tournament was the 2014 aerobic gymnastic world championships. The tournament was held in Cancun, Mexico, and he had the honor of representing Japan there.
In the competition, Saito was able to make it to the top 10 and ranked seventh overall with 21 points. However, it was a near win as the championship winner, Ivan Veloz of Mexico, had 22.45 points to victory.
You might also like reading about Olympic Rhythmic Gymnast Margarita Mamun>>
First Japanese to win World Championship
The following year, Saito participated in the championship again. As a result, he represented Japan in the 2016 aerobic gymnastic world championship in Incheon, South Korea.
This time, Saito didn't want to return home empty-handed. So, he did his best to ensure that he at least had a medal on him on the way back home.
Little did this hardworking champion know that this time, he'd be making history by winning the Aerobic World Championship.
Notably, he was the first Japanese to do so, and no prior Japanese contestants could bring home the gold.
It was Saito's second appearance in the tournament, and despite that, he had already brought home the most awaited gold medal.
Saito showed his incredible aerobic gymnast skills in the competition and scored 22.4 points to win that gold.
In the game, his neck-to-neck competitor was Hungary's Daniel Bali, who ended up being the silver medalist with a score of 22.3.
The prior gold medalist Ivan Veloz of Mexico returned home with a bronze medal scoring 22.2.
The best Japanese gymnast trio
Japan also participated in Aerobic gymnastics at the 2017 World Games in the Open event trio. In this case, Mizuki Saito, Riri Kitazume, and Takumi Kanai were selected to represent Japan in the game team.
Six countries participated in the event, and Japan took the first position beating China and Russia in the Qualification round.
Furthermore, the trio scored 22.361 with a 9.300 artistic score, 8.550 execution score, 3.611 difficulty score, and 0.900 lift.
In the finale, Japan scored a total point of 22.636. In addition, the team scored 9.375 artistic scores, 8.650 execution scores, 3.611 difficulty scores, and 1 lift score.
As a result, the team beat China and France to secure gold for the country.
You might also like reading about Olympic Gymnast Danell Leyva >>
The second gold
The following year in the 2018 Aerobic Gymnast World Championship, Japan had two gold medals in the Individual men and woman category.
Saito defended his title for the next year as well. The lineup for the game was the same as the 2016 world championship.
Saito was the gold medalist in the finale, Hungary's Daniel Bali was the silver medalist, and Ivan Veloz of Mexico was the bronze medalist.
As for the woman, Riri Kitazume accompanied Mizuki Saito to bring home the gold. That year, Japan became the only country to win two titles in the tournament after Spain in 2012.
The failed hat-trick
The 30th Suzuki FIG World Cup 2019 was held in Tokyo, Japan. The two-time gold medalist was competing for his third gold medal in his homeland with a lot of Japanese supporters.
The finals of the Aerobic Gymnastics were held in Ota City General Gymnasium, and there were three familiar faces, Mizuki Saito of Japan, Hungary's Daniel Bali, and Ivan Veloz of Mexico.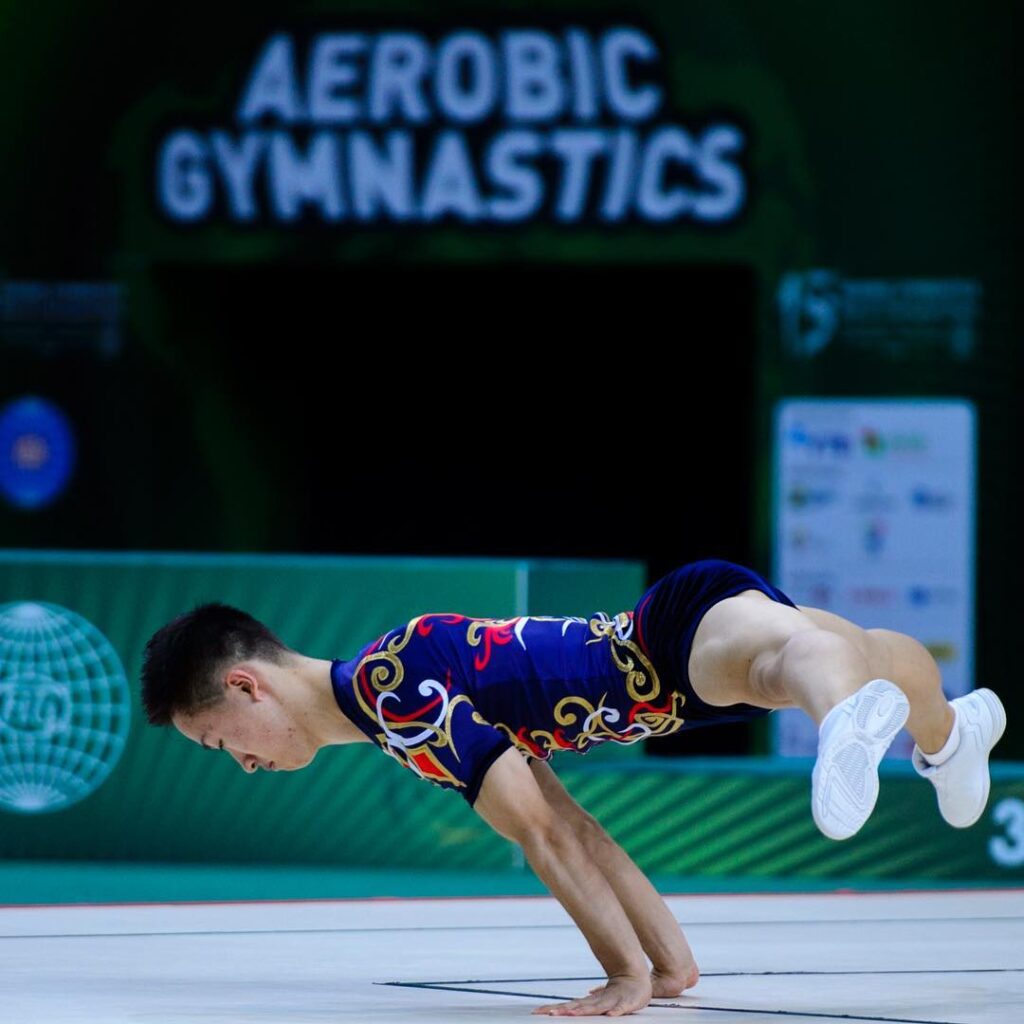 It was again a neck-to-neck performance; the Japanese crowds supported Mizuki Saito and were expecting to get that hat-trick gold.
But, the pressure could have been so intense for Saito. Unfortunately, Saito had to compromise with the bronze medal with just 0.1 points below Ivan Veloz and Daniel Bali.
The two rivals of Saito tied with 22.5 points for first place, but Ivan Veloz was announced as the winner as his execution score was better than Daniel Bali's.
Where is Mizuki Saito?
Japan's two-time gold champion Mizuki Saito didn't participate in the 2021 Aerobic Gymnast World Championship held in Baku.
The two-time champion decided not to participate but watch the game from his home amidst the pandemic.
The absence of Mizuki Saito raised several queries on why he didn't participate or where he is, but Saito is making a low-key appearance.
You might also like reading about Olympic gymnast Kohei Uchimura >>
Mizuki Saito | Awards and Recognition
First Japanese to win gold at the Aerobic Gymnast World Championship.
Sports Honorary Award at the Gunma Prefecture Sports Awards in Japan in 2019.
Honorary Award at the 2017 Ota City Sports.
Best Athlete at the Gunma Sports Association's 2017 President Awards in Japan.
Excellence Award at 2017 Gunma Prefecture Sports Awards.
2016 Gunma Prefecture Sports Merit Award.
Gold medalist at 2016 Aerobic Gymnast Wit's Championship- Individual men
Gold medalist at 2018 Aerobic Gymdoesn'trld Championship- Individual men
Bronze medalist at 2019 Aerobic Gymnast World Championship- Individual men
Gold medalist at the 2017 Aerobic Gymnast World Cup-Trio
Mizuki Saito | Girlfriend
Mizuki Saito is a private person and loves keeping his life low-key from the media. Thus, there has been not much information on if the world champion is dating any beautiful Japanese girl or not.
However, it is known that Mizuki Saito is fully committed to aerobic gymnastics, and he probably is single and is currently more focused on his career.
Mizuki Saito | Net Worth
The net worth of Mizuki Saito is estimated to be around $1 million. Saito has earned their net worth from his aerobic gymnastic career.
Saito has just begun his gymnast career but has already won several international tournaments and made history by winning Japan's first-ever world aerobic gymnast championship.
As a result, he accumulates his net worth from his remuneration, prize money, endorsements, and sponsorship as a rising aerobic gymnast in Japan.
Mizuki Saito | Social Media
Mizuki Saito is busy training for his gymnastics that he barely has time to use social media. Thus, Saito is on social media but has a low-key presence there.
However, Saito occasionally shares his personal life behind the scenes of training in social media.
In particular, he has a Facebook where he shares his workout routine and his performance in aerobic competitions. So, you can follow him on Facebook to support him and learn more about him.
If you want to watch his fantastic performance in the world championship, then you can subscribe to the YouTube channel of FIG.
Frequently Asked Questions (FAQs)
Does Mizuki Saito have any Tatoo?
While tattoos are normal in many countries, it's taboo for the Japanese. So, the Japanese Gymnast Mizuki Saito doesn't have any tattoos on his body.
Why Mizuki Saito did not participate in FIG Aerobic Gymnastics World Championship 2021?
Mizuki Saito did not participate in the FIG Aerobic Gymnastics World Championship 2021 without the official notice clarifying the reason.
Most people believe the reason could be the disappointment of not winning gold last time, It's probably due to the covid pandemic.