Mohamed Salah, also known as Mo Salah is estimated to have a net worth of $90 million. He is an Egyptian forward for a Premier League club and captain of the national team.
He was born on 15 June 1992 in Basyoun, Egypt. As a young boy, he played soccer with his friends and brothers, which developed him into a good player.
After an unsuccessful spell in Chelsea, Salah discovered his form in the Italian club Roma and Florentina. Later, in Liverpool, he became one of the best wingers in world football.
His nickname, Egyptian king, suits him well as he helped his country qualify for the 2018 World Cup after 28 years. Likewise, he has started many charity works to help people below the poverty line in his country.
Talking about his achievements, he has already won the Champions League, Premier League, Club World Cup, and UEFA Super Cup.
Similarly, his individual accolades include PFA Players Player of the Year, Golden Boot, CAF, and BBC African Footballer of the Year.
Mostly Salah plays as a right-winger; however, he can also play in either flank. Moreover, he is well known for his deadly pace, dribbling, movement, strength, and finishing.
Mohamed donated three million for a mishap to the Abu Sefein Church in Giza, Egypt, on 13 August 2022.
Let's get to know him better, starting with his quick facts.
Quick Facts
| | |
| --- | --- |
| Name | Mohamed Salah Hamed Mahrous Ghaly |
| Date Of Birth | 15th June 1992 |
| Birth Place | Nagrig, Basyoun, Egypt |
| Nick Name | Egyptian King, Egyptian Messi |
| Age | 30 Years Old |
| Gender | Male |
| Religion | Muslim |
| Nationality | Egyptian |
| Ethnicity | Unknown |
| Horoscope | Gemini |
| Profession | Soccer Player |
| Height | 5'9″ /1.75 m/175 cm |
| Weight | 71 kg/156.59 lb |
| Body Mass Index (BMI) | 23.1 |
| Build | Athletic |
| Hair Color | Black |
| Eye Color | Black |
| Tattoo | No |
| Father Name | Salah Ghaly |
| Mother Name | Unknown |
| Siblings | Nasr Salah (Brother) |
| Relationship | Magi Sadeq (Wife) |
| Children | Makka And Kayan (Daughters) |
| Preferred Foot | Left |
| Playing Position | Right Wing |
| Players Agent | Ramy Abbas Issa |
| Professional Debut | 3rd May 2010 |
| Current Team | Liverpool |
| Previous Clubs | Al Mokawloon, Basel, Chelsea, Florentina, Roma |
| Net Worth | $90 Million |
| Transfer Market Value | €150 Million |
| Shoe | Adidas |
| Social Media | Instagram, Twitter, Facebook |
| Jersey Number | 11, 10 |
| Merch | Funko Pop, Poster |
| Last Update | June, 2023 |
Salary, Transfer Market & Net Worth
Salah is the highest-paid player in the Liverpool squad, earning £2,00,000 ($2.4 million) per week.
His initial salary was £90k ($110k) when he signed in 2017, although his £36.9 million ($44.65 million) transfer fee was a club record back then.
But, later, he signed a new deal running until 2023 in 2018. Salah also receives bonuses for scoring goals, assists, and wins.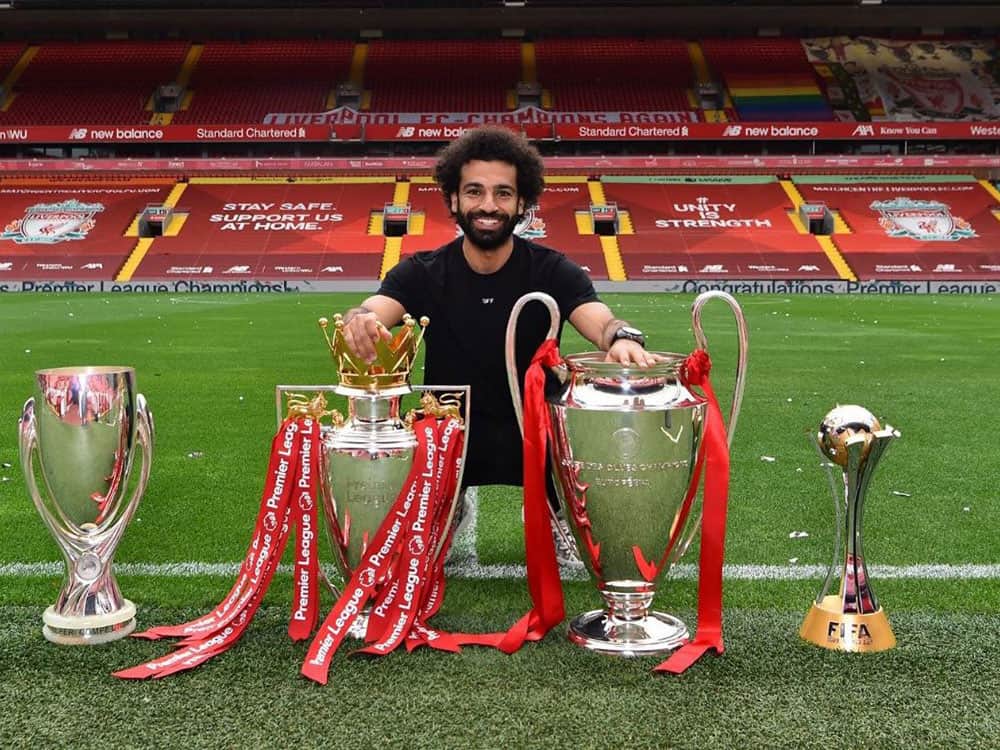 Moreover, in 2020 Salah was the fourth-highest-earning soccer player in the world behind Ronaldo, Messi, and Neymar, with $35.1 million combined with his salary and endorsements.
Out of which, Salah earned $23.1 million from salary and $12 million from endorsement deals.
He stands fourth in the highest transfer market value list with €110 million ($119 million) behind Kylian Mbappe, Harry Kane, and Earling Haaland.
However, his highest transfer market value was €150 million ($162 million) from 2018-2019. According to various online sources, the estimated net worth of Egyptians is about $90 million.
Lifestyle
Like most footballers, Salah also enjoys his holidays, visiting different places with his family and friends. Following the World Cup exit in 2018, he took a trip to the Maldives.
Likewise, after the 2019 Champions League triumph, he enjoyed his holiday by spending time in a private yacht at El Gouna. He also visited Dubai during the 2019/20 pre-season.
The public has not yet revealed whether he owns a private jet. But he has been seen taking private jets for holidays or events on multiple occasions.
During the Covid 19 pandemic, he even took a fully medical-equipped private jet to travel from England to Egypt.
Cars
Salah is known for being quiet and down to earth. However, his car collection is filled with powerful motors.
The latest car in his collection is the Bentley Continental GT costing £160k ($190k). It has luxury interiors with comfy leather seats.
There is no doubt that Salah poses incredible speed and feels the need for speed off the field. So, Lamborgini Aventador is the best fit for him and is the fastest car in his collection.
Aventador has a top speed of 218mph and can accelerate to 60 mph in just 2.9 seconds. Salah also owns one of the Mercedes cars, the Mercedes-Benz SLS AMG Roadster costing £176,000 ($217k).
Other cars in his garage include Audi Q7 and Mercedes Benz SUV.
Watches
Usually, footballers opt for Audemars, Piguet, Hublot, or Rolex for watches. But Salah has a surprising choice for watches.
He prefers wearing futuristic and Avant-Garde Urwerk UR-105 CT Streamliner, which costs around $68,000. He is seen wearing this watch during photoshoots and press conferences.
However, the Egyptians' most expensive watch is probably the "Royal Oak Concept Flying Tourbillon," worth $170000.
Endorsement & Business
Salah is one of the most marketable football players in the world because of his fame and success. His main sponsor is Adidas, with whom he signed a £40 million ($50 million) multi-year deal.
He was also the face of their iconic 1970s Adicolor sports and streetwear advertisement campaign in 2019.
Salah's other sponsors include Vodafone Egypt, DHL, Oppo, Electronic Arts, Uber, and Falken Tires.
The Egyptian frequently advertises his sponsors on his social media handles which have around 80 million followers.
Mohamed Salah seems to have already started to make smart investments in preparation for the post-retirement stage.
In February 2021, Salah established an investment company named Salah UK Commercial, which engaged in the business and real estate field.
Later, in March 2021, he initiated two real estate companies. Salah also has a separate holding company for investing in bricks and cement.
According to various sources, Egyptian has assets worth $12 million for commercial activity across the UK, with a quarter of assets allocated for real estate.
Salah signed an extension with Liverpool for another 3 years at the club until 2025, becoming Liverpool's highest-paid player with £350k a week.
On 30 July 2022, against Manchester City, Salah scored a goal in a 3–1 FA Community Shield victory.
Charity
Like many other footballers, Salah has not forgotten to give back to the community after turning pro.
Salah started a regeneration project in 2018 to conduct development works in his hometown Nagriag. During the first year of initiation, he opened girls' schools, so they didn't need to travel far distances to get an education.
Later, he bought 5 acres of land to construct a sewage treatment plant in his village to ensure a safe and clean water facility.
In June 2020, Salah supported opening a new ambulance center in his area and also supplied food and masks to Covid-19 affected families. Recently he then donated oxygen masks to help Covid-19 victims.
Moreover, Salah has assisted 450 families in his village, providing them monthly allowances. During the economic crisis in his country, he provided $3,000,000 to the government.
Salah charity works are not limited to Nagriag only. He donated $300k to the "Tahya Masr Fund" in 2016 and $3 million to National Cancer Institute.
The 2017 house robbery incident in Egypt proved Salah is a man of a golden heart. After police caught the thief, he dropped the charge and helped him find a job.
Salah expressed his condolences on Twitter and donated three million for a mishap (a fire broke out with 41 people losing their lives) at Abu Sefein Church in Giza, Egypt, on 13 August 2022.
Career
Salah made his professional debut at 18, playing for the Egyptian club AL Molawloon. After scoring 12 goals in 44 appearances for the club, he joined the Swiss side FC Basel.
During his first year, Egyptian scored 5 goals in 19 games, winning the Swiss League. Later, after winning the back-to-back title with the club, he made a fuss all over Europe for his performance.
On 23rd January 2014, Salah moved to Chelsea for £11 million ($13.5 million). Moreover, he was the first Egyptian to play for Chelsea.
However, Salah was rarely given a chance by Jose Mourinho. Even though making 3 appearances in the 2014-15 season, he was awarded a replica English Premier League medal.
Mohamed moved to join Florentina in the January transfer window, where he chose to wear 74 numbers to honor Port Said Stadium victims.
Rise To Fame
During his loan spell in 2014–15, Salah scored 6 goals in 16 games. Although Florentina triggered a permanent option, he refused to play for them. Rather, Salah joined another Italian side, Roma.
In the 2016-17 season, Salah's first season with Roma, he scored 15 goals, helping Roma qualify for the Champions League. Sadly next season, his side fell 4 points behind in winning Serie A.
Conservation Among Best
Mohamed Salah joined Liverpool for £36.9 million ($45.5 million) on 22nd June 2017. In his first season at the club, he broke the Liverpool goal-scoring record, scoring 36 goals.
He also won the golden boot award scoring 32 goals, a Premier League record, in the 2017/18 campaign.
The Egyptian player scored his first goal in the UEFA Champions League finals against Tottenham to help Liverpool win the title.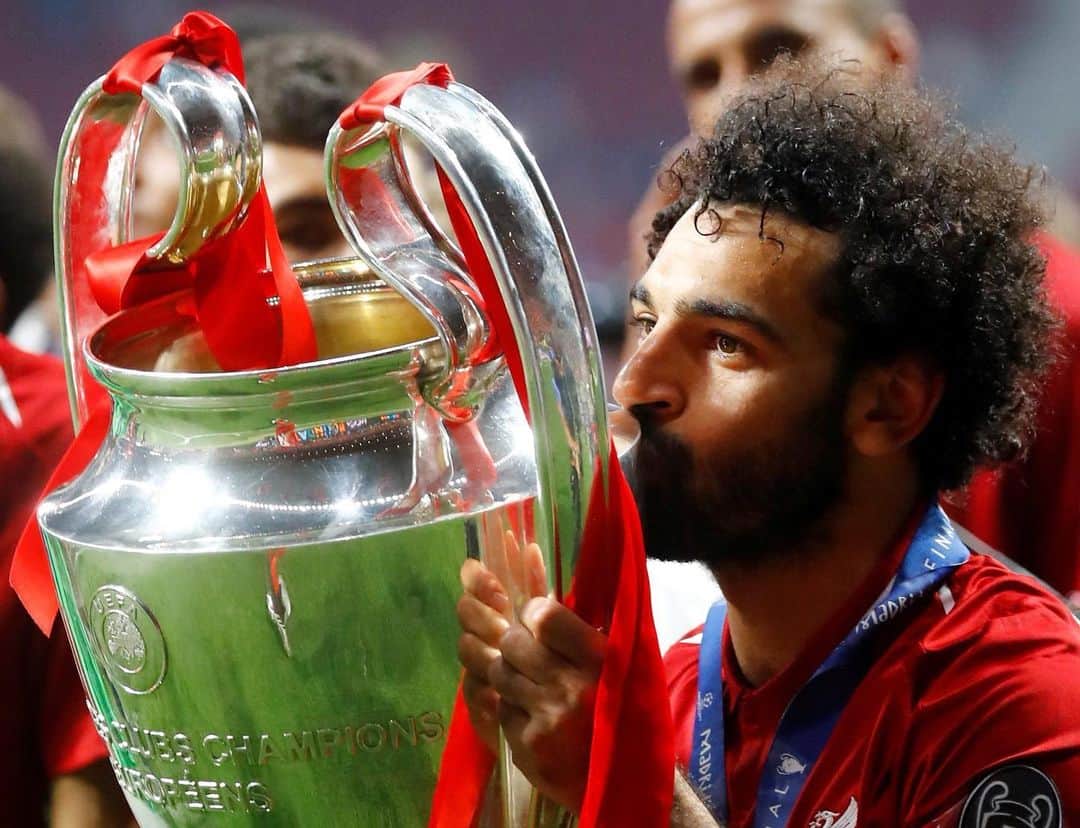 In the 2019/20 season, Salah scored 19 goals in 34 games helping Liverpool to clinch their first Premier League title.
In the 2022-23 season, he still plays at the top level for Liverpool. However, his team is struggling to perform. This season, he has made 29 appearances for the club in all competitions and scored 17 goals while making 6 assists.
Trivia
During his childhood, he played for Contractors FC. For training, Salah used to travel 4-5 hours by bus. Because of this, he only studied for 2 hours at school. Moreover, he used to return home at 10 pm after leaving at 9 am.
In the 2018 Egypt presidential election, Mohamed Salah received about 1 million votes. Salah's name was written by people rather than candidates Sisi and Moussa. Salah would have finished second in the elections if these votes were legal.
Mohamed Salah's favorite food is the Egyptian national dish Kushari. Moreover, while going to Egypt, he always tells his friend to purchase it to eat in his car later.
During Salah's wedding with his long-time girlfriend, Maggi, in 2013, Salah invited the whole village without limiting the number of guests.
Quotes
"When I have a chance to go back to my village, I always remind myself where I came from."
"I always try to see my weakness, work on it, to be better as a person and a player, everything."
"This is my life: it's an easy life. It's not complicated."
The Popularity Graph
Mohamed Salah is an active player and is very generous in all ways, for which his fans adore him.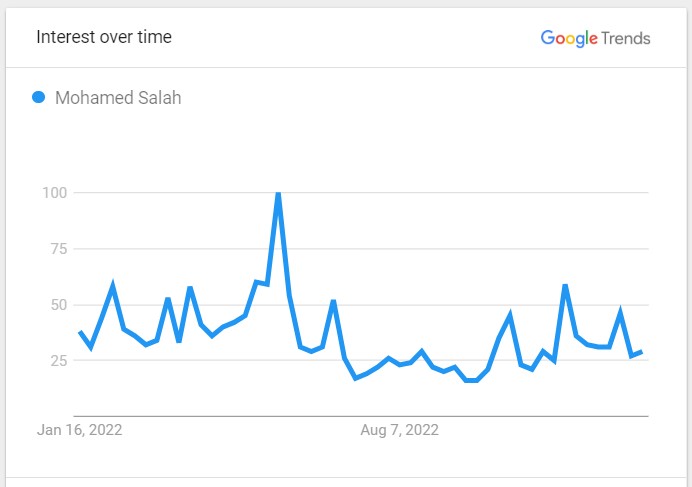 The above graph shows Salah's popularity over the past twelve months.
FAQs
What is the salary of Mohamed Salah?
Mohamed Salah earned £2,00,000 (2,411,846) after signing a new contract in 2018 for 5 years. Moreover, Salah is the highest-paid soccer player on the Liverpool roster.
Who is the highest-paid African soccer player?
Sadio Mané surpassing Mo Salah, now is the highest-paid player in Africa, earning $21,382,762 per year. Although According to Forbes 2020 report, Salah earns $35 million from salary and endorsement deals.