If you follow the National Football League and are a 49ers fan, you will surely recognize Mohamed Sanu. He is a professional football player who serves as a wide receiver for the San Francisco 49ers.
However, the Cincinnati Bengals drafted him in the third round of the 2012 NFL Draft. He played for the squad from 2012 to 2015.
Not to mention, the NFL player's Father, Samuel, was an athlete as well. He played soccer for his country and was very good at it.
Hence, it is predictable where Mohamed gets his athletic abilities from. Furthermore, his parents taught him the value of hard work and consistency.
As a result of his dedication, Sanu has made an excellent living for himself and his family. Besides that, when it comes to his personal life, he is a big romantic, and you'll know more about this below.
Before details about the NFL player's life and career, here are some quick facts about him.
Quick Facts
| | |
| --- | --- |
| Full Name | Mohamed Sanu Sr. |
| Birth Date | August 22, 1989 |
| Birth Place | New Brunswick, New Jersey, the United States |
| Nick Name | Not Available |
| Religion | Muslim |
| Nationality | American |
| Ethnicity | Muslim American |
| Education | Rutgers University |
| Horoscope | Leo |
| Father's Name | Samuel Sanu |
| Mother's Name | Aminata Koroma |
| Siblings | Two; Samir Sanu and Haja Jabbie |
| Age | 33 years old |
| Height | 6'2″ (1.88 m) |
| Weight | 210 lb (95 kg) |
| Hair Color | Black |
| Eye Color | Brown |
| Build | Athletic |
| Profession | NFL Player |
| Current Team | San Francisco 49ers |
| Position | Wide Receiver |
| Active Years | 2012-Present |
| Marital Status | Divorced |
| Ex-Fiance | Lauren Mackenzie |
| Kids | Mohamed Sanu Jr. |
| Net Worth | $20 million |
| Social Media | Instagram, Twitter |
| Merchandise | Cincinnati Bengals Card |
| Jersey Number | #6 |
| Last Update | March, 2023 |
Early Life, Family, and Education
Mohamed Sanu Sr. was born in the United States in New Brunswick, New Jersey. His parents are Samuel Sanu and Aminata Koroma.
Moreover, the footballer comes from a Muslim family, and his parents are originally from Sierra Leone, a country on the southwest coast of West Africa. Likewise, Mohamed lived there for a while before moving back to the States.
Besides that, the NFL player comes from a family of athletes. His Father and uncle played soccer for their birth country's football team, Leon Stars.
Not to mention, Samuel was an exceptional player, and his contribution to Sierra Leone's national football team is remembered and appreciated to this date. He was one of the best mid-fielders the country had to offer.
Hence, it is safe to say that Samuel impacted and, in some ways, influenced his son's football career. As a result of his sports career, Mohamed grew up loving athletics and chose to pursue football professionally.
Furthermore, the 49ers' wide receiver grew up in a loving and supportive environment. He has two siblings, namely Samir Sanu and Haja Jabbie.
He is the oldest of three. Similarly, the athlete shares a close relationship with his brother and sister.
The player's Father sadly passed away in 2017 due to unknown reasons. Mohamed shared a photo of his Father on Instagram, captioning, "RIP, daddy."
Education
The player played high school football at South Brunswick High School. He was a triple-option quarterback for the school's team.
Besides that, Sanu was also a track and field athlete and quite good at it. He finished second in the triple jump and third in the long jump at the 2008 NJSIAA Sectional Championships.
Later, he couldn't play in his senior year. The footballer graduated early and joined Rutgers University. He was an exceptional addition to the Rutgers Scarlet Knights football team.
Learn more about NFL player Terrence Brooks Bio: Wife, Contract, Patriots & Net Worth.
Age, Height, and Weight of Sanu
Since the NFL player was born on August 22, 1989, he is 33 years old as of 2023. As an athlete, Sanu takes great care of his health and diet.
He is very disciplined and works out daily. Hence, the footballer is reasonably fit and has a toned physique.
Besides that, Sanu is 6 ft 2 in tall, i.e., 1.88 m, and weighs 210 lb, i.e., 95 kg.
Mohamed Sanu | Football Career
High School and Collegiate Career
Sanu played high school football at South Brunswick High School. He was quite known for contributing to a game against Edison High School.
The player had an impressive high school career. However, he could not play during his senior year due to the New Jersey State Interscholastic Athletic Association's age restriction rules.
As a result, he graduated six months early from school and started his collegiate career at Rutgers University. The NFL player became the first-ever true freshman at Rutgers to start at wide receiver.
Moreover, he was coached by former Buccaneers head coach Gregory Edward Schiano. The athlete was able to develop a lot of skills under Schiano's guidance.
Besides that, at the 2009 St. Petersburg Bowl, Mohamed was the recipient of the Most Valuable Player honor. Furthermore, he was a consensus preseason All-Big East player the following season.
The wide receiver broke many Big East records, including one held by Cardinals' wide receiver Larry Fitzgerald. After only three seasons with the Rutgers Scarlet Knights, he entered the 2012 NFL Draft.
NFL Career
Cincinnati Bengals
The Bengals drafted Sanu in the third round of the 2012 NFL Draft as the 83rd pick overall. Shortly after, he was offered a four-year contract worth $2.71 million and a $563,252 signing bonus.
In a match against the Washington Redskins, the footballer threw a 73-yard touchdown pass and became the Bengals' first wide receiver to throw a touchdown pass. Besides, he made his first touchdown catch in a game against the Giants.
Later on, the wide receiver underwent surgery to repair a stress fracture, concluding his rookie season. The following season, he assisted the Cincinnati team in finishing at the top of the AFC North with an 11–5 record.
In the 2014 NFL season, Mohamed mostly worked on the team's offense. After that, in his last season with the Bengals, he scored his first NFL rushing touchdown in a game against the Browns.
You might be interested in the 49ers' defensive end, Ziggy Ansah Bio: College, NFL, 49ers & Net Worth.
Atlanta Falcons
After playing for four seasons with the Bengals, Sanu signed a five-year contract with the Falcons. In his first season with the squad, he helped the Falcons finish at the top of the National Football Conference's South Division.
Moreover, he also assisted the team in the 2016-17 Super Bowl Finals against the New England Patriots. The athlete made two receptions before losing to the Patriots.
After having a relatively average career with the Atlanta team, the Falcons traded Mohamed to the New England Patriots.
New England Patriots and San Francisco 49ers
The NFL player made his debut as a Patriots player in a game against the Cleveland Browns. Furthermore, he recorded ten receptions in a game against the Baltimore Ravens.
However, in August 2020, the wide receiver landed on the active/physically unable to perform list. After that, the Patriots released him a month later.
Following his release, he signed a contract with the 49ers but was released less than a month later.
Detriot Lions and Re-signing with the 49ers
After his release from the 49ers, Sanu went on to play for the Detroit Lions and was initially assigned to their practice squad.
Shortly after, he was placed on the active roster and played with the Lions for the 2020 NFL season. Besides that, in March of 2021, Mohamed re-signed a contract with the 49ers.
However, he could only play eight games before landing on the team's injured reserve due to a knee injury.
Mohamed Sanu | Wife, Girlfriend, and Kids
As of now, the wide receiver is single. However, previously he was engaged to a businesswoman named Lauren Mackenzie.
The pair had one of the most romantic proposals. As the footballer is a big soccer head, he integrated it into his proposal.
Mohamed proposed to Lauren at London's Wembley Stadium with a beautiful engagement ring. At the time, Liverpool and Manchester City played against each other in the English Premier League.
Besides that, the couple has a beautiful baby boy named Mohamed Sanu Junior. He was born on August 21, 2015.
Although the two had a strong relationship, life got in the way, and the two separated. Nevertheless, they're amazing parents to their son and maintain a cordial relationship for his proper growth.
Mohamed Sanu | Net Worth, Salary, and Career Earnings
The footballer has earned most of his wealth through his career in the National Football League. His net worth is somewhere around $20 million.
Besides that, his career earnings till 2021 amount to $32,007,147. The highest salary he's earned to this date is with the Falcons during the 2016 season.
The wide receiver received a signing bonus of $7 million along with $1 million in salary that totaled his 2016 NFL season earnings to $8 million. Similarly, Mohamed made $6 million in the following two years.
Moreover, he made over $3 million after playing four seasons with the Cincinnati Bengals. The NFL player earned over $3.7 million after playing a season with the Patriots.
After making only $499,121 with the Detroit Lions for the 2020 season, the player returned to the 49ers and earned $1,140,000 with the San Francisco 49ers.
Not to mention, the wide receiver earns fairly well through endorsements and sponsorships as well. Consequently, it is safe to say that the athlete leads a comfortable life.
Furthermore, he is the founder of an apparel and lifestyle brand called BeanTalk. He has a range of products on BeanTalk.
>> Michael Thomas: Early Life, Career, Family & Net Worth <<
Social Media Presence
The wide receiver is quite active on social media platforms. He has an Instagram handle with 348 thousand followers (as of Feb 2022).
He often shares his life as a professional football player on his Instagram account. In many of his posts, Sanu is in his NFL attire and on the field with his teammates.
Moreover, the athlete is mostly seen working out and training for his job. Likewise, he is seen flexing his toned physique in some of his photos.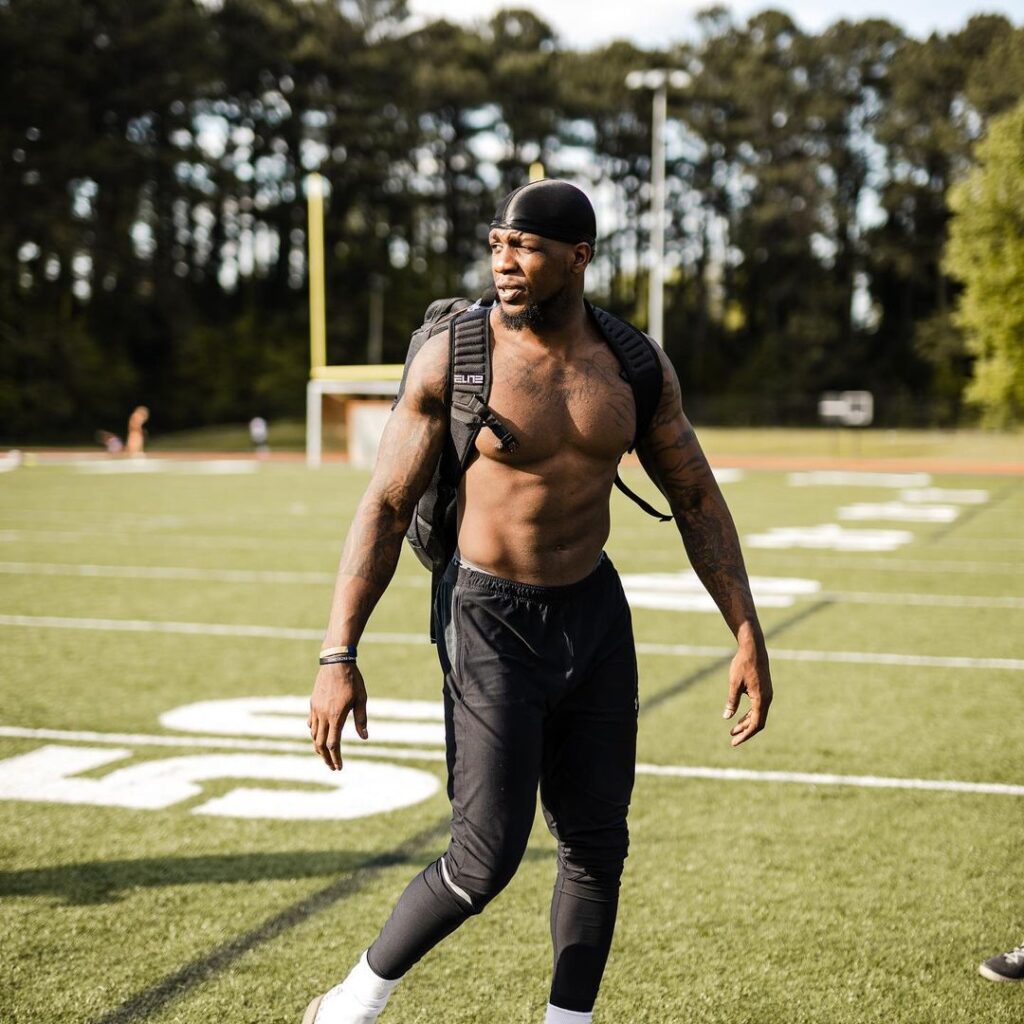 Besides that, one can easily gather from Mohamed's social media account that he loves being a Father to his adorable son, Mohamed Sanu Jr. The NFL player takes his son to his games and loves teaching him about the game.
Furthermore, Sanu is also on Twitter with 130.5 thousand followers. He mostly tweets football and NFL-related events, news, and highlights on his Twitter handle.
Frequently Asked Questions (FAQs)
Who is Mohamed Sanu's wife?
The NFL player has not been married yet. However, Sanu was engaged to Lauren Mackenzie, the mother of his child.
Did Mohamed Sanu attend high school in the States?
Yes, the wide receiver attended high school in the States and went to South Brunswick High School.