Michael Thomas is an American football player who has played professionally for several years. He is a young man currently taking the football scene by storm.
Even though his professional career started only in 2016, he has been able to bag awards and score many records quickly.
Michael has been steadily climbing the ladder in the sport to be closer to the legends, in terms of stats, like Tom Brady, Jim Brown, and Jerry Rice, to name a few.
The beloved wide receiver has worked hard to be where he is today, working vigorously to fulfill his dreams of becoming one of the best footballers in the states.
This article lets us learn about the life of the New Orleans Saints' precious wide receiver.
Michael Thomas | Quick Facts
Here are some quick facts about Michael Thomas.
| | |
| --- | --- |
| Name | Michael Thomas |
| Full Name | Michael William Thomas, Jr. |
| Birth Date | March 3, 1993 |
| Gender | Male |
| Profession | Football Player |
| Nationality | American |
| Birth Place | Los Angeles, California, USA |
| Ethnicity | Afro-American |
| Horoscope | Pisces |
| Religion | Christianity |
| Education | Ohio State University |
| Father's Name | Michael Thomas, Sr. |
| Mother's Name | Bernadette Thomas |
| Sibling | N/A |
| Sibling's Name | N/A |
| Height | 6 feet and 3 inches |
| Age | 30 Years Old |
| Weight | 96 Kg |
| Eye Color | Brown |
| Salary | $20 Million (Avg. annual) |
| Team | New Orleans Saint |
| Girlfriend | Mariah |
| Social Media | Instagram, Twitter, Facebook |
| Merch | Books, Jersey & Autographed Items |
Michael Thomas | Early Life, Family, and Education
Early Life and Family
Michael was born on March 3, 1993, in Los Angeles, California. He was taken to Michael Thomas, Sr., and Bernadette as Michael William Thomas Jr. He showed immense interest in football from a very young age.
His interests might be due to his Father, as his Father was a football player too. And it has been reported that Mr. Thomas Sr. was Michael's role model and still is.
As for his family, there is very little information on the internet. Consequently, we could not find any information about his siblings. Michael seems to like keeping his personal information very private.
Education
Thomas Jr. studied at Taft High School in Woodland Hills, California. Michael used to play football in high school.
Michael even got into the high school team and played quite a few games before graduation.
After high school was over, Michael committed to Ohio State University to play college football.
However, he attended Fork Union Military Academy for a year before college. It is said that he was roommates with a fellow Ohio State teammate named Cardale Jones.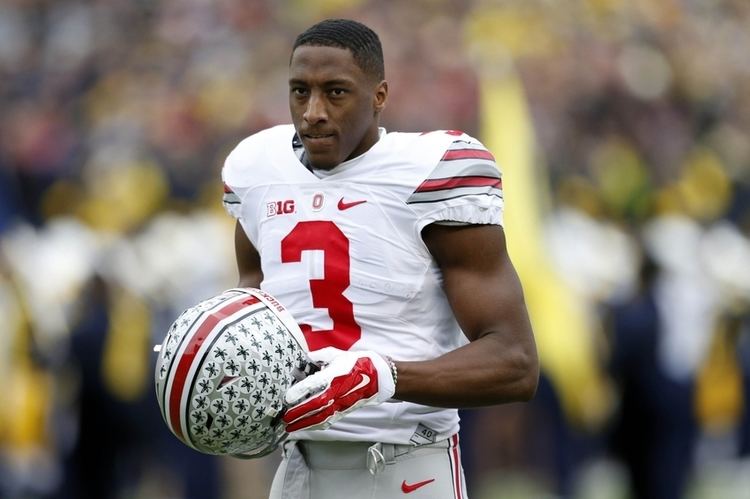 As for his University studies completion, there is no clear information about his college studies, majors, or graduation on the internet.
Although we do not know his area of study in the college, he is said to have completed his studies. But, that information might not be true as there is no hard evidence.
Learn about a football legend – Jerry Rice Net Worth: Bio, Career Earnings, House, Cars, Lifestyle.
Michael Thomas | Age, Body Measurement, and Nationality
Age and Body Measurement
Thomas is 30 years old, born in 1993. He does not seem that old, though, which might be due to his fitness regime.
Apart from his fitness regime, his body stature also helps to decrease his age in terms of appearance. Michael Thomas is tall at 6 feet and 3 inches and weighs 96 kg.
However, his height is considered average compared to other football players. Apart from his general body measurement, he has an arm length of 0.82m and a hand size of 0.27m.
Nationality
As mentioned earlier, Michael Thomas was born in the United States, making him an American by birth.
In addition, Thomas also has an American citizenship certificate and other credentials. Hence, Michael is an American by birth and certification.
Michael Thomas | Football Career
Early Career
Thomas played 11 games as a freshman in 2012 when he joined his college. As a freshman, he has three receptions for 22 yards.
In his sophomore year, he was redshirted. He entered his redshirt season in 2014 as a backup but eventually got into the starting squad as a wide receiver.
He ended that season leading his team with nine touchdowns and 54 receptions for 799 yards.
Thomas also helped his team win the National Semifinals against Alabama in Sugar Bowl. Thomas had seven receptions for 66 yards and a touchdown in the semifinal win.
Michael kept playing outstandingly for another season before he announced his intention to enter the 2016 NFL Draft on the 5th of January, 2016.
Professional Career
2016-2018 season
The New Orleans Saints drafted Michael in April 2016, in the second round of the 2016 NFL Draft.
The Saints signed him to a four-year, $5.11 million contract with a signing bonus of $1.92 million and $2.60 million guaranteed.
Michael became the starting wide receiver for the Saints in the 2016 season. He finished his debut NFL match with six receptions for 58 yards.
His rookie season for the Saints was phenomenal; Thomas set franchise records for a rookie in receptions, touchdowns, and receiving yards, too, in 2016.
Similarly, his 2017, 2018, and 2019 seasons were better than before. Michael was improving his plays and skills with every game.
In the 2017 season, Thomas was ranked 81st by his fellow players on the NFL Top 100 Players of 2018.
His 2018 season was outstanding, with 125 receptions for 1,405 yards and nine touchdowns.
He finished sixth in the league, receiving yards at the end of the season. The man was named to first-team All-Pro in 2018.
2019-2020 season
Thomas signed a five-year, $100 million contract with the Saints in 2019. Consequently, he became the highest-paid wide receiver in the NFL in the 2019 season.
He finished the 2019 season with an NFL record 149 catches for 1725 yards and nine touchdowns.
Michael was awarded AP Offensive Player of the Year for his performance during the 2019 season. He is the only next wide receiver to receive the award since Jerry Rice in 1993.
However, his 2020 season did not go as he had planned. He exited his game against Tampa Buccaneers in the first week due to a high ankle sprain. I
n addition, Michael was suspended from the Saints when he punched Chauncey Gardner-Johnson after being called offensively by Malcolm Jenkins.
The suspension was further heated because of his insubordination towards the coaching staff. However, the Saints were not suspended, but Thomas received a $58,823 fine from the team.
Read about another great football player – Philip Rivers: Early Life, Family, Age, Wife, Kids, Net worth.
Highlights And Achievements
College awards and honors
2014 Sugar Bowl Champion

Big Ten All-Honorable Mention in the year 2014

2015 Fiesta Bowl Champion

2014 CFP National Champion
NFL Records
Most receptions by a player through the first sixteen games of a season: 149 (2019)

Most receptions by a player through his first four seasons: 470

The most receptions by a player in a single season, including playoffs: 156

The most consecutive games with 12+ receptions: 2

Most receiving yards by a player through his first four seasons: 5,512 (2015-2019)

Most seasons, 125+ pass receptions: 2 (2018-2019)

Fewest games to record 400 career receptions: 56 (2016-2019)
Michael Thomas | Career Stats
Year
Games
Receiving
Rushing
Fumbles
GP
GS
Rec
Yds
Avg
Lng
TD
Att
Yds
Avg
Lng
TD
FUM
Lost
Total
70
62
510
5,950
11.7
72T
32
2
-8
-4.0
1
0
5
4
For detailed information on Michael's stats, check out his Fantasy page.
Thomas on Drew Brees' Apology
The wide receiver is a big Drew Brees fan. Hence, the two have built a perfect relationship being on the same team.
During the Black Lives Matter Protest, Brees recently criticized former 49ers' quarterback Colin Kaepernick for kneeling during the national anthem in 2016.
Colin knelt and started the national anthem protest to raise his voice against systemic racism and Police brutality.
Many considered Kaepernick's taking the knee movement disrespectful and unpatriotic since it respects the people who have dedicated their lives to serving their country.
However, Colin assured that his intention was not to hurt anyone but to bring awareness towards social injustice, racism, and Police brutality.
In an interview, he said, "I am not going to stand up to show pride in a flag for a country that oppresses black people and people of color.
To me, this is bigger than football, and it would be selfish on my part to look the other way. There are bodies in the street and people getting paid leave and getting away with murder."
Drew was one of the people who felt Colin's protest was disrespectful towards the American Flag and the United States of America. As a result of his criticism of Colin, Brees received a lot of backlash for it.
Apology
Shortly after, he issued an apology through Instagram, which Michael supported. Furthermore, Thomas tweeted, "One of my brothers made a public statement yesterday that I disagreed with.
He apologized & I accepted it because that's what we are taught to do as Christians. Now back to the movement! #GeorgeFloyd."
Nevertheless, in an interview with Yahoo Sports, Drew stood by his ideology and said, "I will never agree with anybody disrespecting the flag of the United States of America or our country."
Despite that, Thomas and Brees consider each other brothers and have maintained a good friendship.
Get more detail about Michael on the Rotoworld site.
Michael Thomas | Salary and Net worth
Michael has earned quite a lot of money through his profession. But, of course, all of his income is not comprised of just his salary. He receives a lot of money from advertisements, sponsors, and investments.
Going through his contract, he has a five years contract with the Saints with $96,250,000 with $60,598,043 guaranteed.
His average salary is around $20 million annually, and his contract lasts until 2025.
However, his net worth is still unknown now, as he has not revealed the numbers to the public.
But we can safely assume that his net worth is more than $20 million. However, his net worth might be much more than our taken numbers.
Net Worth of Michael Thomas in Different Currencies
Below is the net worth of Michael Thomas in different currencies, including the Euro and Pound:
Currency
Net Worth
Euro
€

17,796,600

Pound Sterling
£

15,098,328

Australian Dollar
A$

28,070,180

Canadian Dollar
C$

25,789,600

Indian Rupee
₹

1,520,270,000

BitCoin
฿

424
Michael Thomas | Quotes
We got the victory. We're trying to play and go to a championship right now, and at the end of the season, we'll look up and see all the things we accomplished. But right now, we're focused on one common goal: a championship.
We have tremendous coaches who allow us to play fast on Sundays, which puts us in a position to make big plays to move the chains, and credit to those guys. Credit to all my teammates, honestly, for the record. It was a contributed effort they all played a part in.
First and foremost, I don't pay attention to other guys, what they're doing, and all the stuff they have going on. I just try to stay in my lane, maximize my potential, and always try to get better. Find ways to enhance my weaknesses, and improve the things I'm good at so that no one can take those away from me and keep my blinders on and win games.
Michael Thomas | Girlfriend And Wife
There have been rumors about Michael having a girlfriend at present. Her name is Mariah. However, not much is known about her right now, except she is the mother of a child.
Michael also has not revealed anything about their relationship at the moment. Unfortunately, we could not find any pictures of them together, but it has been reported that they are quite happy with their relationship.
This directly suggests that Thomas does not seem to have any problem with having a relationship with a single mother, which is quite nice.
They have been together for some time now. However, they do not seem to think about marriage at the moment.
Michael Thomas | Social Media Presence
Instagram: 6k Followers
Twitter: 481.7k Followers
Facebook: 29k Followers
Michael Thomas | FAQs
What was Michael Thomas's 40-yard dash time?
Michael is reported to have run a 40-yard dash in 4.57 seconds at the NFL. This seems quite impressive to normal people, but it is not considered in football. That is why teams overlooked him at first.
How serious is Michael Thomas's injury?
The MRI of Thomas's hamstring injury has revealed a Grade 1 strain. As a result, he is expected to be on the sideline for one to two weeks.
However, that might change if any additional problems arise within his resting period.
How many years has Michael Thomas been in the NFL?
The Saints drafted Michael in 2016. He started playing for them in the same year. So, he has been playing in the NFL for four seasons now.
Thomas has extended his contract with the Saints, making him an official New Orleans Saints player until 2025.
Like the work of the writer? Read more from him – Ken Caminiti: Career, Net worth, Wife and Daughters & Death.
What is Michael Thomas' Madden Rating?
The footballer's overall Madden Rating was 99. Furthermore, he was the highest-rated wide receiver.
Does Michael Thomas Want to be Traded?
According to the NFL Network, the New Orleans Saints wide receiver Michael Thomas wants to be traded.