Molly Anne McGrath is an American sportscaster and host currently working for ESPN. She is married to Max Dorsch, and they are expecting their second child by the spring of 2023.
Fox Sports and ESPN allow countless aspiring women to live their reporting dream. We have to credit these networks because the handpicked analysts and hosts are genuinely gifted in their profession. One such lady is Molly McGrath.
Beautiful, elegant, intelligent, witty, and imbued with pure talent, the Californian has been a prominent television figure since 2011.
Moreover, knowing how a woman like Molly came into this profession is intriguing.
As a college cheerleader, Molly experienced first-hand sports to a great extent. Hence, it only seemed fitting for her to pursue something that spiked her interest and kept her motivated.
Working as a sportscaster since 2011, she has had a remarkable impression, and in November 2022, the Athletic wrote a piece highlighting the importance of a sideline reporter featuring Molly.
This article specifically deals with the early life, career, net worth, and personal life of Ms. McGrath. So, stick around and learn more about the blonde bombshell!
Molly McGrath | Quick Facts
| | |
| --- | --- |
| Full Name | Molly McGrath |
| Birth Date | June 6, 1989 |
| Birth Place | San Francisco, California, U.S |
| Nick Name | Molly |
| Religion | Undefined |
| Nationality | American |
| Ethnicity | Caucasian |
| Education | Boston College |
| Horoscope | Gemini |
| Father's Name | Michael McGrath |
| Mother's Name | Deborah McGrath |
| Siblings | Yes (Brother: Patrick) |
| Age | 33 Years Old |
| Height | 5'5″/1.65 m/165 cm |
| Weight | 56 kg/123 lb. |
| Shoe Size | Unknown |
| Hair Color | Blonde |
| Eye Color | Hazel |
| Married | Yes |
| Husband | Max Dorsch |
| Children | One Son; Ray |
| Profession | Sportscaster, Studio Host |
| Net Worth | $1 Million |
| Affiliations | Fox Sports, ESPN |
| Active Since | 2011 |
| Social Media | Instagram, Twitter, LinkedIn |
| Internship | New England Sports Network, N.B.C. Sports |
| Dress Size | 6 |
| Last Update | June 2023 |
Molly McGrath | Early Life & Education
Molly McGrath was born on June 6, 1989, to Michael and Deborah McGrath in San Francisco, California (U.S.).
McGrath shares a mixed heritage, as her father is Irish, whereas her mother is of Spanish origin.
The blonde sportscaster also has an older brother named Patrick, who played football at Princeton University.
Talking about her educational background, Molly attended St. Ignatius College Preparatory School.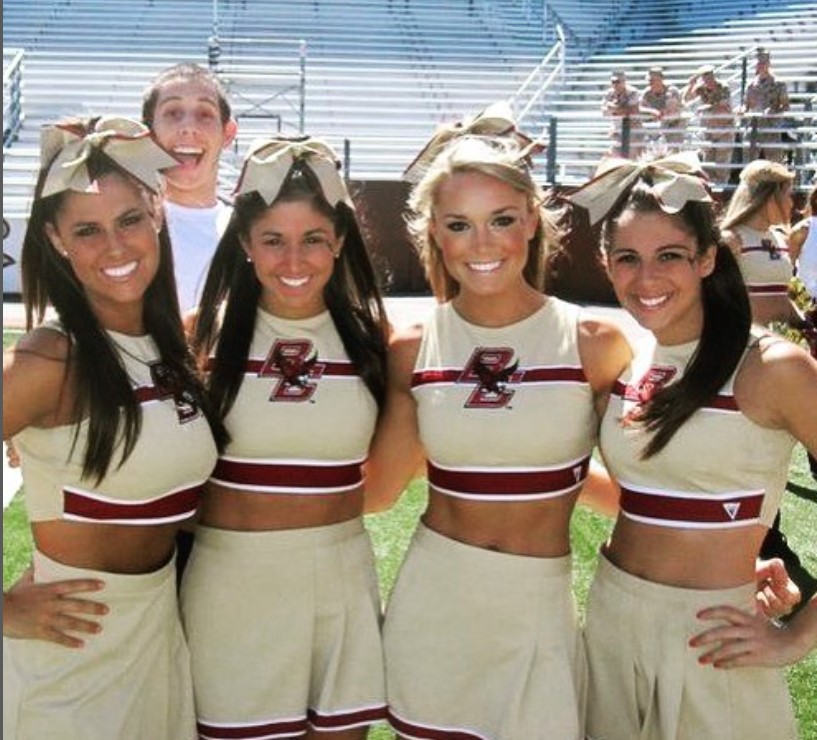 After graduating in 2007, McGrath joined Boston College to acquire a Communications and Broadcast Journalism degree.
Molly's dream of being a reporter came to fruition while still at Boston College.
Molly was an active student who participated in almost every event organized by the college's department and also interviewed countless players and coaches.
The Californian also served as the captain of the college's cheerleading team. Hence, she knows the perseverance, skills, and collaboration required to manage or work in a group.
Furthermore, an internship at New England Sports Network and WHDH-TV embellished her resume, significantly opening doors to dream jobs.
On top of that, before graduating from college, Molly received an honor for Academic Excellence from the Athletic Directors.
Molly McGrath | Age, Height, & Body Measurements
The sportscaster is 33 years old. McGrath's youthful energy is evident in her movement from the studio to the sidelines and vice-versa.
Molly might be undoubtedly one of the best and most hardworking reporters working in present times.
At one point, the studio host remarked that she was lucky enough to do what she dearly loves.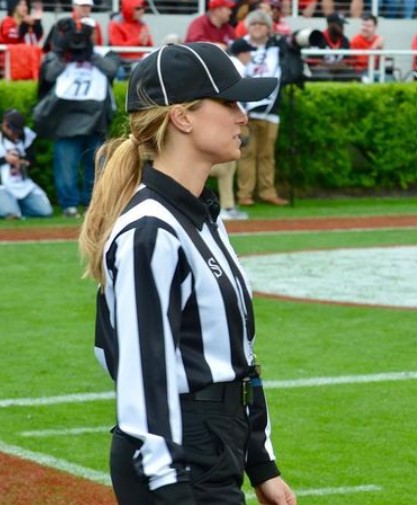 With a vibrant and attractive personality, McGrath is most distinguishable by her brown eyes, blonde hair, and petite stature.
The reporter stands at a modest height of 5 feet 5 inches (1.65 meters) and weighs a suitable 56 kg (123 pounds).
Although it almost seems impossible how a sportscaster has such exquisite charms, we assure you she is the real deal.
To illustrate, a regular interviewer might need to rethink several times before getting on with questions; Molly neither gets jitters nor needs to mull over unnecessarily; her voice is resonant and charming, and as a person, she is approachable.
Molly McGrath | Career
McGrath's career started blooming as early as 2009 when she bravely pitched an idea to the athletic director to include in BCEagles.com, Boston's website. This little venture landed her an on-air job, which led to NESN and WDHD-TV.
Molly departed college life and stepped into a more professional career, serving as an ESPN production assistant. The Californian reporter jotted down play-by-plays, involved in producing highlights and similar tasks for different ESPN segments.
Similarly, in 2011, the Boston Celtics acquired Molly's services and assigned her to web reporting and in-arena hosting.
McGrath edited daily updates and conducted and produced exclusive interviews for Celtic's website.
Molly proved her eloquence by undertaking the hosting task for a show titled Celtics Now that aired on Comcast SportsNet.
In the meantime, she volunteered to work as a sideline reporter for CSNNE.
A tireless and passionate contributor to the doled-out tasks, McGrath's enthusiasm is apparent. Don't you feel like that's too much running around?
Fox Sports: 2013 – 2016
Indeed, it was a hectic schedule, but the eagerness and ardent tendency to prove her worth segued into an initial update anchor job at Fox Sports.
Her popularity on YouTube was unprecedented, and the Executive carefully selected her among several other hires.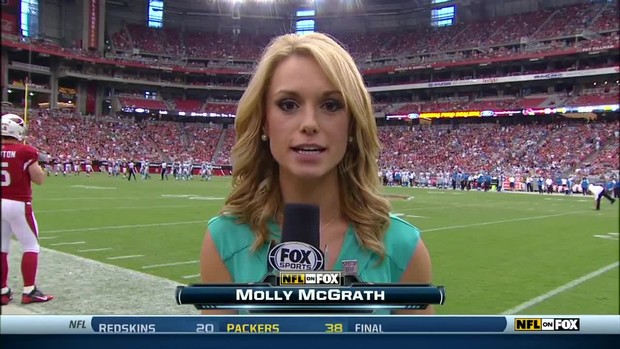 Besides, a more significant opportunity awaited her as a co-host alongside Mike Hill for a daily segment called America's Pregame.
The Californian sportscaster operated as a sideline reporter for Fox College Football and Basketball while also covering the NFL.
In 2015, she got an opportunity to host the return of the revived show Battlebots on ABC.
ESPN: 2016 – Present
Despite a successful and satisfying role at Fox Sports, Molly McGrath returned to ESPN as a sideline reporter for the College Football Live segment.
In like manner, McGrath hosted alongside Mack Brown and Adam Amin during the 2016 season in ESPN College Football Friday Primetime.
Meanwhile, in the 2017 season, Molly came to cover College Basketball telecasts while still hosting halftime shows and selected College Football Live episodes.
Apart from these, she reported Orange Bowls, Outback Bowls, Texas Bowls, and Las Vegas Bowls side by side.
Talk about work ethic; the California native is shining everywhere.
McGrath headlined the 2018 season, partnering with Mark Jones and Dusty Dvoracek for College Football games on either ESPN or ABC.
Additionally, throughout the 2018 and 2019 seasons, Molly highlighted Big Ten Super Tuesday college basketball match-ups, ESPN College Football Thursday Primetime, and ESPN/ABC Saturday games with several hosts.
The host also joined ESPN's coverage of the XFL (2020) on the week 2 of the season.
McGrath was paired with Sean McDonough and Todd Blackledge for the 2021 college football season. She also joined Holly Rowe for the television broadcast of the College Football Playoff National Championship.
During the 2021 season, the Michigan Wolverines head coach Jim Harbaugh snubbed ESPN reporter Molly McGrath in a postgame interview. However, the reason for avoiding the interview is still unclear.
Molly McGrath Net Worth | Salary & Incomes
As of 2023, the American sportscaster has accrued a total of $1 million net worth.
Although it is a relatively small sum considering that of her male counterparts, we can indeed bridge the pay gap in the coming times.
According to sources, a sportscaster earns an average of $200k to $400k yearly. Granted that Molly has been in the business for almost a decade now, we can assume that the wages will soon take an upward trend.
McGrath's husband, Max Dorsch, works as an acquisition director for a real-estate firm called Starwood Mortgage Capital. Hence, Dorsch probably pockets handsome money from his venture.
All in all, life seems promising and fulfilling for the Californian reporter with luxury vacations, splendid accommodations, and two rescue pets, Stewart and Matthew.
There is so much more to come her way, but we will uncover it all in due time.
Molly McGrath | Personal Life, Marriage, & Husband
Molly and Max were bound in holy matrimony on June 30, 2018.
The couple met via mutual friends and instantly sparked romance; it was inevitable, taking Max's good looks and Molly's intelligence into account.
Also, the wedding took place in the presence of family and friends, and both the bride and the groom looked appealing as they walked down the aisle.
The wedding venue overlooked a majestic view.
The couple shares a son, Ray, born in early 2019, and they are expecting their second child in the spring of 2023.
Max Dorsch seems to love golf. Here's a tweet by McGrath demonstrating her husband's love for golf:
Things my husband will do for Golf, but not for me:
1. Wake up early
2. Improve his flexibility
3. Watch instructional videos to improve
4. Buy clothes
5. Spend 5 hours outside

I am stuck in a love triangle.

— Molly McGrath (@MollyAMcGrath) August 13, 2019
Past Relationships
Molly McGrath dated the ice hockey defenseman Alec Martinez. The couple dated around 2014 – 2015 for quite a while. However, things did not work out, and they had to separate.
Molly McGrath | Social Media Presence
Molly is very active on different social media platforms. She frequently posts pictures of her son, husband, vacations, and some glimpses of her hosting job on her social media.
She is available on Instagram under the handle @mollyamcgrath and on Twitter @MollyAMcGrath.
Instagram: 115k followers
View this post on Instagram
Twitter: 157.5k followers
LinkedIn: 500+ connections
Molly McGrath | Popularity
McGrath is a famous sportscaster and studio host for ESPN's college football. She is enjoyed for her witty and intelligent interviewing approach.
The above graph illustrates the ESPN reporter's popularity based on Google searches in the United States of America.
Molly McGrath | FAQs
Where did Molly McGrath go to college?
Molly McGrath went to Boston College.
Who is Molly McGrath married to?
Molly McGrath is married to Max Dorsch.