The power forward for the Washington Wizards, Montrezl Harrell, is an NBA celebrity who has had a recent yet influential basketball career.
Over some years in the league, the American professional player has played in different NBA teams, including the Houston Rockets, Los Angeles Clippers, and more.
Montrezl is a home-grown talent aspiring to be the town's best athlete. Not to mention, Kelvin Bryant and Todd Gurley are the few best players from the same area where he belongs.
This article will cover some essential details about the NBA celebrity—those ranging from his NBA career to his wife and personal life.
Without any delay, let's look at some of the quick facts about Montrezl Harrell.
Quick Facts
| | |
| --- | --- |
| Full Name | Montrezl Dashay Harrell |
| Known as | Montrezl Harrell |
| Birth Date | January 26, 1994 |
| Birth Place | Tarboro, North Carolina |
| Father | Samuel Harrell |
| Mother | Selena Harrell |
| Siblings | Quatauis Harrell & Cadarius Harrell |
| High School | North Edgecombe (Tarboro, North Carolina) & Hargrave Military Academy (Chatham, Virginia) |
| College | Louisville |
| Nationality | American |
| Zodiac Sign | Aquarius |
| Age | 29 years old |
| Height | 6'7" (2.01 m) |
| Weight | 240 lb (109 kg) |
| Body Type | Athletic |
| Profession | Basketball Player |
| Position | Power Forward |
| Current Team | Washington Wizards |
| Draft | 2015 NBA Draft (32nd overall pick) |
| Active years | 2015-present |
| Marital Status | Unmarried |
| Spouse | N/A |
| Children | 2 – Amari Harrell (Son) and Alyshia (Daughter) |
| Net Worth | $7 million – $9 million |
| Social Media | Facebook, Instagram, Twitter |
| Merch | L.A. Clippers NBA 2018-2019 Action Photo, Trading Card |
| Last Update | June, 2023 |
Montrezl Harrell: Early Life
Montrezl Dashay Harrell, famously known as Montrezl Harrell, was born on January 26, 1994, in Tarboro, North Carolina.
He attended the North Edgecombe at Tarboro, North Carolina, and the Hargrave Military Academy at Chatham, Virginia.
And he played college basketball for the Louisville Cardinals.
High School Success
Montrezl Harrell starred for the North Edgecombe High School and later prepared for a year at the Hargrave Military Academy.
Harrell averaged 25.2 points and 13.6 rebounds per game. He consequently led his team to a 38–1 record.
He committed to play for Seth Greenberg at Virginia Tech during his transition from high school to college. However, coach Greenberg chose to play college basketball for Louisville once he was fired.
College Life
Montrezl Harrell, in his first year at college, averaged 5.7 points and 3.6 rebounds in 16.2 minutes per game.
He was active as a backup for the power forward Chane Behanan. Toward the end of his freshman season, Harrell had an even better outing for his college basketball team.
He scored 20 points in the Cardinals' Big East Conference Championship victory against Syracuse. Eventually, the Cardinals won the 2013 NCAA Championship.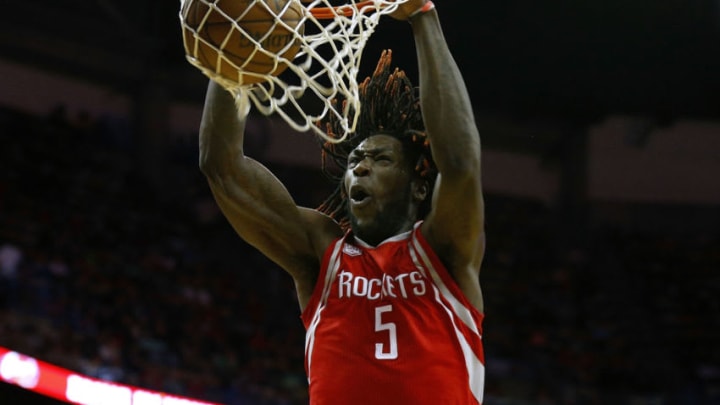 Going into his sophomore year, Harrell became one of the most recognized basketball players.
The 6 feet 7 inches basketball player was also picked by the Sporting News in the pre-season All-America Third Team (2013 – 2014).
Harrell, along with Russ Smith, also received postseason honors. He was picked in the American Athletic Conference's All-Conference First Team.
In his junior year, Montrezl had the option to enter the NBA. However, he decided to play college basketball for the season.
In the 2014-2015 season, Harrell averaged 15.7 points and 9.2 rebounds per game. He also became the inaugural winner of the Karl Malone Award.
The award is given to the nation's best power forward. Moreover, he was also named to the Second-Team All-ACC.
Please read our article on Ricky Rubio: Facts, Injury, Family & Net Worth >>
Montrezl Harrell: Career
Montrezl Harrell got picked in the 2015 NBA Draft by the Houston Rockets. And eventually made his way to different teams in the NBA.
Houston Rockets
Montrezl Harrell, in 2015, signed a 3-year contract with the Houston Rockets.
He debuted in October 2015 for the Houston Rockets against the Denver Nuggets. It was the season opener game for the Houston Rockets.
He scored 8 points and made 3 rebounds in his debut game. He upped his game in the upcoming matches. In the game against the Golden State Warriors two days later, he recorded 17 points.
Later, in November, he made a fantastic start to the game, recording 5 points in under 13 minutes of play.
Montrezl Harrell was suspended for five games in March 2016 for pushing a match official.
In December 2016, Harrell set a career-high of 29 points in the win against the Los Angeles Clippers.
Los Angeles Clippers
Montrezl Harell, in 2017, got traded to the Los Angeles Clippers. In January 2018, Harrell scored a season-high of 25 points in the win against the Sacramento Kings.
In 2018, he resigned from a deal with the Los Angeles Clippers. And in October 2018, he scored his career-high 30 points in the win against the Houston Rockets. And he soon matched his career-high of 30 points in the win against the Memphis Grizzlies.
Again, just three days after that outing against the Grizzlies, he set a new career-high of 32 points in the win against the Dallas Mavericks.
Courtesy of his consistent and decent outing in the league, he was awarded the NBA Sixth Man of the Year.
Los Angeles Lakers
Montrezl Harrell signed a deal with the Los Angeles Lakers in November 2020.
And in December, he made his debut for the Los Angeles Lakers. He scored 17 points, made 10 rebounds, and had 3 assists. However, they lost the game to his former Los Angeles Clippers.
Washington Wizards
Montrezl Harrell has been active as the Washington Wizards' power forward since August 2021.
Please read our article on the Top 10 Best NBA Players of All Time >>
Montrezl Harrell: Personal Life, Wife & Family
Information on Montrezl Harrell and his relationships is unknown to the public. As per reports, he is unmarried as of now.
Moreover, he has two children, a son, and a daughter. Amari Harrell is his son's name, and Alyeshia is his daughter's name.
Information on his partner with whom he had kids together is too unknown on the web.
Staying Solo Dolo
There is a piece of interesting news coming up for you. Aligning with The Fumble, Harrell found and dated a cute girl online.
What happened next was quite cheesy; the girl recorded the trip on her Instagram and uploaded stories from packing to following the Clippers' scoreboard.
She posted Harrell's car and part of his House in an unavoidable segment. The Clipper's monster could not digest such acts and went on to tweet, "It's a reason I stay solo dolo."
Parents & Siblings
Montrezl Harrell is the son of Samuel Harrell and Selena Harrell. He also has two siblings. Both of them are younger brothers, Cadarius Harrell and Quatauis Harrell.
Montrezl left the 2020 NBA Bubble in Walt Disney World, citing a family matter. It was later revealed that he wanted to visit his grandmother, who died soon after that.
Montrezl Harrell: Net Worth
Reports suggest Montrezl Harrell's net worth is between $7 million and $9 million.
Reports also suggest that Montrezl Harrell's total NBA salary leading up to the 2021 season was over $24 million. So, Harrell has made money over just a short period in the league.
Several multi-national brands also endorse him. He is primarily involved in the deals between the top sneaker brands in the United States.
His most recent endorsement is with Reebok. He switched to Reebok from 'AND1'.
Montrezl Harrell can extravagantly spend on luxurious deals because of his whopping net worth. And one of those is sneakers.
Harrell is found to wear expensive and branded sneakers. He has been seen using Nike Kicks, the Jordans, AND1, Reebok, and many more.
Harrell is also into collecting and designing sneakers. He spends money on customizing his already expensive sneakers too.
His craze regarding sneakers can be justified by his action on the court too. He wears different shoes during the first and second half of every basketball game he stars.
Hop onto The 20 Richest NBA Players in the World >>
Contract
Montrezl Harrell was traded to the Los Angeles Lakers from the Los Angeles Clippers in 2020. The deal was worth $18 million, as per Essential Sports.
The deal was of a two-year option. However, Harrell used the second-year player option to facilitate his Lakers trade to the Washington Wizards.
Charity
Montrezl Harrell runs a non-profit organization named the Montrezl Harrell Youth Foundation.
The organization focuses on empowering the youth of the next generation.
They also provide youth with resources in education and overall wellness.
Montrezl Harrell: Awards & Achievements
Below are Montrezl Harrell's career highlights, awards, and achievements.
2020 NBA Sixth Man of the Year
2020 NBA Hustle Award
2015 Karl Malone Award
2015 Second-team All-ACC
2014 First-team All-AAC
2014 AAC Most Improved Player
2013 NCAA Champion
Social Media Presence
You can click on the links below if you want to follow the elite player Montrezl on his social platforms.
(Reminder: The followers dropped below are as of Jan 2022)
Twitter: 154.9k Followers
Instagram: 554k Followers
Facebook: 365k Followers
Frequently Asked Questions (FAQs)
In how many teams have Montrezl Harrell starred in the NBA?
Montrezl Harrell has starred in 5 NBA teams as of now. The most current one is the Washington Wizards. One of the teams he has been a part of is an NBA G League team.
What is in Montrezl's name?
His initial name is pronounced as mon-TREZ, and subsequently, his Father added L to make it unique.