We are all aware of how talented Indian sportswomen are, but did you know who the most beautiful Indian sportswomen are?
We have come up with one of the most asked topics to discuss in today's article. Also, we are all aware of how fit and stunning figures these athletes have, so it has been challenging for us to sort out the best among the best.
So, lay back and turn your AC on, for this article is going to raise some temperature.
12 Most Beautiful Sportswomen in India
We have compiled today's ranking based on the appearance and popularity of the athlete, so do not take it seriously.
| | | |
| --- | --- | --- |
| Rank | Name of Athletes | Sport |
| 12 | Sunitha Rao | Tennis |
| 11 | Neha Uberoi | Tennis |
| 10 | Sonika Kaliraman | Wrestling |
| 9 | Akanksha Singh | Basketball |
| 8 | Tania Sachdev | Chess |
| 7 | Dipika Pallikal | Squash |
| 6 | Pratima Singh | Basketball |
| 5 | Jwala Gutta | Badminton |
| 4 | Prachi Tehlan | Netball |
| 3 | Sania Mirza | Tennis |
| 2 | Saina Nehwal | Badminton |
| 1 | Sharmila Nicollet | Golf |
12. Sunitha Rao
Born in India, Sunitha Rao is a former professional tennis player from the United States. To clarify, Rao competed for India in international events during her active time.
She won eight double titles on the ITF Circuit during her professional career. How can we forget that Rao attained her highest singles rating of world No. 144 on July 7, 2008? Before this, she reached No. 108 in the doubles rankings on May 19, 2008.
Besides, Rao is India's fourth female tennis player to make it to the list of the top-200 global rankings with a win-loss record of 5–6 with the India Fed Cup squad.
The wives of NFL players are all equally dead-drop gorgeous. But conveniently for you, we have made a list of the best-looking NFL wives.
11. Neha Uberoi
Ranked 11th as one of the most beautiful sportswomen, Neha Uberoi is an Indian-born American former professional tennis player and fitness blogger.
This beautiful, talented tennis player attained her highest singles rating of world number 196 on January 29, 2007. Before achieving the 196 records in singles, she reached world number 107 in the doubles rankings on May 22, 2006.
In addition, Uberoi had reached the finals of both the 2005 Sunfeast Open and the 2005 Guangzhou International Women's Open in doubles. However, Uberoi stopped playing tennis in 2010.
Uberoi's last singles match was in late June 2009 at the ITF $10,000 event in Wichita, Kansas, when she lost to Courtney Dolehide in the first round.
10. Sonika Kaliraman
Born to a famous former wrestler, Chandgi Ram, Sonika Kaliraman is one of 200 professional wrestlers (former) from India. Besides, she is one of 50 Indian women who represented India abroad.
Talking about her upbringing, her father had a dream of making all of his four daughters wrestlers. This is how she learned wrestling.
For many years, she struggled against societal standards and the Indian Wrestling Foundation, which didn't favor women in the sport. However, despite the hardships, in 2000, Sonika won gold in the Asian Women's Wrestling Championship.
This was what sparked her success. From this point on, Sonika became her country's hero. Later, she also appeared in the Indian version of Fear Factor (Khatron Ke Khiladi) in August 2009 and Bigg Boss season 5.
9. Akanksha Singh
One of the most beautiful sportswomen, Akanksha Singh, is a basketball player from India who captains the Indian Women's National Team. Singh has represented her country professionally since 2004.
Akanksha Singh made her Senior Nationals debut when she was just an 11th grader with the Uttar Pradesh squad in 2003.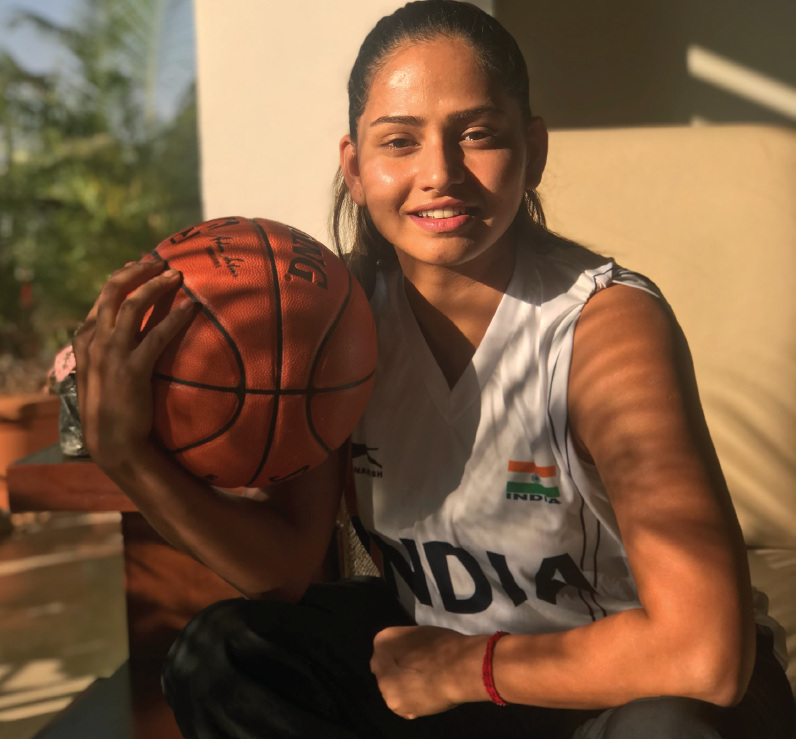 Likewise, in India's first professional basketball league, the MBPL 2010, Akanksha was named Most Valuable Player.
In addition, Akanksha and her sisters; Divya Singh, Prashanti Singh, and Pratima Singh, also known as the Singh Sisters, are the "fantastic four" of India's women's basketball.
8. Tania Sachdev
Born on August 20, 1986, Tania Sachdev is a FIDE title holding International Master (IM) and Woman Grandmaster (WGM) professional chess player from India.
Besides this, she was a two-time winner of Indian women's chess titles in 2006 and 2007. To clarify, one Asian women's chess title (2007) and three Commonwealth Women's Chess titles (2016, 2018, and 2019).
Now, speaking about her childhood, Sachdev went to Modern School in Vasant Vihar, Delhi, and graduated from Sri Venkateswara College.
In addition, as one of the most beautiful sportswomen, Sachdev is also a chess commentator and presenter. With such a beautiful presenter/commentator, the chess matches are sure to lighten up.
Women in soccer are some of the most beautiful players. Here we have compiled a list of the 12 most beautiful soccer players in the world.
7. Dipika Pallikal
Dipika Pallikal Karthik, one of the most beautiful sportswomen of India, is a professional squash player. Born on September 21, 1991, She's the first Indian woman to enlist in the PSA Women's rankings in the top ten.
However, Pallikal only rose to fame after winning three WISPA tour titles in 2011. Following this, a year later, in December 2012, she entered the top ten.
Talking about her childhood, she was born into a Malayali Christian family in Kottayam. She wasn't the only athlete in her home; her mother was a member of the Indian women's cricket squad.
Majoring in English at Ethiraj College for Women, this beautiful sportswoman was also good in her studies.
Later on, Dinesh Karthik, an Indian cricketer, proposed to her on November 15, 2013. She went on to marry him in both a regular Christian and a Hindu wedding ceremony.
6. Pratima Singh
Native to Jaunpur, Uttar Pradesh, Pratima Singh is an Indian women's national basketball team member. As one of the fantastic four mentioned above, Pratima Singh is one of the Singh sisters who dominate India's women's basketball front.
Her siblings, all born in Varanasi, have either played or are currently playing basketball for India. The Singh sisters are all very brilliant in the sport.
Similarly, in the first-ever FIBA Asia Championship, this glamourous player won gold for the country. Ranked as one of the most beautiful sportswomen in India, Pratima is also recognized as a warrior.
This is because she battled through a knee ailment with a hard effort to avoid surgery. A year later, she became the tournament's best scorer in the year 2012.
5. Jwala Gutta
One of the most beautiful sportswomen from India, Jwala Gutta, is a professional Badminton player who represented India in international competitions. She represented India in both mixed and women's doubles in the late 1990s.
Beginning to play badminton at an early age, she was born in Wardha to a Chinese mother and a Telugu father.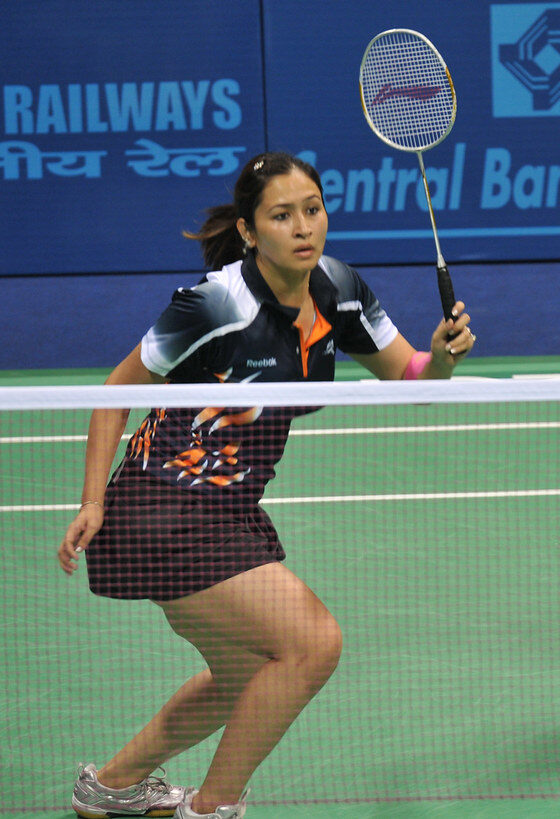 Gutta has 316 match victories in all disciplines. As a result, she was ranked No. 6 in the world at one point.
Likewise, Gutta has medaled in several BWF events, including a silver in the 2009 Superseries Masters Finals and a bronze in the 2011 World Championships.
4. Prachi Tehlan
Prachi Tehlan was sure to make today's ranking with such beauty and talents. As one of the beautiful sportswomen of India, this actress and former netball and basketball player used to captain the Indian national netball team.
Moreover, the netball hottie competed in the 2010 Commonwealth Games and other key Asian tournaments in 2010-11. This was where the Indian team earned their first medal at the 2011 South Asian Beach Games under her guidance.
Most importantly, the Times of India has dubbed her "Queen of the Court." Followed by The Indian Express dubbing her "Lass of the Rings."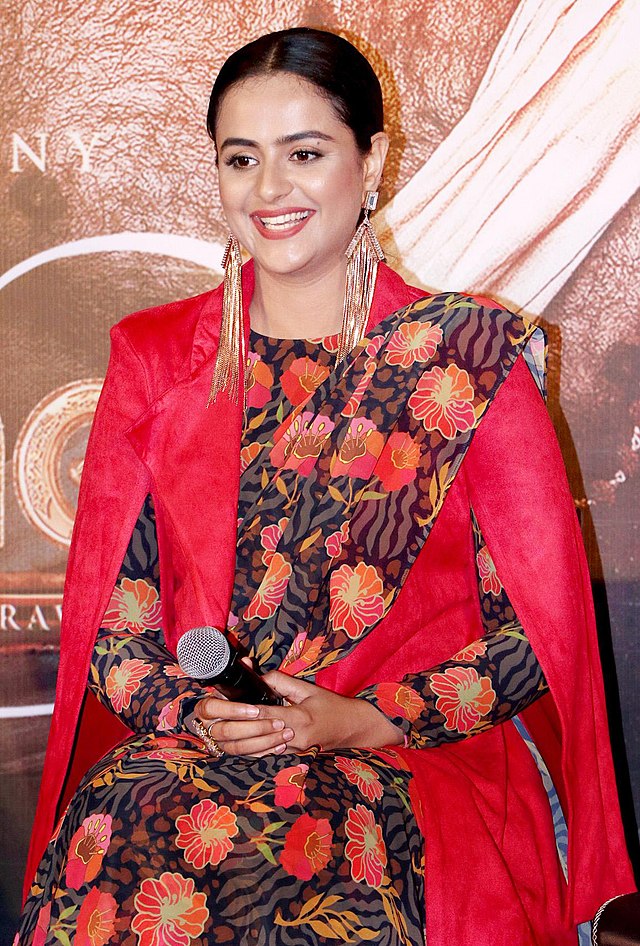 In addition, from 2011 until 2017, she served as the brand ambassador for Netball Development Trust India.
Well, with such beauty, it wasn't unexpected for her to start her acting career in January 2016.
3. Sania Mirza
If not for any of the sportswomen mentioned above, you would have definitely heard the name or seen the face of Sania Mirza.
One of India's most famous and most beautiful sportswomen, Sania Mirza, is a professional tennis player from India. Above all, she is a former world No. 1 in doubles with six Grand Slam wins to her credit.
Moreover, the Women's Tennis Association listed her as India's No. 1 player from 2003 until her retirement from singles in 2013.
During her professional days, Mirza defeated Svetlana Kuznetsova, Vera Zvonareva, Marion Bartoli, and former world No. 1 Martina Hingis, Dinara Safina, and Victoria Azarenka.
No Indian player has ever been ranked this high. Having reached world No. 27 in mid-2007, this talented player became her country's star.
Click to read about the hottest WAGs of popular sportsmen. Shakira, Victoria Beckham, and other hot WAGs in the world as of 2023.
2. Saina Nehwal
As one of the second most beautiful sportswomen in India, Saina Nehwal is a professional badminton player who was born on March 17, 1990.
Apart from her beauty, Nehwal has won 24 international titles, including 10 Superseries titles. Moreover, this former world number one competed in the Olympics three times for India, winning a bronze medal on her second appearance in London 2012.
In badminton, Nehwal has set many records for India. She is the first Indian to have medaled in every major individual event in the BWF.
Further, she is the first Indian badminton player to win an Olympic medal and the first Indian to reach the BWF World Championships final. And she is the only Indian to win the BWF World Junior Championships.
1. Sharmila Nicollet
Born to an Indian mother and a French father, Sharmila Nicollet is an Indian professional golfer.
Born and raised in Bangalore, Nicollet began her professional career when she was 18 years old in 2009.
Besides, she is the first woman from India to qualify for the Ladies' European Tour. And was the second Indian woman to obtain full membership on the Ladies European Tour.
Similarly, Nicollet went on to win the Women's Golf Association of India's 2009–2010 Order of Merit. Later, she became the top Indian golfer in the 2011 Hero Honda Women's Indian Open, finishing T22 with the lowest final-round score of the day.
Conclusion
There are a lot of talented, beautiful sportswomen in India. However, these are the ones who came to our attention today.
Also, if we failed to mention some, do let us know in the comment section down below.