Being the best in the world is a difficult task. But even more difficult is handling the pressure of being 'the best.' Former no. 1 tennis player Dinara Safina is a living example of that.
Dinara Mubinovna Safina is a former Russian professional tennis player. She was born into a family of tennis players, so she adapted to the game very early.
It didn't take Dinara long to reach the world's best level through hard work and intense training. Not to mention, she was ranked #1 by WTA in 2009.
However, back injury and performance anxiety got the best of her. Even when she was #1 in the world, Safina was mocked for her performance and failure to grab any Grand Slam.
The amalgam of these results made Safina take retirement earlier than expected.
The former tennis player is now enjoying her retired life in Monte Carlo. At the same time, Safina works with up-and-coming players and coaches them.
As of November 2022, she is living in Monte-Carlo, Monaco, and is estimated to have a net worth of around $8 million.
Before diving into the details, let's first skim the quick facts table, shall we?
Dinara Safina | Quick Facts
| | |
| --- | --- |
| Full Name | Dinara Mubinovna Safina(Динара Мубиновна Сафина) |
| Birth Date | 27 April 1986 |
| Birth Place | Moscow, Russia |
| Residence | Monte Carlo, Moscow |
| Nick Name | Marata |
| Religion | N/A |
| Nationality | Russian |
| Ethnicity | White, Tartar descent |
| Education | Law Degree |
| Zodiac Sign | Tauras |
| Father's Name | Mubin 'Mikhail' Safin |
| Mother's Name | Rauza Islanova |
| Siblings | Marat Safin |
| Age | 37 years old |
| Height | 5'11″/1.85 m/185 cm |
| Weight | 70 kg/ 154 lb. |
| Hair Color | Light brown |
| Eye Color | Green |
| Body | Toned |
| Shoe Size | N/A |
| Married | No |
| Partner | Possibly single |
| Children | N/A |
| Profession | Retired Tennis Player |
| Started Playing | Seven years |
| Plays | Right-handed two-handed backhand |
| Surface Preferred | Clay, Hard |
| Retired | 11 May 2014 |
| Net Worth | $8 million |
| Affiliations | Play and Help, Russian Federation, St. Petersburg Open |
| Last Match | 2011 |
| Retired | 11 May 2014 |
| Social Media | Instagram, Twitter |
| Hobbies | Watching movies, reading |
| Favorite food | Italian, Russian cuisine |
| Merch | Tennis Card (2005) Ace Debut |
| Last Update | November, 2023 |
Dinara Safina | Early Life And Family
Safina was born in Russia on April 27, 1986. Her mother, Raouza Islanova, is a tennis coach who trained many successful players and her children.
Likewise, her father, Michail, was the director of a tennis club in Moscow.
She has one older brother, Marat Safin, who is also a tennis player.
Marat was ranked world no.1 in U.S. Open, Australian Open, and two grand slams. So clearly, this is a family of tennis players.
Growing up in a family of achievers was a big push for Safina, but it was not easy. She felt pressured to be successful even though her family never pressured her.
Dinara always wanted to be famous and successful. Hence, her supportive family provided her with the perfect environment for her to reach that dream.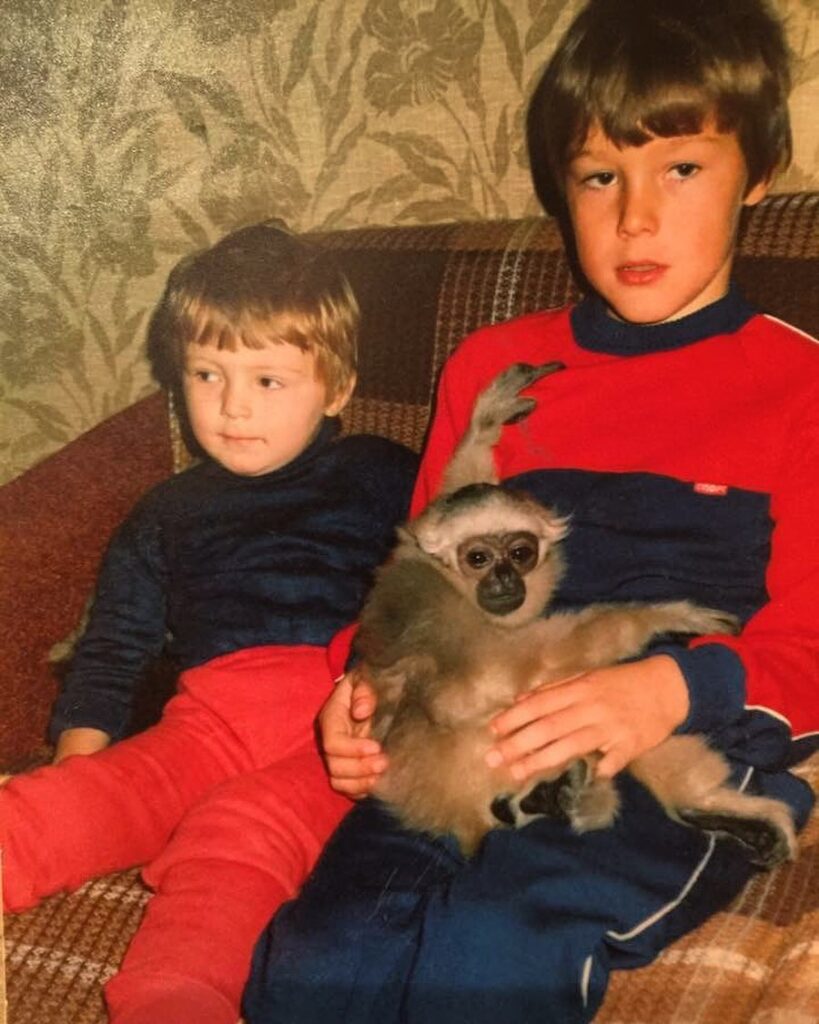 Safina started playing at the age of 7, participating in child tournaments. During childhood, she learned essential techniques that were helpful in her later career.
Her family moved to Valencia, Spain, when she was 12 years old. She is fluent in Spanish, Russian, and her native tartar language.
As a kid, Safina idolized players like Steffi Graf, Martina Hingis, and Lindsay Davenport.
Dinara Safina | Career
Safina debuted in the main draw of the WTA tournament in 2002 and slowly made her way to the top 100 of the WTA ranking.
Later in 2002, she made her grand slam debut in the U.S. Open. Safina won her first Wimbledon match in 2005, eventually losing the third round to Lindsay Davenport.
In the fall of 2005, she defeated Maria Sharapova, one of the best tennis players, in the quarterfinals of the U.S. Open.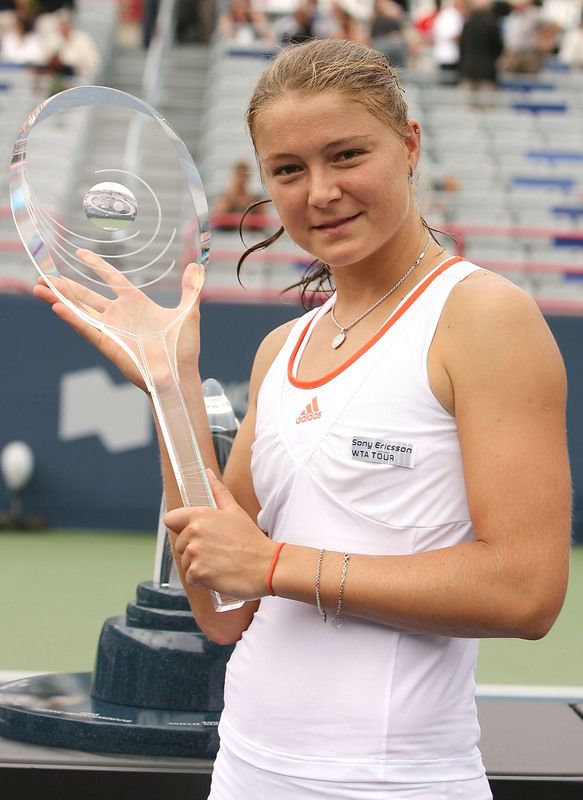 She made it into the top ten singles rankings for the first time in 2006.
In the 2008 Olympics held in Beijing, Safina represented Russia. In the quarterfinals, she defeated world no 1 Jelena Jankovic in three sets.
Because of that, Dinara became the first person in the WTA tour's history to conquer three different reigning worlds in the same year.
Safina rose to no one ranking of WTA in April 2009. Additionally, she is the second Russian after Maria Sharapova to be ranked no 1.
Her performance at Wimbledon was comparatively weaker than before, which sparked criticism about her no. 1 rank. Top players like Serena Williams openly mocked her credibility.
Further, Safina lost her no. 1 ranking to Serena Williams in October to regain it in two weeks.
Learn About Maria Sharapova's Journey In Tennis, Net Worth, WTA, And Her Boyfriends>>
Dinara Safina | Injury
Back injury And Decline In Performance
Playing a significant sport will undoubtedly take a toll on your health. To Dinara, this came as a back injury (stress fracture).
Likewise, her back problem got so bad that she had to skip tournaments and take breaks during competitions.
Dinara withdrew from many matches later in 2009 and early 2010 due to her back injury.
After returning for the clay season, she lost A few matches, dropping her rank to no 20. She later withdrew from Wimbledon as well.
Also, after losing most and winning some games during early 2011, she withdrew from the rest of the matches, again due to a back injury.
Safina's retirement from professional tennis was initially announced on October 7, 2011, by Marat Safin.
However, Safina herself tweeted later that she hadn't made a final decision yet. She officially announced her retirement only in 2014, a day later, after the finals of the Madrid Open.
Throughout her career, she won 12 WTA singles titles and 4 ITF singles titles. At the same time, she has won 9 WTA doubles and 3 ITF doubles.
Dinara Safina |
After Retirement
Many athletes fail to find something exciting and engaging after retirement, and most fall into depression.
Safina took a break and moved to New York immediately after her big decision. She took the time to get her thoughts together and then moved to Moscow.
Similarly, she has talked about missing the adrenaline rush of playing tennis.
After all, it was her primary source of happiness. She found it challenging to find something that could replace how tennis made her feel.
Safina also battled depression during that period. Going from world number one to 'nobody' can be a traumatic change for everyone.
After retiring, she realized her competitors, people from the tennis world, the media, and everyone was turning their backs on her.
The Pressure To Win
While her back injury was a significant factor in her retirement, Dinara has openly talked about how her stress as a player had a major role in that decision in the following years.
Though Safina has won many important matches in her life, she could not win any grand slam.
In 2009, Serena had three grand slam titles, yet Dinara managed to climb to number one. Due to that, Dinara was highly scrutinized.
There have been other players in tennis history who reached number one without any grand slam titles (Jelena Jankovic and Karolina Pliskova).
But for some reason, Dinara received much unnecessary hate. This made her even more pressurized, declining her performance even more.
Dinara is also infamous for her inability to deal with nerves during matches. This superstar has lost many major finals without winning a set in her career.
Dinara has openly talked about this with the media. "I wanted to win so badly, I couldn't handle my emotions."
Before any finals, Safina felt pressured to win; the only thing she could think of was whether she would win. She never was in the moment, enjoying the game.
This made her extremely nervous, declining her performance. Our girl said this was the leading cause of losing her 2008 and 2009 finals.
New Beginning
But Dinara is a fighter, way ahead in exploring new opportunities and possibilities. She used this time to complete her education.
In fact, Safina finished her law degree in 2019, which is one hell of an accomplishment.
Moreover, she also worked as a commentator on a sports channel.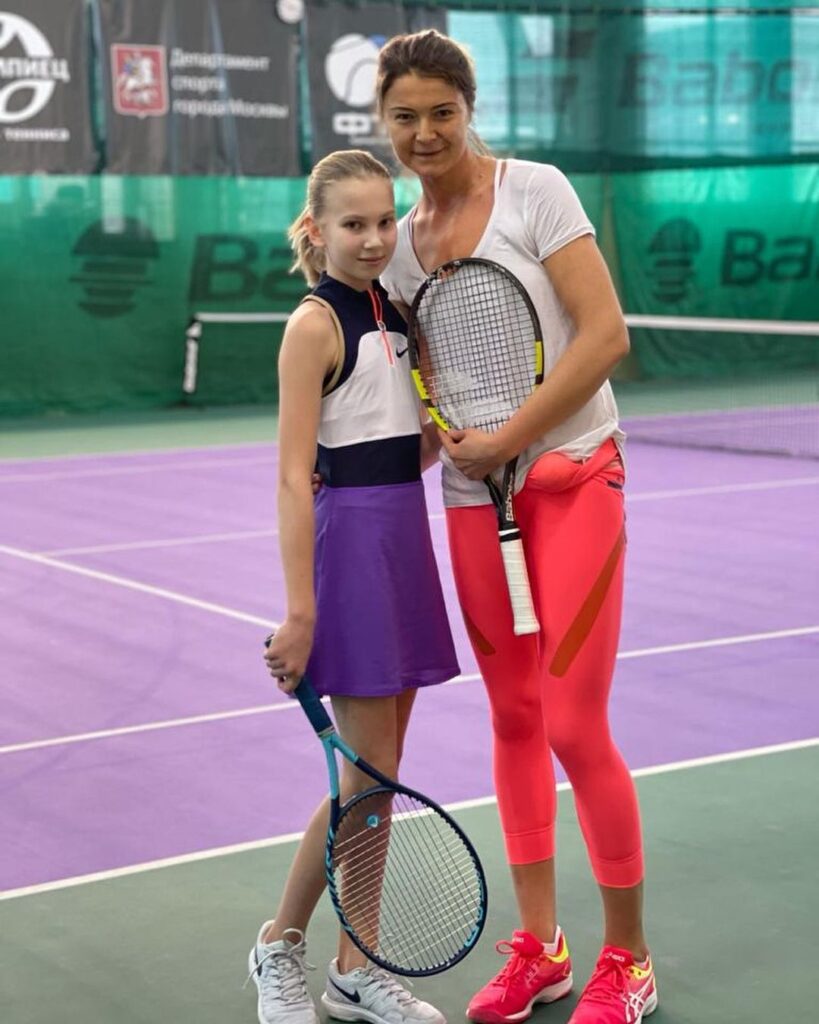 It is improbable that she'll come back on tour. But that doesn't mean she can't play tennis in other ways. Safina wants to coach players to reach their maximum potential.
She has worked with the Russian Federation. She hopes to be a coach on the WTA tour.
All said and done, Dinara enjoyed every moment of her tennis career and didn't feel like she missed out on much.
Nevertheless, she agrees that she would enjoy the game more and stress less if she could do everything over again.
Dinara Safina | Relationships
There is almost no information about private life of Safina. During her career, she had no time for relationships between her matches, training, and tour.
Now that she is relatively less busy, she might be dating someone! But she has not talked openly about it. Her social media timeline also has not hinted at a possible lover.
On Valentine's day 2021, she posted a photo of her dog, captioning it 'Happy Valentine's Day.'
The only guy she ever posts photos of is her brother, Marat Safin. Evidently, the siblings share a very close bond. Safina doesn't leave any chance to praise how lucky she is for having Marat as her brother.
Marat and Dinara are the only brother-sister pair to have held the number 1 ranking ever.
Dinara Safina | Net Worth And Residence
Dinara spends a quiet life in Monte Carlo, Monaco, with her little dog. The Russian-born has lived in many different countries and cities during her life.
Interestingly, she says that moving from place to place doesn't bother her a bit!
Instead, Dinara enjoys being in a new city and making a new home there. She also enjoys learning the languages and cultures of the city.
As a fun fact, Dinara Safina enjoys a simple yet subtle life. Additionally, she stated that she is not a big party person and is often at home doing nothing. Well, she often starts her day with some cottage cheese or oatmeal.
For lunch, she usually munches carbs and some vegetables.
Dinara's net worth is expected to be around $8 million.
Dinara Safina | Social Media
Dinara regularly posts her achievements, updates, and brand collaborations on her social media. One memorable collaboration she did was with Mishka shopping.
The proceeds from the sale from Mishka shopping were sent to a children's hospice.
Furthermore, Dinara is fond of writing her thoughts on tennis in the form of extended captions on social media. She uses Instagram @dinarasafinaofficial and Twitter @Dinarik27.
Instagram: 30.2k followers
View this post on Instagram
Twitter: 14.9k followers
Dinara Safina | Popularity
The former #1 tennis player is a popular figure. Although she retired from professional tennis, she still coaches different children at Spartak tennis academy.
The above image gives a brief information about her popularity all around the globe.
Dinara Safina | FAQs
Is Dinara Safina dating?
The former number 1 player has not yet made any announcements about her love life. Therefore, she is possibly single.
Did Dinara Safina win Grand slam?
No, Dinara did not win any grand slam title during her career.
Is Dinara Safina retired?
Yes, Dinara retired from touring in 2014. Her last match was in 2011.
What are Dinara Safina's career statistics like?
Altogether, Dinara Safina has collected 24 singles titles and 16 doubles titles.
Here Is The List Of Top Ten Hottest Female Tennis Players>>