Soccer is one of the most played games in the world, with players counting in billions from around the world. Moreover, it is equally liked by other billions to watch.
Like any other game, international soccer players are considered celebrities and have a huge fan base.
Are you one of the soccer lovers? If YES, it's obvious that you have a list of the players you love most from all time.
As players of the most liked game, soccer players enjoy a huge salary during their active period. But they find it challenging to keep up with the net worth once they retire from the game.
Also, The Independent once reported 3 out of 5 Premier League Footballers declared bankruptcy within five years of their retirement.
In such pity conditions, it certainly is hard to find players to consider successful after leaving the field. However, players nowadays are trying to mend their image and make better financial decisions.
In this article, we have tried to list the ex-players who have shown brilliancy even outside the field and are the top 12 most successful retired soccer players.
| | |
| --- | --- |
| Name of the retired soccer player | Net Worth |
| 1. David Beckham | $ 450 million |
| 2. Ronaldo | $ 160 million |
| 3. Philipp Lahm | $ 100 million |
| 4. Gerard Piqué | $ 80 million |
| 5. Andrea Pirlo | $ 50 million |
| 6. Robbie Fowler | $ 50 million |
| 7. Mathieu Flamini | $ 24 million |
| 8. Christian Fuchs | $ 18 million |
| 9. Marcell Jansen | $ 7 million |
| 10. Uli Hoeneß | $ 5 million |
| 11. Björn Gulden | $ 1 million |
| 12. Oliver Kahn | $ 1 million |
12 Most Successful Retired Soccer Players
12. Oliver Kahn
Oliver Kahn is a former German goalkeeper who is one of the most successful goalkeepers of all time.
He had nicknames Der Titan (The Titan) and Vol-Kahn-o (Volcano) for his aggressive style of goalkeeping.
Besides being a legendary goalkeeper, Oliver has aced life outside the ground as well.
Though his exact net worth at present is not public, his money certainly counts $100,000 – $1M.
However, though Kahn doesn't earn by playing on the field now, he has not left football yet. He has been commenting on Games for ZDF since 2008.
Moreover, his company Goalplay sells goalkeeper kits and offer coaching app.
Further, he is working as the CEO of Bayern Munich since July 2021. His well-made career outside the soccer field has listed him on the twelfth position of the list.
11. Björn Gulden
Björn Gulden is a retired Norwegian football player who became more successful in his career as a manager than in the field.
Gulden has a degree in MBA, and hence in 2000, he was appointed to be managing director of Deichmann, a shoe company.
After that, he has regularly got jobs in several companies in managerial positions like Adidas, Pandora, etc.
At present, Gulden is working as the CEO of Puma since 2013. Moreover, he has collected an enormous net worth from his jobs.
10. Uli Hoeneß
The tenth position of the most successful retired soccer players list is Uli Hoeneß. Uli is a former Professional football player of Germany who played as a forward.
After retiring as a professional player in 1979, he joined as the club's manager in Bayern Munich.
Uli worked as a manager for 30 years, and in 2009, he was elected president of the club.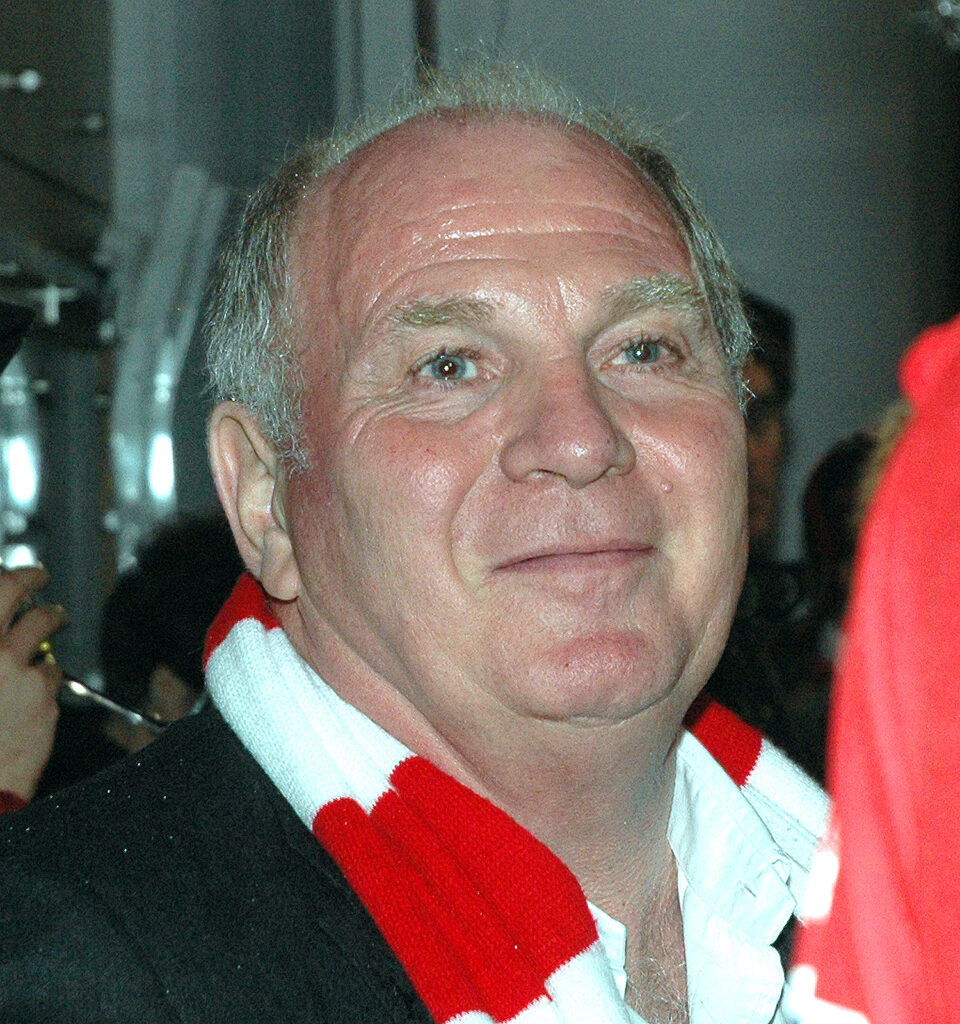 He has served the club to rise as a financially and athletically successful German football club.
Moreover, he also owns a sausage industry which he started in 1985 which has a massive market across Germany. Uli has a net worth of a whopping $5 million at present.
9. Marcell Jansen
Marcell Jansen is known as a full-back player on the German football team. He retired from the game at the age of 29 and is involved in various businesses.
Marcell has a net worth of at least $7 million, summed up from his involvement in five different businesses.
Jansen owns a company named MJ Beteiligung, through which he works with a restaurant, a medical supply store, a beach sports facility and, a sports fashion label.
Moreover, he is also a pundit in Sky Sport. And is club president of Hamburger SV.
8. Christian Fuchs
Christian Fuchs was the former captain of the Austrian national team for 6 years till he retired from the national team in 2016.
Now he plays as a left-back with club Charlotte Independence.
Fuchs has a net worth of $18 million made up of his salary, endorsement, and sponsorship deals.
Moreover, he also has a famous online video series, "No Fuchs Given," where he and his teammate perform several unusual challenges.
7. Mathieu Flamini
Mathieu Flamini is a former French professional football player and played as a midfielder.
Flamini retired from the game in 2019 and has concentrated his focus on business ventures.
Mathieu owns a biochemical company, GFBiochemicals, with an ambition to develop alternatives for oil-based products.
The company now has a billion-dollar market for being a leading producer of levulinic acid and its derivatives.
He has also co-founded the world's first magazine dedicated entirely to eco-sustainability and the bio world "BioJournal".
Thanks to his wise business decisions, he now has an immense net worth of $24 million.
6. Robbie Fowler
Robbie Fowler is a retired English football player who is now engaged in managing and coaching teams of several countries.
At present, Fowler is the head coach of SC East Bengal of the Indian Super League.
Moreover, he is best known for his instinctive goal-poaching ability and was once named "GOD" by the crowd.
Robbie started managing the team in 2011 and started coaching in 2013. He retired in 2012.
Fowler has a net worth of $50 million at present, collected from his jobs as a coach.
5. Andrea Pirlo
Andrea Pirlo was an Italian Midfielder known for his ball control, creative passing, and free-kick ability. Moreover, he is renowned as one of the best deep-lying midfielders.
At present, Pirlo is a professional coach managing Serie A club Juventus. Further, he has taken over his parent's winery as his retirement job.
Furthermore, his vineyard produces around 15,000 to 20,000 bottles of wine yearly, which he sells across the world.
Thanks to his new job as coach and winemaker, Andrea Pirlo is able to make his net worth as high as $50 million.
4. Gerard Piqué
Gerard Piqué retired from the Spanish national team after the 2018 FIFA World Cup. He plays as Center-back and is considered one of the best defenders of all time.
Though he still plays with club Barcelona, he has already achieved his most significant lifetime achievements at a young age.
Nowadays, his primary focus is outside the field from where he makes millions yearly.
Gerard Piqué's net worth as of 2021 is $80 million, including the astonishing contract deals with Barcelona, endorsement deals, and other ventures.
Besides football, Piqué loves poker and participates in poker tournaments. He has also won a prize of several hundred thousand.
Moreover, he invests in several industries through Kosmos Global Holding, including businesses, tennis, and media. Besides, he also owns a third division club FC Andorra.
3. Philipp Lahm
Philipp Lahm is a retired German soccer player who is considered one of the best defenders of all time. Lahm left football after winning World Cup for Germany in 2014.
At present, Phillip enjoys a huge net worth, counting $ 100 million, made out of business ventures he started during his career as a footballer.
Lahm owns a sports care, balm, and hygiene product manufacturer named Sixtus and a food company Schneekoppe.
However, he did not found these companies but bought shares at first and owned them in the end.
Moreover, he also owns a leading lottery company in Germany, the German sports lottery.
2. Ronaldo
The Brazilian former professional football player is one of the best football players of all time. He retired from the game due to health issues in 2011.
Being the best player of the time, Ronaldo had many lucrative endorsement deals while he was playing.
But the most significant deal of lifetime endorsement with Nike has helped him succeed in his life after retirement.
At present, Ronaldo has a total net worth of $160 million from his endorsement deal and other ventures.
Besides being associated with Nike, he is a significant stakeholder of La Liga club Real Valladolid, where he is a manager.
Moreover, he also owns a football school named the Ronaldo Academy, which has its branch in different countries worldwide.
1. David Beckham
The first name on the most successful retired soccer players list is the English former professional footballer David Beckham who once played as a Midfielder with several clubs and national team.
However, he is now famous as co-owner of Inter Miami CF and Salford City.
David started his career outside soccer by being a fashion trend with his meticulous hair, tattoo, and fitness styles.
Moreover, he is one of the first soccer players to gain popularity by his career outside the field.
At present, David has an enormous net worth of $450 million. His net worth sums up of endorsement deals and sponsorships which have millions of value.
The most lucrative deals of Beckham are with Adidas, Haig, H&M, Gillette, Armani, etc.
Further, he has a company, DB Ventures to invest in businesses which helps him bag an additional million dollars.
Also, read about Top 20 Richest Soccer Players in the World.
Conclusion
People often defame players for their obsession with an extravagant lifestyle and soccer players are no different.
But these players have made their way to success even after deeming the limelight.
However, the situation is more favorable to contemporary players than those of the past due to the development and use of the internet. As it has increased the scope for players to earn extra money.
Nowadays, players earn more than their salary through endorsements, sponsorships, and brands promotion on social media platforms like Instagram, Facebook, etc.
I hope the use of these new opportunities will eliminate the terrible fate of bankruptcy of the retired players.
Now, looking at today's list, it shows David Beckham as the most successful retired soccer players, followed by Ronaldo, Philip Lahm, etc.