Top 12 most valuable sports memorabilia!! Sports memorabilia is a legacy of the booming million-dollar business industry itself, not just a collectible item. It ranges from trophies to the most bizarre item, a piece of gum that has been chewed.
By 2032, the asset class of sports memorabilia is estimated to be worth $227 billion.
Indeed, holding one of any sports memorabilia is great both ways, either in terms of the memorial of a certain player or as a valuable item on one's list.
They not only sell for a few dollars but may go for hundreds or thousands and even millions. As the prices have skyrocketed for memorabilia, it's a business among the elite traders.
Michael Jordan's 1998 game-worn jersey, sold at $10.09 million in 2022, is the most expensive memorabilia present on the list.
Herewith, we will present the top twelve most expensive sports memorabilia.
Well, these twelve things are the most valuable sports memorabilia. We know the huge price must have left you jaw-dropping.
So here's the list from the top 1 to the top 12.
Quick Overview
| | |
| --- | --- |
| Memorabilia | Worth |
| 1. Original Olympic Games Manifesto | $8.8 Million |
| 2. Honus Wagner 1909 Baseball Card | $7.25 million |
| 3. Babe Ruth 1928-1930 Jersey | $5.64 Million |
| 4. Mickey Mantle 1952 Baseball Card | $2.8 Million |
| 5. Babe Ruth 1920 Jersey | $4.4 Million |
| 6. James Naismith's 1891 Rules Of Basketball | $4 Million |
| 7. Daniel Lucius Adams' Rule Of Baseball | $3.2 Million |
| 8. Mark McGwire's 70th Homerun Ball | $3 Million |
| 9. Babe Ruth's 1927 World Series Ring | $2.1 Million |
| 10. Norman Rockwell Baseball Print | $1.6 Million |
| 11. Joe DiMaggio's Journal | $1.5 Million |
| 12. Paul Henderson's 1972 Summit Series Jersey | $1.28 Million |
Top 12 Most Expensive Sports Memorabilia
As we talk about the most expensive amount people pay, you have to spend even millions if you wish to bag a signed memento from your favorite player.
As we discuss it, we will start with the bottom of the list that falls in the top 12.
12. Paul Henderson's 1972 Summit Series Jersey
Paul Henderson has always been best known for his hockey games that make up history.
Among many of his great deeds and achievements, Paul scored the winning goal in the 1972 Summit Series against the Soviets.
Therefore, the 19-number jersey he wore that day came into a winning bid of $1.28 million in a Montreal-based auction in 2012.
According to Marc Juteau, president of Classic Auctions, this jersey became the most expensive ever auctioned off in any sport back in the day.
Talking about his game background, his game-winning goal was in the last minute of the eighth and final game. Toronto real-estate magnate Mitchell Goldhar bought the jersey.
11. Joe DiMaggio's Journal
The 11th on the list of most valuable sports memorabilia is the journal by Joe DiMaggio.
Joe DiMaggio was a former baseball center fielder who played his entire 13-year career in MLB for the New York Yankees. Even to date, he holds the record for a 56-game hitting streak.
In the meantime, he was a three-time MVP winner, an All-Star, and was also inducted into the Baseball Hall of Fame in 1955. Additionally, he became the sport's greatest living player.
They sold his hand-written journal for $1.5 million.
10. Norman Rockwell Baseball Print
Making the top ten list is Norman Rockwell's baseball print "Tough Call."
Well, they sold this print for $1.6 million in 2017. Back then, one of the umpire's granddaughters kept it in her Texas house.
Only later they discovered the print had been signed and inscribed.
9. Babe Ruth's 1927 World Series Ring
Mr. Charlie Sheen owned both Ruth's World Series ring and two of the most prized items of Babe Ruth memorabilia.
According to the sources, Sheen bought the ring back in 1994 when he was shooting Major League II and Josh Evans, the chairman and founder of Lelands, brokered the deal.
Back then, he bought it from one of the oldest auction houses that cost him $225,000. As time flowed, the bid rose its price until it was again sold for $2.1 million.
8. Mark McGwire's 70th Homerun Ball
In the 1998 MLB season, St. Louis Cardinals slugger Mark McGwire made seventy home runs in a single season. Hence, baseball became one of the world's most valuable sports memorabilia items.
Initially, Ken Goldin of Goldin Auctions stated its price to be around $250,000 to $300,000, while David Bohler of SCP Auctions stated it to be around $400,000. Anyways, comic book artist Todd McFarlane purchased the baseball for just over $3 million.
"You hit that home run, and you set any kind of record with that home run, could be a guy in the bleachers, one of the bleacher's bums going, 'I've got the ball.' This ball right here is history."
-Comic book artist Todd McFarlane
7. Daniel Lucius Adams' Rule Of Baseball
In 1857, Daniel Lucius Adams wrote baseball rules when he was President of the New York Knickerbockers. This set of rules has been the backbone of the field and has changed some of the game's backstories.
However, this document only surfaced later in 1999 when the owner brought the manuscript to the attention of SCP Auctions. Altogether, it was sold for $3.26 million.
For this Manuscript, John Thorn, the official historian for MLB, said Daniel Lucius might be the first among baseball's founding fathers.
He added that no baseball manuscript of this significance had come onto the open market.
6. James Naismith's 1891 Rules Of Basketball
On December 21, 1891, James Naismith wrote the 13 rules of basketball. Later, David and Suzanne Booth purchased the rules. During the course time, he was a physical education instructor at the Christian association.
As a matter of fact, they bought the rules for the University of Kansas. In James' days, he wrote the rules and pinned them to the college's bulletin board.
In 2010, it was auctioned for more than $4 million to raise money for charity. Well, it assisted the Naismith foundation for sportsmanship and underprivileged children worldwide.
5. Babe Ruth 1920 Jersey
Well, it's like a given fact that Babe Ruth equals good money and value. So his 1920 jersey came to SCP Auctions, based in California. They sold this Jersey for $4.4 million. It indeed broke the price record of James Naismith's 13 rules of basketball.
Also, this jersey was on display at The Babe Ruth Birthplace Museum in Baltimore. After that, the Boston Red Sox sold this jersey to the Yankees for $100,000 in the 1919 season.
Babe Ruth is 'king' in the sports memorabilia world.
4. Mickey Mantle 1952 Baseball Card
Regarding baseball cards, it's always the battle between Mickey Mantle and Mike Trout.
Recently, they sold Mickey Mantle's 1952 mint condition Topps baseball card for $5.2 million.
Initially, in 2018, the card was sold for $2.88 million, which was the second-highest price ever paid for a card.
Also, in January 2021, they sold it again, and now it stands as one of the most expensive.
3. Babe Ruth 1928-1930 Jersey
Another of Babe Ruth's classic sports memorabilia is his New York Yankees jersey from 1928-1930. He surpassed his own record here as his 1928-1930 jersey went for $5.64 million.
This particular jersey is made of gray flannel and has "Ruth" stitched inside the collar. For many, this auction price really came off as a surprise.
"Babe's collection has remained largely unknown to the general public, and we felt it was time to bring these amazing pieces of his life to light."
-Linda Ruth Tosetti, Ruth's granddaughter
2. Honus Wagner 1909 Baseball Card
In August 2021, a T206 Honus Wagner baseball card sold for $6.6 million, becoming the highest-selling sports card of all time.
At the same time, the purchase also included a 20% buyer's premium.
As for detail, an East Coast collector sold this baseball card. Before this, the card was displayed at the National Sports Collectors Convention in Rosemont, Illinois.
Later in a private sale, it was sold for $7.25 million in a sale organized by Goldin Auctions.
Likewise, the 1909 Wagner card is considered the "Mona Lisa of baseball cards."
1. Original Olympic Games Manifesto
Making it to the top of the most valuable sports memorabilia in the list is the original Olympics games manifesto that went out for a whopping $8.8 million.
As a fun fact, many expected that this would only go up for around $700,000 to $1 million.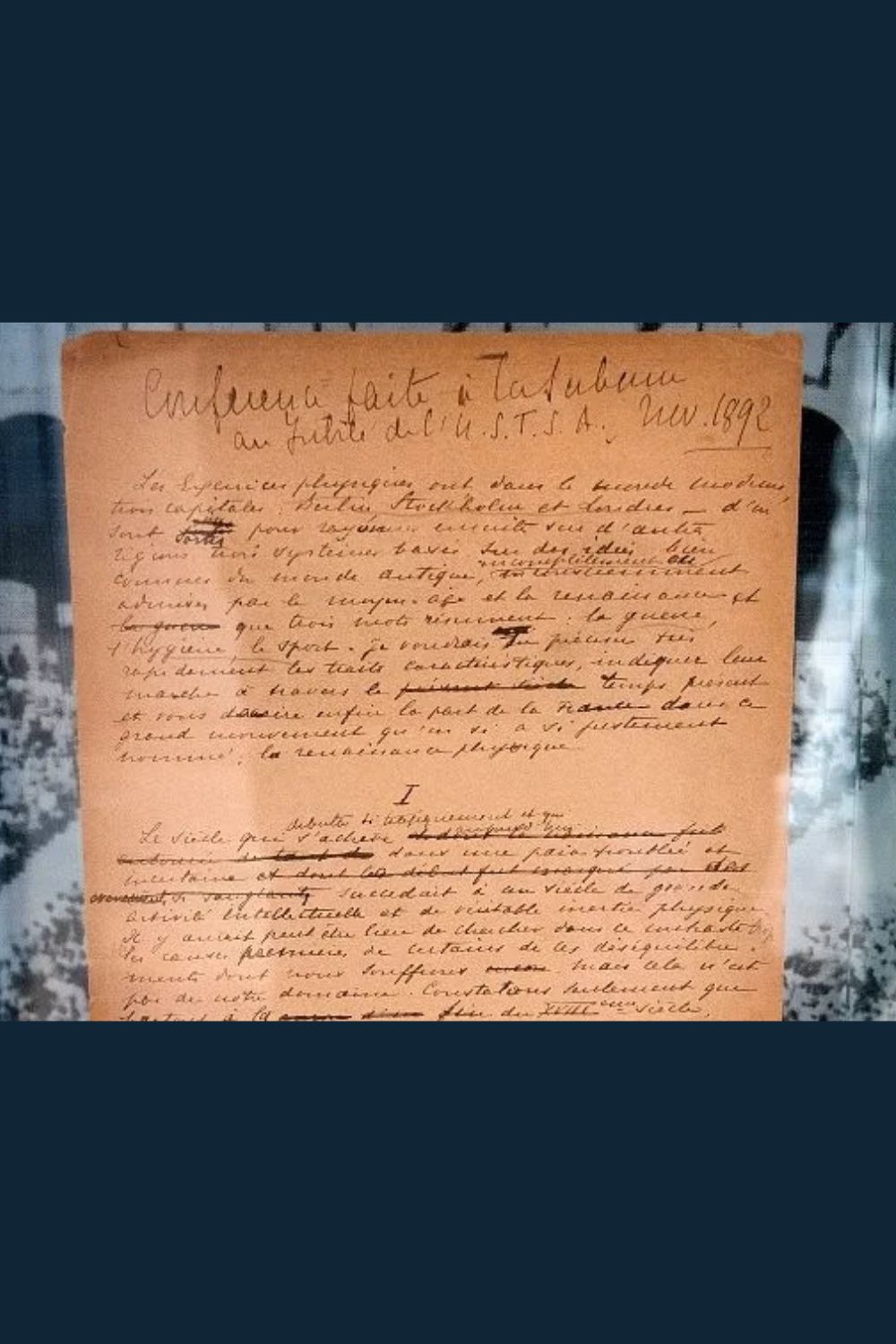 Pierre de Coubertin wrote this document back in 1892.
Well, Pierre was the International Olympic Committee founder. The document consists of fourteen pages, including peaceful games between the countries.
The Top Most Expensive Memorabilia Are Included Down Below
Michael Jordan 1998 Game-Worn Jersey ($10.09 million) (2022)
This Jordon's jersey was worn in the game 1 loss against the Utah Jazz in the"Last Dance" season for the Chicago Bulls.
Jordan was in five of the six games for the Bulls, including 45 points in the decisive Game 6.
It was sold on September 15, 2022, for $10 million.
Diego Maradona Hand Of God Jersey ($9.28 million) (2022)
It was worn in the epic 1986 World Cup quarterfinal on June 22, 1986.
Diego Maradona claimed to win against England in a lightly striped, blue number jersey, which was suitable for the weather of Mexico city sun.
Muhammad Ali's Rumble In The Jungle Championship belt ($6.18 million) (2022)
The heavyweight title belt won by Muhammad Ali in 1974 was sold to Jim Irsay, the owner, and CEO of the Indianapolis Colts, on July 4, 2022.