Muggsy Bogues is an American former NBA player. He is the shortest (1.60 meters) player ever to play in the NBA as a point guard for five teams in his 14-season career.
Bogues often states that heart over height. NBA has a record of having 2.31 meters player as well, which shows the diversity in the league.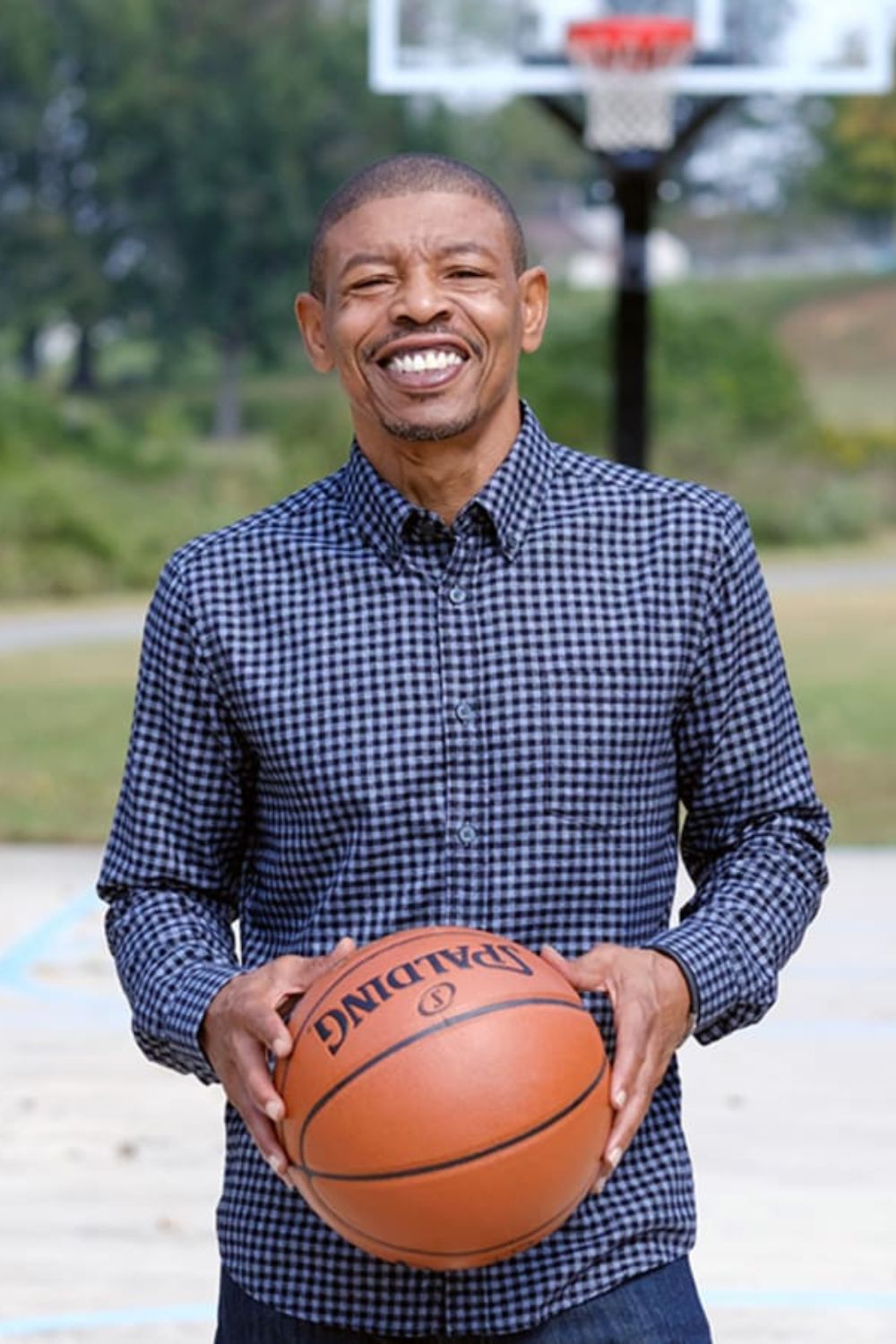 Bogues was incredibly good at his game and advocated weight, height, color, or anything else has nothing to do with your potential.
He played for Charlotte Hornets, Rhode Island Gulls, Washington Bullets, Golden State Warriors, and Toronto Raptors.
Further, he served as head coach of Charlotte Sting of the WNBA after his retirement, even when he lacked coaching experience.
Today, we will discuss Muggsy Bogues without excluding anything significant that has ever happened in his personal and professional life.
Let's start with quick facts.
Quick Facts
Full Name

Tyrone Curtis "Muggsy" Bogues

Known As

Muggsy Bogues

Nickname

Muggs, Billy, And Apple

Birthdate

January 9, 1965

Birthplace

Baltimore, Maryland, United States

Nationality

American

Horoscope

Capricorn

Age
58 Years Old
Father's Name

Richard Bogues

Mother's Name

Elaine Bogues

Sibling

3 (A Sister And Two Brothers)

Sibling's Name

Sherron Bogues, Stroh Bogues, And Chuckie

Bogues

Education

Paul Laurence Dunbar High School, Baltimore




Wake Forest University, North Carolina

Marital Status

Married

Spouse

Kim Bogues

Children

3 (Two Daughters And A Son)

Children's Name

Tyisha Bogues, Brittney Bogues, And Tyrone Bogues Jr.

Height

5 ft 3 in / 160 cm / 1.60 m

Weight

62 kg / 136 lb

Build

Athletic

Eye Color

Dark Brown

Hair Color

Black

Profession

Former Basketball Player / Basketball Coach

Position

Point Guard

Affiliations

National Basketball Association (NBA)

NBA Debut

1987

Teams
Rhode Island Gulls
Washington Bullets
Charlotte Hornets
Golden State Warriors
Toronto Raptors
Book

Autobiography (In the Land Of Giants: My Life In Basketball)

Net Worth
$15 Million
Social Media

Facebook

,

Instagram

,

Twitter

Merch
Jersey, Poster & Autographed Items
Last Update
June 2023
Early Life & Family
Muggsy Bogues was born on January 9, 1965, in Baltimore, Maryland, to parents Richard Bogues (father) and Elaine Bogues (mother).
He has three siblings: Sherron Bogues (Deceased), Anthony Bogues, and Chuckie Bogues. The Bogues siblings grew up in Lafayette Court housing projects in Baltimore.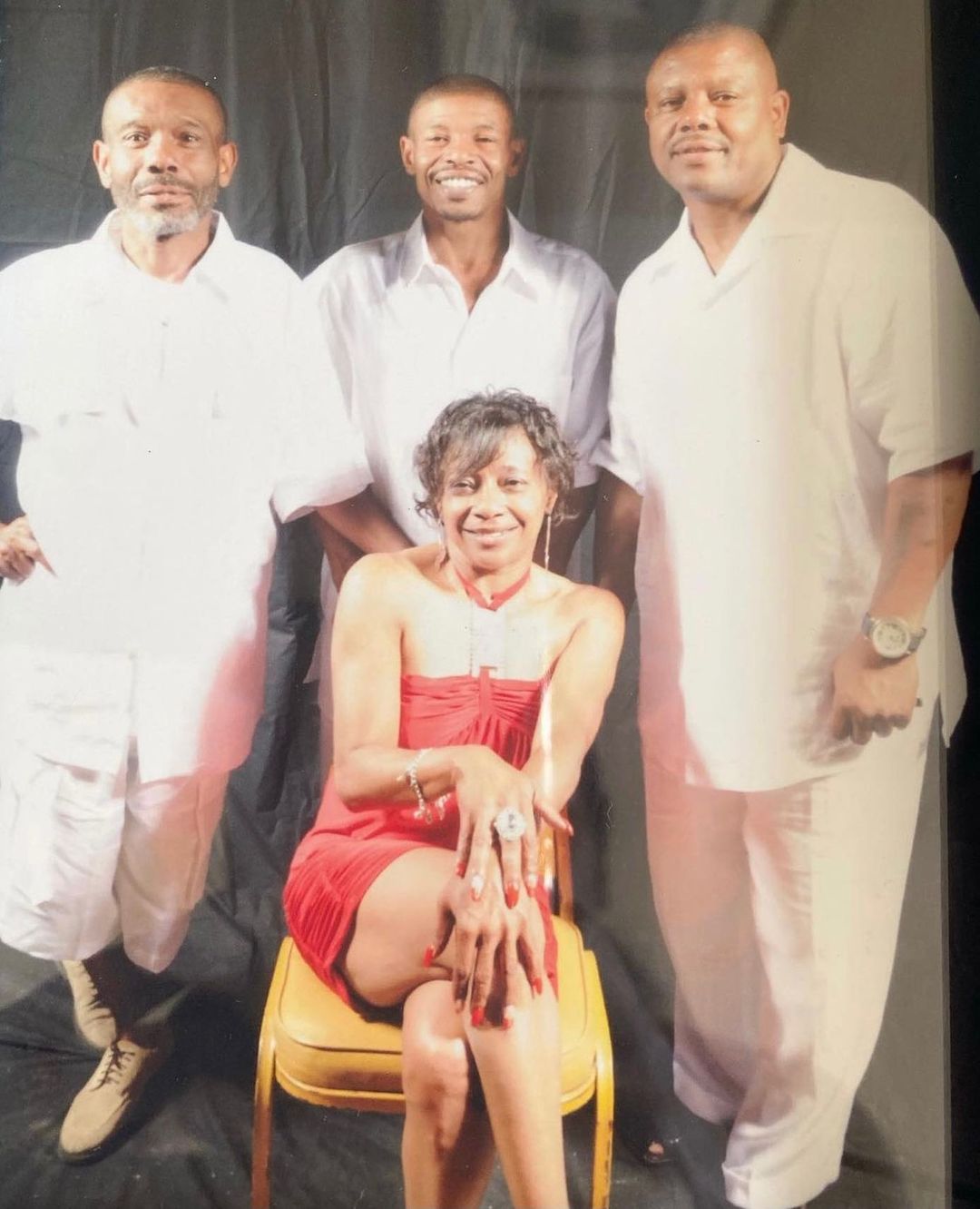 Muggsy's father went to prison for armed robbery and left his mother alone at home to raise their kids. Later, in August 1993, his father died in Baltimore because of pneumonia.
Like his father, his older brother, Chuckie, also struggled with drug addiction. In 1995, he moved his brother to his house to help him with his addiction.
His sister Sherron was a worker at the Baltimore Department of Recreation and Parks, who died from cancer at age 55 in 2015.
Basketball & Young Tyrone, aka Muggsy
Muggsy went to Southern High School as he aspired to become a dental technician; he transferred to Dunbar High School, which offered healthcare classes.
He played for the Dunbar Poets basketball team at his high school under coach Bob Wade. Bob Wade later became the head coach of the University of Maryland.
He was together in high school with future NBA players David Wingate (high school senior), Reggie Williams, and Reggie Lewis (classmates).
In the 1981-82 season, the Dunbar Poets recorded 29-0; Bogues was in his junior year.
Likewise, they finished the season at 31-0 when Bogues was in his senior year and were ranked first in the nation by USA Today.
College Basketball Career
Bogues went to Wake Forest University, North Carolina, where he played for four years. He recorded 11.3 points, 8.4 assists, and 3.1 steals per game on average in his junior year.
Further, he registered 14.8 points, 9.5 assists, 3.8 rebounds, and 2.4 steals per game on average in his senior year.
He was the ACC career leader in steals and assists by the end of his collegiate career. Bogues received Frances Pomeroy Naismith Award and Arnold Palmer Award as Wake Forest's most valuable athlete.
Wake Forest retired his jersey number after he left in a few years. He was inducted into the Wake Forest Sports Hall of Fame in 2001.
As of 2023, Muggsy still remains Wake Forest's all-time leader in both steals and assists.
National Team
Bogues represented the USA national team in the 1986 FIBA World Championship.
His team won the gold medal in the tournament under coach Lute Olson.
Professional Career
Muggsy Bogues played for the Rhode Island Gulls in the United States Basketball League (USBL) for quite a while after being selected second overall in 1987.
He was a fan favorite in the USBL, and the Gulls led the league in attendance; his ankle injury ended his season with the team.
Then, he was selected by the Washington Bullets in the 1987 NBA Draft, 12th overall. He was also a part of talent-laden.
The class also included players like David Robinson, Reggie Miller, Scottie Pippen, and Kevin Johnson.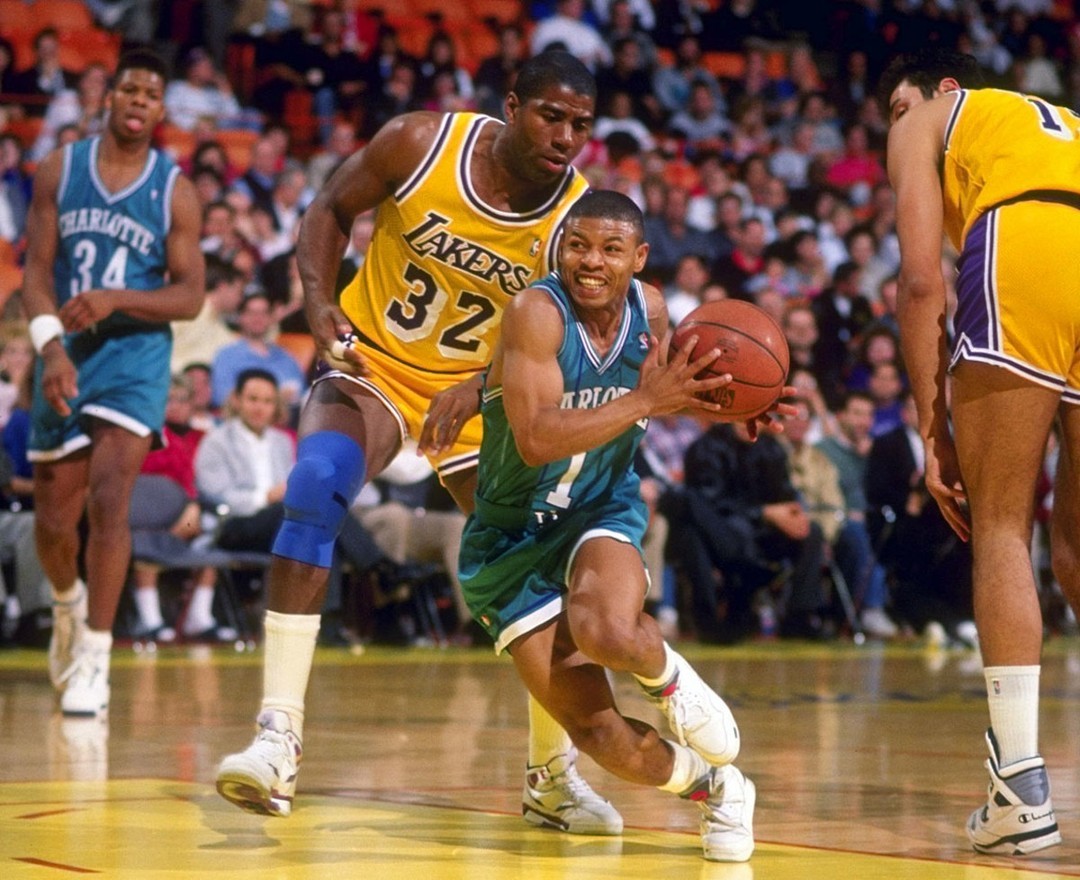 Bogues was a teammate of Manute Bol, who stood at 2.31 m tall in his rookie year. They were the tallest and shortest players in NBA history, having 28 inches (71 cm) gap.
Manute Bol and Muggsy graced the covers of three magazines.
Bogues blocked 39 shots in his professional career, one of which was initiated by 2.13 meters tall Patrick Ewing on April 14, 1993.
He had a 44 inches (110 cm) vertical leap. But his hands were too small to hold on to a ball to dunk one-handed.
Charlotte Hornets
Charlotte Hornets selected Bogues in the expansion draft on June 22, 1998.
He proved himself an exceptional passer, a great stealer, and one of the fastest players on the court with the Hornets.
He played with the Hornets for ten seasons, led by Alonzo Mourning and Larry Johnson.
The Hornets stood up as one of the most famous NBA teams and a perennial playoff contender while Bogues was with them.
Bogues is among the most popular players in the Charlotte Hornets' history. He was the Hornets' career leader, with 19,678 minutes played, 5,557 assists, 1,067 steals, 1,118 turnovers, and 13.5 assists per 48 minutes.
He underwent arthroscopic surgery on his left knee in August 1995. Coach Dave Cowens even suggested that Bogues consider retiring due to a nagging knee injury.
NBA Career After Charlotte Hornets
Charlotte Hornets traded Bogues and Tony Delk to the Golden State Warriors after six games of the 1997-98 season. The trade was made in exchange for B. J. Armstrong.
Bogues played two seasons with the Warriors due to his hamstring, knee injuries, and chickenpox.
He then signed as a free agent with the Toronto Raptors, where he met his longtime teammate Dell Curry.
Due to his chronic knee injury, he appeared in only three games in the 2000-01 season.
The Raptors traded Bogues to the New York Knicks and then to Dallas Mavericks. He did not play a single game for either of these teams.
Bogues tried to continue his NBA career, but his injuries and other personal issues needed him more than that, which led to his retirement.
The Washington Post stated on February 8, 2023, that there won't be anyone like Muggsy Bogues.
He compensated for his lack of size with quickness, good passing instincts, and an intense competitive spirit.
Some of his awards and achievements during his career are highlighted below.
Frances Pomeroy Naismith Award (1987)
First-team All-ACC (1987)
Player of the Year, Charlotte Hornets (1989-90)
Jim Thorpe Award for Special Inspiration (1995)
No. 14 retired by Wake Forest Demon Deacons
Muggsy Bogues & Michael Jordan
Despite many doubting his height, Muggsy Bogues made a promising career in the NBA.
During a match between the Hornets and the Bulls, when Michael Jordan shouted, "Shoot the ball, midget!" many believed he ruined Muggsy's career.
Following it, as Bogues made the shot, he missed it. Later, Bogues clarified that the single statement did not affect him.
"That's one of the craziest, most asinine stories you can hear. Somebody says something, and it's going to affect my career? It doesn't make any sense." – Muggsy Bogues.
Life After NBA
After retiring from the NBA, Bogues tried his hand at the real estate business. He indulged in it until August 3, 2005.
Coaching Career
Charlotte Sting hired Bogues as the Women's National Basketball Association (WNBA) coach.
Bogues didn't have any coaching experience but still did a great job. He was shorter than all his mentees.
Charlotte Sting built a 14-30 record under his mentorship. However, the team dissolved in January 2007.
Bogues then served as a head coach of the United Faith Christian Academy boys' high school basketball team in Charlotte, North Carolina.
He became the head coach in 2011. Before that, he was an assistant to former head coach Shaun Wiseman. Muggsy was offered a new contract but stepped down in 2014 to continue other opportunities.
Further, he became the Charlotte Hornets' ambassador on March 18, 2014. He also participated in the team's rebranding.
Muggsy invested in Ash and Erie, a clothing company for short men, after watching Shark Tank in 2018.
He reached out to Mark Cuban, a Shark Tank panelist, who had also invested in the company.
He was inducted into the North Carolina Sports Hall of Fame in January 2020.
Autobiography
Muggsy's autobiography, 'In the Land of Giants: My Life in Basketball,' was released in 1994.
It is his personal story, covering the obstacles and criticisms he overcame and showcasing the hardship of growing up in the inner city of Baltimore and achieving success in the NBA.
Family Foundation
Bouges initially commenced Always Believe, Inc. in 2013, which worked to help at-risk youths to achieve their dreams.
Back then, he assisted more than 1,000 youths in Charlotte and moved to expand his organization.
In 2019, with the help of key sponsors and donors, Muggsy changed the name of his nonprofit to the Muggsy Bogues Family Foundation.
This non-profit organization, founded by Muggsy Bogues, is located in Matthews, NC, 28106.
Television & Movie Appearances
Bogues has appeared in several movies and television shows. He gained immense popularity from his basketball career, gaining exposure everywhere.
He was a part of the 1996 movie Space Jam. They cast him as one among five NBA players (alongside Charles Barkley, Shawn Bradley, Larry Johnson, and Patrick Ewing).
The movie revolves around Bugs Bunny asking NBA players to defeat a criminal alien in a basketball tournament.
He also had a cameo appearance in the 2002 film Juwanna Mann. The movie covers an NBA player who gets booted from his team and later ends up in the Women's pro league.
Bogues appeared in the TV series Curb Your Enthusiasm, sharing a restroom with Larry David and Richard Lewis.
Bogues almost had a noisy feud with David in the movie after catching them looking at his genital while urinating.
Moreover, he also cameo on an episode of Saturday Night Live with Charles Barkley as host. Similarly, Bogues was seen in an episode of Hang Time, where he spoke against steroids.
Muggsy was then seen in "Rebound," the first episode of season 7 of Royal Pains. In the episode, he attends a welcoming party hosted by Ms. "New Parts" Newberg.
Wife & Children
Muggsy Bogues is married to Kim Bogues, a professional chef. The duo initially divorced in 1995, and Kim took custody of the children.
However, they again got back together and remarried in 2015.
They have three children: a son, Tyrone Bogues Jr., and two daughters, Britteny Bogues and Tyisha Bogues.
Muggsy has a daughter named Tyisha from his previous relationship when he was 17.
Basketball Legacy Is On
Bogues also has a grandson named Samartine Bogues, a high school freshman who has been in hype for his basketball skills since elementary school.
He is a 1.74 meters point guard from Baltimore who is making a sensation with his gameplay in the 2023 class.
Sarmatine collected many awards and accolades, such as best playmaker at a Bball Spotlight tournament, Top 5, and MVP of the 8Eye Camp and Top 5 at the Buckeye Camp in Ohio.
In 2020, he had already gained his first college basketball scholarship offer.
As of 2023, he is attending Monarchs Academy and is only in 5th grade.
Net Worth
Bogues, one of the most famous NBA players, earned $18 million in salary alone during his career.
That's the same as around $34 million after adjusting for inflation in today's dollars.
Muggsy's net worth is estimated at around $14 million as of 2023.
He earned million more from his endorsements.
Social Media Presence
Bogues is very active on his social media. He updates photos of the games he played when he was an active player and shares lots of photos with friends and family.
Facebook (@MuggsyBogues): 645k followers
Instagram (@therealmuggsy): 247k followers
Twitter (@MuggsyBogues): 51.1k followers
Popularity Graph
Frequently Asked Questions (FAQS)
Did Muggsy Bogues ever dunk?
Muggsy Bogues never tried a dunk during an official NBA game. He could touch the rim, which is a fairly impressive feat. It is believed that he could not or did not dunk at all because of his height.
Is Muggsy Bogues a Hall of Famer?
Muggsy Bogues was selected for the Hall of Fame Class 2020 for the fourth consecutive year. However, he could not make it.
How high can Muggsy Bogues jump?
Muggsy Bogues is recorded to have a 44 inches (110 cm) vertical leap. However, his hands were too small to hold on to a ball to dunk one-handed.
How much are Muggsy Bouges' basketball cards worth?
Muggsy Bouges' basketball cards prices differ, ranging from $1 to even $1,200 and more.
Which jersey number did Muggsy Bouges feature in?
Muggsy Bogues featured in jersey number 1 for the Bullets, Hornets, and Warriors. Similarly, he wore jersey number 14 for the Raptors. Also, he wore jersey number 5 for the NBA playoffs.