Nadia Comaneci is a retired gymnast and a five-time Olympic gold medalist. As a Romanian Olympic gymnast who gained a lot of fame and success from a young age, Nadia Comaneci is also the wife of Bart Conner and is currently living in the U.S.
The former gymnast has accomplished what no one had ever done before in professional gymnastics.
At the early age of 14, Comaneci was the first gymnast to be awarded a perfect score of 10.0 at the 1976 Olympic Games.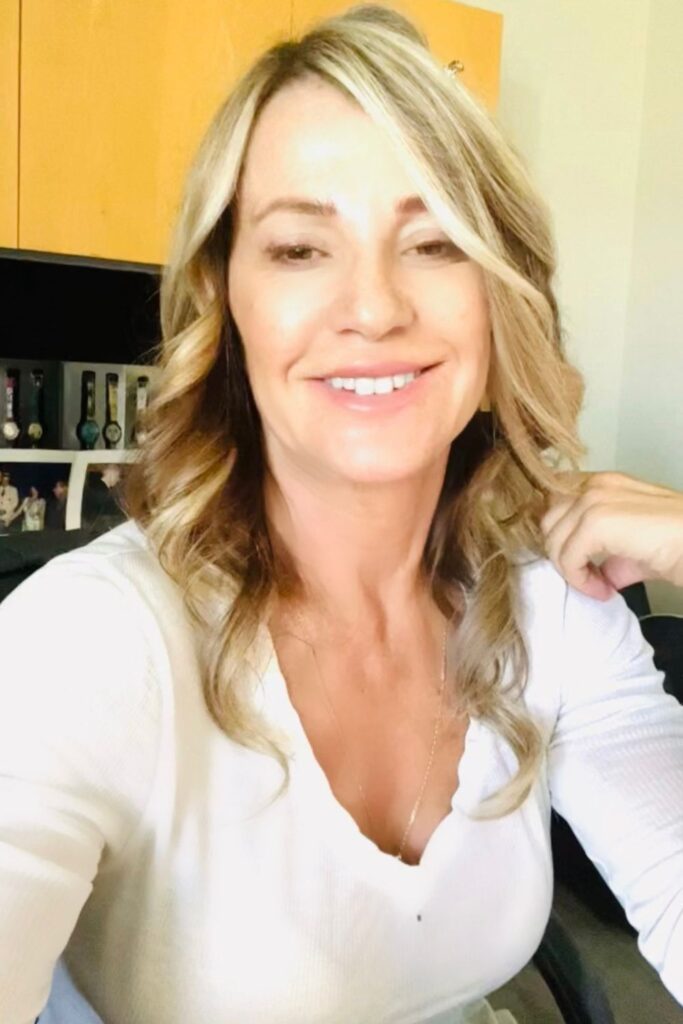 Likewise, she recorded the perfect 10.0 six more times and became the youngest all-around Olympic gold medallist.
As expected, Nadia is one of the world's best-known gymnasts celebrated worldwide.
This article will explore everything that you need to know about Nadia Comaneci. Read on to learn more about her.
Quick Facts:
| | |
| --- | --- |
| Full Name | Nadia Elena Comaneci Conner |
| Birth Date | November 12, 1961 |
| Birth Place | Onesti, Romania |
| Nick Name | Nana |
| Age | 61 Years Old |
| Nationality | American-Romanian |
| Ethnicity | White |
| Education | University Politehnica of Bucharest |
| Horoscope | Scorpio |
| Father's Name | Gheorghe Comaneci |
| Mother's Name | Stefania-Alexandrina Comaneci |
| Siblings | Adrian Comaneci |
| Height | 1.63 m (5 feet 4 inches) |
| Weight | 125 lbs ( 57 kg) |
| Bra-size | 34D |
| Shoe Size | 6.5 (U.S.) |
| Hair Color | Blonde |
| Eye Color | Black |
| Body Measurement | 36-24-35 inches |
| Figure | Slim |
| Married | Married |
| Husband | Bart Conner |
| Children | Dylan Paul Conner |
| Profession | Gymnast |
| Level | Senior Elite |
| Active since | 1976 |
| Retirement | May 7, 1984 |
| Years on National Team | 1970-1984 |
| Residence | Norman, Oklahoma, U.S. |
| Merch | Poster, Letters to a Young Gymnast |
| Social Media | Twitter, Instagram, Facebook |
| Last Update | April, 2023 |
Where is Nadia Comaneci from? – Early Life & Family
Nadia Elena Comaneci Conner shortly, Nadia Comaneci, born in Onești, Romania to parents Gheorghe Comaneci and Stefania-Alexandrina Comaneci.
Interestingly, Nadia was named after a heroine Nadejda from a Russian film that her parents had seen before her birth.
Born as a second child of two, Comaneci's father worked as an auto mechanic while her mother was an office team member.
Sadly, her parents separated in the 1970s, and her father later moved to Bucharest, the capital.
Further, Nadia and her younger brother Adrian Comaneci were raised in the Romanian Orthodox Church.
Nadia was very energetic and active as a child, she loved to explore new things.
In a 2011 interview, Comaneci's mother said that she enrolled Nadia in gymnastics classes because she was a child who was so full of energy and difficult to manage.
Moreover, Nadia began gymnastics in kindergarten with coaches Duncan and Munteanu in a local team called Flacăra ("The Flame").
As for her education, Nadia attended the University of Politehnica of Bucharest.
How tall is Nadia Comaneci? Age, Height, and Body Measurements
The former gymnast was born in 1961, which makes her 61 years old as of writing. Also, her birthday falls on November 12.
And her sun sign is Scorpio. And from what we know, the people of this sign are ambitious, talented, and brave.
Likewise, Nadia stands at a height of 1.63 m and weighs a perfect 125 lbs.
Further, Comaneci has a slim well-endowed body measuring 36-inches at the breast, 24-inches at the waist, and 35-inches at the hips.
Also, her shoe size is 6.5 (U.S.). Besides this, Nadia has short blonde hair and stunning black eyes that look beautiful with her fair complexion and a wide broad smile.
Diet Plan
A person is what he or she eats every day. Nadia Comaneci has solid control over her eating habits. So let's dive right into her diet schedule.
At first, Nadia indulges in freshly-squeezed orange juice to start her day.
It is often followed by a cup of coffee with a little milk, yogurt, brown toast, turkey, and a little bit of cheese. In contrast, a boiled egg is a rare thing.
For lunch, she eats the wraps from the leftovers of the previous dinner, which is a combination of salmon, hummus, and cheese.
In the end, Nadia munches fish with hummus and salads for her dinner.
Talking about fish, Nadia stated that she is allergic to tuna. As for french fries, she left them decades ago.
Nadia opened up that her favorite dish is an eggplant dip with a Romanian recipe among her dishes.
Workout
Alongside healthy eating is her active routine with a series of exercises. Every day, her morning starts with short, quick workouts which last for thirty minutes.
Well, that workout especially includes cardio. Additionally, she is involved in running, stretching, and light weights.
Nadia Comaneci | Early Career: Where it all began
Initially, professional gymnastic coach Bela Karolyi and his wife went from school to school looking for young girls to invite to their gymnastics academy.
Likewise, when they attended Nadia's school and saw her doing a cartwheel on the playground for the first time, they knew that she would be amazing.
Seeing her skills, Bela immediately invited Nadia to his gym. So, at the early age of six, Nadia stepped into the gym for the first time. There she used to train for two to three hours a day.
Following training and continuous improvement of her skills In 1969, Nadia entered her first official competition, the Romanian National Junior Championship, and finished in thirteenth place.
Even though Nadia did not do so well, she did not get discouraged. Instead, that next year, she tried again and won.
Later, when Comaneci turned 12, she went to live and train with Karolyi, eight hours a day and six days a week.
Nadia Comaneci | Professional Gymnastic Career
In 1976 when Comaneci turned 14, she became eligible to compete with seniors. She competed in the American Cup at Madison Square Garden and won a silver medal.
After that, Nadia competed at the Montreal Olympics. Again, she performed flawlessly and left the judges with no other option but to give her a perfect 10.
And this was not the only perfect 10; Nadia also received six more during this competition and won three gold medals in the process.
Notably, she was the first Romanian gymnast to win the Olympic all-around title.
Likewise, she also holds the record as the youngest-ever Olympic gymnastics all-around champion.
After her huge win at the Montreal Olympics, Nadia's popularity and fame could go nowhere but up.
Alongside numerous awards and accolades, the talented gymnast even got her own theme song.
Initially, Robert Rigger created a video with a series of slow-motion footage of Nadia's Olympic performances.
That video was created with the "Cotton's Dream" soundtrack from the movie Bless the Beasts and the Children.
Later, it got so popular that the song became a hit single by the end of 1976.
So, the composers decided to rename the song "Nadia's Theme."
Moreover, Nadia's fame and popularity just kept on coming after the Montreal Olympics. She was named BBC's Overseas Sports Personality and Female Athlete of the Year in 1976.
The Downfall of a Gymnast
Likewise, back in her home in Romania, Comăneci, she was also awarded the Sickle and Hammer Gold Medal and was named a Hero of Socialist Labor for her success.
Further, in 1977 the Romanian Gymnastics Federation removed Nadia from her longtime coach, Bela, and sent her to Bucharest to train at the sports complex.
However, Nadia did not find this change positive and struggled with bodily changes as she grew older.
Likewise, her gymnastics skills suffered, and she was so unhappy to the point in life that she even attempted suicide.
After the traumatic event, Romanian permitted Nadia to return to Deva and the Karolyis school and reassigned Bela as her coach.
This brought things back to normal, and she resumed her training.
In 1980 she was chosen to participate in the Summer Olympics in Moscow. But, this time, Nadia was nowhere near the previous Olympics' achievements.
Though she won four medals – two gold and two silver; her performance was far from perfect.
Injury
During the 1979 World Championship, Nadia caught the flu that had left her frail and fragile. Hence, she was feeling quite weak.
On the bars, the gymnast scratched her wrist from her metal grip buckle, which resulted in blood poisoning. She was rushed to the hospital, where the doctors advised her not to compete.
However, she was forced to compete as her teammate, Emilia Eberle, had fallen off the beam, and the team needed her to secure the gold.
Comaneci performed despite the excruciating pain and led her team to their first-ever World gold medal.
The Nadia Tour
In 1981, the communist regime of Romania organized the famous Nadia tour called "Nadia '81" to try and raise money.
It was an official tour of the United States, and her coaches, Bela and Marta Karolyi were the group leader.
On the last day of the tour, Nadia's coaches Bela and Marta Karolyi decided to defect to the U.S. Likewise, they indirectly asked Nadia if she wanted to join him.
At that time, Nadia had no interest in defecting and wanted to go home to Romania.
After Bela's defection, Nadia's life changed as she could not have predicted. The Romanian government was afraid that she might defect as well, just like Bela.
As Nadia was a national asset, they strictly monitored and assigned special agents to record her every move.
Not to mention, they even recorded her phone calls and banned her from visiting Western countries.
Furthermore, the Romanian government didn't even allow Nadia to participate in the 1984 Summer Olympics in Los Angeles.
Not to mention, her life became increasingly difficult with the government's constant involvement in her private affairs. Nadia got trapped in her own country.
Don't forget to check out:<< Carlos Yulo Bio: Family, Gold Medal, Achievements & Girlfriend >>
Escaping from Romania
In 1989, Comaneci decided to defect to the United States. On the night of November 27, 1989, Nadia defected to the U.S. with other Romanians.
They were guided by Constantin Panait, a Romanian expatriate manager who worked as a roofer in Florida.
But their journey wasn't easy. They would mostly walk on foot all night to reach the Hungarian border.
Nadia and her group could reach the Hungarian border despite all the harshness and trouble. After reaching the Hungarian border, they boarded a plane to the United States.
Awards and Achievements
The United Press International Athlete of the Year Award 1975 and 1976

In 1976: Associated Press Athlete of the Year Award,

Hero of Socialist Labour Award,

BBC Overseas Sports Personality of the Year Award

1983: The Olympic Order Award

1990: International Women's Sports Hall of Fame

1993: International Gymnastics Hall of Fame

1998: Marca Leyenda Award,

Flo Hyman Memorial Award

2004: The Olympic Order Award

2016: Great Immigrant Honoree by Carnegie Corporation of New York

Nadia Comăneci's Book: Letters to a Young Gymnast was published on 2004

1984: Nadia was the subject of a biopic television film,

Nadia

2012: Universal Pictures chose Nadia to dub Granny Norma in Romanian in the animated movie

The Lorax

.

2015: Katie holmes directed a short documentary about Comăneci entitled

Eternal Princess.

2016: Arte France produced a Pola Rapaport documentary about Nadia entitled

Nadia Comăneci, la gymnaste et le dictateur.
Nadia Comaneci | Net worth and Income
According to sources, Nadia Comaneci has accumulated a net worth of $10 million.
Comaneci has made this much from her successful career and deserves every penny for her hard work.
Моѕt оf hеr mоnеу соmеѕ frоm hеr ѕроrtѕ еngаgеmеnt and hеr рrіvаtе gуmnаѕtіс ѕсhооl.
Currеntlу Nadia is also involved in tеlеvіѕіоn соmmеntаrу wrіtеѕ fоr gуmnаѕtіс рublісаtіоnѕ аnd trаvеlѕ thе wоrld рrоmоtіng thе ѕроrtѕ.
Likewise, Nadia hаѕ also bееn fеаturеd іn ѕеvеrаl dосumеntаrіеѕ thаt hаvе mајоrеd іn hеr ѕuссеѕѕful саrееr lіfе.
Brand Deals, Commercials, and Business
Even today, Nadia has numerous trips all around for gymnastics teachings. In addition, she delivers inspirational speeches and promotes gymnastics, fitness, and healthy lifestyles.
Today, alongside her husband, they have partnered with Paul Ziert to run the Bart Conner Gymnastics Academy.
Likewise, the duo also operates International Gymnast magazine, Perfect 10 Productions, Inc. (a TV production Company), Grips, Etc. (a gymnastics supply Company).
Overall, Nadia is a Global Ambassador for Special Olympics International. At the same time, she is also the Founding member of the Laureus Sports for Good Foundation board.
Additionally, she is also involved with the Nadia Comaneci Foundation and the Nadia Comaneci Children's Clinic in Bucharest.
In the meantime, she is also the ambassador for the International Judo Federation (IJF).
Books and Films
Nadia Comaneci is a gymnast who has ushered in a new era for women's sports. In fact, for everyone involved in gymnastics.
Today, she has written a few books as the guidelines for their path!
In 1981, Nadia put forward her autobiography depicting the events starting from her childhood days to becoming a world-class athlete.
In 2011, Nadia published a book titled "Letters to a Young Gymnast," which portrays her inspiring and dramatic stories from her own experience. It speaks about one's dream and the hurdles in between.
Likewise, some of the films and documentaries about her are listed below.
1984 biopic television film, Nadia
2015 documentary for ESPN: "Eternal Princess" premiered at the Tribeca Film Festival
2016, Arte France documentary: Nadia Comăneci, la gymnaste et le dictateur (Nadia Comăneci: The Gymnast and the Dictator)
Is Nadia Comaneci Married? Personal life and Husband
Nadia Comaneci is happily married to her husband, Bart Conner. Bart is a former American Olympic gymnast. Bart and Nadia crossed paths for the first time in 1976.
Similarly, they first met at Madison Square Garden in New York while standing at the winners' podium.
Both of them were competing in the American Cup, and Bart had just won the men's all-around, while Comaneci was taking home the women's all-around.
Eventually, while Brat and Nadia were taking pictures standing at the podium, their photographer said:
"Oh, she's adorable. Give her a kiss on the cheek; it'd make a nice picture."
And history was made; Bart, who was celebrating his 18th birthday that day, had received an unknown and beautiful present: meeting his future wife.
After that event, Bart and Nadia parted ways. Bart returned to the states and Nadia to Romania, and hence the two didn't cross paths that much.
After Nadia escaped from Romania in 1989, they met again. That time Bart helped Nadia by inviting her to do gymnastics shows.
Slowly, their friendship started and eventually grew into a relationship.
Get in-depth with Nadia's net worth and Income, Nadia Comaneci Net Worth: House, Book & Salary >>
Proposal
In 1994, Bart proposed to Nadia. Nadia said yes, and they both decided to marry in her hometown.
So they held their grand fairytale wedding in Romania, and the day was like a national event.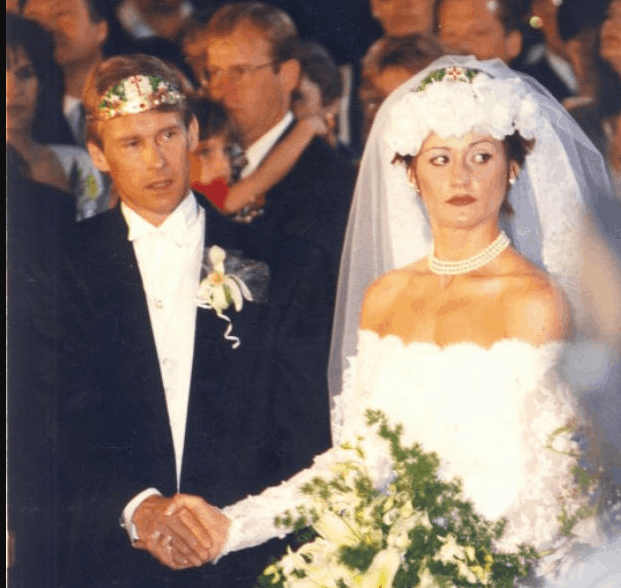 More than 10,000 people attended their wedding. Everyone even took off work to watch the wedding, which was broadcasted live on television.
Their marriage seems an excerpt from a fairytale book. Moreover, the couple has one son named Dylan Conner, born in June 2006.
At present, the duo resides in Norman, Oklahoma. Together, they run the Bart Conner Gymnastics Academy and a gymnastics school in Romania.
Social Media Presence | Nadia Comaneci
Twitter: 181.4K followers
Instagram: 151K followers
Facebook: 437K Followers
View this post on Instagram

You might also be interested in reading: << Mary Lou Retton Bio: Olympics, Gold Medal, Net Worth & Kids >>
Popularity | Nadia Comaneci
As a decorated Gymnast, Nadia has been enjoying her fame lately and has a good fan base.
The above graph depicts her search volume in The United States for the last 1 year.
Some FAQs:
Who has the most perfect 10 in gymnastics?
Nadia Comaneci is the first gymnast in Olympic history to be awarded the perfect score of 10.0 for her performance on the uneven bars in 1976.
What is the name of the short film about Nadia Comaneci?
The name of the short film about Nadia Comaneci is "Eternal Princess." The movie shows an intimate look at Nadia's inner struggles, personal dedication, and greatest success.
Moreover, it was directed by Katie Holmes in 2015 for ESPN and was first premiered at the Tribeca Film Festival.
What does Nadia Comaneci do today?
Nadia Comaneci currently lives in Norman, Oklahoma, with her family.
Nadia and her husband Bart own and operate the Bart Conner Gymnastics Academy, which trains more than 1,000 students.
Likewise, they have also opened a gymnastics school in Romania. Besides, Comaneci is also involved in numerous charities, including the Special Olympics.
Moreover, she has personally funded the Nadia Comaneci Children's Clinic's construction and operation in Bucharest. It provides low-cost and free medical and social support to Romanian children.
Who is Nadia Comaneci's choreographer?
Nadia Comaneci's choreographer is Geza Pozsar
Also check out:<< Simone Biles Bio: Early Life, Career, Education & Net worth >>