Just in a few years, women's basketball has seen tremendous change, not only in terms of the system but also in terms of the games.
Many star female players are on par with male players. And Napheesa Collier is one of those making her way to stardom.
Likewise, Collier is a professional basketball player who serves as the forward for the Minnesota Lynx of the Women's National Basketball Association(WNBA).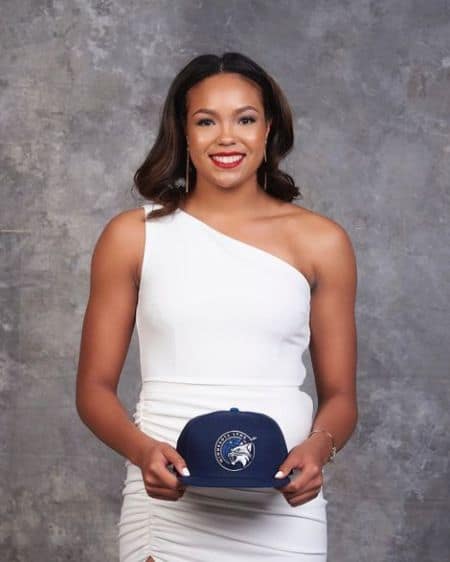 In this article today, we will be talking more about her career and personal life. Similarly, so many fans have been curious about her married life as well. So, make sure to read till the end to know the full story in detail.
Quick Facts
| | |
| --- | --- |
| Full Name | Napheesa Collier |
| Birth Date | September 23, 1996 |
| Birth Place | O'Fallon, Missouri, US |
| Alias | Napheesa |
| Religion | Unknown |
| Nationality | American |
| Ethnicity | White |
| Education | University of Connecticut |
| Horoscope | Libra |
| Father's Name | Gamal Collier |
| Mother's Name | Sarah Collier |
| Siblings | Two; Kai and Wanza |
| Age | 27 Years Old |
| Height | 6 feet 2 inches(188cm) |
| Weight | 83 kgs(182 lbs) |
| Build | Athletic |
| Eye color | Dark Brown |
| Hair color | Dark Brown |
| Profession | WNBA Professional Player |
| Active years | 2019-present |
| Team | Minnesota Lynx |
| Position | Forward |
| Marital Status | Engaged |
| Fiance | Alex Bazzel |
| Salary | $55,059 |
| Social Media | Instagram, Twitter |
| Merch | Trading Cards, T-Shirt |
| Last Update | September, 2023 |
Who is Napheesa Collier?
Napheesa Collier is an American professional basketball player who has been serving as a forward for Minnesota Lynx since 2019. The team picked her in the first round as 6th overall in the 2019 WNBA draft.
Napheesa Collier | Age, Body Measurements, Height, and Weight
Napheesa is someone who is described as an athletically gifted player and a force in the court. Born on September 23, 1996, Collier is just 23 years old at the moment.
As her sun sign, Libra, suggests, Collier is attractive, motivated, and a great communicator.
Likewise, the Missouri-born Collier stands at 6 feet 2 inches(188 cm), which is more than the average female. With that towering height, she weighs about 83 kgs(182 lbs).
Even though she has a well-built physique from years of training, her exact measurements are frankly unknown. But one thing we have to admit is Collier is indeed attractive and has got a radiant smile.
Moreover, when she is not crushing her opponents in the court, Collier looks stunning with her long dark brown hair and dark brown eyes.
Napheesa Collier | Family, Childhood, and Early Life
The WNBA Rookie Player of the Year, Napheesa Collier, was born in O'Fallon, Missouri, the United States of America. The star player is the daughter of her father, Gamal Collier, and mother, Sarah Collier.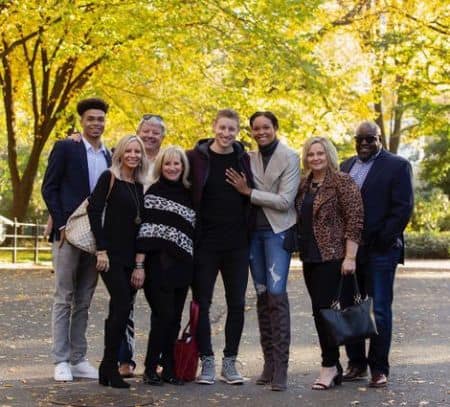 Sadly, as much as her professional life is discussed, not much has been said regarding her family and personal life. Because of it, Napheesa has not disclosed the name and whereabouts of her parents.
Similarly, we have no idea if Napheesa even has siblings or not. Regarding her other details, Collier is American by nationality, while her ethnic background is African.
As for her education, Collier went to Jefferson City High School in Jefferson City, Missouri. Then she enrolled at the University of Connecticut in her college years.
Napheesa Collier | Early Career, High School, and College Years
As of now, we know that Napheesa is a well-trained athlete and has shown her skills countless times inside the court. Collier started playing from her high school days, where she represented her high school team from Jefferson High School.
She averaged 17.9 points and 9.8 rebounds but was later transferred to Incarnate Word Academy in her sophomore year. Even there, she was impressive as a player and averaged 24.6 points and 12 rebounds.
Thanks to her skills, in 2013 and 2015, Collier was the Gatorade Missouri Player of the Year award.
She also became one of the five finalists for the 2015 Naismith Award as national Player of the Year and Women's Basketball Coaches Association High School All-American.
Following her high school graduation, many colleges wanted to recruit her. Eventually, the University of Connecticut ended up recruiting her in their women's basketball team.
Hence, she represented UConn throughout her collegiate career. At the end of her college years, Napheesa ranked 3rd in scoring, 4th in rebounds, and 7th in blocks.
Not to mention, she ranks 4th in most consecutive starts at the Uconn, with 112, and had 49 career double-doubles in her senior season.
Collier also became the fifth player in the exclusive 2000/1000 club, joining Uconn's Maya Moore, Tina Charles, Breanna Stewart, and Rebecca Lobo.
Moreover, Napheesa was a member of the 2016 Connecticut Huskies National Champion team. In her senior season, she received the Katrina McClain Award for Power Forward of the Year from the Naismith Memorial Basketball Hall of Fame.
Collier ranked AP 1st Team All-American in her senior and sophomore years and second in her junior season.
Surprisingly, she has the most rebounds in a season at UConn, where she finished 2nd with the most points in a season at 792 points.
Napheesa Collier | Professional Career, WNBA and Minnesota Lynx
After her successful high school years and college years, Collier was bound to make her way to the WNBA. During the 2019 WNBA draft, the Minnesota Lynx picked her as the 6th overall pick in the first round.
Similarly, right after her pick, Napheesa was first asked to play small forward, then power forward, and finally small forward again.
She made her WNBA debut against the Chicago Sky and scored 27 points, the second-highest debut ever for any rookie, right after Candice Parker.
On to her next accolades, Napheesa is also the second rookie in the WNBA history to score 400 points, 200 rebounds, and 60 steals.
Moreover, she is the fourth player to end a season with 400 points, 200 rebounds, 75 assists, 50 steals, 25 blocks, and 25 made three-pointers.
With all that achievements under her name, it was no surprise that Collier got the 2019 WNBA All-Rookie Team; and became an All-Star after A'ja Wilson dropped out from injury.
Napheesa averaged 13.3 points during that season, 6.6 rebounds, 2.6 assists, 1.9 steals, and 0.9 blocks. Furthermore, Collier shot 49% from the field, 36.1% from three, and 79.2% from the throw line.
With that, she was chosen ESPNW, Associated Press, and likely WNBA Rookie of the Year too.
International Career
During the off-season, Napheesa played in France for the Lattes Montpellier.
Her team managed to secure a win against Charleville-Mezières at the Coupe De France Finale held in Paris. The athlete played for 36 minutes and scored 12 points while making eight rebounds.
Following the end of her season overseas, she returned to the Lynx for the 2021 season but had to sit out three games while following the Covid-19 protocols. Her absence had a direct impact on the Minnesota team's game.
The player found it quite difficult to watch her team struggle and not be there to help them. She said, "Especially because I feel like I've been tested so much, being overseas, and I feel like I wish I could've been out there."
Napheesa Collier | Stats
| | | | | | | | | | | |
| --- | --- | --- | --- | --- | --- | --- | --- | --- | --- | --- |
| Year | GP | Points | FG% | 3P% | FT% | RPG | APG | SPG | BPG | PPG |
| Career | 150 | 2,401 | .601 | .303 | .804 | 8.1 | 2.5 | 1.5 | 1.7 | 16.1 |
| | | | | | | | | | | |
| --- | --- | --- | --- | --- | --- | --- | --- | --- | --- | --- |
| Year | GP | PTS | TRB | AST | FG% | FT% | eFG% | FG3% | PER | WS |
| Career | 61 | 14.5 | 7.4 | 2.9 | 49.7 | 81.4 | 53.9 | 36.4 | 20.2 | 9.8 |
You can get more information regarding her dunk scores and stats at 2KRatings and Eurobasket.
Who is Napheesa Collier engaged to? Husband and Wedding
Just in her 20s and young, Collier has got years ahead when it comes to her career. Not only is she successful in terms of career, but she is equally successful in her love life as well.
Yes, the gorgeous no. 24 for Minnesota Lynx is genuinely in love with her significant other. Finally, the connection that others spend years searching for a connection; Collier has found just the love for her.
In fact, she is engaged to her long-term boyfriend, Alex Bazzel, who is NBA/WNBA/COLLEGE Skills Trainer.
They finally declared their love in public on October 4, 2018, where Napheesa posted a picture of them on her Instagram with a caption that read, "Happy National Boyfriend Day."
Even though they recently came out in public, the two have been dating since their college days, or so we think. But, after years of dating, Napheesa and Alex took their relationship to the next level and got engaged on October 24, 2019.
Similarly, a picture was posted where Alex is kneeling and proposing to Collier in beautiful Central Park, New York.
And of course, Napheesa posted this special day on her Instagram with yet again another sweet caption, "Forever with my best friend @alexbazzell24."
Their love and bond are surely contagious, as we can see just how much they love each other.
How much does Napheesa Collier make in a year? Net Worth, Salary, and Income
The star forward for Minnesota Lynx, Napheesa Collier, has found success as a WNBA player in recent years. With that being said, she has found both fame and wealth as well.
Having said that, Collier's net worth as of 2023 is still unknown. But she makes $55,059 as an annual salary from her team. Not to mention, Napheesa is the 7th best-paid player on the team.
Likewise, the 23-year-old signed a four-year contract with the Lynx for $220,235. Odyssey Sims, Sylvia Fowles, Sheinse Johnson are some of the highest-paid players on her team.
However, many critics and reports predict that Collier's salary is bound to increase in the coming years. Along with that, some sources claim her salary will significantly rise and reach $64,583 by the end of the season.
Napheesa Collier | Social Media Presence
Instagram– 72.5k Followers
Twitter– 11.5k Followers
Napheesa Collier | FAQs
What is the pronunciation of Napheesa Collier?
The WNBA player's name is pronounced as nuh-FEE-suh. You can hear the full name pronunciation at Name Engine.
What is Napheesa Collier's zip code?
The basketballer's zip code is from somewhere between 63101 to 63199.
The athlete wears jersey number 24 for the Minnesota Lynx.