Natsumi Hoshi is a retired competitive swimmer from Japan who specializes in the 200-meter butterfly.
This renowned swimmer proved to everyone that not even a disease could stop her from becoming one of the top swimmers with willpower and dedication.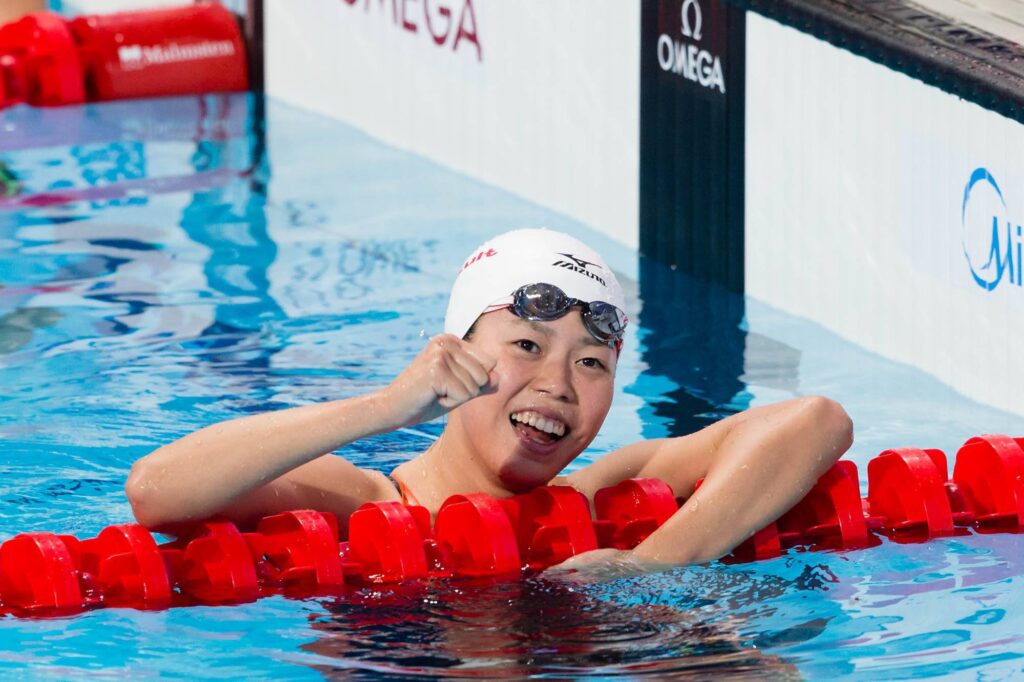 Two-time bronze Olympic medalist, a gold medal at World Championship 2015, and becoming Best Athlete of the Year 2011, this is the story of famous swimmer Natsumi Hoshi.
In this article, we'll talk about how Natsumi Hoshi, who almost lost her career due to her disease, fought back to become one of the top swimmers.
But, before that, let's glance at her quick facts.
Quick Facts
Full Name
Natsumi Hoshi
Name in the Japanese Language
星 奈津美
Age
33 years old
Birth Date
August 21, 1990
Birthplace
Saitama, Japan
Nationality
Japanese
Mother Name
N/A
Father Name
N/A
Star Sign
Leo
Height
5 ft 5 inch (167.64 cm)
Weight
N/A
Eye Color
Black
Hair color
Black
Marital Status
Unmarried
Husband
None
Children
None
Education
Sport Science
University
Waseda University
Profession
Swimmer, Olympics athlete
Titles
Best Athlete of the Year 2011
Olympic Medals
2 Bronze medal
Other medals
2 Gold medals at World Championship 2015 and 2014 Asian Games
2 Silver medals at the 2014 Gold Coast and 2014 Asian Games.
Coach
Yoshikatsu Harada
Norimasa Hirai (National)
Strokes
Butterfly
Club
Mizuno
Status
Retired
Net Worth
$1-$5 million
Social Media
Instagram
Last Update
November, 2023
Natsumi Hoshi's Early Life
Natsumi Hoshi was born on August 21, 1990, in Saitama, Japan. There is not much information about Hoshi's parents and family.
But, through her interview, it is known that she has an elder brother. But, none of his whereabouts are known.
She was passionate about swimming from a young age. She began her national swimming career when she was in high school.
Hoshi enrolled in sports science at Tokyo's Waseda University.
Natsumi Hoshi | Swimming Career
How did Hoshi get into swimming?
Hoshi says that she got her inspiration for swimming from her brother. She was interested in swimming after watching her brother in the pool at the age of two.
Natsumi then started swimming in her school days but never got to win any big races. It was a passion that she loved. She continued swimming because she loved it.
When she was watching Ian Thorpe at the 2000 Sydney Olympics on TV, she thought she wanted to swim like them, and swimming for her became more than a passion. It became a goal for her that she wanted to achieve no matter what.
Getting that first win
Hoshi then started to take swimming more seriously. She began to work on her swimming skills. Soon, she was skilled enough to win two inter-prefectural high school championships.
She was then diagnosed with Graves disease, which could have ended her career right away, but she fought back to get back to swimming, and she did.
She came more robust than ever, winning second place in the 200-meter butterfly at the 2008 National Championships, which earned her a place at the Beijing Games.
Gregorio Paltrinieri Bio: Girlfriend, Olympics & Stroke >>
2008 Beijing Olympics
In the preliminary heats in the 2008 Beijing Olympics, Hoshi finished 3rd in her heat and 6th overall, effectively moving forward to the semi-finals.
However, she couldn't advance to the finals as she finished two spots out of 10th overall.
Hoshi was disappointed with her performance, saying she underachieved. She said the Olympics even motivated her to work hard.
Hoshi wanted to compete in the next Olympics much better so she wouldn't be watching from the sidelines again.
2012 London Olympics
Hoshi participated in the 2012 London Olympics. Initially, she had a very slow start, and her prospects were not good.
But, as she proceeded through the qualifying rounds, she powered herself and was seen as a potential dark horse for the finale.
She started off slow and was behind many of the competitors. But, she recovered some pace over the next 50 m.
She proceeded towards Kathleen Hersey, who was third at that time. However, China's Jiao Liuyang and Spain's Mireia Belmonte were just out of reach.
But, Hoshi secured the medal for home by finishing third place in the competition. She won her first Olympic medal.
Hoshi felt bittersweet as she aimed for the gold, but she was happy to get back home with a medal.
2015 World Championships
Natsumi Hoshi participated in the World Swimming Championship in Kazan, Russia. Hoshi wanted to bring gold to her home, and she did it this time.
She won the 200m butterfly gold medal in this competition. She finished first in the butterfly swimming race bringing the gold medal and the title of World Champion.
Hoshi proved her to be a dark horse in this competition as well. She was 3rd and 4th in most of the races. It seemed as if Hoshi would bring the Bronze to the country.
But, she was determined to get that gold. So, she turned on the jets on her last 50 meters to touch the wall first and won that gold medal.
She was also the first Japanese woman to win the gold medal at that competition.
2016 Rio Olympics
After the gold medal in the World Championship 2015, Hoshi was directly selected for the Rio Olympics in 2016.
The dark horse of the swimming race was ahead this time. She performed very well near to her Japanese record in the game.
In the first half of the finale, she was neck to neck with Mireia Belmonte Gracia, who was ahead of everyone. It seemed Japan would get their Olympic gold.
But, unfortunately, she came third to finish with only a 0.35-second difference from the gold medalist.
Hoshi won the bronze medal with a swim of 2:05.20. This time, Hoshi had no regrets, and she did her 100% to make sure she would bring the medal to her home Japan.
She had remarkable winning for the back-to-back bronze in the Olympics game.
Natsumi Hoshi | Graves Disease
When Hoshi was 16, she got diagnosed with a rare disease named Graves disease. It is an immune disorder that affects the thyroid gland.
It causes the overproduction of thyroid hormones. It's a painful disease that causes shortness of breath, chest pain, and muscle weakness.
Hoshi suffered from weak immunity power, energy, and her muscles started to pain. Even a simple task like climbing stairs became hard for her.
Hoshi was just beginning her swimming career, but this disease was a devastating blow. Everyone thought her career was over.
But she wanted to fight for it, and she did it. Hoshi fought with the disease and won over it within a year.
She removed her thyroid gland in November 2014 to diagnose this disease. She took a year break for the surgery and took bed rest.
Connor Jaeger Bio: Olympics, Records & Earnings >>
Natsumi got back to swimming stronger before paving her way to the Olympics.
Natsumi Hoshi's Retirement
Hoshi confirmed her retirement from swimming at a press conference on October 4th,2016, in Tokyo.
She announced her retirement, saying that she gave her best that she could to the swimming and she would want to focus on her health now.
Though she had an amazing swimming career, her battle with Graves disease was not over yet. The disease could have potentially ruined her career, but she fought with it so she could get this far in her career.
She said she had to deal with a lot of medical complications because she wanted to focus more on her swimming career.
But now, she feels she has to take care of herself too, and she believes she has led a competitive career. She also said that she is satisfied with how much she has achieved so far.
In addition to announcing her retirement, Hoshi confirmed that she would stay in the sport as an assistant coach.
Mark Spitz Net Worth: Endorsements, Wealth & Earnings >>
Natsumi Hoshi's Net Worth
The information about the net worth of Natsumi Hoshi, but it is estimated that she has a net worth anywhere from $1-$5 million.
She earned the net worth of being a professional swimmer from Japan and winning two bronze Olympics medals.
Japan gives the athlete winning a bronze medal the bonus of $9,000 per medal. Natsumi Hoshi has won two bronze medals. So, she got an $18,000 bonus for the medal only.
Natsumi Hoshi's Social Media
Natsumi Hoshi is active on her Instagram. She shares her personal life through Instagram posts and stories.
Hoshi has a dog, and her newsfeed is full of her dog photos. She also shares food photos and travel photos on her Instagram.
So, if you want to take a sneak peek at her personal life, you can follow her on her social media accounts.
Frequently Asked Questions (FAQs)
Why did Natsumi Hoshi retire?
Natsumi Hoshi retired as a competitive swimmer to focus more on her health.
She kept swimming though her health condition was worsening. But, she later thought that she had achieved what she wanted to, so she retired.
Which disease was Natsumi Hoshi diagnosed with?
Natsumi Hoshi was diagnosed with Graves' Disease. She diagnosed it in 2014 through thyroid removal surgery.