Nikola Jokić's brothers went viral earlier this year for being aggressive giants who are protective of their younger brother. Nikola's brothers are the ones who no one would want to mess with.
They are huge, muscular, and could bring down most men. Nikola Jokić has two older brothers, Strahinja Jokić being the eldest while Nemanja Jokić being the middle child.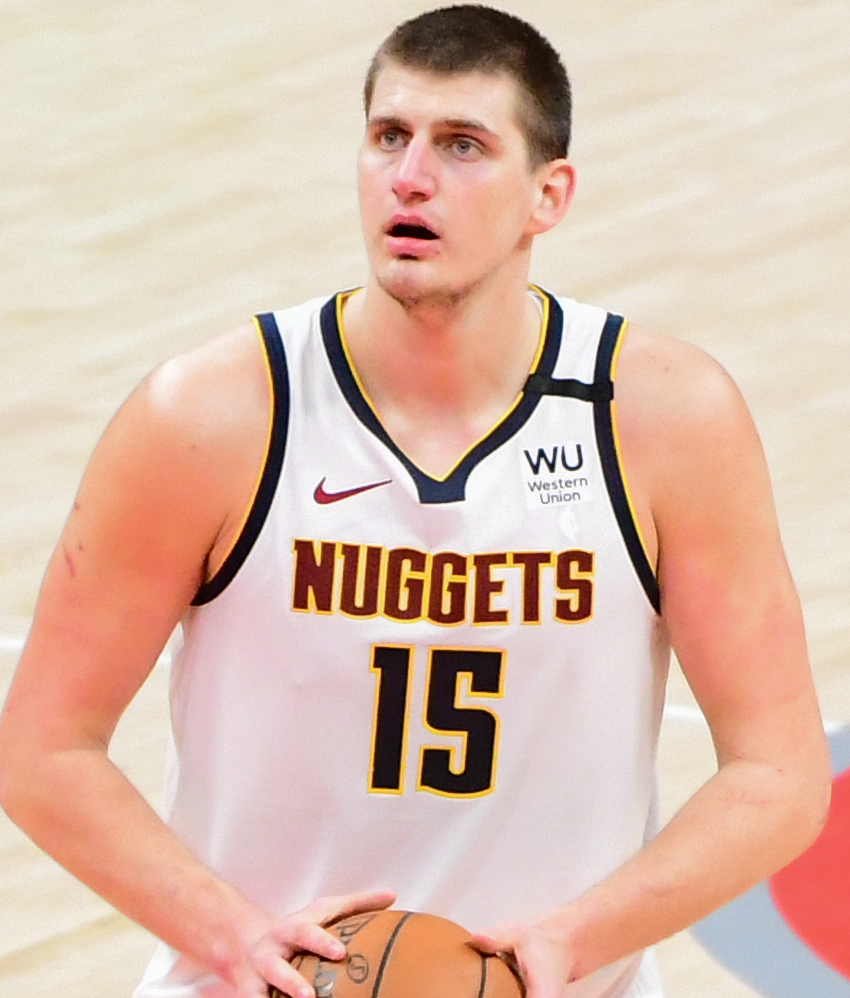 Earlier in July 2021, a brawl broke out between Nikola and Suns' Devin Booker. The eldest of the trio, Strahinja Jokić, went crazy by the courtside.
A massive guy with huge biceps filled with tattoos and 7 feet tall; even the biggest basketball players would not want to mess with such a guy.
Let us take an in-depth and detailed look at this exciting, interesting, and action-packed news.
Nikola Jokić's Brothers | Quick Facts
Full Name
Strahinja Jokić
Birth Date
1982
Birth Place
Sombor, Serbia
Nick Name
None
Religion
Christianity
Nationality
Serbian
Ethnicity
White
Education
N/A
Horoscope
N/A
Father's Name
Branislav Jokic
Mother's Name
N/A
Siblings
Nemanja Jokić & Nikola Jokić
Age

40

years old
Height
7'0″ (213 cm)
Weight
N/A
Hair Color
Black
Eye Color
Blue
Build
Jacked
Profession
N/A
Marital Status
Married
Kids
None
Net Worth
N/A
Full Name
Nemanja Jokić
Birth Date
26th August 1984
Birth Place
Sombor, Serbia
Nick Name
None
Religion
Christianity
Nationality
Serbian
Ethnicity
White
Education
Mechanical High School
University of Detroit Mercy
Horoscope
N/A
Father's Name
Branislav Jokic
Mother's Name
N/A
Siblings
Strahinja Jokić & Nikola Jokić
Age

37

years old
Height
6'6″ (198 cm)
Weight
220 lbs (100 kg)
Hair Color
Black
Eye Color
Brown
Build
Average
Profession
N/A
Hobby
Fishing
Marital Status
N/A
Kids
None
Net Worth
N/A
Merch of Nikola Jokić
T-shirt, Funko Pop, Signed picture
Last Updated
August, 2022
How and Why did Nikola Jokić's Brothers go Viral?
The Fight
On July 13, the Denver Nuggets and the Phoenix Suns were facing each other. The game was going normal until Nikola Jokić accidentally hit Suns' defender Cameron Payne in the face.
Nikola tried to slap the ball out of Payne's hand but ended up smashing his arms against Payne's face.
Looking at the video issued from the official NBA recording, one can clearly see that it was completely unintentional; it was clearly an accident.
But Payne's fellow teammate might have thought otherwise as he started walking briskly, eyeballing Nikola to a staredown battle.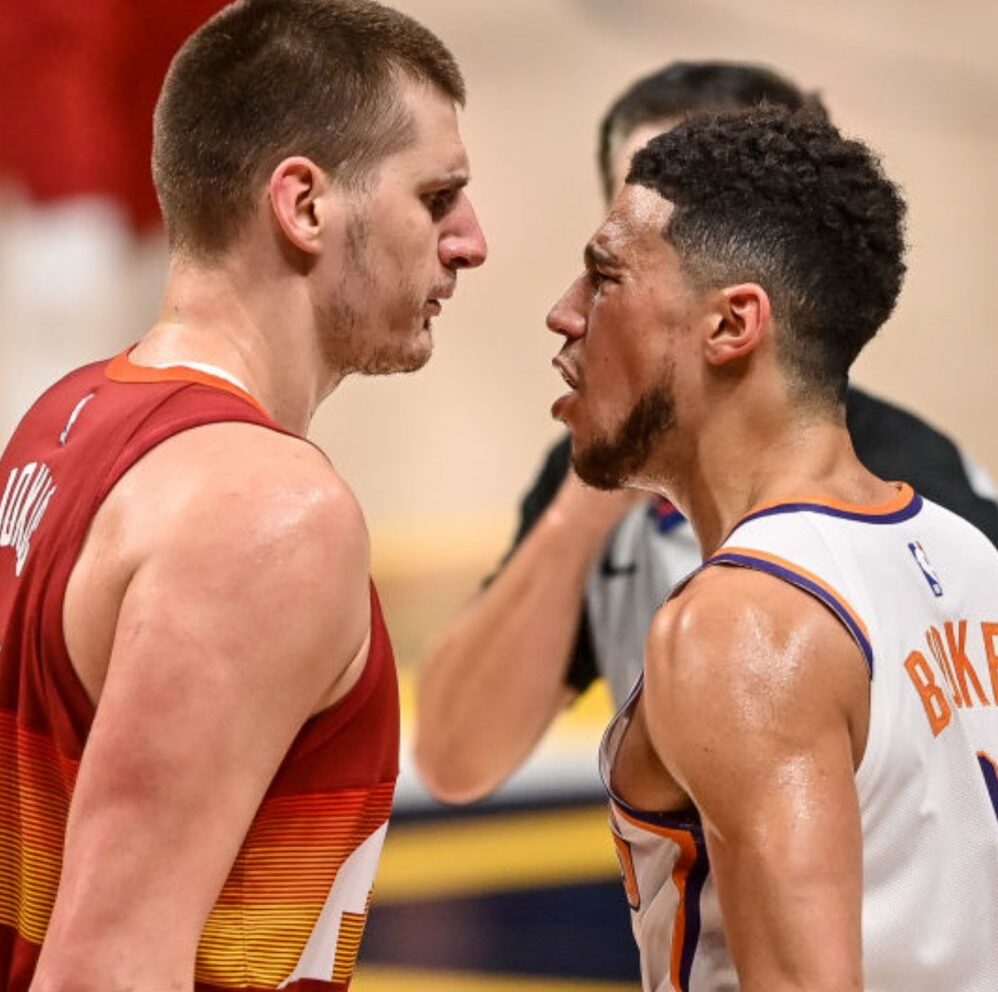 Things got heated up real quick as Devin Booker got furious. Nikola was not one to back down either, he went on head to head with Booker with a puffed-up chest. The two had an intense moment that lasted for a mere 10 seconds.
They pushed and pulled each other a bit as players from both teams tried to separate them. In a matter of seconds, the two were surrounded by players.
As seen in the video, Booker lets it go and backs off from the brawl. Some people tweeted that the reason he backed off was that he saw Nikola's two brothers screaming like blood-thirsty lions by the courtside.
Nikola Jokić's Brothers' Reaction
As a fight broke out between Nikola and Booker, his two brothers were filled to the head with rage. They had to be kept off the court by a couple of officials.
Nikola Jokić's brothers take the saying, "Brothers for life" to a whole new level.
Nikola Jokić's brothers were ready to get into action after their brother got into a fight in the middle of the game. Nikola's giant, muscular and scary-looking brothers did all they could verbally.
If officials had failed to keep Nikola Jokić's brothers down, we are pretty sure the NBA match could turn into an MMA match. Later, Nikola was ejected from the game for a flagrant foul and unnecessary physical contact made by a player against the opponent.
He was kicked out of the match just 4 minutes before the end of the third quarter. Videos of Nikola's angry brothers went viral as they seemed more than ready to go fist-to-fist with Booker.
Nikola Jokić's Brothers
Nikola Jokić's brother, Strahinja Jokić
Strahinja Jokić was born in 1982 in Sombor, Serbia, and is 40 years old. Information regarding his birth, exact birthdate, education, dating life, etc., is unavailable at the moment.
In 2019, he was arrested for alleged assault. He was charged for choking and pushing a woman.
According to Serbian media, the woman is his own wife. In addition, news reports read that he was with a woman in a Denver apartment and was consuming alcoholic drinks too.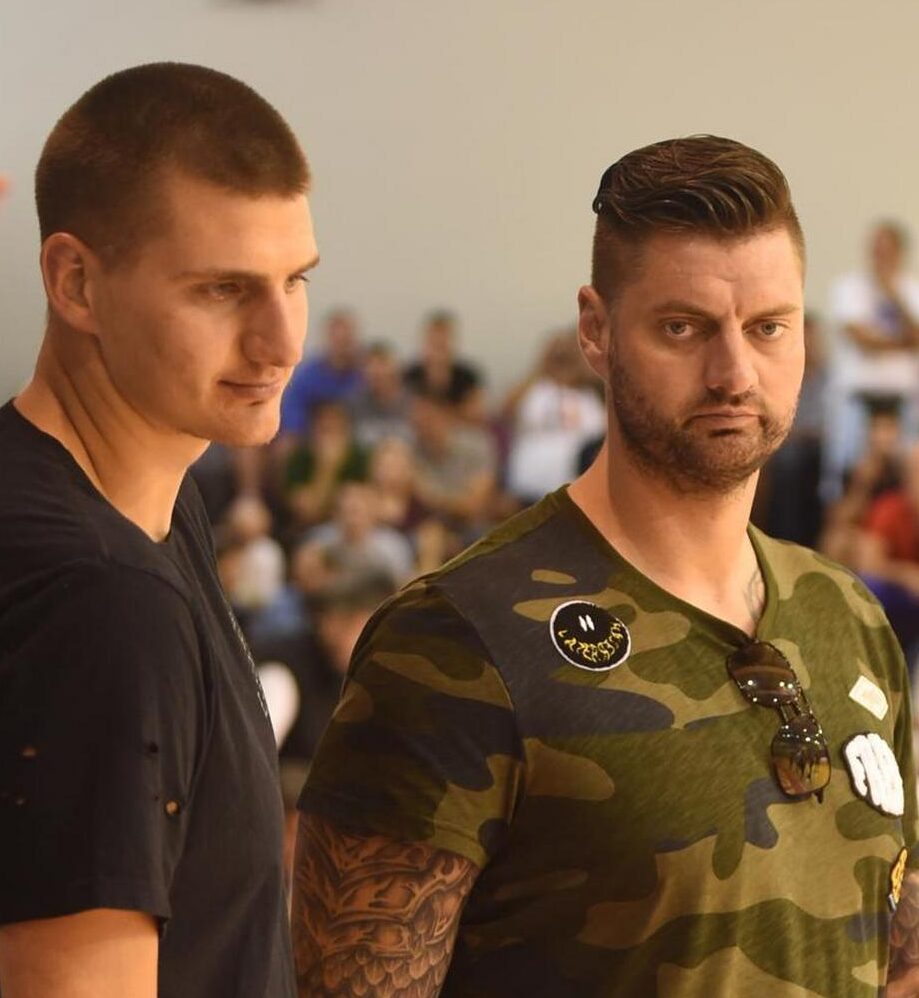 Talking about physical appearance, Strahinja looks like a typical redneck with pent-up rage. However, he looks different from his younger brother Nikola.
The name Strahinja is made of two words, "Strah" and "inja". "Strah" meaning "fear" and "ini/inji" meaning "others" the name roughly translates to "fear to others". But not every comment made about him is negative.
You might also want to read about a hot-headed athlete, Kyle Farnsworth.
What Fans and Followers have to Say About Strahinja
People comment he is nothing but a 7 feet tall idiot paired with a drinking problem.
Reports of him drunk driving violently have surfaced on the internet. Basketball fans do not particularly like Strahinja for his immature and irresponsible behavior.
It is also rumored that his arrogance has been rising with his NBA star brother's amount of money. Apparently, he also yelled at Serbian reporters before the FIBA world cup to "f**koff" and leave Nikola alone.
Regarding the assault charges, one of the NBA fans commented, "I'm glad that this happened in the USA, because here (Sombor, Serbia) he wouldn't have any charges against him."
Moreover, he also said, "He won't go to jail, his family has a lot of money to pay expensive lawyers, but it will be a serious enough thing for him to understand that he has to behave, and the USA is not Serbia."
Similarly, a Denver Nuggets and Nikola Jokić's fan commented, "I have no sympathy for this thug, I am only worried how this will affect Nikola's game. We all know how close he is with his brothers and how often he brings his emotional baggage to the court."
Likewise, another fan pointed out, "Jokić is such an emotional player I can't imagine this not having a negative impact on his on-court performances."
One of the people that lived in the same building as the Jokić brothers said, "Used to live in their building. This dude was a scary mf."
Rare Positive Comment
One of the rare positive comments read, "I actually train with him and his second older brother at the gym that I go to. Strahinja is super nice and friendly to me. He told me where to check out in Serbia to take landscape photos."
The same user also claimed, "He and his other brother told me to let them know when I go to Serbia so they can show me around. So shocking to hear about this! I hope he seeks counseling for his alcohol addiction."
This could have very easily lead to Strahinja being deported back to his home country of Serbia.
The Consequence of Assault Charges
Assault is a serious crime, and even slight criminal activities can be enough to get immigrants deported. This could have affected Nikola Jokić's performance as a player as well as his mental and emotional state as a brother.
Ever since the news first surfaced over on the internet, a follow-up report has not been published. Many claimed that the charges against him were dropped later.
Strahinja Jokić is a Sore Loser
As we already know, Strahinja is full of rage as well as a mad man. He spent some time playing basketball in Europe, but that did not bear any fruit.
"He is not that talented, but he hates to lose," claimed Nikola Jokić. Nemanja and Nikola reportedly said that their older brother's playing style resembles that of Kendrick Perkins.
Nemanja and Strahinja both used to go to Ball Arena, but Strahinja was the one who would usually get engaged in games.
You might be interested in reading about Jayson Tatum.
Strahinja is so hot-headed that he was known to punch chairs sometimes. Apparently, he inherited it from his dad, who was very passionate while watching sports.
Nikola Jokić's Brother, Nemanja Jokić
Nemanja Jokić was born in Sombor, Serbia, the same as his other brothers. Nemanja was born on the 26th of August, 1984.
He was the youngest child for more than a decade until Nikola was born in 1995. He is also the shortest of the three brothers, standing at 6'6″ (198 cm). However, he weighed 220lbs (100 kg) during the time he played for Detroit Mercy Titans.
Nemanja played high school basketball for Mechanical High School at West Backa and maintained a 20 point average score.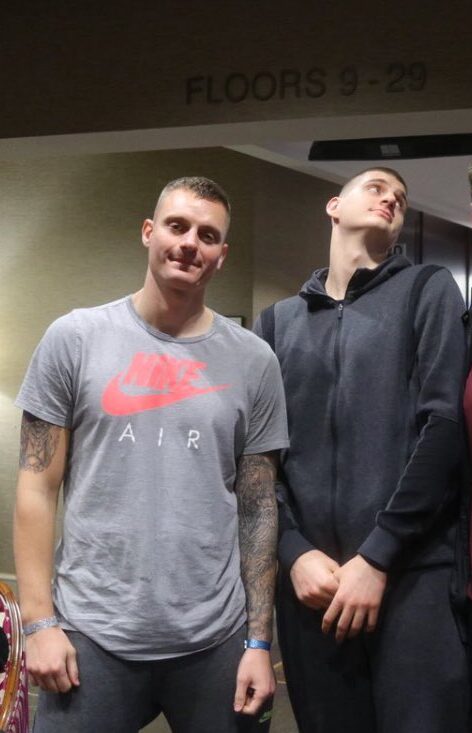 The child of the Jokic family, Nemanja majored in Business Administration from the University of Detroit Mercy.
Like Strahinja and Nikola, he played college basketball and pursued his love for the sport after graduation. He was a Division I player. Nemanja played college basketball for the University of Detroit Mercy. As a freshman, he reportedly played 29 out of 30 games of the Titans.
He reportedly claimed that the most thrill he got from sports was when he got the chance to play college basketball in the United States.
His skills are compared to that of Nikola's, and it is said that they were similar in style and ability. Nemanja played as a forward in the Junior class.
In the 2008/09 season, he led the the University of Detroit Mercy with an impressive 19 total 3-pointers.
He entered the 2010 NBA drafts in hopes of signing in with an NBA league team, but unfortunately, he went undrafted.
Nemanja Jokić's Career
In 2019, he was engaged in the MMA. As of the 14th of March of the same year, he had 3 wins with 0 losses. Unfortunately, information regarding his MMA career has not surfaced ever since.
He now travels cross-state, attending his brother Nikola's matches.
Any other information regarding the profession he was engaged in is unavailable at the moment.
A Brief Bio of Nikola Jokić
Early Life
Born on the 19th of February in 1995, Nikola is a center forward and, most importantly, a playmaker for the Denver Nuggets.
Nikola grew up in a small two-bedroom apartment. He grew up living with his parents, grandmother, and two brothers.
Nikola spent the majority of his childhood riding and shooting hoops. His two elder brothers were interested in basketball and played it too, which sparked the interest of the sport in Young Nikola.
Despite being a decade older than their younger brother, they had a lot of influence on him growing up. His love for basketball was also the result of his big brothers' influence.
Even at an early age, Nikola had basketball talent and was quite popular in the city. Thus, he was known as the "basketball player".
He joined Mega Bemax, a Bel-grade based basketball team, after he turned 16. Nikola played for the Junior team in his first season playing for Mega Bemax.
Soon, the club recognized his talent and promoted him to the senior national team the very next season. In 2005, he won the Top Prospect award and also achieved the title of the most valuable player in the league of the Adriatic League.
Awards and Accolades
Fast forward to 2014, Nikola was drafted as the 41st overall pick in the 2014 NBA draft by the Denver Nuggets. Just a season in the game, and he proved himself a worthy pick and an excellent asset for the team.
Two years later, in 2016, he was entitled to the honorary title of the NBA All-Rookie Team. On top of that, he ranked 3rd in the NBA Rookie of the Year Award.
The following year, in 2017, he managed to rank the top 2nd in the NBA Most Improved Player Award and the Assist of the Year award.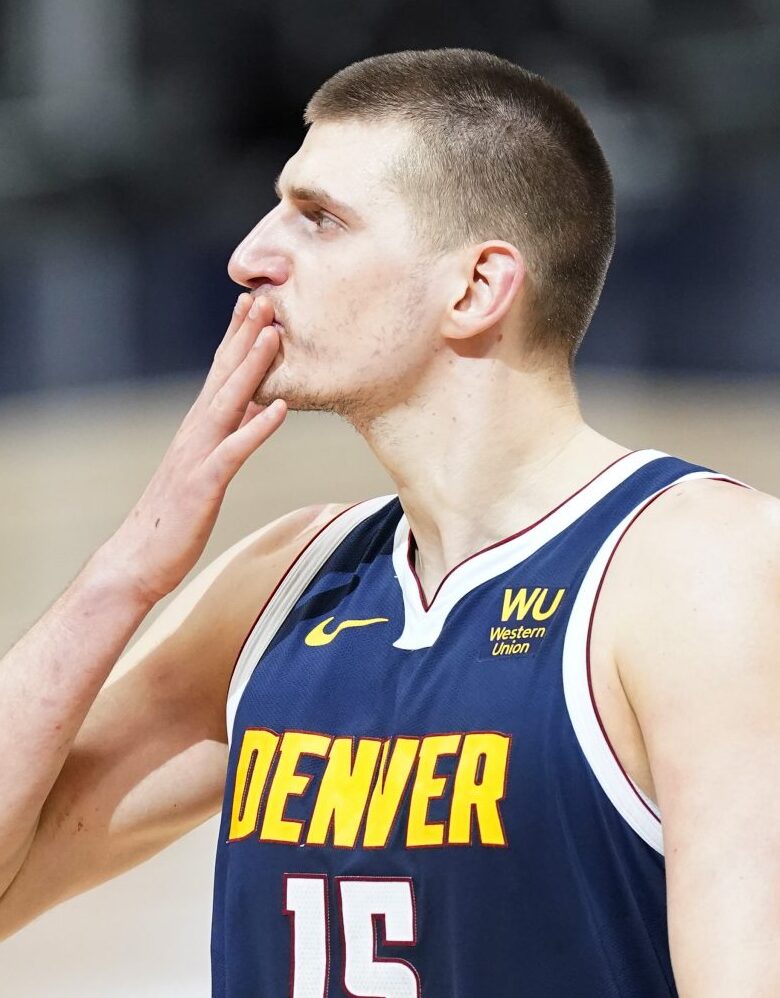 Moreover, Nikola also holds the record for the fastest triple-double in the history of the NBA league.
The most impressive and notable of all is the MVP of the year award he received in 2021. In early June 2021, he was named the NBA's Most Valuable Player of the year, which made Shaq O'Neal more than happy.
"You're the first big man to win an MVP in a long time. I thank you, and I appreciate you very much," said O'Neal to the Serbian giant.
You might also want to read about Giannis Antetokounmpo's brothers.
Nikola Jokić's Brothers and His Relationship
Growing Up Together
Growing up, Nikola Jokić's brothers would bully him into doing things he did not want to or when they felt like it. One of the wildest childhood stories is the one shared by Nikola.
Once, he refused to climb a tree, and the two older brothers decided to punish him for not obeying. The punishment included holding his arms down and throwing knives around his head. This is, hands down, the most ridiculous thing a brother has done in the history of the NBA.
"That was a little crazy," commented Nikola.
Apparently, Nemanja recalls Nikola being tossed around from one bed to another by the eldest son, Strahinja. He used to terrorize little Nikola during heated games on a plastic mini hoop. It seems that Strahinja was a sore loser since the early days.
Present Day Nikola Jokić's Brothers
At present, the Jokić brothers are inseparable. Nikola Jokić's brothers are so close that they lived together in an apartment with Nikola's long-time girlfriend, Natalija Macesic.
It is not sure that this practice continues even after Nikola has been married to his long-time girlfriend.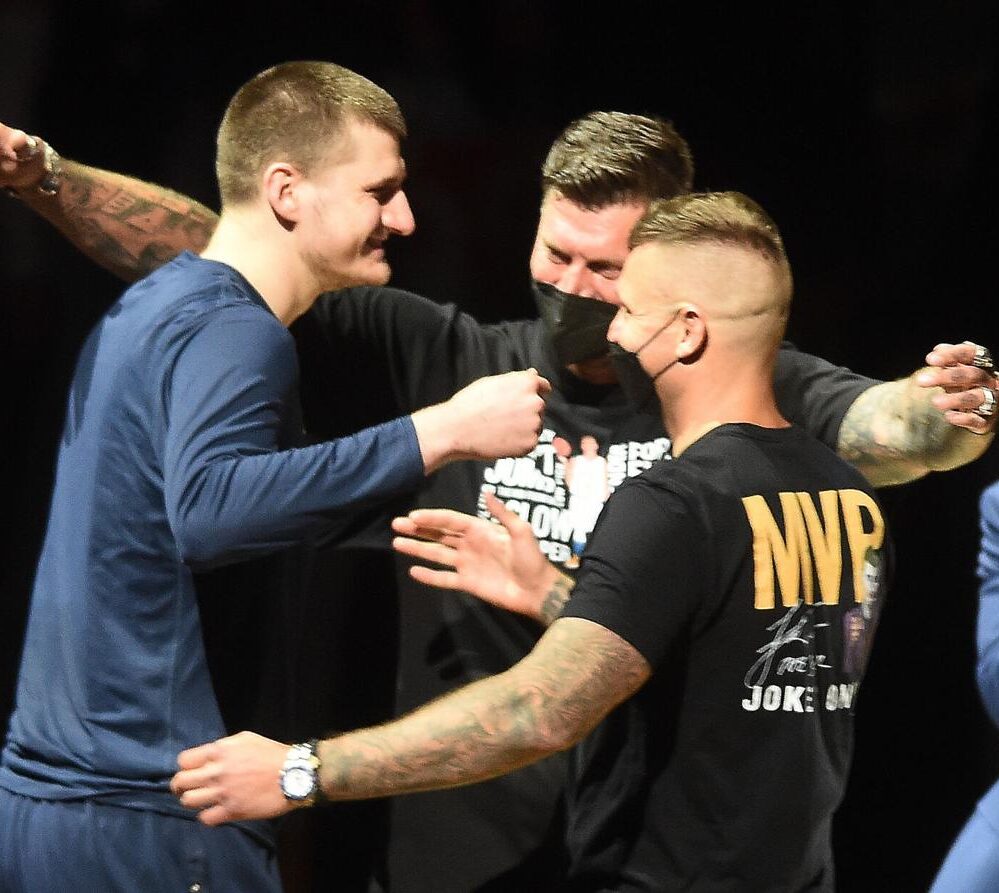 Nikola Jokić's brothers are arguably the biggest fan of his. They travel around the US per Nikola's basketball matches.
It is said that they are roadies because they hate flying.
Nikola Jokić's brothers continue to support him in any way they can, whether by the courtside or in his personal life. The connection between the three is one-of-a-kind.
Nikola Jokić's Brothers' Net Worth
It is not known what kind of profession Nikola Jokić's brothers are involved in. As of now, they are seen living as roadies. They probably live off their brother's fortune.
Nikola Jokić's total net worth is estimated to be around $30 million. In addition, Nikola signed a contract in 2018 spanning 5 years which is worth a crazy $148 million.
It is said that from 2015 to 2021, Jokic has won over $80 million from tournaments with a humongous $29 million from this current season alone.
Nikola Jokić's Endorsements
Just like the big names in the history of the NBA, Michael Jordan, LeBron James, Kevin Durant, Kyrie Irving, and many others, Nikola has also signed in with Nike.
He has also signed a deal with Western Union and Panini. All of the companies mentioned prior are footwear and sneaker manufacturers.
Reportedly, he earns $750,000 from his various endorsements.
Social Media Links
Nikola Jokić is one of those few NBA stars who stay entirely off social media. As a result, he does not have any social media accounts.
Just like Nikola, his brothers are not a fan of social media either. Instead, the trio prefers to keep to themselves.
Frequently Asked Questions (FAQs)
How many siblings does Nikola Jokić have?
Nikola Jokić has two older brothers. Nemanja Jokić is the middle child, and Strahinja Jokić is the oldest.
Which team did Nemanja Jokić play for?
Before entering the 2010 NBA draft, he played for the Detroit Mercy Titans. He had maintained a good record there.
Did Strahinja Jokić play basketball?
All three Jokics brothers love the sport. But, Strahinja was the least successful of the three brothers.