Nikola Vucevic is a Montenegrin basketball player for the Chicago Bulls of the National Basketball Association (NBA). He is an elite rebounder, a decent low-post scorer, and is known for his high offensive skills.
The center of the Chicago Bulls, Vucevic, is a tremendous player who often is a threat due to his professional offensive savvy and mastery on the court.
Similarly, he has humongous hands for playmaking, is a 7-footer magician, and is the double-double machine.
Therefore, he was named NBA All-Star twice in 2019 and 2021. Likewise, he also won the Montenegro League championship in 2011 and the Montenegro Cup champion in 2011.
Moreover, he is an incredible one-handed slam dunk proficient and had shown unbelievably immense mysticism in the vicinity back in the slam dunk contest.
Find more information about the intriguing basketball player, including career, family, wife, and net worth.
Before you go any further, look at the briefly presented Quick Facts.
Quick Facts
Full Name
Nikola Vucevic
Birth Date
October 24, 1990
Birth Place
Morgues, Switzerland
Nick Name
Vooch
Religion
Christianity
Nationality
Swiss
Ethnicity
White
Education

Stoneridge Preparatory, Simi Valley, California
USC (2008-2011)

Horoscope
Scorpio
Father's Name
Borislav Vucevic
Mother's Name
Ljiljana Vucevic
Siblings
Sister (Biljana Vucevic)
Age

32 years old

Height
6 feet 10 inches (2.13 m)
Weight
118 Kilogram (260 lb)
League
NBA
Hair Color
Dark Brown
Eye Color
Dark Brown
Body Type
Athletic
Profession
NBA Player
Professional Career Teams

Buducnost
Philadelphia 76ers
Orlando Magic
Chicago Bulls

Draft In
2011 / Round:1/ Pick: 16th Overall
Jersey no.
9 (for Chicago Bulls)
Active Years in Basketball
2011–Present
Sexual Orientation
Straight
Marital Status
Married
Wife
Nikoleta Vucevic
Kids
Two sons (Filip Vucevic and Matija Vucevic)
Net Worth
$30 million
Position
Center
Social Media
Twitter
Merch
Trading Card
Last Update

May, 2023
Nikola Vucevic | Early Life & Family
Vucevic was born on October 24, 1990. When it comes to his origin, he was born in Morges, Switzerland, and raised in Belgium.
He belongs to the ethnic Serb and is a Serbian Orthodox Christian. He can speak at least three languages, French, English, and Serbian. Therefore, Vucevic wields double citizenship with Montenegro and Belgium.
His Father, Borislav, is a former Montenegrin professional basketball player and had played for a club close to Lausanne.
Borislav is a journeyman who played professionally for 24 years in several Yugoslavia, Belgium, and Switzerland dwellings.
He was a team member of the KK Bosna that won the European Championship Cup in 1979.
Further, he made great appearances for the Yugoslavia national team at the Mediterranean Games in Morocco, Casablanca, and EuroBasket 1985 in West Germany.
His mother, Ljiljana Kubura, holds a Serb ethnicity. Likewise, she was a forward for the basketball league in the Sarajevo team Zeljeznicar and Yugoslavia women's national team.
Vucevic moved with his family to Montenegro when he was a teen. Moreover, Vucevic was a survivor of the Bioce derailment in 2006.
High School
In October 2007, Vucevic moved to Simi Valley, California, in the United States, to play his senior year of high school. At that time, his English was poor, but he could speak French.
Afterward, he attended Stoneridge Preparatory High School and went to USC College from 2008 to 2011.
At 17, Vucevic was named Montenegro's Best Young Player in 2007.
Nikola went to the University of Southern California and played three basketball seasons with the Trojans.
Over there, Vucevic was named the 2009-10 Pac-10 Most Improved Player and received All-Pac -10 second-team Pac-10 honorable-mention all-defensive team honors during his college years.
Further, he started up with all 30 games for USC and set 10 double-doubles. As a junior, Nikola Vucevic was selected to Fourth Team All-America by Fox Sports. In addition, he was named to the All-Pac-10 First team.
He scored 11.1 points and 8 rebounds per game during the season with the Trojans.
Have fun reading this interesting bio of Malik Beasley: Career, Records, NBA & Net Worth.
Nikola Vucevic | Professional Career
Nikola Vucevic was drafted with the 16th overall pick in the 2011 NBA Draft by the Philadelphia 76ers on June 23, 2011.
Similarly, in December 2011, he signed his rookie contract with the 76ers. Thus, Vucevic scored a season-high 18 points against Houston Rockets.
Vucevic was traded to the Orlando Magic for a four-team deal in August 2012. He set a franchise record against Miami Heat in December 2012.
Following that, he recorded a second straight 20/20 game with a career-high 30 points and 11 rebounds in a 113-103 win against the Milwaukee Bucks.
In November 2013, Vucevic scored career-high 30 points and 21 rebounds in a 98-90 win against the Los Angeles Clippers.
Therefore, Vucevic received his first Eastern Conference Player of the Week honor for helping Orlando Magic lead to a 2-1 week.
Subsequently, he scored double-doubles, averaged 22.7 points, and had league-leading 14.3 rebounds. Hence, Nikola Vucevic became the first Orlando Magic player to win the Eastern Player of the Week honor since Dwight Howard did it in 2012.
Contract Extension
He signed a $53 million contract extension agreement with Orlando Magic in October 2014.
Again, in February 2016, he scored 22 points, hit an 18-footer at the buzzer, and helped lead the Magic against Atlanta Hawks in a 96-94 win for the third term in 18 games.
For the 2016-17 season, Nikola Vucevic started in 16 games for Orlando Magic, coming off the bench for the sixth time in his Magic selection.
In April 2017, he recorded 10 rebounds against Chicago and stepped ahead of Shaquille O'Neal into second place in Franchise history, whereas Dwight Howard remained in the first spot.
Vucevic scored career-high 41 points and 12 rebounds against Brooklyn Nets in October 2017.
He recorded his first career triple-double in December with 31 points, 13 rebounds, and ten assists against Atlanta Hawks.
Injury and Comeback
Consequently, he suffered a left-hand fracture against Washington Wizards and was ruled out for six to eight weeks on December 23.
He made his comeback in February 2018 and recorded 19 points and six rebounds against New York Knicks.
In October 2018, Vucevic scored his second career triple-double and added 27 points, 13 rebounds, and 12 assists in a loss against loss to Philadelphia 76ers.
Indeed, he was named the Eastern Conference Player of the Week after he helped the team lead the Magic to a 3-1 record.
Vucevic became the first Magic player to record 30 points in back-to-back games since Victor Oladipo did it in March 2015.
Thus, he received his first All-Star and became Magic's first All-star since Dwight Howard in 2012.
Vucevic came into the offseason as an unrestricted free agent. He signed a four-year, $100 million deal to remain with the Orlando Magic on July 6, 2019.
He set a franchise record for most 30 points, 15 rebounds, and five assists game with four, overtaking Shaquille O'Neal with three.
Hence, Vucevic earned his third Eastern Conference Player of the Week honor with his tremendous double-double average of 21.7 points, 14.4 rebounds, 1.33 blocks, and 4.0 assists per game.
His shooting percentage was 54.2 percent overall and 66.7 percent from the 3-point range.
Furthermore
In February 2021, Vucevic scored a career-high 43 points and a season-high 19 rebounds and 4 assists in a 123-119 win against the Chicago Bulls.
Subsequently, he joined Shaquille O'Neal and Dwight Howard as the third player in the franchise history to record 43 points and 19 rebounds in a game.
In February, he recorded his third career triple-double with 30 points, 16 rebounds, and 10 assists in a 124-120 win against the Golden State Warriors.
Moreover, he set the franchise record for the most triple-doubles for the center position.
Hence, Vucevic was named an Eastern Conference reserve for the 2021 NBA All-Star Game.
Chicago Bulls
The Orlando Magic traded Vucevic along with Al-Farouq to the Chicago Bulls in exchange for Wendell Carter Jr Otto Porter on March 25, 2021.
Vucevic made his debut for the Bulls on 27 March, averaging game-high 21 points, nine rebounds, and four assists in 32 minutes.
He started in all 44 games for the Bulls, averaging 24.5 points, 11.8 rebounds, and 3.8 assists with a 40.6 shooting percentage from three-point range and 87.7 percent from the free-throw line on Orlando Magic.
Vucevic recorded his third straight double-double and fortieth of his career with 24 points and 11 rebounds in a game 110-102 win against Miami Heat.
Additionally, Vucevic recorded his second triple-double of the season and the fourth of his career and averaged 18 points, 14 rebounds, and 10 assists in a 121-99 win over the Boston Celtics.
Hence, Nikola Vucevic became the first Chicago Bulls player to record a triple-double since Jimmy Butler in 2017.
Consequently, he missed seven games after testing Covid positive in November 2021.
After Covid
After his comeback, he recorded 30 points on 6-of-6 shooting from three and averaged 14 rebounds and five assists in 133-119 wins over the Charlotte Hornets.
Subsequently, he joined Kemba Walker to record 30 points, 10 rebounds, and 5 assists with a 100 percent 3-point field goal percentage on at least 5 attempts.
Finally, Nikola Vucevic wrapped up the season with 36 points, 17 rebounds, four assists, and three blocks in a 122-115 win against the Indiana Pacers.
Therefore, he became the first Chicago Bulls player to record 35 points, 15 rebounds, and 3 blocks in a game since Michael Jordan in 1996.
National Team Career
Vucevic played at the FIBA Europe Under 20 championship representing Montenegro.
Therefore, he represented the senior Montenegro national basketball team at FIBA EuroBasket 2011, FIBA EuroBasket 2013, and FIBA EuroBasket 2017.
In sum, he scored 5.0 points and 3.2 rebounds per game, going ahead of Nikola Pekovic.
Awards & Achievements
Following are the achievements gained by the basketball player:
NBA All-star two times (2019, 2021)

Montenegrin Cup Champion (2011)

Montenegrin League Championship (2011)

AP Honorable Mention All-American (2011)

First Team All Pac 10 (2011)

Second team All Pac 10 (2010)
Age, Height & Weight
Born on October 24, 1990, Nikola Vicevic is 32.
Vucevic stands at 6 ft 10 in (2.08 m) in height, and his body weight is around 260 lb (118 kg).
Thus, he has a gigantic height and well maintained muscular body.
Also, enjoy reading Davis Bertans Bio: Career, NBA & Net Worth.
Social Media Presence
Vucevic is active on Twitter only. You can click on the link down below to check his profile.
Twitter: 160.8K Followers (As of February 2022)
Nikola Vucevic | Personal Life
Vucevic Nikola is a married man. He married his longtime girlfriend and friend Nikoleta Pavlovic.
He is blessed to have the same girl as a friend, girlfriend, and wife.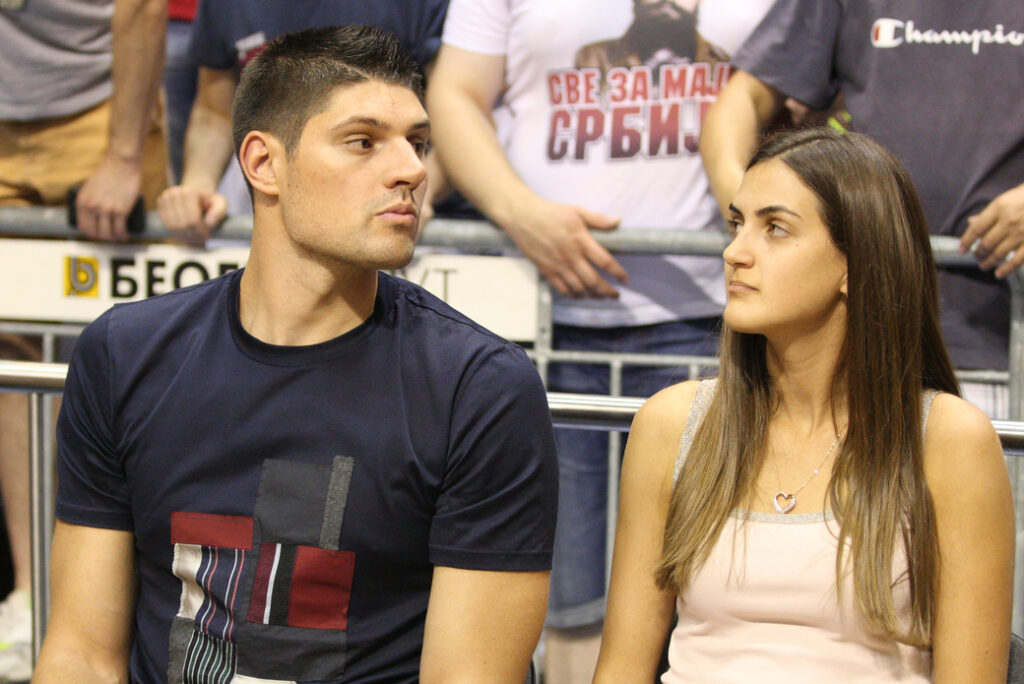 Nikoleta Pavlovic is from Montenegrin itself. She is the sister of former NBA player Alesandar "Sasha" Pavlovic, who played for the Utah Jazz, Boston Celtics, Cleveland Cavaliers, and others.
Therefore, the couple is blessed with two sons. Their first child, Filip, was born on December 17, 2018, and their second son Matija was born on October 1, 2020.
Nikola Vucevic | Net Worth & Salary
One of the popular professional basketball players, Nikola Vucevic, has a net worth of $30 million. His current salary with Chicago Bulls is $24,000,000.
He was the second-best-paid player of the Bulls this season. Likewise, he is the 46th best-paid NBA player of the current year.
His past salary with Orlando Magic in 2019-20 was $28,000,000. Moreover, in 2011-12 his past salary with the Philadelphia 76ers was $1 645,400.
Also, read this fine article of Aaron Gordon's Bio: Career, NBA & Net Worth.
Frequently Asked Questions
What country is Nikola Vucevic from?
The center for Chicago Bulls, Nikola Vucevic, is from Montenegro and grew up in Belgium. Further, he also holds double citizenship with Belgium and Montenegro.
How many double-doubles does Nikola Vucevic have?
One of the brilliant basketball players, Nikola Vucevic, has 51 double-doubles until 2022.