Otto Porter is an American basketball player for the National Basketball Association's Golden State Warriors.
When it comes to scoring, the lanky striker from St. Louis, Missouri, is a deadly machine. With an outstanding close shot and a high shooting IQ, he can get the offensive returns he desires every time he walks on the floor.
Otto is an athletic player with a solid vertical who, according to his natural ability, also helps to defend.
The player did not leave his home state to complete his education. He attended Scott County Central High School in Sikeston, Missouri, and was a four-star recruit.
The Washington Wizards selected him third in Round 1 of the 2013 NBA Draft.
Want to know more about Otto Porter? If so, make sure to read the article till the end.
But, before that, look at quick facts about the American basketball player.
Quick Facts
Full Name
Otto Porter Jr.
Birth Date
June 3, 1993
Birth Place
St. Louis, Missouri
Nick Name
Otto Porter
Religion
Christianity
Nationality
American
Ethnicity
Black
High School
Scott County Central (Sikeston, Missouri)
College
Georgetown University
Playing Career
2013-present
Zodiac
Gemini
Chinese Zodiac
Rooster
Father's Name
Otto Porter Sr.
Mother's Name
Elnora Porter
Siblings
Jeffrey Porter and Brittany Porter
Age
29 years old
Height
6 feet 8 inches
Weight
90 kg
Chest Size
40″
Biceps Size
15″
Waist Size
34″
Shoe Size
15 (US)
Food Habits
Non-Vegetarian
NBA Draft
Round: 1 / Pick: 3rd overall of 2013
Hair Color
Black
Eye Color
Black
Career Highlights and Awards

First-team All-Big East (2013)
Consensus first-team All-American (2013)
Big East Player of the Year (2013)

Build
Muscular, Atheltic
Marital Status
Not married
Wife's Name
None
Girlfriend
Jaclyn Humphry
Children
None
Position
Small forward
Profession
Professional Basketball player
Net Worth
$10 Million
Salary
$2,389,641
League
NBA
Active Since
2013
Social Media
Not available
Merch
NBA Card
Last Update
June 2023
Otto Porter: Early Life and Family
Otto was born in St. Louis, Missouri, on June 3, 1993. His father's name is Otto Porter Sr., and his mother's name is Elnora Porter.
Notably, both of Otto's parents are former basketball players. Likewise, Otto also has two siblings, Jeffrey Porter and Brittany Porter.
Otto went to Scott County Central High School, which serves Morley, Vanduser, Haywood City, and sections of rural Sikeston.
He won all-state accolades as a sophomore and senior while guiding the Braves to three straight Class 1 state titles and Scott Central's state-record 15th overall.
He also helped lead the Braves to a 29–2 record in his senior year, scoring 30 points and 14 rebounds per game.
Moreover, the player was ranked as the No. 8 power forward and the No. 37 player in the country in 2011.
Otto Porter: Age, Body Measurements and More
The basketball player was born in the year 1993. So, he is currently 29 years old.
Otto was born in the Rooster year, according to the Chinese calendar. The Rooster is the tenth year of the 12 months Chinese zodiac calendar.
Talking about Otto's physical appearance, he has an athletic build and a muscular body. The player goes to the gym regularly to exercise and keep up with the athletic lifestyle.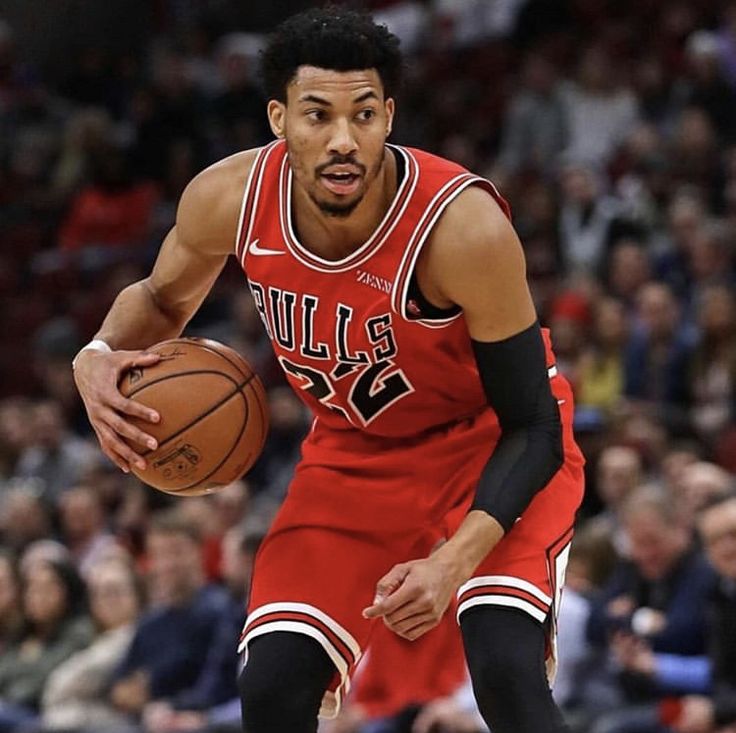 Further, the American player stands at 6 feet 8 inches tall and weighs around 90 kg. His chest size is 40, and his waist is 34. Similarly, his biceps are 15 inches.
Otto does not have any visible tattoos on his body. Additionally, the player looks OK with his black hair and black eyes.
Otto's nationality is American, and his ethnicity is black.
In addition, Otto's zodiac is Gemini. Sapiens with the Gemini sign are determined, confident, and clever. They are also very flexible and extroverted.
Also, know about LeBron James Bio: Early Life, Basketball Career & Net Worth>>
Otto Porter: College Career
Otto signed a letter of intent with the Georgetown Hoyas and made his debut against the Savannah State Tigers on November 12, 2011, with 9 points, 8 rebounds, and 3 blocks.
The player finished his rookie year with 9.7 points per game and 6.8 rebounds per game. As a sophomore, Porter nearly doubled his scoring output averaging 16.2 points and 7.5 rebounds per game.
Otto guided his team to a 25–7 record and a No. 2 seed in the NCAA Men's Division I Basketball Championship at the end of the 2012–13 season.
Likewise, he has been voted the Big East Player of the Year and a finalist for the Naismith Trophy and Wooden Award due to his achievements.
Otto had 13 points and 11 rebounds in a 78–68 shock defeat to the 15th-seeded Florida Gulf Coast University Eagles in the first round of the Men's Championship Basketball on March 22, 2013.
The player announced his intention to forego his last two years of eligibility and enter the NBA draft on April 15, 2013.
Professional Basketball Career
Washington Wizards
The Washington Wizards picked Porter with the third overall choice in the 2013 NBA draft. However, he missed training camp and the first 18 games of the 2013–14 season due to a hip injury.
On December 6, Otto made his NBA debut, going scoreless in 14 minutes in a 109–105 overtime defeat to the Milwaukee Bucks. Likewise, in April 2014, he set a season-high with nine points twice.
On November 7, 2015, he established a new career-best with 23 points against the Atlanta Hawks in a 114–99 defeat.
The American player scored six three-pointers for the second night in a row, ending with 23 points in a 113–110 victory over the New York Knicks.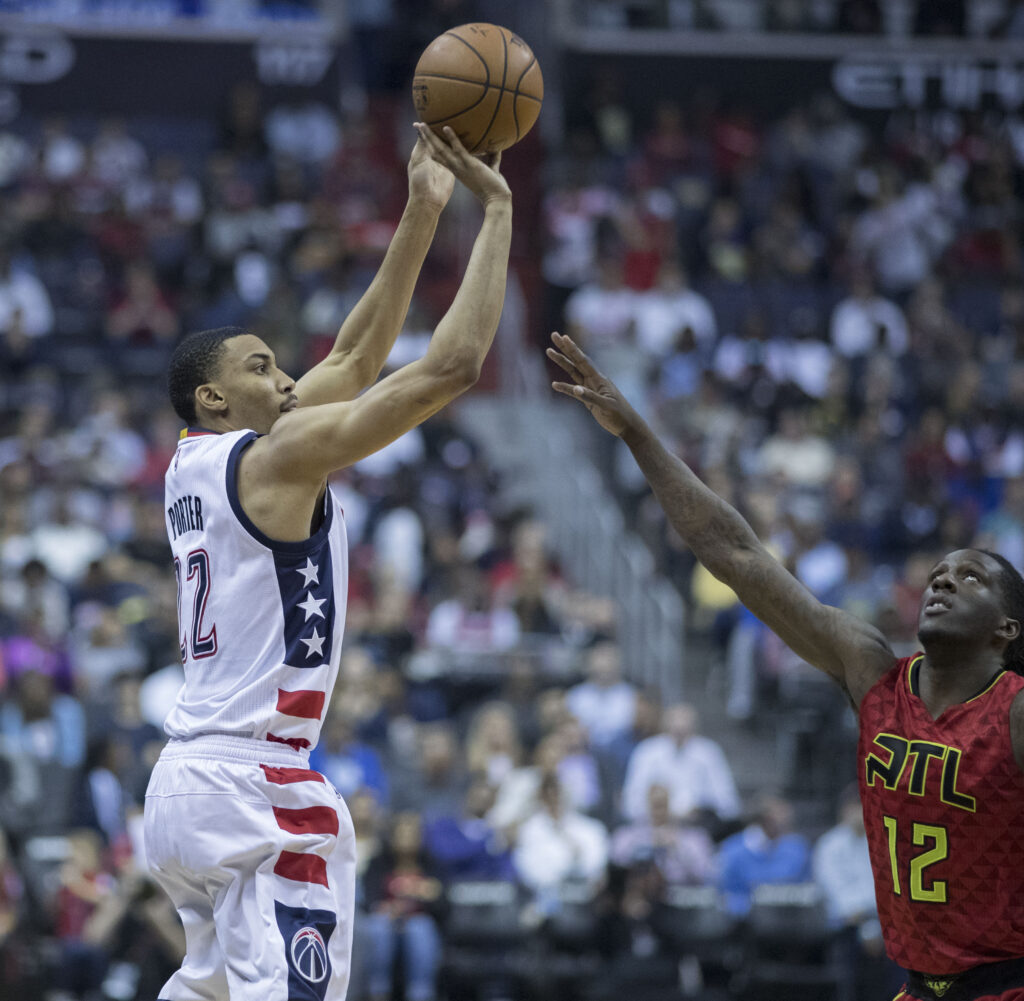 During the 2016–17 season, he started 80 games and achieved career highs in scoring (13.4 points per game), rebounds (6.4), and steals (1.5). 51.6 percent of the shoot were from the field, and 43.4 percent were from the three-point range. His three-point percentage was the fourth-best in the NBA.
Similarly, Otto was the most efficient scorer in the NBA among 115 players. The player had at least 800 possessions and penetrated defenses in transition.
Otto had a season-high 29 points in a 124–114 win over the New Orleans Pelicans on November 24, 2018.
He returned to the lineup on January 2 against the Atlanta Hawks after missing 10 games due to a damaged right knee.
After recovering, he came off the bench in 13 straight games, starting against the Indiana Pacers on January 30 and hurting his left big toe.
Other Teams
Otto was traded to the Chicago Bulls on February 6, 2019, for Jabari Parker, Bobby Portis, and a protected 2023 second-round draft selection.
In a 122–110 victory over the Grizzlies on February 13, the player scored 37 points on 16-for-20 shooting.
Similarly, Otto and Wendell Carter Jr. were moved to the Orlando Magic on March 25, 2021, in exchange for Nikola Vuevi and Al-Farouq Aminu.
In addition, Orlando got two future first-round draft selections. Likewise, Otto Porter inked a contract with the Golden State Warriors on August 6, 2021.
Otto Porter: Sporting Family
The American player comes from a basketball family with a long history of success.
Otto Porter Sr., his father, was a member of Scott County Central High School's first championship team in 1976 and maintained the high school record with 1,733 rebounds.
Elnora Porter, Otto's mother, helped the same school win the state title in 1984. Likewise, Marcus Timmons and Donnie McClinton, his uncles, won a total of six state titles.
Similarly, the player's uncles Melvin Porter and Jerry Porter and his younger brother Jeffery Porter have all won state championships.
In addition, Calvin Porter Jr., Otto's first cousin, was one of three Porters to start for the high school's championship squad in 2011.
Moreover, when the Braves won state titles in 1990 and 1991, Otto's cousin Mark Mosely was the starting point guard.
The list of his family members in sports does not stop here. Otto's other cousins, Corey and Reece Porter assisted Sikeston High School in winning its first state championship in its first undefeated season.
You might also be interested to know about: Patty Mills Bio: NBA & Net Worth>>
Michael Porter, the son of Drury University basketball star Melvin Porter, was a former four-time all-state basketball player at Sikeston High School. He later went on to play for Southeast Missouri State University.
Similarly, Dominique Porter and Jaylen Porter, his cousins, played basketball for the Culver-Stockton Wildcats.
Further, Bobby Hatchett, Otto's yet another cousin and former teammate, played for Midland College, which won the National Junior College Athletic Association national title.
Moreover, a member of the Porter family was on each of the Braves' first 11 state championship teams. Emily Porter, his distant relative, plays with the Ernestown Eagles.
Otto Porter: Girlfriend
Otto Porter's girlfriend is Jaclyn Humphry, a former NBC sports broadcaster.
Jaclyn is the marketing manager for Topgolf, a company she just joined after quitting her position as an NBC sports commentator.
Jaclyn is originally from Arizona, United States, and has worked in marketing for almost 5 years. Humphry appears to have a penchant for modeling in addition to her professional career.
Previously, there was a rumor that the player was dating a transgender woman named Morgon West. However, the story lacked concrete evidence.
Otto Porter: Social Media
Unlike most athletes, the player is currently not active on any social media platform. He does not have any verified accounts, nor has his website.
The player was previously on Instagram as @ottodayporter22. However, the account cannot be found now.
Nevertheless, the updates about the player are posted by various fan pages and the sports pages like the official page of the NBA or the official page of the Golden Stars Warriors.
Otto Porter: Net Worth
Their playing career has served well to Otto, allowing him to earn millions through it. He has amassed enough money to live a life of luxury and provide for his family in the future.
According to various sources, the basketball player has an estimated net worth of $10 million. His salary and different endorsements account for the majority of his net worth.
The player signed a one-year, $2,389,641 deal with the Golden State Warriors, with $2,389,641 guaranteed and an annual average salary of $2,389,641.
Moreover, Otto's base salary for the year 2021-2022 is $2,389,641 in 2021-22, with a cap hit of $1,669,178 and a dead cap value of $1,669,178.
Otto also has a Nike endorsement agreement. According to reports, the player makes an estimated $500,000 annually from sponsorships alone.
Interest in Cars
Porter describes himself as a car guy with a deep interest in cars. His first car ever was a Honda Accord from 1993.
Otto and his father had to replace the transmission merely to get him to and from Morley High School.
Currently, the player owns three cars, including a 1969 Plymouth Roadrunner and a white Nissan GT-R.
He wanted to buy Nissan after watching the first installment of "The Fast and The Furious" series.
Otto likes restoring cars piece by piece. He says that he has been working on them for five years now. Otto's father was also into cars; his uncle owns a shop and is always at his uncle's shop.
Currently, the player is busy with his basketball career. However, he hopes to spend more time with cars someday. He also desires to open his car shop eventually.
Frequently Asked Questions
What is Otto Porter's favorite city?
Otto says that it depends on whatever city he visits. He has a large family, and it feels like they are all over the place. However, the player says that his favorite city is, without a doubt, New York.
According to him, there is so much to do there, and he also has relatives. His relatives often tour him around.
Is Otto Porter involved in charity?
Yes, the player is involved in charity. He is a kind guy and often serves the homeless people in DC. Moreover, he also does lots of charity work for underprivileged kids.
Likewise, he provides to his high school whenever the player returns home.