Widely popularized as one of the hotbeds for NFL teams, Noah Brown is an exceptional talent. Today, he is the longest-tenured wide receiver on the Dallas Cowboys roster; indeed, devotion at its best.
From his usual roles, Noah has got more defined ones over the years now. He is now well-known for his unique frame and skill set.
This article will discuss Noah Brown's life decisions and career tenure. However, before we get to this, let us first get through his quick dose of general fun facts.
Quick Facts
Full Name
Noah Brown
Date of Birth
January 6, 1996
Birth Place
Flanders, New Jersey
Nick Name
None
Religion
Unknown
Nationality
American
Ethnicity
Unknown
Zodiac Sign
Capricorn
Age
26 Years Old (As of July 2022)
Height
6 feet 2 inches (1.88 meters)
Weight
225 lb (102 kg)
Hair Color
Black
Eye Color
Black
Build
Athletic
Father's Name
Dwight Brown
Mother's Name
Allison Brown
Siblings
A big brother named Kenny Brown and a younger sister named Rain Brown
Education
Pope John XXIII Regional High School
Ohio State University
Marital Status
Unknown
Girlfriend
Name Unknown
Kids
None
Profession
Football player
Position
Wide Reciever
Affiliations
Dallas Cowboys
NFL Draft
2017 / Round: 7 / Pick: 239
Roster Status
Active
Net Worth
$2.47 million
Social Media
Instagram, Twitter
Last Update
July 2022
Body Measurements
Noah Brown is a guy with a firm body structure and athletically toned muscles. He stands tall at 6 feet 2 inches (1.88 meters) while weighing 225 lb (102 kg).
Likewise, he maintains an arm's length of 31+3⁄4 inches (0.81 meters) and a hand size of 9+1⁄8 inches (0.23 meters). As for his appearance, Noah maintains chocolate-colored skin with dark black hair and eyes of similar color.
One of the few players who could alter the course of a game was Anthony Carter. He was a wide receiver who caught impossible balls with lightning speed. Click here to learn about him>>
Noah Brown | Early Life
Brown was born on January 6, 1996, under the star sign of Capricorn in Flanders, New Jersey. He is one of the two children of Allison Brown and Dwight Brown. According to the sources, Noah's father, Dwight, was a basketball player for Seton Hall during the 1990s.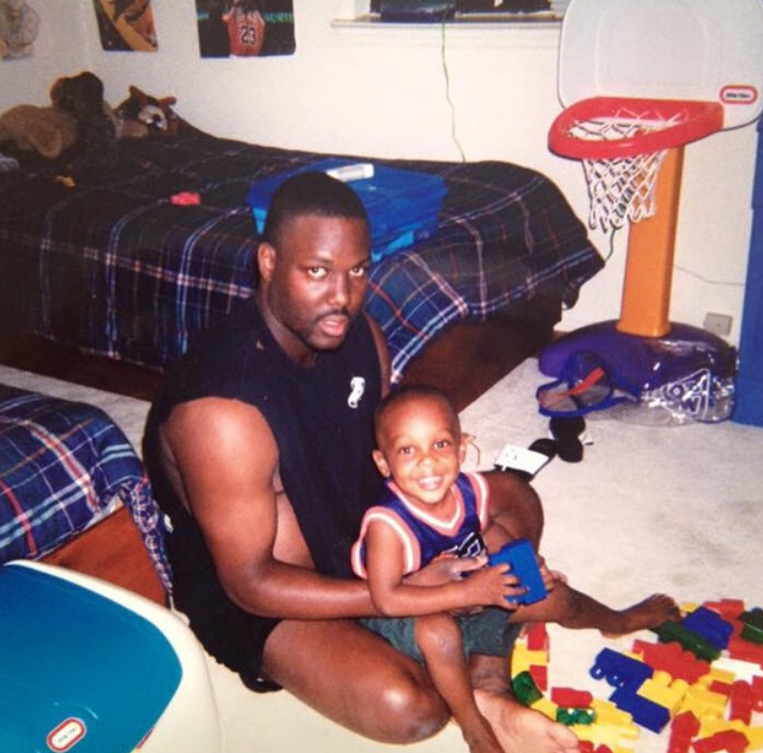 Likewise, his family consists of another basketball player, Noah's brother, Kenny Brown. Additionally, he also has a younger sister named Rain Brown.
Education
Regarding his educational background, Noah Brown attended Pope John XXIII Regional High School in Sparta, New Jersey. Following his high school graduation, Noah had many scholarship offers from universities.
Those offers include Virginia Tech, Notre Dame, Penn State, Michigan State, Pittsburgh, and USC. However, he later committed to joining the Ohio State University.
Noah Brown | Career
Brown has been on the football field since his high school days. Before ending his early career days, he assisted his team reaches the Non-Public Group III final. After graduation, he became one of the most sought prospects.
Noah Brown portrayed his skills with Ohio State as a wide receiver, running back, and kick returner. However, his broad receiver role did not last long when he sustained a leg injury.
The NFL Arena
Noah Brown forwent his remaining two years of eligibility and entered the 2017 NFL Draft. He joined the NFL Scouting Combine in Indianapolis, Indiana, during his tenure.
After entering the NFL Draft, the Dallas Cowboys selected him as the 239th overall pick in the seventh round. Initially, he signed a four-year contract and joined the training camp to compete as the fifth or sixth wide receiver.
Altogether, he made his professional debut against the Denver Broncos. During his tenure with the Broncos, Noah joined several training camps. Throughout the years, he also suffered multiple injuries, and recently, Noah has re-signed the contract with them.
Injuries
Injuries have been stuck with Noah Brown since the early days of high school. Back in his sophomore year, Noah missed the whole season due to his broken ribs in his first game.
Later, when he committed to the Ohio State University, Noah broke his left tibia and fibula during a non-contact drill during fall camp. Therefore, this injury required two separate surgeries, which forced him to get redshirted that season.
Likewise, Noah struggled with a hamstring injury during his second season and was sidelined for the whole preseason games. In 2018, Noah faced a minor hamstring injury that forced him to stay out of most of training camp and preseason.
Indeed, the injury did not go away instantly and bugged him for a while. Noah underwent arthroscopic surgery on his knee the following year during the final week of OTAs. However, he stood on the "unable to perform" list for the rest of the season, and hence, he had to perform a second surgery to alleviate his lingering knee issue.
Even recently, in June 2022, Noah Brown was sidelined during the Cowboys' minicamp practices due to a minor hamstring injury.
Career Highlights
All-New Jersey honors by the Newark Star-Ledger
27th best broad receiver prospect in the draft by NFLDraftScout.com
CFP national champion (2015)
Noah Brown | Net Worth
According to the sources, Noah Brown maintains a net worth of $2.47 million. Currently, he portrays a one-year contract worth $1.1875 million with an annual average salary of $1,047,500 and guaranteed money of $302,500.
Famous NFL defensive lineman Derrick Brown plays for the Carolina Panthers. He is regarded as one of the top draft picks and possibly the best defensive lineman. Learn about him here>>
Noah Brown | Personal Life
Noah Brown is currently single and not involved in any relationships or affairs. Per his Instagram page, he is not involved in any experience or rumors.
However, he is linked numerous times with Rhain Alisha. So, who is this lady? As per the sources, Alisha is a renowned reality TV star best known as one of the casts on the Discovery Channel show Alaskan Bush People.
Not to mention, she was initially known as Ruth Alisha Merrill in Oregon. However, she changed her name after coming to Alaska. As far as the news goes, Noah and Alisha met in the hospital when Noah's mother was admitted with cancer.
Having said all those, it might be the rumors afloat, but we will be sure to update it soon.
Social Media
Follow his social media sites if you want to check out Noah Brown's posts and uploads.
He is on Instagram as Noah Brown (@nb_eight5) with 83.4k followers. Likewise, he is on Twitter as Noah Brown (@Nb_Eight5) with 39.6k followers.
Noah Brown | FAQs
Which jersey number does Noah Brown wear?
Noah Brown wears jersey number 85 for the Dallas Cowboys.
What is Noah Brown's NFL career statistic like?
Noah Brown maintains the NFL career statistic of 39 receptions and 425 receiving yards.