Anthony Nomar Garciaparra is a former MLB player and one of 13 players in Major League history to hit two grand slams during a single game. He is currently associated with SportsNet LA as an analyst.
Anyone who religiously follows baseball or loves baseball would definitely know who Nomar Garciaparra is. Indeed, Nomar Garciaparra is considered one of the best baseball players.
Throughout his playing career, he played with four teams; Chicago Cubs, Los Angeles Dodgers, Oakland Athletics, and Boston Red Sox.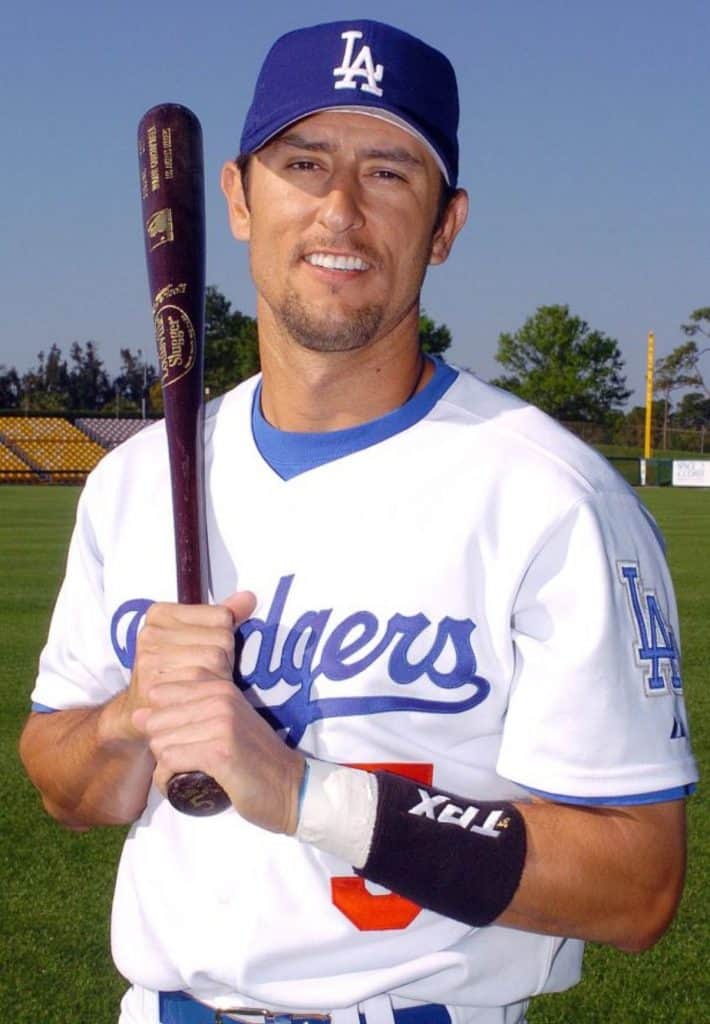 Garciaparra won many games and achieved much fame and love in his career. He worked hard in his entire career and deserves to be where he is today.
In 2022, Nomar profited as a part owner in the MLS championship.
Today, we will dive into the life of Nomar Garciaparra. Here we will discuss his childhood, age, net worth, career, and personal life. Before that, let us have a glance at the quick facts.
Nomar Garciaparra | Quick Facts
Full Name
Anthony Nomar Garciaparra
Birth Place
Whittier, California, U.S.
Birth Date
July 23, 1973
Nickname
Nomah
Religion
Roman Catholic
Nationality
American
Ethnicity
Hispanic
Father
Ramon Garciaparra
Mother
Sylvia Griciaparra
Education

St. John Bosco (Bellflower, CA)
Georgia Institute Of Technology

Horoscope
Leo
Sibling
3
MLB Debut
August 31, 1996 (Boston Red Sox)
Home Runs
229
Age
49 Years Old
Height
6 ft/183 cm/ 1.83 m
Weight
74 kgs/165 lbs
Sexual Orientation
Straight
Batting Average
.313
Hair Colour
Black
Eye Colour
Dark Brown
Marital Status
Married
Children
3 Children

Grace Isabella & Ava Caroline (Twin)(March, 27, 2007)
Garrett Garciaparra (Jan 2012)

Profession

Baseball Player (Former)
Sports Analyst

Net Worth
$40 Million
Affiliations
MLB
Social Media
Twitter
Merch
Jersey, Autographed Items
Last Update
April 2023
Nomar Garciaparra Early Life & Education
Anthony Nomar Garciaparra, popularly known as Anthony Garciaparra, was born on July 23, 1973, in Whittier, California.
He was born to Roman Garciaparra, his father, and Sylvia Garciaparra, his mother.
Early Life
Anthony is the eldest child of his parents and has three younger siblings.
From his early childhood, Nomar was very interested in sports. He loved playing baseball, soccer, and football.
Garciaparra's love for sports was inherited from his parents. His mother was a great fan of USC's running back, Anthony Davis. Therefore, she named her son Anthony.
Similarly, his father was also an admirer of sports and always encouraged Garciaparra to play baseball or any other game.
Anthony's middle name (Nomar) is the reverse of his father's name Ramon. Everyone called him Anthony until he went to school.
After he joined the school, Anthony was a common name there. Hence, he decided to use Nomar as his name.
At the age of 6, Garciaparra was fond of playing Tee-ball. He was so serious about the game that his friend's parents actually started calling him "No-nonsense Nomar."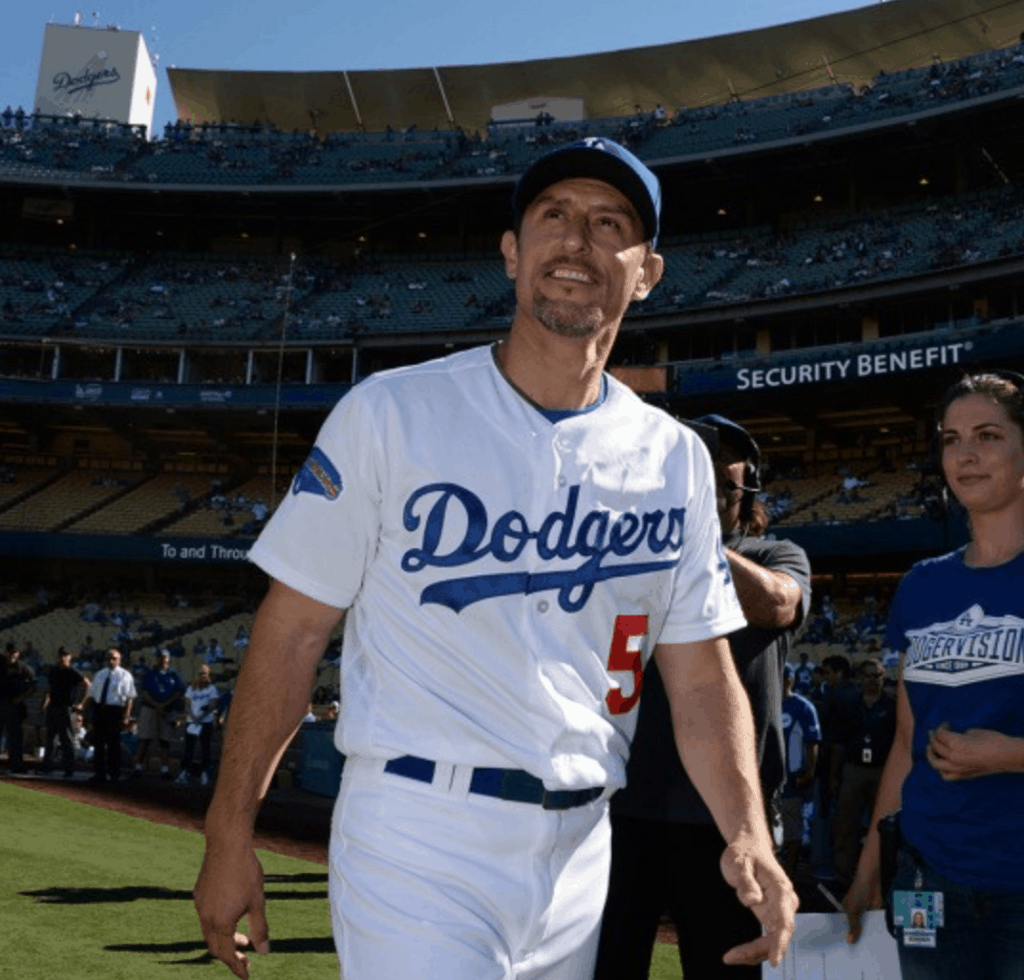 During his school days, Nomar excelled as a soccer and baseball player. However, baseball was always his favorite, even though he loved every sport.
Nomar was a keen learner. Even at 5 or 6, he always asked his father to teach him more about sports.
Unsurprisingly, the father-son duo discussed sports and game strategies at the dinner table. Every afternoon Nomar practiced baseball to sharpen his skills.
And Nomar's father paid him 25 cents for every hit simultaneously, penalizing him double for each he couldn't hit.
Undoubtedly, Ramon Garciaparra is the reason behind Nomar Garciaparra's success. His dedication to making his son a great player has actually paid off.
Education
Nomar Garciaparra graduated from Saint John Bosco High School in Bellflower in 1991. The Milwaukee Brewers drafted him in the fifth round, but he never signed the contract.
Nomar was offered scholarships from various colleges for baseball and football. Among all the colleges, he chose the Georgia Institute of Technology and played baseball. However, he didn't continue his education and dropped out of college.
Nomar Garciaparra Career
When Garciaparra was in Georgia Tech, he was the first-round draft pick for the RedSox in 1994.
He batted .295 and hit his first professional home run while playing for Sarasota Red Sox during the NCAA season. But he only played in 28 games since he joined in a midseason.
Nomar performed really well, and in 1995, he joined the Double-A Trenton Thunder. He hit eight home runs in 125 games.
In 1996, he became the highest level of minors playing in the Triple-A. He hit 16 home runs and scored a belated season proposal for Major League.
Career Highlights
Nomar Garciaparra made his MLB debut on August 31, 1996. He debuted against Oakland as a defensive replacement. Significantly, a turning point came in his career as he gave three hits on September 1 while playing against Oakland.
During his rookie season, Nomar set a record with 30 home runs and 209 base hits.
Garciaparra became the Rookie of the year in 1997 with combined votes.
Amazingly, he won the Silver Slugger award in 1997 for AL Shortstop. Undoubtedly, he gained a lot of fame and support from fans after that.
He was called NO-Mah by his fans from Boston in a Boston accent.
Garciaparra signed a contract worth $23.25 million with Red Sox for 5 years in 1998.
During the 1998 American League Championship Series, Garciaparra showed an amazing performance.
Besides, Nomar won the batting title in 1999, where he reached the century mark in RBI for the second time.
Similarly, Nomar was named an MLB All-Star while playing in his hometown in front of all his fans in 1999. Indeed, it was one of the happiest moments for him.
Besides, Garciaparra also performed really well in the match against the New York Yankees. He hit two home runs hitting .400. Fortunately, Garciaparra finished 7th in MVP voting after that.
2000-2005
The year 2000 was considered Nomar's career-changing year. Finally, he reached the .403 mark at the end of the season.
Eventually, he uplifted his game, and with a .372 batting average, he finished the season. However, in the post-war era, this was the highest batting average by the right-hand batter.
In 2001, Garciaparra had a wrist injury and started the season on the disabled list. He could not perform well during this time, which affected his matches and almost destroyed his career.
However, in 2002 Nomar recovered from the injury and performed really well. During his first match with Tampa Bay Devil Rays, on his 29th birthday, he homered three times and drove in eight runs in the first game of a doubleheader.
Not surprisingly, Nomar became the first Red Sox player to give his 1000th hit in 745th games. He created this history during a match against the New York Yankees.
In 2003, Red Sox won the match against New York Yankees, but Nomar did not expect the win. Due to Garciaparra's low performance, he lost faith in himself and his game.
At the beginning of 2004, Nomar was unsure about his future with Red Sox. Due to his injury, his game was affected severely. Later, at the end of 2004, Nomar finished ended his time with the Red Sox with 178 home runs, 690 RBI, and a .323 average after nine seasons.
In 2005, after being sent to Chicago Cubs in 2004, he suffered from an injury due to which he couldn't perform well. Sadly, he couldn't get the contract for the long term.
Garciaparra signed a year contract worth $8 million with the Cubs even though he couldn't play for three months.
After 2005
2006-2010
Nomar again became a free agent after finishing 2005 with nine home runs, 30 RBI, and a .283 average.
In 2006, Nomar returned to his hometown and signed a contract with the Los Angeles Dodgers worth $6 million, including a $2.5 million performance bonus.
Garciaparra was rewarded with his sixth All-Star selection. Besides, to receive the honor, he got 6 million fan votes.
The Dodgers offered him a contract extension worth $18.5 million for two years on November 20, 2006.
In 2007, Nomar couldn't perform as expected due to injury, even though he appeared in 121 games.
However, in the 2008 NLCS, Nomar could not play in game one and eventually didn't play much in the series as he was used as a substitute sometimes or was replaced.
Then, Garciaparra signed a contract with Oakland Athletics in 2009 for a year. He played 65 games with a .281 average, three home runs, and 16 RBI in 65 games.
Finally, on March 10, 2010, Nomar Garciaparra signed a one-day contract with the Red Sox to retire from MLB as a member of the Red Sox.
Career Stats
MLB Statistics
Batting Average
.313
Home Run
229
Runs Batted In
936
Nomar Garciaparra Body Measurement
At the time of writing, Anthony Nomar Garciaparra is 49 years old. He has a well-groomed and healthy body, black hair, and dark brown eyes.
Garciaparra is 1.83 m tall and weighs around 165 lbs.
A player should always have a good physique to play well. Hence, Nomar has done a great job of maintaining himself.
Besides, Nomar was born in July, making him a Leo according to the birth chart horoscope. Leo zodiac people are determined, goal-oriented, and passionate.
Who Is Nomar Garciaparra Married To?
Garciaparra is married to Mia Hamm (World Cup Champion soccer star and olympian).
Nomar and Mia met in 1998 at a promotional event. But they didn't have feelings for each other as Mia was already married then.
However, Hamm was impressed by Nomar's passion and dedication to his game.
After that, they became friends and were in touch with each other. Eventually, after Hamm's divorce in 2001, they started dating and married in 2003.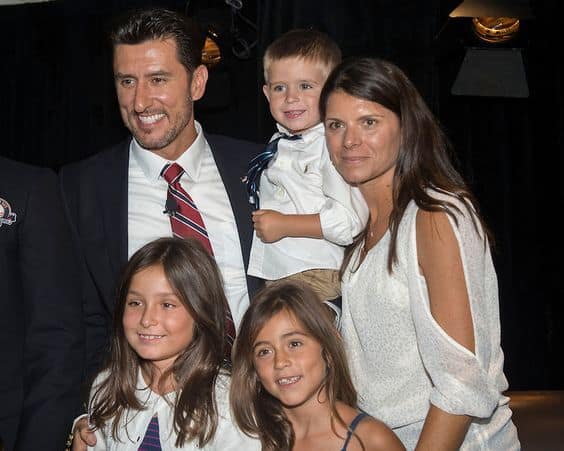 This beautiful couple has three kids. First, they were blessed with twin daughters (Grace Isabella and Ava Caroline). After that, they were blessed with a baby boy Garret Anthony.
Nomar and Hamm are both happy together. They are living the life of their dreams and enjoying every bit of their life together.
Controversy
Nomar Garciaparra was the featured speaker at the 36th annual Bobby Dolan Baseball Dinner, the annual fundraiser for Nevada baseball on Jan 16, 2020.
In the event Nomar Garciaparra called the MLB sign-stealing scandal a "sad day" for baseball.
Garciaparra said the sign-stealing scandal is sad and unfortunate but added that it could be a learning experience.
In steal signing scandal Astros used 'code breaker', in which signs were the physical cues which pitchers and catchers exchanged to signify which pitch to throw next.
Nomar Garciaparra Net Worth
It is estimated that Garciaparra has a net worth of $40 million as of April 2023.
Garciaparra lives a life of luxury. As per sources, in 2016, Nomar and his wife purchased a Manhattan beach house for $2.2 million.
It is a two-story home that is estimated to be 4,450 square ft. This house has five bedrooms, five bathrooms, a two-car garage, a family room, and a kitchen.
In honor of #SB52, I'm dressing up as the most trusted coach of all time AND the most trusted battery of all time! @Duracell #ad #notdone https://t.co/4hqVGfyuJp pic.twitter.com/sncMkzBizq

— Nomar Garciaparra (@Nomar5) February 4, 2018
Besides, they own a home in L.A. Habra Heights as well.
From his 14 MLB seasons, Nomar Garciaparra's total career earnings were $81.911 million, including $73.66 million from salary.
Likewise, Mia is now involved in the Mia Hamm Foundation, which she established in 1999. It is for the awareness of families needing bone marrow or cord blood transplants and young women's sports development.
In 2014, Garciaparra invested in Los Angeles F.C (LAFC) of Major League Soccer.
In 2022, he made a profit as a part owner in the MLS championship due to LAFC's victory in MLS Cup against Philadelphia Union.
Social Media Presence
Garciaparra is not that active on social media. His last tweet was in 2021, where he was seen promoting the Home Team Advantage contest organized by Mastercard for small business owners in L.A. to win $10,000.
Calling small business owners in the LA! Now is your chance to win $10,000 with @Mastercard's Home Team Advantage contest! Enter now for your chance to win. #MastercardAmbassador No Purch Nec. Must be U.S. res, 18+ & small biz owner in LA. Ends 8/1. Rules: https://t.co/Pj98hSfDc7 pic.twitter.com/tWrWgAKIeW

— Nomar Garciaparra (@Nomar5) July 29, 2021
Twitter (@Nomar5): 108 k followers
The Search Graph
Nomar's search graph is still mobile with adequate fluctuation.
The above graph shows Nomar's popularity over the past twelve months.
Frequently Asked Questions (FAQS)
Is Garciaparra in the Hall of Fame?
He was inducted into the CCBL Hall of Fame in the year 2002.
Where is Nomar in 2022?
Now a retired MLB player, Nomar works as a SportsNet LA analyst.
When did he retire?
Garciaparra retired from MLB in 2010. After that, from 2011-2013, he became one of the lead analysts for the network's coverage of the College World Series and the Little League World Series.