Onyeka Okongwu, an American basketball player for NBA's Atlanta Hawks (2020- now), sought basketball interest from a young age. Although it was initially on a whim, his connection with hoops turned serious after the death of his older brother, who played school basketball.
An attendant of Chino Hills High School, Okongwu played college basketball at the University of Southern California & was selected to the first-team All-Pac-12.
The two-time California Mr. Basketball honoree was the first-round draft of the Atlanta Hawks in the 2020 NBA Draft.
On a four-year contract with the Hawks, Onyeka accepted an option-deal after two yers of contract; he accepted option exercise for the 2022-23 season & in the 2023-24 season.
Onyeka Okongwu was raised by his mother after their parents divorced, who not only instilled him with professional ethics but also became his biggest supporter.
Want to know more about the player, along with his personal and professional background? Then, read the article to the end.
Quick Facts
Full Name
Onyeka Okongwu
Date of Birth
December 11, 2000
Age
22 years old
Birth Place
Los Angeles, California
Nationality
American
Religion
Christianity
Zodiac Sign
Sagittarius
Chinese zodiac
Dragon
Height
6 ft 8 in/ 2.03 m/ 203 cm
Weight
235 lbs/ 106 kg
High School
Chino Hills High School
University
University of Southern California
Father's Name
Mike Okongwu
Mother's Name
Kate Okongwu
Siblings

Two (Chukwuemeka & Chinemya)
Brother Nnamid (deceased)

Girlfriend
None
Children
None
Profession
Basketball player
League
NBA
Position
Power forward/center
Current Team
Atlanta Hawks
Jersey Number
17
NBA Draft
Round: 1, Pick: 6th overall, 2020
(Selected by the Atlanta Hawks)
Playing Career
2020-present
Net Worth
$5 Million
Social Media
Instagram, Twitter
Merch
Rookie Card
Last Update
March 2023
Early Life & Family Details
Okognwu was born on December 11, 2000, in Los Angeles, California, to Kate Okongwu and (late) Mike Okongwu. His parents are Nigerian immigrants who moved to the U.S. in 1999.
His mother, who worked as a registered nurse, enrolled him in basketball camps when he was five years old. Although this was to keep him occupied initially, it later became Onyeka's passion.
Onyeka Okognwu grew up with his now-late older brother Nnamdi who played high school basketball & died in 2014.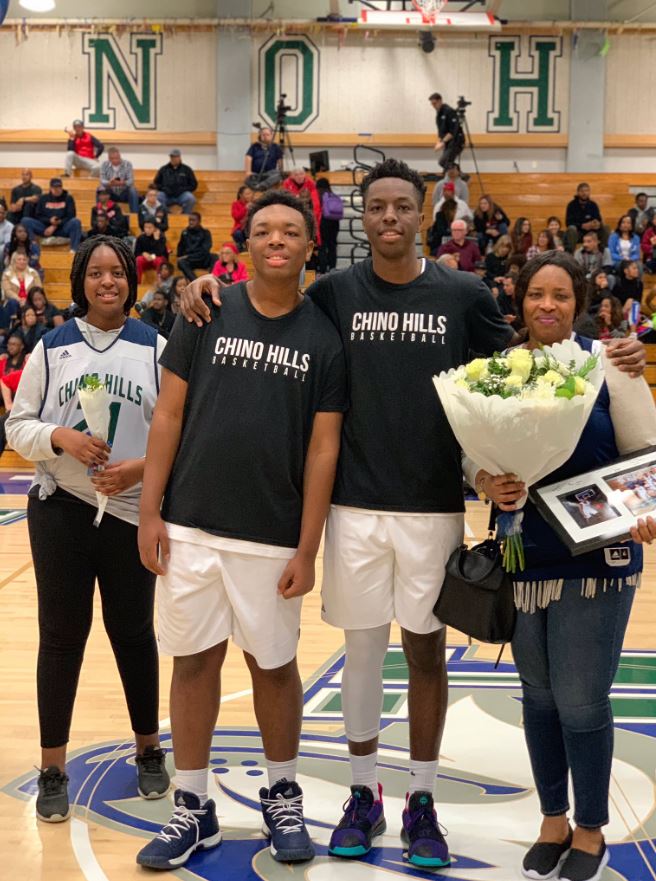 The NBA player also has two younger siblings: a brother named Chukwuemeka (b. 2003) and a sister named Chinemya (b. 2007).
His sister Chinemay plays school volleyball, while Chukwuemeka is a basketball forward at Chino Hills High School, eligible for the 2026 NBA Draft.
Age & Height
Onyeka Okongwu was born in 2000, & is currently 22 years old.
Talking about his physical features, the player stands 6 ft 8 in (2.03 m) tall and weighs 235 lbs (106 kg) with a wingspan of 7 feet 2 inches (2.18 m). The player has dark brown eyes and black hair.
Lost His Older Brother In An Accident
On July 15, 2014, tragedy struck the Okongwu family when Nnamadi, the older brother of Onyeka, suffered a serious head injury in a skateboard accident at Pipeline Avenue and El Molino Boulevard in Chino Hills.
Despite valiant efforts to save him, Nnamdi passed away three days later, on July 18, at the age of 17; at that time, Onyeka was only 14.
Nnamdi, who stood 6 feet 9 inches (2.05 m), was a basketball star at Chino Hills High School & was a prominent college basketball prospect.
He had even received a scholarship offer to play basketball at Loyola Marymount University and had aspirations of becoming a physical therapist.
Nnamadi's impressive performance, including a Sierra League championship and a spot in the CIF Southern Section Open Division championship game, attracted the attention of numerous college teams.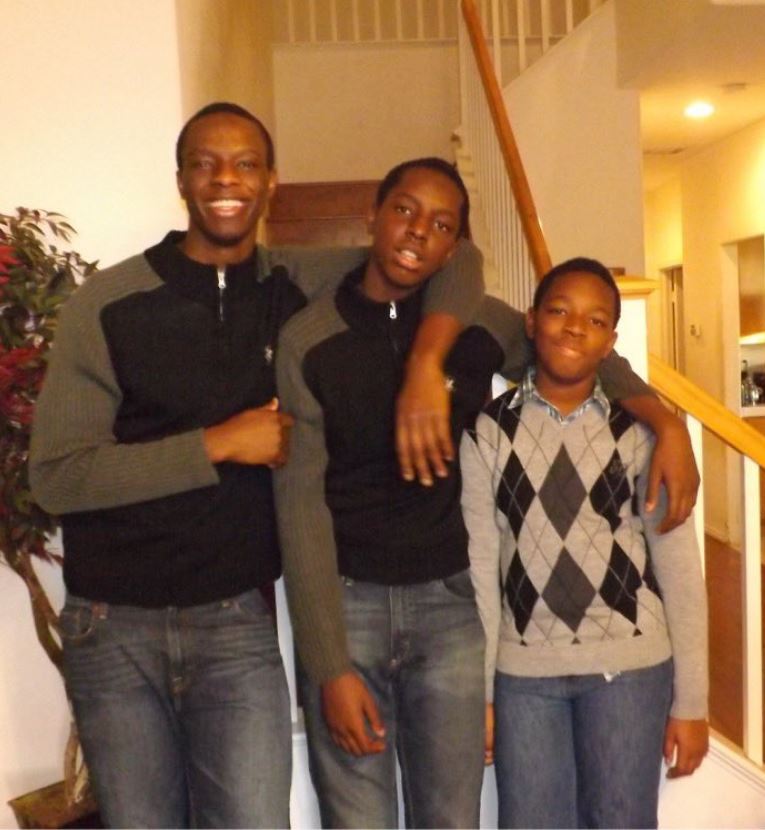 Onyeka Okongwu took his brother's passion for basketball & continues to thrive with proficiency.
Moreover, he took on the role of a big brother to his younger siblings & family together.
To honor his late brother, Onyeka Okongwu wore jersey number #21 while at college- the same number worn by Nnamadi.
After the NBA draft, he switched to jersey number #17 (it was at 17 when his brother died) after the previous #21 jersey number was retired for the Hawks legend Dominique Wilkins.
Relationship With Late Father
When Onyeka was in his early teens, his parents divorced, so he began to live with his mother.
But it didn't distance him from his dad, with whom he had a good term until the latter's last days.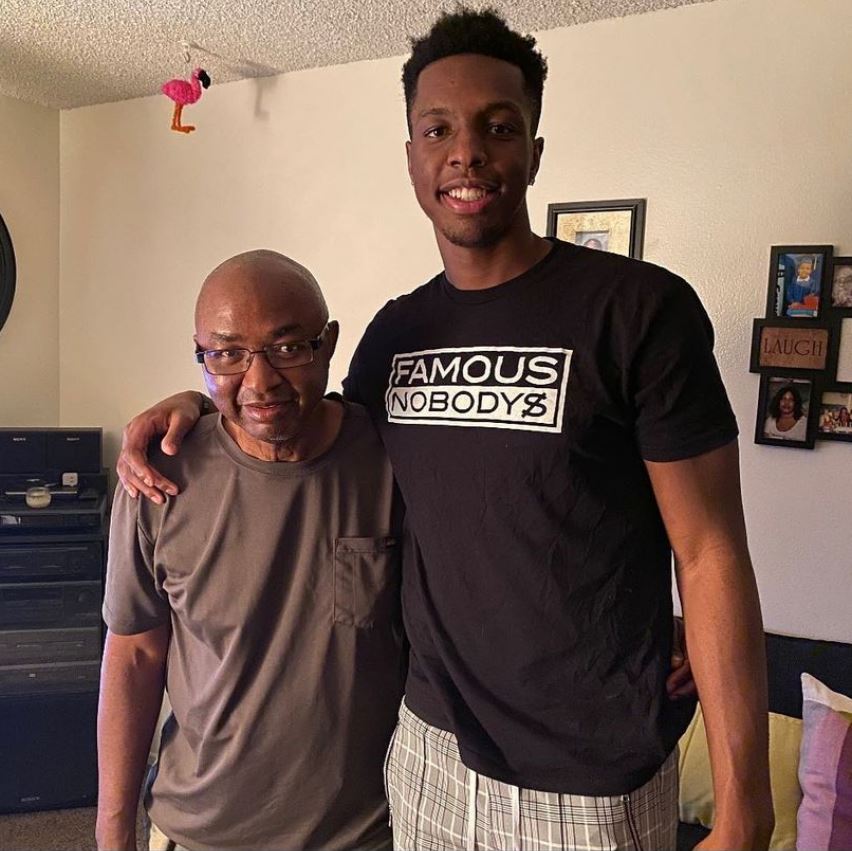 Sadly, Onyeka lost his father, Mike Okongwu, in 2021. He took to Instagram to pay tribute to his late father, expressing his gratitude and love for him.
In his post, he wrote about his admiration for his dad's strength and resilience, calling him a true warrior.
Onyeka wished he could thank his dad one last time and hoped to have made him proud. He concluded by saying, "Rest well, Dad! Love you…".
Collegiate Career At USC Trojans
The NBA player attended Chino Hills High School in California. During his time at Chino Hills, Okongwu became one of the top players in the country and helped lead his team to multiple state championships.
Similarly, he also earned several individual awards, including California Mr. Basketball. The player's impressive high school career led to multiple college offers.
However, he ultimately decided to attend USC, which was close to home and had a strong coaching staff.
Okongwu proved to be one of the best players in the Pac-12 Conference in his first and only season at USC. The player earned multiple players of the week awards.
Likewise, he was also named to the first team All-Pac-12 and the Pac-12 All-Freshman Team.
Despite only playing one season at USC, Okongwu decided to enter the 2020 NBA draft, where he was widely regarded as one of the top prospects.
NBA Draft & Career With Altanta Hawks
The Atlanta Hawks selected Onyeka Okongwu as the sixth overall pick in the 2020 NBA draft on November 19, 2020.
Ahead of him were the top-five draft picks: Anthony Edwards, James Wiseman, LaMelo Ball, Patrick Williams & Isaac Okoro.
It was an emotional moment for Onyeka & his family, as the draft was also a tribute to his older brother Nnamdi, a basketball player, who died in 2014.
After signing with the Hawks, he made 50 game appearances (4 starts) as a rookie & concluded the 2020-21 season averaging 4.6 points, 0.4 assists & 3.3 rebounds per game.
Moreover, Okongwu made his first-ever NBA playoffs appearance in the 2021 NBA playoffs, where they lost to the Bucks in Conference Finals.
In the 2021-22 season, he averaged 8.2 points, 5.9 rebounds & 1.1 assists per game.
His second consecutive NBA playoffs appearance came in the 2022 NBA playoffs (of the 2021-22 season), but the Hawks lost to Miami Heat in the first round.
Injury & Comeback
Onyeka faced a setback in his career in mid-2021. Following the team's elimination from the Conference Finals of the 2021 NBA playoffs, he underwent surgery on July 21, 2021, to repair a torn labrum in his right shoulder.
After a six-month recovery, the NBA player made his comeback in a match against Denver Nuggets on December 17, 2021, scoring 10 points.
He made a career-high 20 rebounds and 18 points in a 113-111 victory over the Indiana Pacers on January 13, 2023.
Career Highlights & Awards
2020 First-team All-Pac-12
2× California Mr. Basketball (2019, 2018)
Onyeka Okongwu's Net Worth | NBA Contracts & Salary
Onyeka Okongwu has a net worth of around $5 million as of March 2023. The sixth overall pick of the Atlanta Hawks in the 2020 NBA Draft made hefty earnings through his NBA contracts.
From three NBA seasons (2020, 2021 & 2022), Okongwu's income was $18.313 million.
On November 24, 2020, the NBA player signed a fully guaranteed four-year contract worth $26.42 million with the Hawks, which averaged an annual salary of $6.605 million.
After two years of the rookie deal, Onyeka Okongwu agreed Atlanta Hawks' option deal on October 15, 2021, which would see him $6.40 million in the 2022-23 season.
For the 2023-24 season, his salary will be $8.11 million, with the option-contract signed on October 11, 2022.
The player is set to become an unrestricted free agent in 2024.
Moreover, the basketball star earns a great deal of money through endorsements.
On February 5, 2021, Onyeka signed an endorsement deal with Adidas as one of the five rookies Anthony Edwards, Jordan Nwora, Devon Dotson & Reggie Perry.
They joined the group of NBA players associated with Adidas, like Damian Lillard, James Harden, and Donovan Mitchell.
Relationship & Social Media | Is He Dating?
The power forward/center of the Atlanta Hawks is often in the limelight with his gameplay, but also the curiosity about his love life is no less. Fans are eager to know if the NBA player in his early 20s has a girlfriend.
For now, Onyeka Okongwu does not have any records of relationships or a dating profile. Moreover, he has no history of love stories that surfaced in the media.
It appears that the NBA star is currently single. The Los Angeles-born seems focused on his basketball passion.
On his Instagram (@bio0) posts, Okongwu often shares pictures of his NBA games & family. The same goes for his other social media profiles like Twitter (@BigO21_) and Facebook (Onyeka Okongwu).
Frequently Asked Questions (FAQs)
What is jersey number of Onyeka Okongwu?
Okongwu honored his late brother by wearing his number 21 jersey while playing college basketball. However, after being drafted to the NBA by the Hawks, the player switched to wearing number 17. This was to pay tribute to his brother, who passed away at the age of 17. The number 21 was retired for Dominique Wilkins.
Is Okongwu injured?
No, he is not injured. But after the 2021 NBA playoffs in July 2021, he underwent surgery on his right shoulder that left him in recovery for six months. He made an NBA comeback in the 2021-22 season on December 17, 2021, against Denver Nuggets.