target="_blank" rel="sponsored noopener"
To put your country's name on the world map is every kid's dream. One person who has made that dream a possibility is Parupalli Kashyap.
Kashyap is one of the best badminton players to hail from India.
Furthermore, he is the recipient of the Arjuna award and is the only Indian male athlete to reach the men's Olympics' quarter-finals in badminton.
Parupalli Kashyap married his long-time partner and wife, Saina Nehwal. Nehwal is another super-star athlete who comes from India.
Like her husband, Nehwal is a professional badminton player who has been ranked as the number one player.
Before we head on to learn more about Parupalli Kashyap, let's take a look at some quick facts about him first.
Quick Facts:
| | |
| --- | --- |
| Full Name | Parupalli Kashyap |
| Birth Date | 8 September 1986 |
| Birth Place / Native Place | Hyderabad, India |
| Nick Name | Parupalli Kashyap |
| Religion | Hinduism |
| Nationality | Indian |
| Ethnicity | Indian descent |
| Education | N/A |
| Horoscope | Virgo |
| Father's Name | Uday Shankar |
| Mother's Name | Subhadra Shankar |
| Siblings | One Sister |
| Age | 36 years old |
| Height | 5'7″/1.71 m |
| Weight | 154 lbs |
| Hair Color | Black |
| Eye Color | Black |
| Build | Athletic |
| Profession | Professional Badminton Player |
| Current Team | India |
| Style | Right-Handed Player |
| Active Years | 2006 – Present |
| Marital Status | Married |
| Children | None |
| Salary | N/A |
| Net Worth | $2.5 – $5 million |
| Social Media | Instagram, Twitter, Facebook |
| Saina Nehwal's Merch | Badminton Queen of India, India Vogue Magazine (February Issue |
| Last Update | March, 2023 |
Where is Parupalli Kashyap from? Early Life, Family & Education
Parupalli Kashyap was born on 8 September 1986 in Hyderabad, India. He was born to Uday Shankar (father) and Subhadra Shankar (mother.)
Furthermore, Kashyap's father, Uday, had a transferable. Therefore, his job required him to move to various places. As a result, Kashyap and his family migrated to various places.
Likewise, Kashyap shares a strong relationship with his parents. Both of his parents support their son wholeheartedly.
However, the Kashyap family had to endure a tragic incident in their lives. In 2011, Parupalli Kashyap's sister tragically committed suicide.
Kashyap's sister was studying in Bangalore and was living alone. Even Kashyap didn't meet his sister as he was busy with his own training and work.
When his sister died, Kashyap was playing in a tournament in Singapore. Not to mention, he immediately made the flight back home.
Likewise, Kashyap expressed that he couldn't believe what was happening and thought these things only happened in the movies.
The Kashyap family was deeply affected by their daughter's suicide. However, they had to recover from the emotional pain and are doing much better now.
Personally, Kashyap fought through the loss of his sisters. He was sad and distraught and had to battle through a big loss in his family personally.
Parupalli Kashyap's Childhood
So, how did Kashyap's journey with badminton begin? Kashyap's first interaction with badminton was for recreational purposes.
However, later on, young Parupali went on to join a summer camp that allowed him to learn badminton.
Furthermore, Kashyap started badminton with much seriousness after the camp. The child's hobby had turned into a passion.
Likewise, Kashyap had started dreaming of playing for the Indian national team.
Kashyap joined the Prakash Padukone Academy to improve his badminton skills. Furthermore, he trained in the academy for three years.
You might be interested in reading about: <<Roger Federer: Early Life, Family, Wife, Children & Net Worth >>
Asthma Diagnosis
Fate struck his dreams with a major health problem that would sideline him for a long period. Parupalli Kashyap was diagnosed with asthma after he had a few medical tests.
Likewise, the asthma diagnosis came during a period when Kashyap was blossoming into a fine player.
Despite the diagnosis, Kashyap was determined to battle through it to make his dreams come true. During his childhood, he used to get sick several times.
But he had never expected that he would have asthma. Similarly, Kashyap revealed that many people had thought his career would be over after the diagnosis.
However, Kashyap, as a true Indian, fought well and bravely.
"It was a big shock for me. Many thought my career was over. But I was determined to fight back and put in a lot of hard work to overcome the disorder."
Due to his asthma, Kashyap had to work hard to build his endurance. Furthermore, Kashyap had to get a Therapeutic Use Exemption certificate annually to play competitive matches.
How tall is Parupalli Kashyap? Age, Height & Physical Appearance
Parupalli Kashyap is currently 36 years old. Furthermore, he will turn 37 on 8 September 2023.
As Kashyap was born on the 8th of September, his zodiac sign is Virgo. People with Virgo as their zodiac sign are known to be straightforward and honest.
So if you ever meet Parupalli Kashyap, you might get the impression that he is an honest man.
Kashyap stands at an outstanding height of 5 feet and 11 inches, weighing 154 lbs. He has an athletic figure with black hair and eyes.
Parupalli Kashyap | Professional Career
As a junior player, Kashyap trained under the mentorship of Pullela Gopichand at the Gopichand Academy.
Furthermore, Pullela Gopichand is an All-England Open champion. Likewise, Kashyap kick-started his career by winning the National Junior Championship in 2005.
Similarly, Kashyap began playing internationally in 2006. Kashyap then began to win national and international tournaments.
Big Tournaments
Kashyap played extremely well in the 2010 Commonwealth Games in India. Likewise, he reached the semi-finals stage of the men's singles tournament.
However, he lost the semi-final tie against English player Rajiv Ouseph.
Furthermore, he took home the bronze medal by defeating fellow Indian shuttler Chetan Anand.
One of Kashyap's biggest victories came in the 2013 Indonesian Open. He reached the semi-finals by defeating world champion, Chen Long.
Furthermore, Kashyap set a world record in the 2012 summer Olympics. His masterclass performance helped him win all of his group matches.
Likewise, in the round of 16, Kashyap defeated Niluka Karunaratne of Sri Lanka to reach the quarter-finals.
After his victory, Kashyap became the first and only Indian male badminton player to reach the men's singles quarter-finals.
He was thrilled and proud after making the historical record. However, he later crashed out of the quarter-finals after a defeat against Malaysian shuttler Lee Chong Wei.
You might be interested in reading about: <<Brandon Saad: Stats, NHL, Contract, Trade, Elite, Married & Net Worth >>
Awards and Achievements
Kashyap's highest world ranking is number 6. He achieved the ranking on 25 April 2013. As of 16 February 2021, Kashyap ranks in the 26th position in the world rankings.
Kashyap has won several competitions and tournaments. He won the Indian Open Grand Prix Gold in 2012.
Furthermore, Kashyap has an impressive record in the Commonwealth Games. In the 2010 Commonwealth Games, Kashyap won the silver medal in the mixed team format.
Likewise, he bagged a bronze medal in the single format. Moreover, the 2014 Commonwealth Games were a huge success for Parupalli Kashyap.
Kashyap ended India's 32 years of gold medal drought in badminton. He did it by winning the men's singles in the 2014 Common Wealth Games.
To bag the gold medal, Kashyap defeated Rajiv Ouseph and Derek Wong.
Likewise, after his gold medal win, he marked his name alongside Indian gold medalists Prakash Padukone and Syed Modi.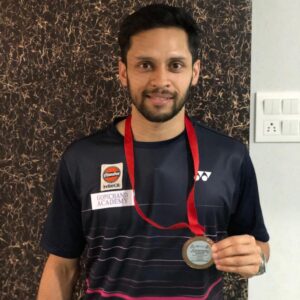 Both Padukone and Modi are former gold medalists from India. Kashyap has two BWF Grand Prix titles to his name.
Likewise, he won one BWF International Challenger/Series. Similarly, the Indian shuttler has stood runner up in the BWF World Tour.
Kashyap has also been recognized with many awards in India. The Badminton Association of India awarded Kashyap $35,000 for his victory in the Commonwealth Games.
Also, the Telangana government awarded him $70,000 in cash prize for his gold medal win in the 2014 Commonwealth Games.
Besides, Parupalli Kashyap is the recipient of the Arjuna Award. The Arjuna Award is given for outstanding performance in sports and games for Indian athletes.
Who is Parupalli Kashyap's wife? First Meet & Wedding
The popular Indian badminton player is a married man. Unfortunately, this may come across as bad news for those who have a big crush on the handsome superstar.
Kashyap is married to a mega-star and former number one female badminton player, Sania Nehwal.
Parupalli and Nehwal married on December 14, 2018, in a private ceremony. Furthermore, they are one of the biggest sporting couples in India.
Their marriage was held lavishly. Likewise, the wedding guest included star-studded names such as actor Chiranjeevi, coach Pullela Gopichand, and Andhra Pradesh ESL Narasimhan.
So, how did the two meet? Kashyap and Nehwal are childhood friends.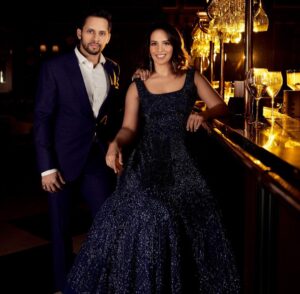 Furthermore, they first met each other at the Pullela Gopichand Academy in 1997. Also, they were teenagers when they met each other.
The close friends were fond of each other and loved spending time with each other. Also, both of them admired each other's ability to play badminton.
However, due to their childish nature, they hid their relationship from their friends. Kashyap and Nehwal began dating in 2002.
But both of them started getting busy due to their professional careers. So it was only until 2009-10 that Kashyap seriously thought about marrying Nehwal.
Parupalli Kashyap | Personal Life
Working as a Coach
Besides being a player himself, Kashyap has also assisted as a coach. In a bid to help his wife improve her game, Kashyap helped out as an assistant coach.
Some of Kashyap's Favorites
So, what are some of the favorites of Parupalli Kashyap? Well, for starters, his favorite type of food is Italian.
Likewise, the Indian shuttle is a big fan of Bollywood actors Shahrukh Khan and Deepika Padukone. Furthermore, Kashyap loves listening to and playing music.
Most Desired Men
Sania Nehwal is one lucky woman. She is the wife of the 8th most desirable man of 2014.
Yes, you heard it right! The Hyderabad Times ranked Parupalli Kashyap as the 8th most desirable man of 2014.
Likewise, Kashyap believes he got his good looks from his mom and dad, who are both amazing.
"I look 22 is what they say, and I think that's true. I believe I got my good looks from both my mom and dad."
What is Parupalli Kashyap's net worth? Net Worth & Earnings
So, what is Parupalli Kashyap's net worth? He has been blessed with an amazing badminton career and several awards.
Kashyap has accumulated his net worth through his professional badminton career. Furthermore, he has been awarded cash prizes for his different tournament achievements.
According to various online sources, Parupalli Kashyap has a net worth of between $2.5 million to $5 million.
You might be interested in reading about: <<Rafael Nadal Bio – Personal Life, Tennis Career & Net Worth >>
Social Media Presence:
Yes, the Indian shuttle uses social media frequently. Furthermore, he is a famous personality on Instagram, Twitter, and Facebook.
Kashyap's Instagram feed is filled with pictures of his family, friends, and games. Furthermore, he loves sharing adorable pictures with his wife, Saina Nehwal.
Furthermore, Kashyap also tweets a lot. He likes to tweet about his views opinions, and opinions. Moreover, he also tweets pictures of his playing time and training snaps.
On his Facebook page, Kashyap maintains a huge following. His Facebook wall consists of his family pictures and training pictures, and videos.
You can follow Parupalli Kashyap through the following social media handles.
Instagram: 108k followers
Twitter: 254k followers
Facebook: 192k followers
Some FAQs:
What is Parupalli Kashyap's net worth?
Parupalli Kashyap's net worth is estimated to be between $2.5 million and $5 million.
Who is Parupalli Kashyap married to?
Parupalli Kashyap is married to former world number one female badminton player Saina Nehwal.
Did Parupalli Kashyap win a gold medal in the 2012 London Olympics?
No, Parupalli Kashyap didn't win a gold medal in the 2012 London Olympics. However, he created history by being the first male player from India to reach the quarter-finals of men's singles at the 2012 London Olympics.
Is Parupalli Kashyap Brahmin?
Yes, Parupalli Kashyap is a Brahmin. He was born and raised in a Hindu family.
What is Parupalli Kashyap's best ranking?
Parupalli Kashyap was ranked number #6 on World ranking on 25 April 2013. This is considered his best ranking to date.
What is Parupalli Kashyap's current ranking?
Parupalli Kashyap is currently ranked number #26 on World ranking as of 16 February 2021.
Who is playing Parupalli Kashyap in the Saina movie?
Bollywood debutant Eshan Naqvi will play the role of Parupalli Kashyap in the Saina movie.
What did Parupalli Kashyap say about Tokyo Olympics qualification?
Parupalli Kashyap mentioned that the Badminton World Federation should properly plan and manage the badminton qualifying tournaments for Tokyo Olympics qualification. He mentioned,
"I would probably criticize the Badminton World Federation for poor planning. They could have chosen one particular location like Europe and conducted a couple of events continuously there,"
Why did Parupalli Kashyap exit from the 2021 Thailand Open?
According to sources, Parupalli Kashyap pulled out from the 2021 Thailand Open because he sustained a calf injury.
(Make sure to comment down below if any information regarding Parupalli Kashyap is missing.)