Have you ever heard about a quarterback who was initially a top prospect at the MLB draft? If yes, the name that comes up is Patrick Mahomes.
Partick Mahomes is a National Football League (NFL) American professional football athlete.
Throughout his career, he has won several awards for his remarkable skills. However, the major highlight in his career would be becoming the Super Bowl LIV champion and MVP.
He is also the only player in North American and professional sports with the most prominent contract history, making him the most marketable player in the NFL.
Notably, Time Magazine also named Mahomes to their Time Magazine's 100 most influential people of 2020.
Furthermore, let's dive into the details of one of the most renowned NFL quarterbacks. But first, let's look into some quick facts about Mahomes.
Patrick Mahomes | Quick Facts
Full Name
Patrick Lavon Mahomes II
Birth Date
September 17, 1995
Birth Place
Tyler, Texas
Age
27 years old
Nickname
Showtime
Religion
Christian
Nationality
American
Education
Whitehouse High School, Texas Tech University
Horoscope
Virgo
Father's Name
Pat Mahomes
Mother's Name
Randi Mahomes
Siblings
Jackson Mahomes, Mia Randall
Height
6'3″ (1.91 m)
Weight
230 lbs (104 kgs)
Build
Athletic
Shoe Size
12
Hair Color
Light Brown
Eye Color
Light Brown
Position
Quarterback
League
NFL
Team
Kansas City Chiefs
Marital Status
Engaged
Girlfriend/Fiancé
Brittany Matthews
Children
One Daughter
Profession
American football athlete
Debut
2017
Career Highlights and Awards

Super Bowl champion- LIV
Super Bowl MVP- LIV
NFL Most Valuable Player- 2018
NFL Offensive Player of the Year 2018
Bert Bell Award- 2018

Net Worth
$30 million
Social Media
Instagram, Twitter, Facebook
Merch
Books, Autograph, Poster & Jersey, Rookie Card, Autographed Photo
Last Update
January, 2023
Patrick Mahomes | Early Life, Family & Education
Early Life, Parents, and Siblings
The famous quarterback Patrick Mahomes was born on September 17, 1995, in Tyler, Texas, to his proud parents, Pat Mahomes and Randi Mahomes.
His Father, Pat, is a former professional baseball pitcher from 1992 to 2003. The dad played in Major League Baseball and hoped for his son to play professional baseball.
Aside from that, the footballer is quite close to his mom. Furthermore, she shares a special bond with all of her kids.
Moreover, the football star has two younger siblings, Jackson Mahomes and Mia Randall. His younger brother, Jackson, is a Tiktok star with over 75k followers.
Growing up, Mahomes played not only football but also baseball and basketball. With this information, it is pretty clear that he has been very athletic since his childhood.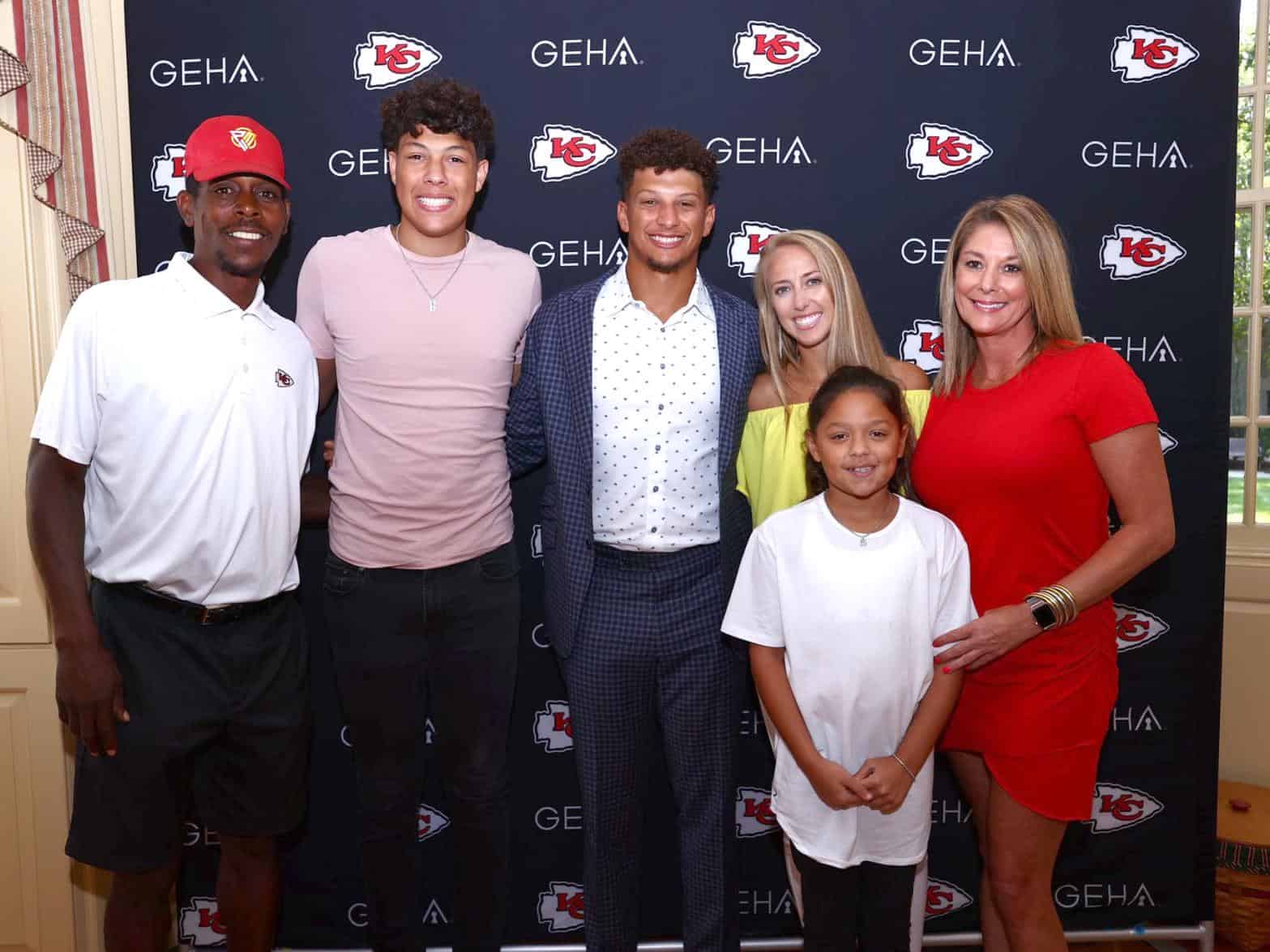 Besides, Patrick is the godson of LaTroy Hawkins, former MLB pitcher and his dad's teammate.
According to the horoscope, Patrick is a Virgo. Virgos are mostly known for their hard-working, reliable, and patient nature.
Education and High School Career
Patrick attended Whitehouse High School, located in Whitehouse, Texas. In school, Mahomes played football and baseball and was exceptionally skilled in both.
Mahomes's stats were 50 passing touchdowns, 4,619 passing yards, 15 rushing touchdowns, and 948 rushing yards during their senior year.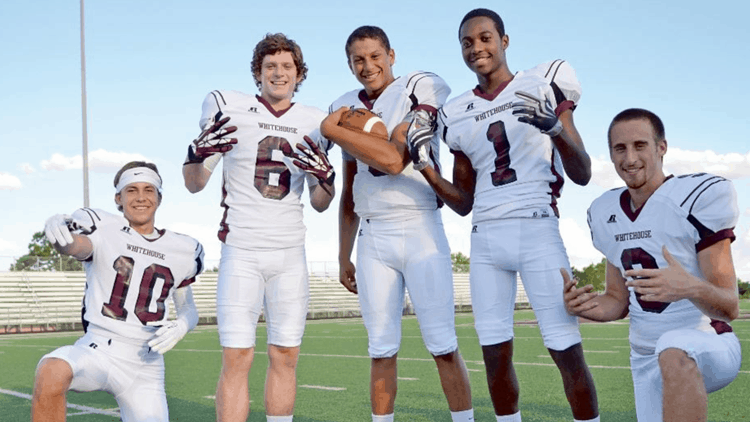 Also, Patrick recorded 16 strikeouts with a no-hitter in baseball. He won the 2013-2014 Maxpreps Male Athlete of the Year award with his exceptional sports skills.
Moreover, Rivals.com rated Mahomes as a three-star football recruit and the 12th-best dual-threat quarterback of his class. Mahomes was also one of the top prospects of the 2014 Major League Baseball draft.
MLB's Detroit Tigers selected him in the 37th round of the 2016 MLB Draft, but Patrick rejected the offer. For college, Patrick was committed to Texas Tech University.
Age, Height, and Body Measurements
The QB is 27 years old as of September 15, 2021. Patrick stands at an impressive height of 6 feet 3 inches (1.91 m) and weighs around 230 lbs (104 kgs).
Overall he has an athletic build with light brown hair and eyes.
Ethnic Background, Race, and Nationality
Since the NFL QB was born in Tyler, Texas, the United States. Hence, his nationality is American.
Besides that, his ethnic background is half-white and half Black. As a result, his ethnicity is African-American.
Is Patrick Mahomes white?
Yes, Patrick is half-white and half Black. Mahomes was born to a black Father, Pat Mahomes, and a white mother, Randi Mahomes.
Not to mention, Patrick has also expressed pride in his black ethnic background in response to people who label him as not fully Black. For example, during one of his interviews with Clay Skipper of GQ, Patrick Mahomes proudly said:
"I'm proud to be Black. And I'm proud to have a white mom too. I'm just proud of who I am. And I've always had that confidence in myself."
Patrick Mahomes | College Career
Before jumping into Patrick's professional career and achievements, let's look into his impressive college career.
Freshman
Patrick entered his freshman season representing Texas Tech as a backup to Davis Webb. He saw his first career action while playing against Oklahoma State.
His stats were 16 touchdowns, and 1,547 yards, with four interceptions during the freshman season.
Besides, he split his time with the Texas Tech baseball team, where he played as a relief pitcher.
Sophomore
Patrick began his sophomore season as the starter at the quarterback position. He finished the 2015 season with 36 touchdowns, 15 interceptions, and 4,653 yards. Besides, he played three games as a baseball player.
Junior
Preceding the 2016 season, Patrick announced that he was no longer playing with the baseball team to focus on football for the entire offseason.
On October 22, 2016, he set multiple NCAA, Big 12, and school records. He broke the NCAA FBS records for single-game total offense by 819 yards.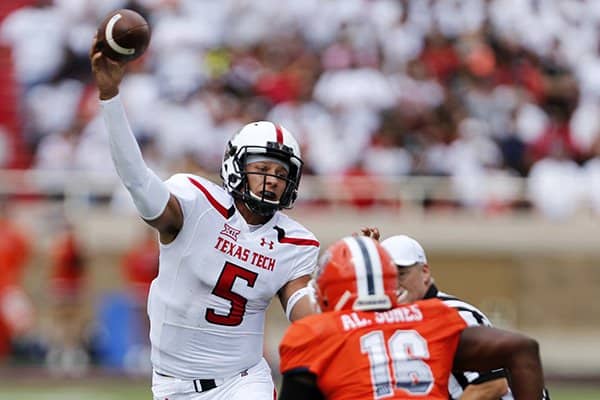 Patrick finished the season leading the country in yards per game, total offense, passing yards, points responsible, and total touchdowns.
He won the Sammy Baugh Trophy for his exceptional performance, granted annually to the nation's top college passer.
College Sports Information Directors of America named him Academic All-American 2nd Team. Consequently, Patrick announced that he would forgo his last year of college and enter the NFL Draft on January 3, 2017.
Patrick Mahomes | Professional Career
NFL Draft
Getting out of Texas Tech University, Patrick was most scouts' first or second-round pick. SI.com ranked him the second-best quarterback, third-best by ESPN, and lastly, fourth-best by NFLDraftScout.com.
Mahomes became one of the fastest-rising candidates during the draft process and had 18 private workouts and official team visits, which was the maximum for any prospect in 2017.
The Kansas City Chiefs selected Mahomes as the first-round, 10th overall pick in the 2017 NFL Draft.
Rookie Season
The Kansas City Chiefs signed Patrick to a fully guaranteed four-year contract worth $16.42 million with a $10.08 million signing bonus on July 20, 2017.
The team announced that they would let starter Alex Smith rest and give Patrick his first career start in their Week 17 game on December 27, 2017.
He played most of the game and completed 22 of 35 passes with an interception for 284 yards.
Learn more about the Chiefs' star player's stats and draft class on Pro Football Reference.
2018 season: Record-setting MVP
Mahomes was the official starting quarterback for the 2018 season. During his first game as the full–time starting quarterback, he beat Los Angeles Chargers.
He threw for 256 yards with a 127.5 quarterback rating and four touchdowns with no interceptions.
Patrick won the AFC Offensive Player of the Week honor for his performance.
Likewise, he won his second consecutive AFC Offensive Player of the Week award and became the first quarterback since Tom Brady with back-to-back player of the week honors.
Later, Patrick also won the September AFC Offensive Player of the Month award. Further, his performance for the 2018 season earned him multiple honors.
Moreover, he won the 2019 Pro Bowl, First-Team All-Pro, 2019 Best NFL Player ESPY Award, and Kansas City Club 101 Awards AFC Offensive Player of the Year.
Similarly, he was also the NFL MVP, and his peers ranked him the fourth-best player in the NFL Top 100 Players of 2019.
Super Bowl Champions
During the 2019 season, Patrick concluded the game with 443 yards and won AFC Offensive Player of the Week honors with the second consecutive AFC Offensive Player of the Month for September.
In Week 7 games, Patrick dislocated his patella while playing against the Denver Broncos.
However, MRI revealed no notable structural damage to his knee, and he returned to play after two weeks.
Mahomes was selected for the 2020 Pro Bowl, although he did not play because he participated in the Super Bowl LIV.
Moreover, during the Divisional Round of the playoffs against the Houston Texans, Patrick threw for 321 yards and five touchdowns, rushing for 53 yards.
Likewise, he helped lead the Kansas City Chiefs to their second consecutive conference championship game.
While playing against the Titans, Patrick rushed for a 27-yard touchdown in the AFC Championship and threw three touchdowns, the second-longest run of his career.
His performance helped lead the Chiefs to their first Super Bowl appearance since 1970 Super Bowl IV.
Moreover, Patrick helped lead the Chiefs toward their first Super Bowl victory in 50 years.
He also won the Super Bowl MVP, making him the youngest quarterback and third-youngest player in NFL to earn Super Bowl MVP.
2020 season and the largest contract in sports history
Mahomes signed a 10-year contract extension worth $477 million with $26 million potential bonuses for $503 million on July 6.
The contract marks the largest deal in American professional sports history, which surpasses Mike Trout's $426.5 million worth 12 years contract.
He is also the first professional athlete to have a half-a-billion-dollar contract. The Chiefs trailed at 9–17, entering the fourth quarter while playing against Los Angeles Chargers.
However, he led the comeback to win the game during overtime 23–20. This comeback was the sixth double-digit deficit he overcame to win, which marks the NFL record.
During Week 3 win over the Baltimore Ravens, Mahomes became the fastest quarterback to surpass 10,000 career yards.
He won the AFC Offensive Player of the Week for his performance in Week 3.
On November 4, 2020, Patrick won the AFC Offensive Player of the Week honor for his performance in Week 8.
Second Super Bowl Game
The QB made his second Super Bowl appearance on February 3, 2020. Furthermore, the Chiefs played against the Tampa Bay Buccaneers.
The Bucs had Patriots' legendary players like Tom Brady and Rob Gronkowski. Although the Chiefs were pumped initially, they faced a terrible loss against the Bucs.
The score went 9-31. Moreover, it was the first time Mahomes didn't make a touchdown while playing for Kansas City.
Following the loss, he said it was the worst he had been beaten in a long time. The footballer further said,
"I didn't play the way I wanted to play. What else can you say? All you can do is leave everything you have on the field, and I feel like the guys did that; they were the better team today."
Besides that, the Super Bowl 2020 received media attention worldwide, as it was Brady's seventh Super Bowl win and first with the Bucs.
After the Super Bowl game, he underwent surgery to repair his turf toe injury. He sustained the injury in a game against the Cleveland Browns.
Patrick Mahomes | Awards and Achievements
Super Bowl LIV champion and MVP
2018s NFL Most Valuable Player and NFL Offensive Player of the Year
First-team All-Pro – 2018
2× Pro Bowl – 2018, 2019
NFL passing touchdowns Leader – 2018
Bert Bell Award – 2018
Sammy Baugh Trophy – 2016
Second-team All-Big 12 – 2016
FBS passing yards Leader – 2016
MaxPreps Male Athlete of the Year – 2013
Patrick Mahomes | Net Worth and Salary
Looking back at Patrick's contract, he initially signed a four-year contract worth $16.42 million with a $10.08 million signing bonus.
Moving on to 2021, he signed a 10-year contract extension worth $477 million with a $26 million potential bonus.
Also, he has endorsement deals with famous companies like Essentia Water, Adidas, Oakley, Hy-Vee, DirectTV, State Farm, etc.
After his big win at the Super Bowl, Bloomberg News estimated he would earn an additional $7 million per year from endorsements alone.
Additionally, Mahomes has stake ownership in the Kansas City Royals.
Thus, Patrick Mahomes' presumable net worth in 2023 falls around $30 million.
Patrick Mahomes |
Charitable work
Mahomes established a nonprofit organization named 15 and the Mahomies Foundation in the spring of 2019. The organization aims to improve the lives of children.
Following the George Floyd incident killing, Patrick, teammate Tyrann Mathieu, and numerous other NFL players created a video encouraging the NFL to reprobate Police brutality and violence against black people in the U.S.
In the video, they also wanted the league to acknowledge that it was wrong to silence Colin Kaepernick and Eric Reid for their protests during the National Anthem's playing.
Moreover, he also worked with the Kansas City Chiefs to encourage players to vote. He also accompanied LeBron James' Rock the Vote initiative to encourage people to register and vote.
Patrick Mahomes | Personal Life, Wife, and Children
The famous football star Patrick Mahomes is currently engaged to his high school sweetheart, Brittany Matthews.
Brittany is a certified personal trainer and has a brief career as a professional soccer athlete.
On September 1, 2020, Patrick proposed to Brittany at a suite in the Arrowhead Stadium with an expensive emerald-cut center stone engagement ring worth between $350,000-$800,000.
Interestingly, it was the same day when Patrick received the Super Bowl Championship ring.
Despite being in a relationship for so long, the couple has yet to tie the knot. Moreover, the two lovely duo shares one child at the moment.
Patrick and Brittany welcomed their first child, daughter Sterling Skye Mahomes in February 2021; they announced her arrival on Instagram.
Patrick Mahomes | House and Residence
In 2019, the quarterback purchased a beautiful House where he resides with his fiancé Brittany Matthews, daughter Sterling Skye Mahomes, and their two dogs.
They currently reside in Kansas City, Missouri, the United States. Furthermore, they live in the Sunset Hill West neighborhood in Jackson County.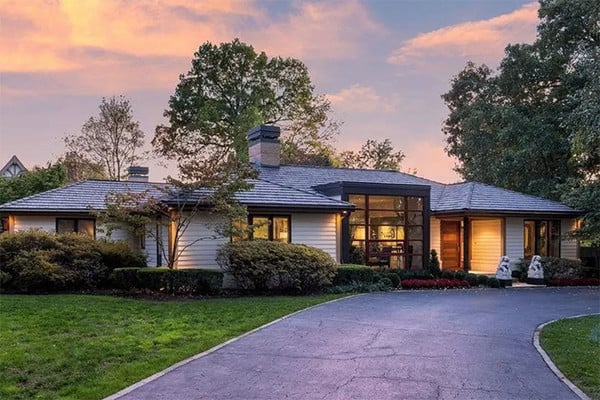 The House is gorgeous inside out, with three bedrooms and two-and-half bathrooms. Likewise, the fireplace is stunning. Moreover, Mahomes has a sneaker collection in his House.
It is worth over $1.7 million. In addition to that, they spent $400,000 in renovations to make the House their home.
Social Media Presence
Patrick Mahomes is quite active on social media. You can follow him via these links:
Instagram: 4.7 million followers
Twitter: 2 million followers
Facebook: 1 million followers
Some FAQs
Who is Patrick Mahomes's agent?
Leigh Steinberg s the agent of Patrick Mahomes.
What is Patrick Mahomes's middle name?
Patrick Mahomes's middle name is Lavon.
Who does Patrick Mahomes play for?
Mahomes plays for the Kansas City Chiefs. Moreover, the team drafted him into the NFL in the 2017 NFL Draft. Likewise, the athlete was the 10th pick. He has been playing for the Chiefs since then.
Is Patrick Mahomes in the new State Farm commercial?
Yes, Patrick Mahomes plays a yoga instructor in the new State Farm commercial.
How much does Patrick Mahomes make annually?
The QB makes almost a million annually. Recently, he earned $825,000 with a $10 million signing bonus.
Similarly, he is set to earn $990,000 in salary for the 2021 NFL season. On top of that, he receives $21,716,905 as a roster bonus and $100,000 as a workout bonus.
How much is Patrick Mahomes's Prizm rookie card value?
Patrick Mahomes's Prizm rookie card price ranges from $8,000 to $11,000.
What is Patrick Mahomes's highest rookie card value?
Patrick Mahomes's highest rookie card value is $4.3 million. A 2017 rookie card signed by Patrick was sold for $4.3 million on July 2021. Interestingly it is considered the highest price ever paid for an NFL card.
What is Patrick Mahomes' haircut called?
The footballer's haircut is called the mohawk fade haircut.
What is Patrick Mahomes Madden NFL 22 rating?
Patrick Mahomes has an overall madden rating of #99 on Madden NFL 22.
Did Patrick Mahomes have a concussion?
In a game against the Tennessee Titans, Mahomes took a bad hit to his head and was required to clear the NFL concussion protocol.
Which car did Patrick Mahomes gift his fiancee?
Patrick Mahomes gifted a brand new Lamborghini Urus SUV worth more than $200,000 to his beautiful fiancee Brittany Matthews.