Patrick Reed's wife, Justine Karain, has always been alongside him through all major victories, whether as his caddie or the wife.
However, Karain is best known as the wife of American professional golfer Patrick Reed, who competes on the European and the PGA Tour. She started to be highlighted in the news after her marriage to Patrick.
The pair had made the PGA Tour journey together, with Justine as a caddie of Reed when he qualified for various PGA Tour events after turning pro in 2012.
She caddied for Patrick until early 2014, before the pregnancy with their first child.
Now Justine is a vocal supporter of her husband at many PGA Tour events, providing advice and encouragement.
In addition, she is a regular feature of the support team of Patrick's and is often seen walking practice rounds on tour.
Despite being the wife of a prominent player, very little is known about Justine, who constantly appears beside Patrick in every match. No wonder fans are curious to know about the beautiful blonde lady.
So in this article, we have tried to cover every information you need to know about Patrick Reed's wife, Justine Karain.
Patrick Reed's Wife: Quick Facts
Before jumping into the details of Justine Karain, let's take a glance at quick facts about her.
| | |
| --- | --- |
| Full Name | Justine Karain Reed |
| Date of Birth | December 19, 1986 |
| Nickname | Justine |
| Religion | Christian |
| Sexuality | Straight |
| Father Name | Not Available |
| Mother Name | Not Available |
| Place of Birth | Houston, Texas, United States |
| House Location | Texas, USA |
| Gender | Female |
| Ethnicity | White Caucasian |
| Age | 36 years old |
| Profession | Nurse, Caddy |
| Famous For | Wife of Patrick Reed |
| Nationality | American |
| Highest Qualification | Degree in Nursing and Health Service Administration |
| School | Lady of the Lake College and Louisiana Louisiana State University. |
| Height | 5'1″(1.54 m) |
| Weight | Not Available |
| Eye color | Brown |
| Hair color | Blonde |
| Body Measurements | Not Available |
| Body | Slim |
| Shoe Size | Not Available |
| Favorite Sports | Golf |
| Relationship Status | Married |
| Husband | Patrick Reed |
| Children | 2, Windsor Wells (daughter) and Barrett Benjamin (son) |
| Siblings | Kristiane Karain (sister) and Kessler Karain (brother) |
| Zodiac Sign | Saggitarius |
| Social Media | Not Available |
| Marital Status | Married |
| Net Worth | Not Available |
| Patrick Reed's Merch | Golf Digest Magazine |
| Last Update | June, 2023 |
Brief Details About Patrick Reed
Patrick Nathaniel Reed, born on August 5, 1990, is an American professional golfer. He currently plays on the European Tour and the PGA Tour. Born in San Antonio, Texas, he attended University High School in Baton Rouge, Louisiana.
During his school career, Reed won the 2006 Junior Open Championship. Additionally, he also qualified for the US Amateur in 2007. He led his university to state championships in 2006 and 2007 and won the state medalist honors in 2007.
Patrick has nine tournament victories on the PGA Tour, including one major championship, the 2018 Masters Tournament.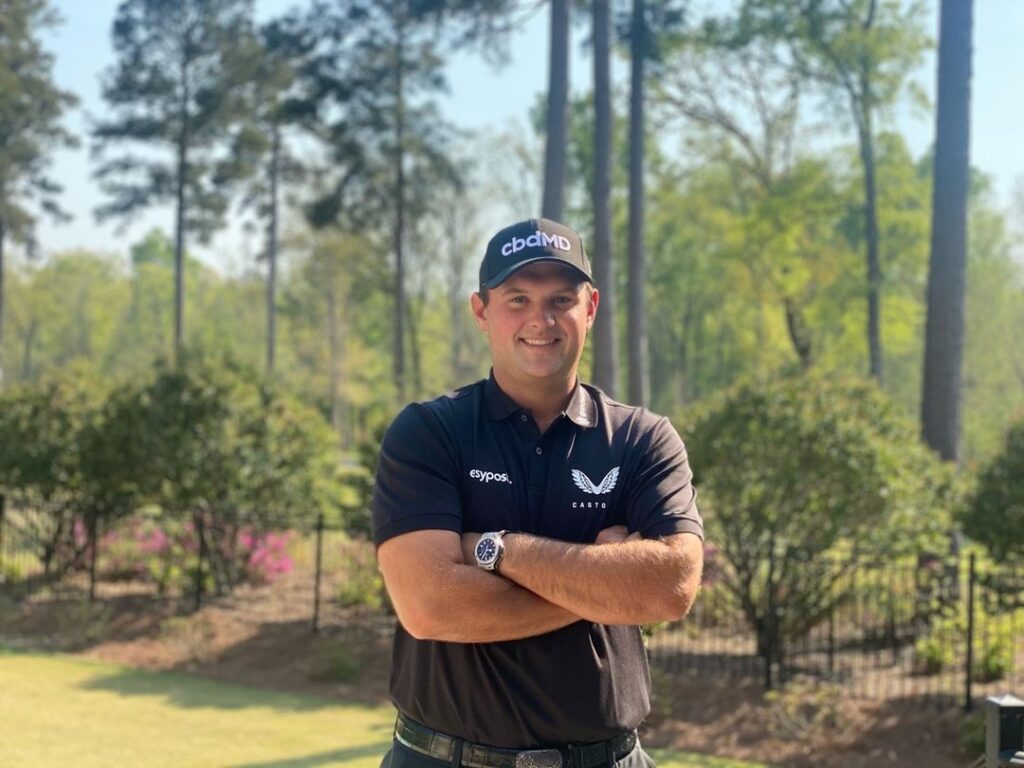 In addition, he has also won two World Golf Championships, the 2014 WGC-Cadillac Championship, and the 2020 WGC-Mexico Championship. Moreover, Patrick has represented his nation in President Cup and Ryder Cup team competitions.
He has gained the nickname 'Captain America' through his phenomenal performances in the Ryder Cup. Reed was only 20 years old when he transitioned to professional in 2011 after the NCAA Championship.
Patrick's first PGA Tour event, the FedEx St. Jude Classic, happened in June 2011, where he missed the cut. He played two more events in 2011 and earned just over $20,000.
Patrick Reed's Wife: Justine Karain
Justine Karain, the wife of Patrick Reed, was a nurse and a swimmer, and a soccer player before becoming Patrick's caddy. When her husband turned pro in 2011, she had already gained two undergraduate degrees in Nursing and Health Service Administration.
On December 19, 1986, she was born in Houston, Texas, the United States of America. Justine is American by nationality and belongs to the white ethnicity.
In addition, she was raised in a high-class family with her sister, Kristiane Karain, and her brother Kessler Karain.
However, there is not enough information revealed about her parents, including their names and whereabouts. As for her academics, Karain attended Our Lady of the Lake College in Baton Rouge and Louisiana Louisiana State University.
In 2014 Justine was hospitalized after having a chronic seizure in the bath. She could have died if Patrick had not found her quickly.
In addition, the doctor also stated that she was fortunate to survive; if not made in time, she would have to endure more damages.
Justine Karain: Age & Height
How did Patrick Reed and Justine Karain meet?
The first interaction between Patrick and Justine is quite interesting and peculiar. He contacted his wife, Justine, only because her sister, Kris, never replied to his text after a first date.
Reed was also a freshman at the University of Georgia, and Justine's sister Kris was at LSU. Kris came to visit, and they went on one date. According to Reed in an interview, he texted her to confirm if she had made it back home safe, but Kris didn't respond.
Fortunately, he found Justine on Facebook, who assured her sister was back and got candid to Reed about why their relationship probably would not work out. So gradually they started talking with each other.
Eventually, Reed discovered that Justine was an incredibly driven person, pursuing dual degrees and additionally working to become a nurse.
They kept talking for a couple of years and finally started dating. Reed said, "Best decision of my life."
Reed mentioned that he abandoned his home at the age of 21 to be with Justine. The couple married in December 2012 in an intimated ceremony when Reed was only 22 years old.
How long was Justine, Patrick's Caddy?
Justine previously worked as Patrick Reed's caddy on the PGA Tour for the first two years. However, Reed admitted that he tested her before allowing Justine to become his caddy as she is only 5 ft 1 inch.
Justine left the job of being his caddie after she fell pregnant with their first child. Then, her brother Kessler Karain took over.
When Justine was his caddy, Reed recalls that they were like road warriors, driving her Lexus IS 250 sedan and chasing Monday qualifiers around the country.
"I had extra clothes and clubs while she had a full bag of make-up and hair products along with 50 pairs of shoes," said Reed.
"With her caddying, we went six-for-eight in PGA Tour that year. For her to put her dreams aside to support me, I'll never forget that. Someday I hope to be half the person she is."
According to him, their early days of the relationship were rough, and he explained that Justine had sacrificed abundant for the sake of his career. The couple had their first PGA Tour victory at the Wyndham Championship in 2013.
Justine Kararin Reaction on Speith-Reed Split
US Ryder Cup team captain Jim Furyk split up the most loved pairing of Patrick Reed and Jordan Spieth. The duo had led the US teams in 2014 and 2016, achieving 5-1-2 in foursome and fourball matches.
However, Reed went 0-2 in 2018 after partnering with Tiger Woods in the game. Reed's wife Justine forwarded some insight as to a possible reason behind their split.
Since there were lots of rumors and negativity flowing on social media, she told one user to "ask Jordan" about the separation.
Furthermore, she lashed out at the press, referring "journalistically disqualified" to Golf Channel's coverage after one of its editors criticized Patrick's play.
However, later she declined to comment further when asked to confirm that the account was hers.
Justine's tweet indicated that Jordan, not Patrick, was the catalyst for the split. She tweeted, "Reed never said that he didn't want to play with Speith."
"Maybe you should ask Speith why he didn't want to play with Reed. You don't have to love the people you work with – but when you have chemistry and success, you go with it for the TEAM."
Patrick Reed & Justine Karain: Kids
Patrick and Justine share two children named Windsor Wells and Barrett Benjamin. Their first-born daughter, Windsor, was born on May 22, 2014. The couple's son Barret was born on December 6, 2017.
The couple took to social media to give the good news of the baby, mentioning that their son Benjamin was born at 11:42 a.m.
So far, no controversies have surfaced on the Internet about their marital life or previous dating life. The couple is leaving a blissful life along with their kids.
Currently, the cheerful family of four is residing in Texas, USA.
Don't miss out; Brett Favre Wife: Deanna Favre's Journey & Family >>
Patrick Reed's Controversies
Patrick Reed has had an intricate career. The highs are unquestionable and obvious (victory at the 2018 Masters, a starring role in the 2016 Ryder Cup).
He's an extreme-talented player, but one with a peculiar history filled with controversies that date back to his college years and perpetuate right up to his professional career.
At the University of Georgia, Reed played one year of college golf. However, a year later, he was kicked out of the team.
In Shane Ryan's book entitled "Slaying the Tiger: A Year Inside the Ropes on the New PGA Tour," the writer sheds light on accusations of Patrick cheating and stealing from teammates.
However, in a Golf Channel interview, Patrick denied the accusations and explained that he was dismissed for alcohol violations.
Reed has not met his parents since his marriage to Justine
Reed's parents didn't attend his wedding to Justine, due to which he has been estranged from his younger sister and parents for years now.
In addition, his parents were not at Augusta National on Masters Sunday when he won his first primary.
Police reportedly escorted Patrick's parents, Jeannette and Bill, off the grounds in the 2014 U.S. Open at Pinehurst.
In addition, the USFA seized their badges. Jeannette claimed Reed was behaving on the wishes of his wife, Justine.
Patrick's parents still live in Augusta. So the family, except for Patrick, gathered at the house their son lived in when leading Augusta State to two national championships.
For ages, the bedroom he hasn't put a foot in is still cited as "Patrick's room." However, Reed's parents are very proud of him and are always his constant supporter no matter the dispute and differences.
Justine Karain: Net Worth
As of 2021, Justine Karain's net worth is still under review. However, since she served as a caddie and nurse, Karain must have accumulated a fortune. As per online sources, a nurse in America receives an average salary of $70,000.
Likewise, a caddie earns an average salary of $2000 per week, totaling $8000 per month and $96,000 per annum.
Meanwhile, her husband, Patrick Reed, enjoys a net worth of $9 million. Moreover, in 2011, he gained $20,000 for two events and $5,000 for two games on the Nationwide Tour. So far, Patrick has acquired over $300,000 on the PGA Tour.
But that's not all; Patrick also accumulated $1.53 million with a one-shot win over Jamie Donaldson and Bubba Watson in the WGC-Cadillac Championship. Furthermore, he also amassed $1.98 million by listing to no.11 in the ranks.
Justine Karain: Socila Media Profile
Unfortunately, Justine Karain is not found on any social media platforms as she likes to keep her life lowkey and is private.
However, her husband, Patrick Reed, is very active on various social media platforms. You can find him on Instagram as @preedgolf and gained 151k followers.
On there, he consistently posts pictures of himself and his wife and kids. Moreover, he is also present on Twitter as @PReedGolf. He has accumulated 130.6k followers on there.
FAQs About Justine Karain
Which golfer married his caddy?
Patrick Reed married his longtime girlfriend Justine Karain, who worked as his caddy during the PGA Tour.
Does Justine Karain share a bitter relationship with Patrick's parents?
Justine Karain and Patrick Reed are not in contact with Reed's parents. The reason behind the dispute was the marriage of Patrick at the very young age of 22. His parents disapproved of marriage; however, he tied the knot with Justine and invited them.
Moreover, Patrick's parents blame Justine for the separation between the family. They have publicly claimed that Justine acts as suggested by Justine.
Read next; Tori Moore: Life Partner- Family- Bio & Health Problem >>