Deanna Tynes Favre is the beautiful wife of the former professional NFL quarterback, Brett Favre. She is an author by profession who is also the founder and CEO of the Deanna Favre Hope Foundation in the United States.
Favre previously battled breast cancer and became a spokesperson for the disease after being diagnosed in 2004.
To raise money and awareness for breast cancer, she sold pink Green Bay Packers hats, selling more than the Packers hats during the first half of 2005.
Dianna's husband Brett made headlines in 2022 for his involvement in the Mississippi welfare funds scandal.
Brett Favre is a former American football quarterback who spent 20 seasons in the NFL, principally with the Green Bay Packers.
From 1992 to 2010, Favre started 321 consecutive games, including 297 regular-season games, the most in NFL history.
Similarly, Favre led the NFL in passing yards, touchdowns, and quarterback victories at retirement.
Let's learn more about the firm and beautiful Deanna Favre, starting with some quick, interesting facts.
Deanna Favre | Quick Facts
Full Name
Deanna Tynes Favre
Nickname
Favre, Deanna
Birthdate
December 29, 1968
Birthplace
Gulfport, Mississippi, USA
Residence
Hattiesburg, Mississippi, U.S.
Nationality
American
Ethnicity
White
Religion
Unknown
Horoscope
Capricorn
Age
54 Years Old
Father's Name
Kerry Tynes
Mother's Name
Ann Tynes
Sibling
One Sister & One Brother
Sibling Name

Christie Favre
Casey Tynes

High School
Unknown
College
University of Southern Mississippi
Height
Unknown
Weight
Unknown
Hair Color
Black
Eye Color
Dark Brown
Tattoo
Not Available
Sexual Orientation
Straight
Dating History
Unknown
Marital Status
Married
Husband
Brett Favre
Children
Two Daughters
Name Of Children

Brittany Nicole Favre
Breleigh Ann Favre

Known For
Breast Cancer Survivor & Activist
Active Year
1996-present
Books Published

Don't Bet Against Me! (October 1, 2007)
The Cure of the Chronic Life: Overcoming the Hopelessness That Holds You Back

Website
Deanna Favre Hope Foundation
Hobbies
Unknown
Favorite Food
Unknown
Salary
Not Available
Husband's Net Worth
Estimated $100 Million
Social Media
None
Husband's Merch
Brett Favre Jersey
Last Update
March, 2023
Deanna Favre | Early Life & Childhood
Gorgeous Favre was born on December 28, 1968, in Gulfport and grew up in the Mississippi city of Kiln.
Kerry Tynes adopted her after marrying Deanna's mother, Ann. Christie Favre is Favre's sister, and Casey Favre is her brother.
Sadly, Casey Tynes, her 24-year-old brother, was killed in a car accident on October 6, 2004.
Click Here To Know Julius Yego's Early Life, Net Worth, And More >>
Educational Background
Deanna Favre went to Hancock North Central High School for her secondary studies.
Similarly, she won a basketball scholarship and enrolled in a community college in Poplarville, Mississippi, after matriculation in 1986.
However, she quickly transferred to the University of Southern Mississippi, where she earned a B.A. in Exercise Science in December 1994.
Deanna Favre | Breast Cancer Survivor
In 2004, the football player's wife, Deanna Favre, was diagnosed with breast cancer. As a result, she had chemotherapy and radiation treatment for four months.
Similarly, on October 14, Favre learned of his wife's sickness, and he skipped practice to spend time with his family before the Packers' game against Detroit on October 17.
Deanna was certified cancer-free the following year, following her final radiation treatment.
During the diagnosis, she and Brett struggled with several family catastrophes, including the deaths of her younger brother and Brett's father.
Casey Tynes, Deanna's 24-year-old brother, died in an all-terrain vehicle accident on the Favres' Mississippi farm on October 6, 2004.
Deanna Favre's journey was full of lessons she holds dear to her heart and will carry out throughout her life.
Thus, Deanna quickly realized that dealing with her problems in silence would be impossible.
Although she despised that her diagnosis made front-page news, she eventually realized that the spotlight might be beneficial.
Due to her courageous step, she began getting letters of support from ladies around the country.
Likewise, she also received messages from women who said they were inspired to have breast exams after hearing about her.
She believed her tale was supposed to be to herself; however, sharing her crucial moment with the world inspired many around the country.
Similarly, Deanna's perspective on life has shifted since then. She no longer takes life or relationships for granted and treasures every moment she spends with Brett and their two daughters.
The Deanna Favre Hope Foundation
Following her successful recovery, Deanna was inspired to begin working as a breast cancer activist to help raise awareness.
She began by selling pink Green Bay Packers hats to raise money for charity, then started her organization, The Deanna Favre Hope Foundation, where she currently serves as CEO.
The Deanna Favre Hope Foundation was founded to fund breast cancer education, breast imaging, and diagnosis services for all women, particularly those medically underserved.
Similarly, the organization assists women experiencing similar issues, uninsured or underinsured, promoting breast cancer awareness. As of October 2007, this foundation has raised about $500,000.
Likewise, she administered the Brett Favre Fourward Foundation before launching her own.
They raised more than $3 million to benefit the disabled and underprivileged children in Mississippi and Wisconsin through the organization.
Read Here Jamel Herring Bio | Wife, Daughter, Death & Net Worth >>
Deanna Favre | Books
Surviving cancer is akin to resurrecting from a coma. But you've certainly got something to say to let the world feel inspired and hopeful.
Deanna Favre is known in the media for being the author of two books about her breast cancer experience and activism.
You have the ears of millions of people on top of that. Deanna Favre published her first book, Don't Bet Against Me, an autobiography, in October 2007, and it was the New York Times best-selling book.
In October 2010, she co-authored her second book with Shane Stanford, titled "The Cure of the Chronic Life: Overcoming the Hopelessness That Holds You Back," which added a significant sum to her net worth.
As a result, these two books have ignited hope and inspiration for many women and their families all around the nation.
Deanna Favre | Personal Life & Children
Brittany Favre is the eldest of the Deanna Favre daughters, while Breleigh Favre is the younger. The sibling duo has a pretty big difference of 10 years.
Both Deanna Favre's daughters were born and raised in Hattiesburg, Mississippi. Their ethnicity is Caucasian, and their nationality is American.
Brittany Favre, Brett Favre's daughter, was born on February 6, 1989, whereas Breleigh Favre, the youngest of the Brett Favre daughters, was born on July 13, 1999.
Young Brittany was just three years old when her parents married. She is now 34 years old, is a lawyer by profession, and showcases her artistic talents occasionally on her social media account.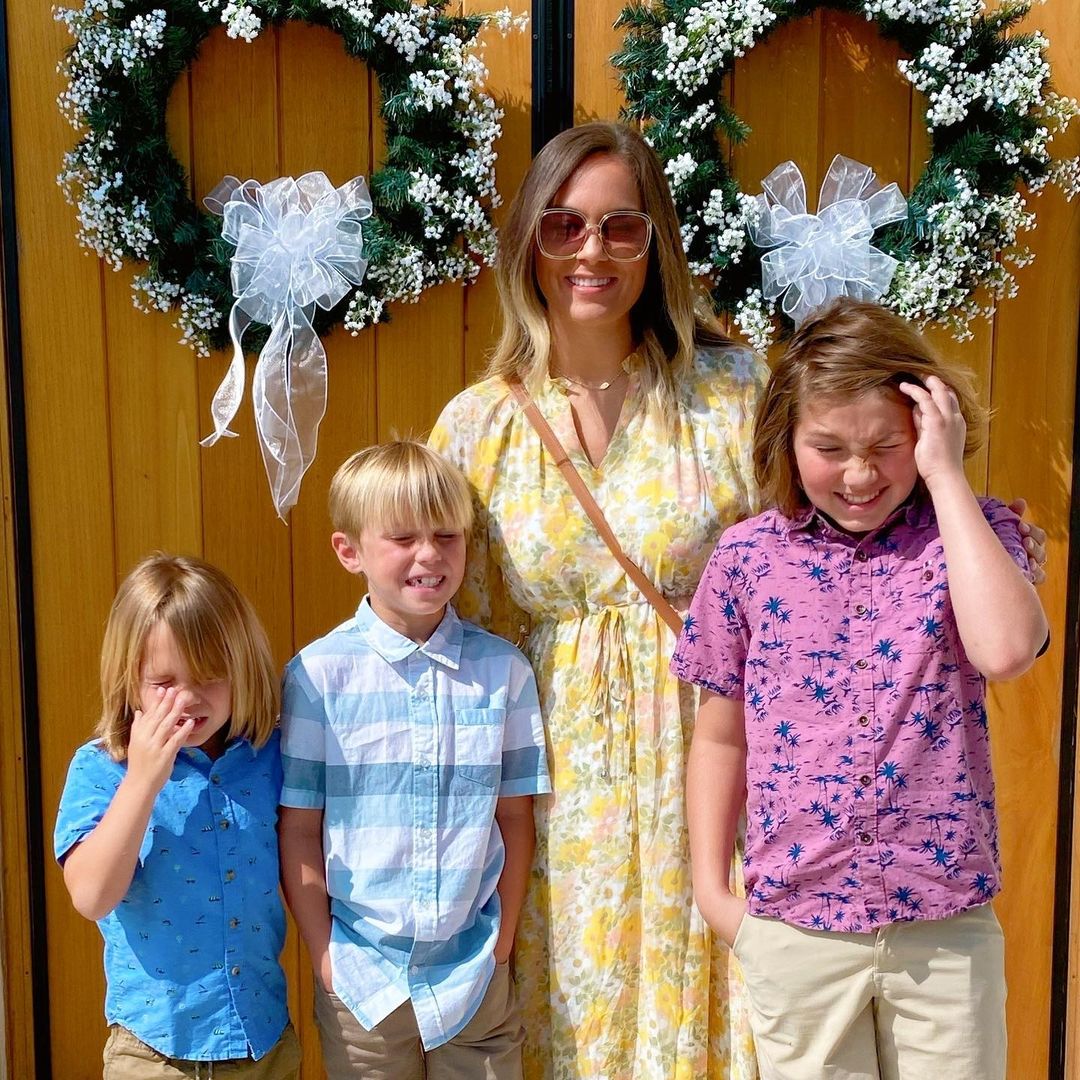 She used social media platforms to bring attention to mental health issues as she struggles with herself.
Britanny has never hidden her feelings of insecurity, the self-saboteur instinct, and her faith's power.
Additionally, her younger sister Breleigh Favre is now 23 years old.
Breleigh graduated from Oak Grove High School in Hattiesburg, Mississippi. She went to the University of Southern Mississippi.
She was involved in the indoor volleyball team during her freshman and sophomore seasons in 2017 and 2018.
The University of Southern Mississippi started a beach volleyball program in 2019; Breleigh chose sand over indoors. She has been playing the beach volleyball team since.
The Youngest Favre won 11 matches in the spring of 2022 and has secured 36 wins throughout her career at Southern Mississippi, which puts her fourth on the all-time list for the school.
She now plays for LSU Tigers women's volleyball. Let's hope she becomes one of the most renowned players in beach volleyball history.
Deanna Favre | Husband
Brett Lorenzo Favre was born under the sign of Libra on October 10, 1969, in Gulfport, Mississippi, to parents of part-French ancestry.
He was raised in Kiln by his parents, Irvin Ernes Favre and Bonita Ann, and spent his youth there with his three siblings.
Similarly, he went to Hancock North Central High School, where he established his passion for baseball and football.
He also received a football scholarship at the University of Southern Mississippi, earning a B.A. in Special Education.
The Atlanta Falcons selected Brett Favre as the 33rd overall choice in the second round of the 1991 NFL Draft.
Later, in 1992, he was transferred to the Green Bay Packers, where he spent 16 years as a quarterback.
Before retiring, he played for the New York Jets in 2008 and the Minnesota Vikings from 2009 to 2010.
As a result, Brett was named to 11 Pro Bowls (1992-1993, 1995–1997, 2001–2003, 2007–2009), three straight Associated Press MVPs (1995–1997), and six times All-Pro.
He also guided the team to two Super Bowl trips, the first of which they won in 1996 and the second of which they lost.
In 2015, Brett was inducted into the Green Bay Packers Hall of Fame and was inducted into the Pro Football Hall of Fame.
Charities & Controversy
Brett was behind the establishment of the Brett Favre Foundation in 1996. He donated more than $2 million to charities in his home state of Mississippi and his adopted state of Wisconsin.
He is also linked with youth who are ill. Brett was honored with the Chris Greicius Celebrity Award from the Make a Wish Foundation.
He is popularly known for responding to requests made to his foundation from youth with serious illnesses such as cancer.
However, Brett is in the controversial news for his involvement in the Mississippi welfare funds scandal in 2022. Investigations found that $8 million for welfare programs went to Favre.
There is an ongoing investigation regarding this case; he has denied the allegations and expressed that he did not know about the money.
He said, "No one ever told me, and I did not know, that funds designated for welfare recipients were going to the University or me."
"I tried to help my alma mater (the University of Southern Mississippi), a public Mississippi state university, raise funds for a wellness center. My goal was and always will be to improve the athletic facilities at my university."
Click Here To Know About Rico Verhoeven's Net Worth, Career, Earning & Endorsement >>
How Did The Couple Meet?
In terms of her personal life, Deanna Favre met her future husband, Brett Favre, when they grew up in Kiln in 1983.
Similarly, they attended the same high school and began dating while still in high school.
However, in February 1989, she got pregnant at 19 and gave birth to Brittany Nicole Favre's first child.
She was a student at the time, so she had to work various odd jobs to make ends meet.
Deanna and her daughter relocated to Green Bay, Wisconsin, to live with Brett after graduation.
Brett was battling Vicodin addiction at the time, and Deanna was the one who helped him overcome it.
Favre had considered leaving her boyfriend, Brett, but she could not do so because she was concerned that his Vicodin addiction would worsen if she did.
Similarly, Brett attributed his rehabilitation to his fiancée Favre, claiming that she was the reason he overcame his addiction.
Later, after his rehabilitation, Favre and Brett married on July 14, 1996, at St. Agnes Catholic Church in Green Bay.
Deanna and Brett are now grandparents to three sons born to Brittany Favre.
Deanna Favre | Net Worth
Favre is engaged in the media as an activist and author; she is well-known for being the wife of a former professional NFL player.
She shares her renowned husband's fortune, which credible sources have estimated worth more than $100 million, and his salary is around $20 million, amassed over their remarkable careers.
Similarly, her profession provides her with a substantial income. 'The Deanna Favre Hope Foundation' Deanna's foundation has raised $500,000 for cancer care and mindfulness.
Deanna Favre | Social Media Presence
Deanna isn't on any social media platforms. She is private, but you can find her husband and children on social media platforms.
Popularity Graph
Deanna Favre is an American author, founder, and CEO of the Deanna Favre Hope Foundation.
On the internet, the search was related to Dianna's net worth, children, and her husband, Brett Favre.
Frequently Asked Questions (FAQs)
How did Brett Favre celebrate his wife's birthday?
Brett Favre, a former NFL quarterback, wrapped up the holiday season by commemorating one of his favorite days.
It was clear that the athlete celebrated his wife's birthday by going to a mountain range on a sunny day with his wife, as he posted a photo of himself and his wife, Deanna.
Is Deanna Favre religious?
Deanna and Brett Favre were raised in devoutly Catholic families, making them religious. Similarly, Deanna frequently mentions her faith when discussing her life and family.
Does Breleigh Denna's youngest daughter have children?
No, the young beach volleyball player does not have any children. As of now (2022), she is more focused on developing her career.