Patrick Reed, a professional Golfer has participated in Ryder Cup and Presidents Cup matches for the United States. In these games, he achieved enormous recognition and fortune. He was even dubbed "Captain America" by the audience.
A good golfer has the determination to win and the patience to wait for the breaks. Patrick Reed is one such passionate and fierce golfer who has been shining through his game for years.
The American golfer plays for the Professional Golfers' Association (PGA) Tour and PGA European tour. PGA Tour organizes major professional golf tours for men in the United States and North America.
PGA European tour, on the other hand, assembles and regulates three major golf tours in Europe.
His most notable performances have to be his victories in the 2018 Masters Tournament and the 2014 WGC-Cadillac Championship.
Today, we will be talking about Patrick Reed's personal and professional life. Let's get started!
Patrick Reed | Quick Facts
Full Name

Patrick Nathaniel Reed

Known as

Patrick Reed

Nickname

Captain America

Date of Birth
August 5, 1990
Birth Place

San Antonio, Texas, United States

Religion

Christian

Nationality

American

Horoscope

Aquarius

Age
32 Years Old
Height

6'/1.83 m/183 cm

Weight

91 kg/200 lbs.

Eye color
Brown
Hair Color
Dark Brown
Build

Athletic

Father's name

Bill Reed

Mother's name

Jeanette Reed

Marital Status

Married

Spouse

Justine Karain

Children

2 (A daughter and a son)

Children's name

Windsor Wells Reed




Barrett Reed

Profession

Golfer

Active Since

2006

Current Affiliation

Professional Golfers' Association (PGA) Tour




PGA European Tour

Current Status

Green jacket holder

Career Highlights

Rolex AJGA All-America honors (2005, 2006, and 2007)




State medalist in 2007




WGC-Cadillac Championship at Trump National Doral




Wyndham Championship




12th first-time PGA Tour winner, etc.

National Team

Ryder Cup (2014, 2016, and 2018)




Presidents Cup ( 2015, 2017, and 2019)

Net Worth
$9 Million
Social Media
Instagram, Twitter
Merch
Flag, Scorecard, Golf ball
Last Update
June 2023
Patrick Reed – Early Life And Family
Patrick Reed was born on February 15, 1980, in San Antonio, Texas, United States.
He was born to parents Bill Reed and Jeannette Reed. He has a younger sister, Hannah Reed.
Patrick grew up in a family of golfers in Texas. His aunt (mother's sister) and maternal grandfather were excellent golfers.
His mother, Jeannette Reed, believes that her father must be proudly watching his grandson play golf.
Little Reed's Early Steps
Reed received plastic golf clubs as a gift when he was little. He started taking golf lessons from at the age of 9 from Peter Murphy. Murphy was a disciple of popular American golf instructor, Hank Haney.
Reed idolized one of the most loved golfer, Tiger Woods, as a teenager. He even had the opportunity to closely watch his idol play in the Haney's space, where Wood visited at times.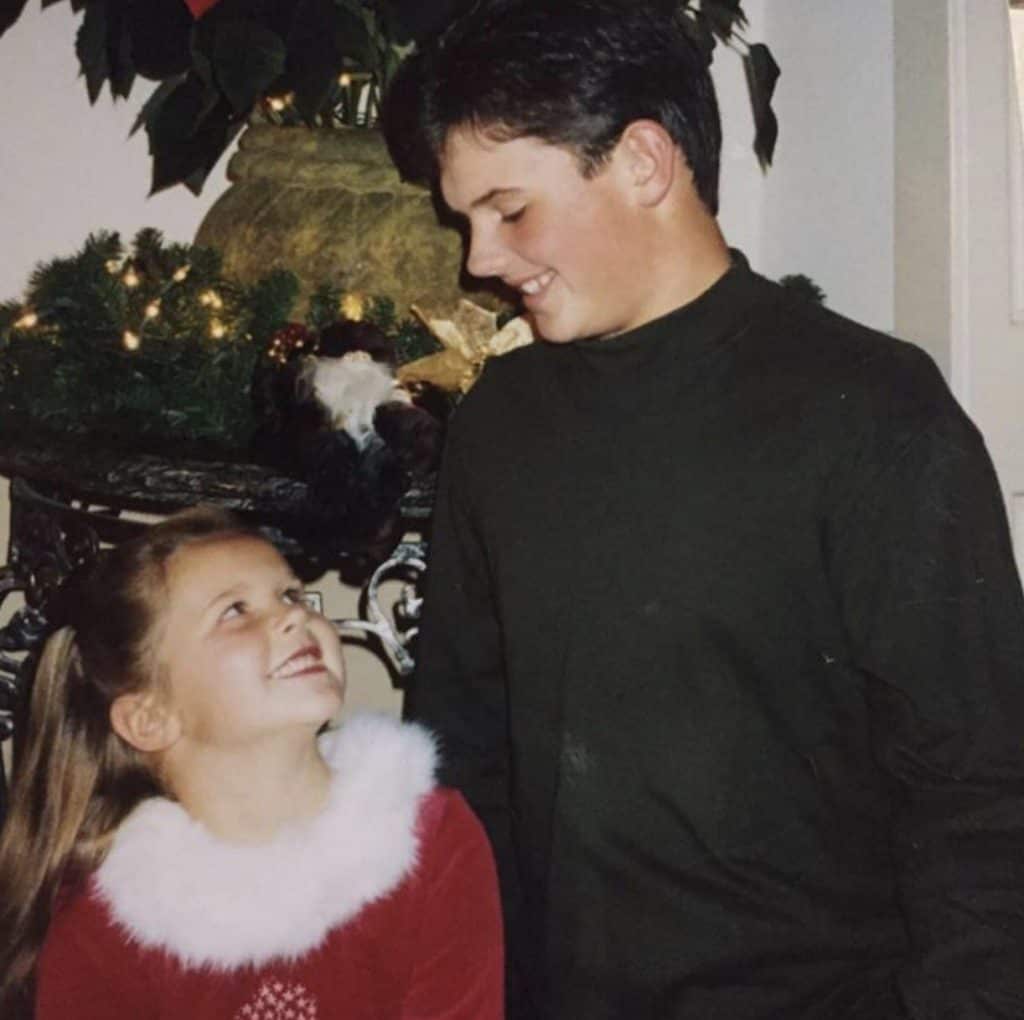 Reed studied Woods and molded his field personality based on his lone-wolf attitude.
Reed wore trousers in the tournaments by the age of 10. It was not common among the Texas boys of his age who roamed around in shorts.
Reed was so lost in the game that he would hit balls for straight eight hours with one break on occasional days for the energy drink.
Everyone that has known Reed since his childhood says that he always had this incredible drive to succeed.
Learn In-depth Information About The Greatest Golfer Of All Time Tiger Woods Bio – Net Worth, Girlfriend, Wife, Golf & Score>>
The Family Feud
Patrick Reed has broken most of his ties with his parents and sister. The tragedy occurred in 2012, the same year when Reed tied the knot with his wife.
The rage is so severe that Patrick's parents and sister have not met his two children yet.
The feud looks devastating, but it does not mean that the love between Reeds has collapsed. Bill and Jeannette Reed still wish the best for their little boy.
They often make efforts to reach their son through emails and intermediaries.
Patrick's room is still referred to as 'Patrick's room' in the Reed house. The family even hosted a watch party when their older child received the green jacket in 2018.
However, Patrick has not entered that space since 2012.
Cause And Consequence
It is believed that Bill and Jeannette showed misgivings and asked Patrick to slow down when they heard about his decision to marry. It was in 2012, and the golfer was only 22.
Patrick didn't even invite his parents and baby sister to his wedding.
The Reeds are often seen attending their son's tournaments without his knowledge. They are never officially invited.
Bill and Jeanette Reed received passes from the 2014 US Open from a friend. People then spotted them in Reed's Gallery along with their daughter, Hannah.
However, the Reeds were sent out, and the head took their badges away.
It is said that the action was taken after Bill Reed expressed intimidating movements toward his daughter-in-law.
The family rage was publicly revealed in 2016 when Patrick's wife referred to his parents and sister as sick people who needed help. Patrick's sister Hannah responded with anger and misery.
She expressed annoyance towards his wife and his in-laws' attitude towards herself and the family. Further, she talked about the sadness that she has to go through seeing her parents suffer.
Every family has its own set of issues and malfunctions. We hope the Reeds' will solve all the bittersweet issues hanging around them real soon.
Patrick Reed – Amateur Career
2005-2007
Reed first went to High School in Baton Rouge, Louisiana. He won the 2006 Junior Open Championship while in high school. Moreover, he was selected for the US Amateur in 2007.
Reed contributed to leading High School to state championships twice, i.e., in 2006 and 2007. He was also a state medalist in 2007.
He was recognized and provided Rolex AJGA All-America honors for three subsequent years from 2005 to 2007.
2008-2010
Reed then went to the University of Georgia in Athens. He started his college golf career there in 2008.
Reed has always been a very controversial figure. He was arrested for underage drinking and possessing a fake ID while in college.
He went for a guilty plea to the misdemeanor. The court put him on probation. He was charged with a fine and sentenced to 60 hours of community service.
The San Antonio native was dismissed from the team owing to further issues. He then quit the University of Georgia and got admitted to Augusta State University. He holds a major in business.
Reed contributed to leading Augusta State University to NCAA Division I titles twice, i.e., in 2010 and 2011.
He also advanced to the semi-finals of the 2008 US Amateur. However, he lost 3 & 2 to Danny Lee, the eventual US Amateur Champion. Lee was the top-ranked amateur in the world.
Reed also stood up as a winner in the 2010 Jones Cup Invitational.
An American Professional Golfer Who Is Best Recognized As The Wife Of Former NGL Player Emma Lavy Bradford Age, Family, Married, Husband, Golf, Net Worth, Instagram>>
Patrick Reed – Professional Golf Career
2011
Reed started his professional golf career at the age of 20 with the NCAA Championship. He debuted at a PGA Tour event in June 2011.
It was the FedEx St. Jude Classic. Reed, however, missed the cut.
Reed was a part of two more events in 2011. He had earnings of over $20,000 in the year
Reed also played two events on the Nationwide Tour, earning just over $5,000.
2012
Reed was a part of 12 events on the PGA Tour in 2012. The events were on sponsor's exemptions and through Monday qualifying (six times).
Reed made seven cuts, earning over $300,000. He had his best finish on T-11 at the Frys.com Open.
Reed also completed a T-22 at the PGA Tour Qualifying Tournament. He then entered the First Stage to earn his PGA Tour card for the year 2013.
2013
Reed recorded his first top-10 finish at the 2013 AT&T Pebble Beach National Pro-Am.
He stood up as the 12th first-time PGA Tour winner on August 18. He received the honor after winning the Wyndham Championship. It was a playoff against Jordan Spieth.
He also won at Sedgefield Country Club. This one marked his third consecutive top-10 finish.
Learn About The Golfer Who Represented Europe, Great Britain And Ireland Rory Mcilroy's Bio: Age, Career, Education, Net Worth, Instagram, Wiki>>
2014
Reed played in the Humana Challenge in 2014. He made the PGA Tour record for most strokes under par after 54 holes.
Also, his rounds of 63-63-63 were 27-under-par. The first three rounds of the tournament were executed on three different courses.
The record was set earlier with 25-under-par by Gay Brewer at the 1967 Pensacola Open. The same record was set again by Ernie Els at the 2003 Mercedes Championships.
Later in the 2009 Bob Hope Classic (the previous name of the Humana event), Pat Perez also tied with Brewer and Els. Steve Stricker again set the same record at the 2010 John Deere Classic. Four of these players won the tournaments.
Reed came forward as the first player in PGA Tour history to have opened a tournament with three rounds of 63 or better. He also had the triumph over Ryan Palmer by two strokes.
Similarly, Reed won the WGC-Cadillac Championship at Trump National Doral in Miami, Florida, on March 9.
He received $1.53 million with the one-shot victory over Bubba Watson and Jamie Donaldson. He then became the fifth golfer to have received three PGA Tour victories before his 24th birthday in 1990.
Tiger Woods, Phil Mickelson, Rory McIlroy, and Sergio García had received it earlier. Jordan Spieth also set the same record later.
Reed is also the youngest golfer to win a WGC event. The triumph placed him 20th in the Official World Golf Ranking.
Likewise, he was the first PGA Tour golfer to have three victories before playing in his first major, the 2014 Masters.
Further, he had the 5th finish at the Volvo World Match Play Championship.
2015
Reed had his fourth PGA Tour title victory at the Hyundai Tournament on January 12. He defeated Jimmy Walker in a sudden-death playoff.
He stood up as the fourth player in the last two decades to win the PGA Tour four times before his 25th birthday. Tiger Woods, Rory McIlroy, and Sergio García had set the record earlier.
The triumph placed Reed at a career-best OWGR ranking of 14th. Similarly, he succeeded in finishing second at the Valspar Championship. He then finished third at the Hero World Challenge. Reed then finished seventh at the Honda Classic.
Reed was also a part of the European Tour for the 2015 season.
2016
Reed had the victory in the first FedEx Cup playoff event on August 28, 2016. It was the fifth time when he had won the PGA Tour. Further, it was his first-ever FedEx Cup event victory.
Reed was also in the final round in the last grouping. He was one stroke behind Rickie Fowler, the leader. He then played a final round of one-under-par, taking a one-stroke victory against Emiliano Grillo and Sean O'Hair.
The victory placed Reed at the top of the FedEx Cup standings. He was 7th position ahead of Jason Day. Consequently, he qualified for the Ryder Cup team.
Reed was also a part of the second FedEx Cup playoff event, the Deutsche Bank Championship. He recorded 556 points over Jason Day. He also had a top-10 finish.
Reed then finished third in the final FedEx Cup standings. He was behind Dustin Johnson and FedEx Cup champion Rory McIlroy.
An American Professional Golfer Who Has Won Two Major Championships Dustin Johnson Bio: Age, Wife, Career, Education, Net worth, IG Wiki>>
2017
Reed recorded three birdies on the back to get to within a shot of the lead on the final day of the PGA Championship. But he bogeyed the 18th after finding a fairway bunker off the tee.
He then tied for a second. Also, he was just two strokes behind winner Justin Thomas.
2018
Masters champion
Reed shot 69-66, leading the 2018 Masters Tournament. He was forward by two strokes after two rounds.
He then followed up that performance on the back nine for a 67 with two eagles.
Reed was also in the final round. He contributed to leading the Masters by three strokes. Reed left Rory McIlroy behind.
McIlroy faltered on April 8, 2018. Reed then had to compete off the final round comeback bids of Jordan Spieth and Rickie Fowler to win the green jacket. He shot 71 (−1) for a tournament total of 273 (−15).
Similarly, he was promoted to No. 11 in the world rankings. He earned a paycheck of $1.98 million.
2018 Ryder Cup
Reed was selected to represent the United States team in the 2018 Ryder Cup in September 2018.
The United States team was behind Europe by 17.5 points to 10.5 points at Le Golf National outside of Paris, France.
Reed could finish just 1–2–0. He had to face losses in two fourball matches with Tiger Woods.
Nonetheless, Reed had a victory in his singles match against Tyrrell Hatton.
You Can Watch Reed's Scores And Highlights On The Website of Augusta Nationals>>
Controversy
The event was followed by controversy. The New York Times writer Karen Crouse wrote an article quoting Reed on September 30, 2018.
The article had Reed questioning Jordan Spieth and US captain Jim Furyk about the separation of the Reed-Spieth Ryder Cup pairing. The pair was deemed to be relatively successful.
Reed said that he does not have any issue with Jordan, and the latter must not be wanting to pair. He further added that he has nothing to do with personal preferences when it comes to tournament pairing. If it is for the team, he will pair with the person he hates in real life.
He also explained that pairing in Ryder Cup is not the fairest thing. It only has the input of a few selected players.
Further, he said that Crouse lobbied Furyk to keep playing with Jordan Spieth. Spieth was Crouse's first choice.
Hence, Crouse expected to partner with him. But he was blindsided when he discovered that Jordan Spieth was playing with Justin Thomas.
Message
Reed also had a message for Crouse. He said that for somebody as successful in the Ryder Cup as him (Reed), he does not think it's smart to sit him twice.
Similarly, Reed conveyed that Tiger Woods was his second choice. He described to Crouse that after he and Woods lost their first match against Tommy Fleetwood and Francesco Molinari, Woods apologized to Reed for letting him down.
Likewise, he explained to Crouse how he consoled Tiger Woods stating, "We win together as a team, and we lose together as a team."
Later also told Crouse to leave his egos at the door. He added, "they do that better than us," referring to Europeans.
Reed's public flaming and humiliation of his captain and teammates would not lead him to anywhere good. It will instead negatively impact his ability and qualification to participate in future Ryder Cup and President Cup teams.
You Might Want To Get Inspired by Reading 123 inspiring Tiger Woods Quotes that will help you>>
2019
Reed had the victory on the Northern Trust at Liberty National Golf Club near New York City in August 2019. It was the first-ever leg of the 2019 FedEx Cup Playoffs.
Best Results- Major championships
Masters Tournament Won- 2018
PGA Championship T2- 2017
U.S. Open 4th- 2018
The Open Championship 10th- 2019
Tournament Results | 2022
Patrick Reed – Rules Incidents And Allegations Of Cheating
Reed has been involved in various rules incidents since his college golf days at UGA and Augusta State. However, Reed firmly declines these claims.
Most profoundly, he was suspected of an infraction committed at the 2019 Hero World Challenge. He was also examined for the same incident.
Reed was leading the tournament then. He was seen moving sand behind his ball in a waste area twice.
However, Reed claimed that he had not noticed the movement. He further cited his angle compared to that of the camera to justify his lack of consciousness.
Reed was then penalized with two strokes for improving his lie. He was heavily criticized for the actions and incidents of fans, fellow players, and commentators.
In 2022, Torrey Pines' Contentious Drop By Patrick Reed
At the par-4 10th hole at Torrey Pines on Saturday, Reed hit his drive into a bunker and pulled his approach shot randomly left and into the rough.
A nearby volunteer informed Reed that the ball did not bounce after impact, and Reed concluded that the ball was embedded.
Before bringing in rules official Brad Fabel, Reed marked the spot where his golf ball had stopped and picked it up.
Fabel agreed that Reed's golf ball was embedded and later he was entitled to relief by Reed dropping the ball, pitching to 14 feet, and sinking the putt for a par.
Patrick Reed | Criticisms
The critique rose with a shot fired from Brooks Koepka, who played as Reed's fellow at the Ryder Cup.
"I mean, I am not sure what he was doing, instituting sandcastles in the sand, but you know where your club is," Koepka told Sirius XM's, Sway Callaway.
"It's one of those things where you know if you look at the video certainly, he scrapes the sand twice, and then he still cuts down on it."
Koepka was relating to an event in December at the Hero World Challenge when We could see Reed adjusting his lie while lining up a shot out of the container.
Koepka wasn't the only one blowing off next to Reed. Former CBS Sports reporter Peter Kostis added fuel to the fire on Wednesday while appearing as a guest on the podcast "No Laying Up."
"I was told by Frank Chirkinian, the godfather of golf on TV, that we are there to report the story, not be a part of the story," Kostis said. "We could never call a penalty on a player, but we could comment if a penalty were called on a player."
After a beat, he continued, "I've seen Patrick Reed improve his lie up close and personal four times now. You can go on YouTube."
"It's the only time I ever shut [announcer Gary] McCord up — he didn't know what to say when I said 'the lie I saw originally wouldn't have allowed for this shot.'"
"He put four, five clubs behind the ball, faking whether he's gonna hit this shot, hit that shot, by the time he was done, he hit a freakin' three wood out of there," Kostis told the podcast. "It was a sand wedge layup originally."
Quotes By Jordan Spieth You Can Read Top 25 Jordan Spieth Quotes>>
Patrick Reed – National Team
Patrick Reed has represented the United States in Ryder Cup thrice, i.e., 2014, 2016 (winners), and 2018.
He also played for the United States in the Presidents Cup in 2015, 2017, and 2019.
You can see the latest news and updates on Patrick Reed's personal and professional life on ESPN's website.
2022 | LIV Contract
Patrick Reed – $37 million
The 32-year-old has the brand on several pieces of clothing he wears for his play. Reed is now known for his sponsorships after joining LIV, as he is a member of the series.
Endorsement
PXG revealed on social media on Thursday 2022 that Reed had joined the company's "troops."
View this post on Instagram
Reed has been spotted wearing a PXG hat and using PXG equipment this week. PXG refers to its employees as its troops.
Patrick Reed | Wife And Children
Patrick Reed is married to Justine Karain. The couple tied the knot in December 2012.
They have two beautiful children together, Windsor Wells Reed and Barrett Reed.
Justine had finished two undergraduate degrees and was working as a nurse when they first met. She had been an excellent swimmer and soccer player at Klein Forest High in Houston.
Justine also worked as her husband's caddie. Reed never fails to appreciate Justine for her motivation, moral support, and in-field assistance.
Patrick has stayed estranged from his family ever since he tied the knot to Justine. However, he is extremely close to Justine's family.
Justine's brother Kessler took over caddying duties to fill up his sister's place at times. Her sister, Kris, looked after Reed's daughter as a nanny.
Her mother, Janet, travels with the family almost regularly. She acts as chief of staff and also takes care of her grandchildren.
Patrick Reed – Net Worth & House
Reed has earned some perfect money from his golf career. He currently lives a decent life with his wife and two children.
Patrick Reed's net worth is estimated to be over $9 million.
Reed also has a few lavish purchases. He worked hard to accumulate this fortune and was lucky enough to receive it through the sport he loved.
House
This golfer's expensive home in The Woodlands, Texas for $3.9 million was bought in 2019. Measures, 9.949 square feet of exclusive Carlton Woods.
Patrick Reed | Social Media Presence
Reed is very active on his social media handles. You can follow him via these links:
Instagram: 151K followers (@preedgolf)
Twitter: 132.3K followers (@PReedGolf)
Patrick Reed | Popularity
He is one of the popular golfer and continuously involved in controversies due to his family issues of his game-plays.
This above image gives brief information about Reed's popularity in the United States of America.
Patrick Reed | FAQs
Does Patrick Reed still have bad blood with his family?
Unfortunately, Reed still has no direct ties with his family. The family has been estranged since 2012.
Does Patrick Reed own a green jacket?
Yes, Patrick Reed has already received a green jacket. After winning the Masters Tournament at Augusta National Golf Club, he got it Sunday, April 8, 2018.
A green jacket or a green sport coat is worn by the honorary Augusta National members while on the club grounds. It signalizes the person who wins the Masters Tournament.
Traditionally, it is given to the current year's Master Tournament winner by the previous year's winner.
You Might Be Interested In Reading Brian Hollins Age, Net Worth, HBS, Golf, Podcast, Wife, Kids, Instagram>>