Initially exposed to the fame and popularity as the wife of Patty Mills, Alyssa Mills is much more than that title. She is an entrepreneur herself and the founder of a swimwear company.
Together as a couple, Patty Mills and Alyssa Mills share an intimate bond and offer perfection though they come from different ethnic backgrounds. After coming into the limelight with their marriage, many people are investing their interest in Patty Mills.
In this article, we will discuss the details of Alyssa Mills' life, her marriage, and family details. However, before we start looking into her lifestyle choices, let us first get through a quick dose of general facts.
Quick Facts
Full Name
Alyssa Levesque (Mills)
Date of Birth
August 2, 1994
Birth Place
Martinez, California, The United States
Religion
Christianity
Nationality
American
Ethnicity
White
Zodiac Sign
Leo
Age
28 Years Old
Height
1.82 meters (6 feet)
Weight
66 kg (145 lbs)
Hair Color
Blonde
Eye Color
Dark Brown
Build
Athletic
Father's Name
James Levesque
Mother's Name
Juliana D'Olivo Levesque
Siblings
Two younger brothers, Alex Levesque and Zakary Bradshaw Levesque
Education

Carondelet High School
Saint Mary's College

Marital Status
Married
Spouse
Patty Mills (m. 2018)
Kids
None
Profession
Businesswoman
Net Worth
Not Available
Social Media
Instagram, Twitter
Merch of Patty Mills
Basketball Trading Cards
Last Update
March 2023
Body Measurements
Alyssa Mills is a lady with an athletically toned body and a slim figure. Well, she stands tall at a height of 1.82 meters (6 feet) while weighing 66 kg (145 lbs).
Regarding her physical appearance, Alyssa has a fair skin tone and an oval-shaped facial structure.
She stands with medium-length blonde hair and dark brown eyes.
Bruce Pearl's wife, Brandy, is the second wife of Bruce Pearl. Bruce was previously married to Kim Pearl in 1982. Click to learn more about Brandy!
Patty Mills Wife | Early Life
Alyssa (fully named Alyssa Levesque Mills) was born on August 2, 1994, under the star sign of Leo. She is the eldest daughter of her parents, Juliana D'Olivo Levesque and James Levesque, in Martinez, California, The United States.
Likewise, she also has two younger brothers named Alex Levesque and Zakary Bradshaw Levesque. As Alyssa revealed, she shares a special bond with her parents, and her mother is the one she is always looking up to.
Before revealing her nationality as an American, many fans believed Alyssa to be an Australian. Back when she attended the 2019 FIBA Basketball World Cup, many referred to her as a "hot chick from Bondi."
This particular phrase stated a beach located in Bondi in Australia. Hence, her husband, Patty Mills, later took his Twitter to announce she is an American and not Australian.
Education
For her academic background, Allysa Mills attended the Carondelet High School. Following it, she then accomplished higher education at Saint Mary's College. It is the same university that Patty Mills attended.
During her collegiate tenure, Alyssa played basketball for her college team as a forward. Not to mention, she was later landed as eligible for the 2021 WNBA Draft. Apart from it, Alyssa is also an excellent swimmer.
Altogether, she graduated from the university with a degree in Business, where she learned Finance.
Patty Mills Wife | Career
From her collegiate days, Alyssa Mills has been a well-recognized figure. She first entered the basketball, then ventured swimming, and lastly entered the business side.
Today, she is the founder and the owner of the suit line named StraitSwim, which is located in the northernmost part of Australia.
According to the sources, Alyssa's business was initially inspired by her husband's home and his Aboriginal and Torres Strait roots. They take in the essence of very typical Torres Strait Islands in the northernmost part of Australia.
Hence, her swimsuit line incorporates unique culture into its brand and tells its story.
Patty Mills Wife | Personal Life
Alyssa is currently married to her college sweetheart, Patty Mills. The duo met during their collegiate years at Saint Mary's College in California.
With little known in their details, many states that they must have met during their basketball days in college. After years of knowing each other, Alyssa and Patty then started dating between 2014 to 2015.
Through the years, the duo kept their relationship tightly and only came out to tie the knot in July 2019. However, they initially got engaged on May 12, 2018.
Wedding
Alyssa Mills and Patty Mills took their wedding vows in the traditional style where the groom and bride's family and relatives were dressed up in a traditional dress. As they tied their knot in Waimea Valley, the wedding theme was oriented to African Tribe Culture.
For the wedding, groom Patty Mills stood in a burgundy suit while his groomsmen sported beige suits with cropped pants. Likewise, bride Alyssa Mills had worn a white lace-covered gown, while her bridesmaids wore floor-length gowns of off-white hues.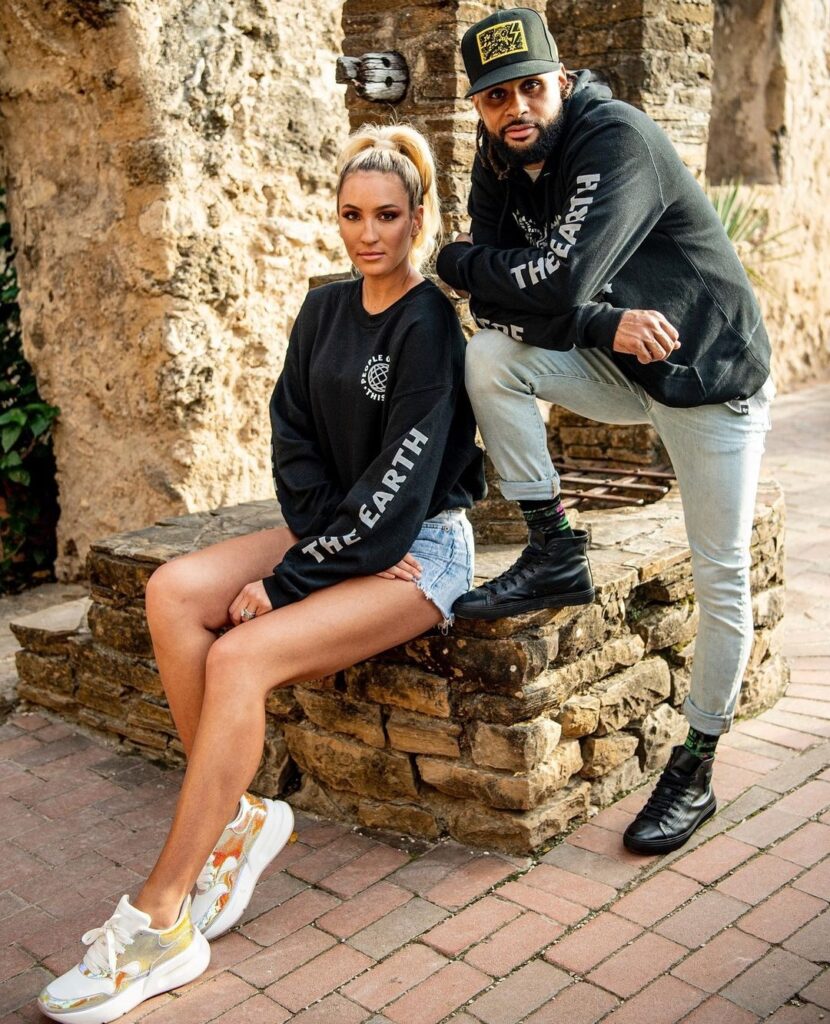 Following their wedding, Alyssa and Patty celebrated their reception party at Waimea Falls Park. Not to mention, they also had a welcome party for the guests before the wedding had even started.
Their beautiful wedding was later attended by several top-notched celebrities and players such as Tim Duncan, Boris Diaw, Spur Derrick, and so on.
Honeymoon
Right after their wedding, the duo did not have their honeymoon trip as most couple does. It's not the case that they did not have an initial plan for their honeymoon, but they just postponed it.
Alyssa and Patty took the trip to the town of Walgett to assist with the water shortage they were facing. Back then, the town hadn't had a waterfall for more than a year and their only grocery store had caught fire.
Hence, the duo skipped their honeymoon to help the town.
Yvette Prieto is the wife of the basketball legend Michael Jordan. Learn about her life and career in detail!
Patty Mills Wife: Charity
The duo stands together in multiple humanitarian projects for society and its people. Community Water Project in Australia is one of the many projects they look after.
Looking back, Patty Mills has experienced racism being a black man. During such a hard time, Alyssa has been the backbone of Patty's confidence and work.
Today, the couple has founded a non-profit organization named Team Mills. This foundation dedicates to supporting communities around the world. They work towards maintaining environmental and wildlife conservation efforts.
Who is Patty Mills?
Patty Mills (fully named Patrick Sammy Mills) is an Australian professional basketball player for the Brooklyn Nets of the NBA. He initially entered the professional arena through the 2009 NBA Draft as the 50th overall pick in the second round.
Throughout his career, Patty has been a strong contributor to the NBA field as a player. Talking about his background, he was born and raised in Canberra on August 11, 1988.
Well, his father is Benny Mills, who is of Torres Strait Islander, while his mother is Yvonne, who is of Aboriginal Australian descent.
Net Worth and Earnings
At the moment, Alyssa Mills' net worth is exactly unknown. However, she does make hundreds of thousands of dollars. We will be sure to update the details on her earnings soon.
In the meantime, her husband has a net worth of $8 million with an annual average salary of $6,037,250. As of 2021, Patty has recently signed a two-year, $12 million contract with the Brooklyn Nets.
Alongside the contract, he has a $12,074,500 guaranteed amount.
In the United States itself, the couple has two homes, one in San Antonio and the other in Hawaii.
One of the houses is Patty's, located in King William, located in the Texan city of San Antonio. This property is a gated brick house that has a two-tier front porch, swimming pool, and a modern extension.
Well, their other house is a coastal home in Hawaii that has three bedrooms. All three bedrooms of the two-story house overlook the ocean, and the main open directly to a deck that spans the back of the home.
Social Media
You might be interested in learning about Alyssa Mills' personal posts and uploads, do check her social media sites for it.
She is on Instagram as Alyssa Mills (@missalyssa_michelle) with 38.2k followers. Similarly, she is on Twitter as Alyssa Mills (@MissAlyssaMills) with 458 followers.
You might as well follow Patty Mills on social media sites for his personal uploads. He is on Instagram as Patty Mills (@balapat) with 595k followers.
Likewise, he is on Facebook as Patrick Mills with 135k followers. Lastly, he is on Twitter as Patrick Mills (@Patty_Mills) with 422k followers.
The wife of Ryan Day, Christina Day, is a housewife. She has been with Ryan's family for more than a decade now. Find out more about her!
Patty Mills Wife | FAQs
Does Alyssa Mills have any children?
Although the duo has been married for quite a while now, they do not have any children and they also have not shown any sign of having any at the moment.