Indeed, Floyd Mayweather and Logan Paul's fight did draw in a surreal moment on the octagon. However, it also did stage a bit of spiced drama indulging Canelo Alvarez and Jake Paul.
As for the surreal part, Logan Paul stood strong for the whole eight rounds of the bout against one of the best boxers ever, Floyd Mayweather.
"I don't want anyone to tell me anything is impossible ever again. The fact that I'm in here with one of the best boxers of all times proves the odds can be beaten." -Logan Paul
Glancing back to the fight's details
As the bout took place in Sunday's pay-per-view boxing event, the Florida State Boxing Commission did not officially sanction the fight. Also, it was promoted by Mayweather Promotions and distributed by Showtime pay-per-view.
To illustrate, Mayweather, one of the best boxers, stood against Logan's bulky figure and huge physicality. Still, many sided that Mayweather would knock out Logan with ease.
However, surprise! He stood firm till the eighth round of the match, and hence, the fight ended in no man's pocket. Well, there was no winner for the fight.
The drama factor
Well, yes, after the bout, both the boxers stood out and started how they enjoyed the fight themselves. Indeed, it was also a high entertaining factor for the audience.
"I had fun. You've got to realize I'm not 21 anymore. He's better than I thought he was. He's a tough, rough competitor. I was surprised by him. He knew how to use his weight and tie me up." -Floyd Mayweather
However, Saul 'Canelo' Alvarez had a sarcastic comment about the bout. After the end of the fight, he took time to tweet a facepalm emoji in response to Mayweather's gameplay.
Sparked Reactions
Indeed, the simple no-text social media thought stirred Logan's younger brother, Jake Paul. Widely known as 'The Problem Child,' Jake sent out an ominous warning back to Canelo.
Without a doubt, Jake didn't take time to tweet out to Canelo as, "You can't sell pay-per-views. I would eat you alive." Later, it was also followed by another post stating, "My brother just beat Floyd Mayweather!"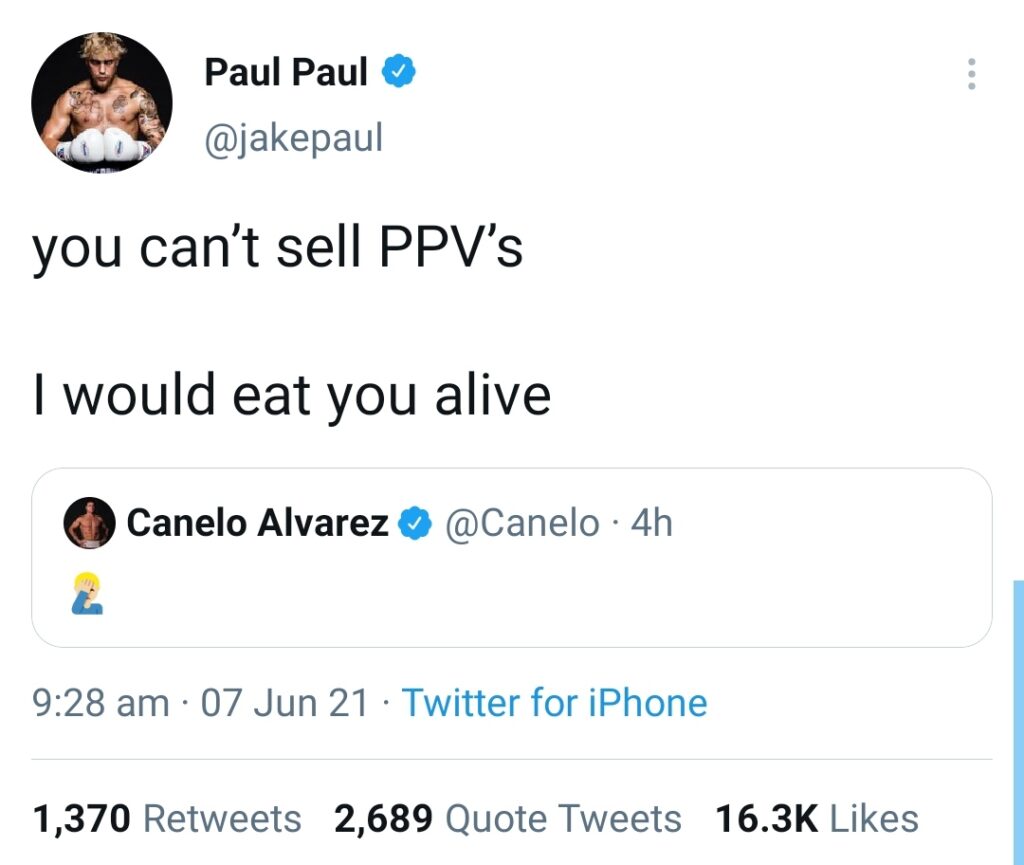 Well, they had it a bit hot there. Anyways, both Logan and Jake Paul are YouTubers turned boxers, who have moved on deeper on the octagon.
Overall Reactions
Altogether, it jas also gained loads of attention from other athletes and celebrities. Of course, they are also surprised and had tons to say. Among them, we have listed a few below, be sure to sludge on.
"Logan Paul out here giving more hugs than Thanksgiving after Lockdown #MayweatherPaul" –Jay Pharaoh
"Man, this game looks like Mike Tyson punch out!" –LeBron James
"I was surprised. I thought that Floyd would knock him out." –Fat Joe.