Peyton Stearns' parents, Mike, and Denise Stearns, are native to Ohio. The couple are parents to Peyton and her brother, Preston.
Denise Stearns' fashion choice made her daughter a tennis player. As funny as it sounds, it is true, as we could have seen Peyton play softball instead.
So, if it weren't for the outfits, maybe we would have seen Peyton compete against Madison Shipman and McKenzie Clark. Or even better, become one of their teammates.
The 22-year-old former University of Texas player Peyton chose to go professional in 2021. In 2023, the Ohio native broke into the top 100 and currently ranks 69.
Peyton has come close to winning a title this year but has lost out on small margins. She reached the finals of Copa Cosanitas but was defeated in the finals by Tatjana Maria.
At the French Open, Peyton is looking to defeat Jelena Ostapenko and progress ahead to win her first title of the year.
Peyton Stearns Parents, Mike, And Denise Stearns
Peyton Stearns' parents Mike, and Denise Stearns, raised two kids in Mason, Ohio.
Many might not believe it, but Peyton's tennis career started simply because her mom didn't like softball outfits. As a kid, Peyton would always go to her neighbor's house to play with whiffle balls, and she noticed that Peyton had a killer arm.
The neighbor told Peyton's mom that she should think about Peyton's career in softball, but Denise Stearns said she didn't like the uniforms. Then, the neighbor suggested why not try tennis as it had cute outfits. Denise liked the idea and then began Peyton's tennis career.
Denise Stearns, a former gymnast at the University of Texas, wanted her daughter to make her own choice. But Peyton knew deep down her mother was excited when she decided to go to UT.
In an interview with The Daily Texan, Denise said she loved the environment head coach Howard Joffe had created in Texas. But Peyton's parents were also big on education.
They wanted Peyton to have a Plan B if her tennis career failed. Even before she joined Texas, Peyton's parents told her if she wasn't in the top 250 or 275, she shouldn't go professional. Peyton ended up staying two seasons at Texas.
The couple, Denise and Mike, are fairly away from social media but appear to comment on Facebook posts about Peyton's achievements.
Peyton Stearns Brother, Preston Stearns, Is A Tennis Player
Peyton Stearns has a younger brother, Preston Stearns, who is also a tennis player.
Preston, 19, plays for Ohio State and announced his commitment in 2021. Before joining Ohio, Preston excelled at tennis at St. Xavier high school.
He won a double state title as a freshman at St. Xavier and was part of the Boys 18s Clay Court Nationals doubles draw. Preston achieved an all-time career-high ranking of 99 in ITF Junior in January 2022.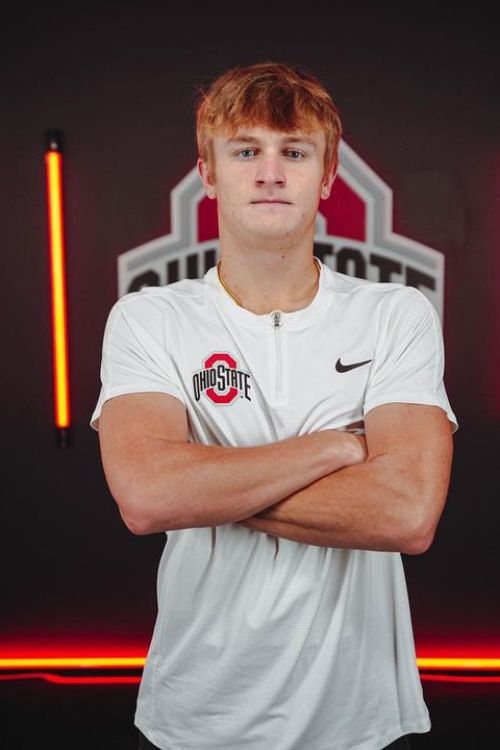 Last year alone, Preston played in 13 tournaments, including US Open Junior Championships and JA Plantation. Preston made it only up to the second round in US Open Junior and was defeated by Hudson Rivera.
Last month Preston and his teammates won the Big Ten Men's Tennis Championship as they defeated seventh-ranked Michigan 4-0. Preston shared a series of photos of them holding the trophy on his Instagram handle.