Phil Mickelson is an American professional golfer who plays for LIV Golf. He has won 45 events on the PGA Tour, including six major championships. Top golf player Phil Mickelson has a net worth of $300 million as of 2023.
Mickelson took leave for a while from the 2022 Masters Tournament as he wanted to spend quality time with his family and also withdrew from PGA Championship. But he came back to play LIV Golf Invitational Series.
Moreover, his net worth is accumulated from his prize money and endorsements.
The 52 years old golf legend learned the game very early in life from his pilot father.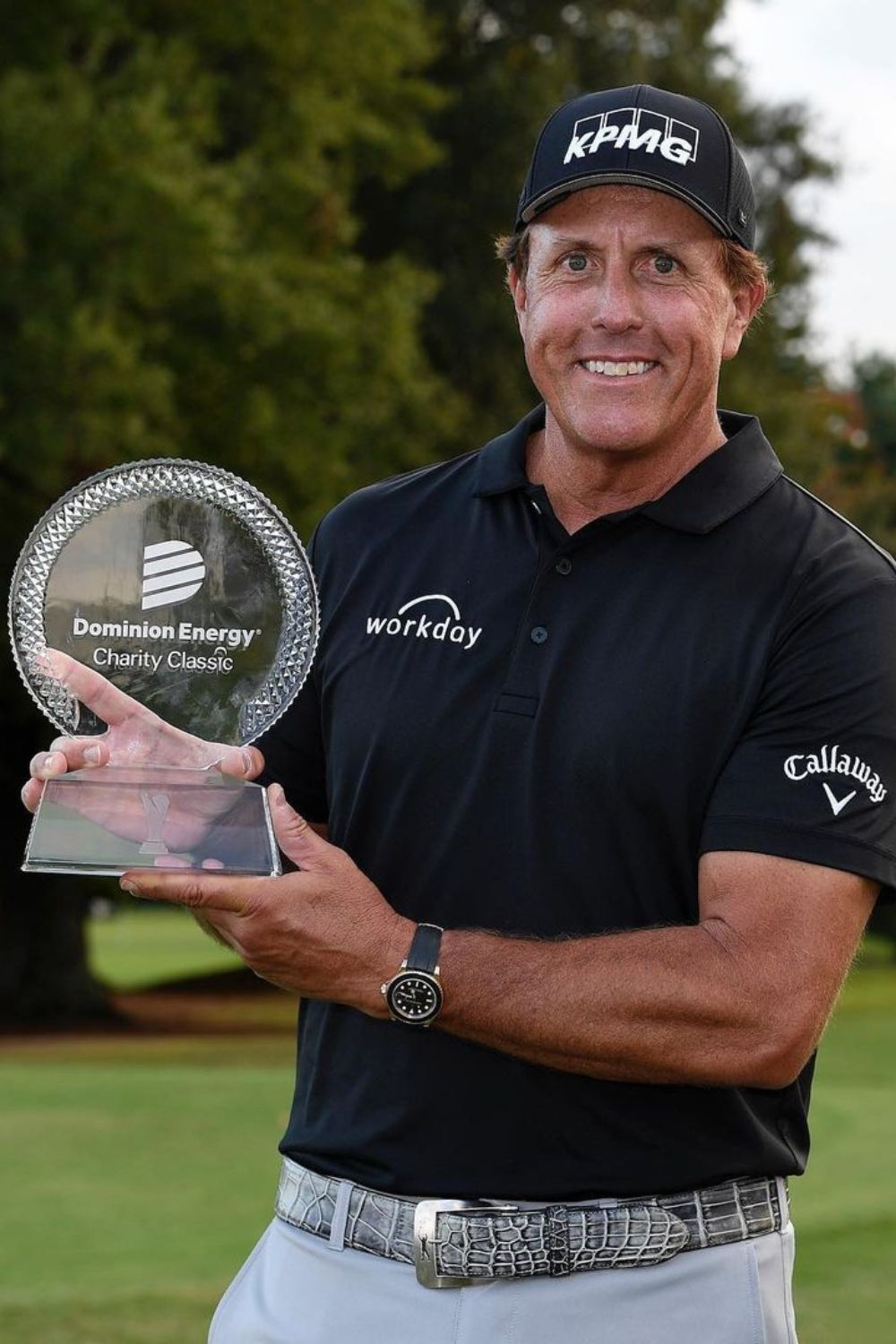 By the time he was in college, Phil was already a legend, winning three NCAA individual championships, three Haskins Awards, and four first-team All-American honors.
Phil has had decades of a fulfilling career and is still going very strong. Even after undergoing different health problems, he recovered quickly to return to the game.
Inside the top 50 of the Official World Rankings from November 1993 to November 2019, Mickelson spent 26 years becoming the only player in the history of the sport ever to do so.
This article will explain how Phil has made this insane amount of money and how he spends it. But before that, here are some awesome facts about this legend!
Quick Facts
Full Name
Philip Alfred Mickelson
Common Name
Phil Mickelson
Nick Name
Lefty
Birthdate
June 16, 1970
Age
52 Years Old
Zodiac Sign
Cancer
Mother's Name
Mary Mickelson
Father's Name
Philip Mickelson
Siblings
Brother- Tim Mickelson, Sister- Tina Mickelson
Birthplace
San Diego, California
Home Town
California
Citizenship
American
Residence
Jupiter, Florida
Religion
Christianity
Ethnicity
White
School
University Of San Diego High School In 1988
College
Arizona State University
Education
Not Available
Height
6 ft 3 in / 1.91 m / 191 cm
Weight
200 lb / 91 kg
Eye Colour
Blue
Hair Colour
Dark brown
Shoe Size
Not Available
Martial Status
Married
Partner
Amy Mickelson (1996)
Children
3: Amanda, Evan & Sophia
Profession
Golfer, Athlete, Author
Debut
Not Available
Turned Pro
1992
PGA Tours
45
Status
Active
Current Club
Not Available
National Team
U.S. National Team
Highest World Rank
2 (In 2001) 213 (2022)
Equipment
Driver: Callaway Mavrik Sub Zero (9 Degrees)

Utility: Callaway X Forged UT (18 Degrees)

Ball: Callaway Chrome Soft X w/Triple Track

Affiliated With
Rolex, Ford
Business
Coffee For Wellness, Phil Mickelson Golf Club
Favorite Sports
Golf, Ping-Pong, Baseball
Hobbies
Ping-Pong
Social Media
Instagram, Facebook, Twitter
Website
https://philmickelson.com/
Merch
Secrets Of The Short Game (Book), Golf Shirt, Autographed Picture
Last Update
May 2023
Net Worth & Salary
Mickelson is the second top earner with $94.96 million in career tournament winnings as of 2022, just behind the legendary Tiger Woods.
He has earned over $90 million just as his prize money.
Meanwhile, his total career earnings are more than $800 million. Among that, $750 million comes from endorsements.
Phil Mickelson earns around $50 to $60 million every year. Of the total sum, around $10 million is estimated to be his salary and prize money, while the additional $50 million comes from brand deals and endorsements.
In the past years, his income was estimated at $40 million between the time period of June 2017 to June 2018. Similarly, in the following year, he earned around $50 million.
In the 2018 head-to-head competition between Phil and Tiger Woods, where Phil won, he claimed $9 million in prize money.
Besides that, he also works as a golf designer. He has designed many golf courses throughout the world, from Shanghai to Calgary.
In 2020, he was ranked 25 on the Forbes list of highest-earning athletes.
House, Cars, & Jet
Phil lived in Rancho Sante Fe with his family for a long time. Their home was a 4.55-acre property that they bought for $6 million.
The property was listed for sale in 2008 for $12.2 million. But unfortunately, it didn't get any buyers, and it was finally sold in 2015 for $5.725 million.
From 1999 to 2012, Phil lived in a La Jolla, California. While they bought the property for $1.65 million, they sold it for $2.745 million.
Phil Mickelson bought a property in January 2020 in Florida, where he is building a new house. Jupiter, South Florida, is the residence of the topmost athletes, including Tiger Woods and Michael Jordan.
The amount he paid for this property is undisclosed, but keeping in mind the status of the place, it must have cost tens of millions!
Cars
With his massive net worth, Phil can afford the most luxurious cars. He also gets new cars as part of sponsor deals.
Some cars we know he owns are Aston Martin vanquish and Bently Continental G.T., His Aston Martin, costs above $400k while his Bently costs $200k.
Private Jet
Needless to say, he also has treated himself with a private jet.
His 14-seater Gulfstream V has a price of $40 million. This long-range business jet has a top speed of 966 km/h.
But, even after having a pilot's license in his name, he refrains from taking the flying seat.
Business
Being one of the best golfers out there, it is given he works on promoting golf. Phil has collaborated with other investors to open six golf courses around Arizona.
These courses offer private memberships for an annual fee. Similarly, in 2020 Phil announced an extraordinary new business venture.
He collaborated with his friend Dave Phillips to start his own brand of coffee! Both friends share a passion for good coffee, which inspired them to start Coffee for Wellness.
It offers signature products that combine MCT Powder, Collagen Peptides, and L-Theanine to help improve mental and physical performance.
Endorsements
Many brands have approached him to work with them. Some of the major brands under his belt include Rolex watches, Ford Motors, ExxonMobil, and KPMG.
He began endorsing the drug named Enbrel in 2010 after being treated for psoriatic arthritis.
The legend also had a contract with Barclays for 15 years that lasted till 2016. The rich golfer is mostly seen sporting expensive Rolex Watches.
During that period, he was not charged with the crime, even after he was named by the SEC as a "relief defendant" in an insider trading case.
Other brands he has worked with include Titleist, Grayhawk, Callaway, Amgen, and Intrepid Financial Partners.
Only in 2020 did he start endorsing Amstel Light and Melin (hat brand).
Mickelson lost many sponsors, including KPMG, Amster Light, and Workday, in 2022 after he commented about the Saudi-backed golf league, LIV Golf.
In an interview, Phil allegedly gave a controversial Islamophobic view on the conservative rules of Saudi.
He stated that Saudis are "scary m**********s to get involved with… We know they killed and have a horrible record on human rights. They execute people over there for being gay. Knowing all of this, why would I even consider it? Because this is a once-in-a-lifetime opportunity to reshape how the PGA Tour operates."
Lifestyle
Phil Mickelson enjoys a luxurious life with the millions he has made in his career. He has many properties, cars, and even a jet and is a family person.
Phil is close to his family, who are with him in most tournaments. Furthermore, he has expressed that being around his family makes him feel more special than winning any tournament.
Phil surprised everyone in 2019 when he shared a photo showing his newly-toned body. He lost 15 pounds in 10 days with a 'hard reset' diet.
This amazing transformation left fans wondering if there's anything that Phil cannot do.
Books
Phil has written a few books, recollecting his experiences as a golfer. However, his 2005 book One Magical Sunday is a close-up journey of his personal and professional life.
The title is derived from his magical win at the 2004 Masters. Another book based around golf is his 2009 book Secrets of the Short Game.
As mentioned in the title, the book contains tips and tricks that a golf enthusiast might find helpful. This book was well-loved by readers, with mostly favorable reviews.
Phil Mickelson is also credited as a co-author of the 2011 book Unconscious Putting: Dave Stockton's Guide to Unlocking Your Signature Stroke. This book is available in paperback, hardcover as well as in the form of audiobooks.
Philanthropy
When you have a net worth of $300 million, you are expected to give back to society, and in this case, Phil does not let you down!
Phil and his wife Amy founded their own charitable organization, 'Birdies For the Brave.' It is the PGA Tour's national military outreach platform.
Likewise, the foundation helps raise funds for providing financial aid and rehabilitation programs to military members, veterans, and their families.
For every bride and every eagle he makes, he donated $100 and $500 to this charity.
There is also the Phil and Amy Mickelson Foundation, established in 2004. This foundation supports various youth and family initiatives. It supports educational and scientific endeavors.
Other causes and charities that Phil has supported include:
Special Operations Warrior Foundation
Mickelson ExxonMobil Teachers Academy
Homes For Our Troops Inc.
Career Highlights
Phil started his career as a golf scholarship student at Arizona State University. He won 16 tournaments at the collegiate level before graduating in 1992.
Even before becoming a professional, he had already won his first PGA Tour event. But his major championship win was later in 2004.
Moreover, he has won over 45 PGA events throughout his career. The major ones are the 2004, 2006, and 2010 masters, the PGA Championship in 2005 and 2021, and the 2013 Open Championship.
His career slowed in 2016 when he underwent major hernia surgeries. But he has been active in the game since he quickly recovered.
Besides his solo career, he has also made a few appearances for U.S. national team.
Today, his name is listed among the most successful golf players. He has played with many successful athletes like Stephen Curry and Larry Fitzgerald.
Mickelson became the oldest major championship winner in history at 50 to win at the 2021 PGA Championship.
Mickelson and 16 other current and former tour members were suspended for participating in a conflicting event without permission from the tour on the first day of the LIV Golf Invitational London, the PGA Tour, on June 9, 2022.
Social Media
Phil Mickelson joined social media in 2018. But his popularity rose quickly among social media followers.
View this post on Instagram
He seems pretty active on his social channels, mostly on Twitter. After his successful venture into social media, he claimed he didn't know social media was such a powerful tool.
Instagram (@Phil Mickelson): 1.2 million followers
Facebook (@Phil Mickelson): 222,324 followers
Twitter (@Phil Mickelson): 817.9K followers
Quotes
"A great shot is when you pull it off. A smart shot is when you don't have the guts to try it."
"I think it's more than whether or not you win or lose. It's having that opportunity on that final round, final nine, to come down the stretch with a chance to win."
"I think it's more than whether or not you win or lose. It's having that opportunity on that final round, final nine, to come down the stretch with a chance to win."
Three Facts
Despite being popularly known as 'Lefty' for his left-hand play, you would be surprised to know that he is not left-handed! It was his father who was left-handed. Since Phil learned golf from his father as a kid, he copied his style, even his prominent hand motions.
Phil was diagnosed with psoriatic arthritis in 2010, which threatened his career. But thanks to the drug Enbrel, he recovered relatively quickly. After that incident, he began endorsing the drug.
He is the first golfer with a left-handed swing to win the U.S. Amateur title.
Popularity Graph
Phil Mickelson is a professional golfer who plays for LIV Golf. He is popularly known as Lefty.
The above graph shows Mickelson's popularity over the past twelve months.
Frequently Asked Questions (FAQS)
What Ryder Cup record does Phil Mickelson hold?
Mickelson holds the Ryder Cup record for most matches played (47) and most matches lost (22). His winning percentage is just 46% (7 ties).
How to hit Phil Mickelson's flop shot?
The golfer said, " If you want to hit the ball high and soft for a flop shot, you need to swing the club down into the dirt."
Who was the kid caddy that caddied for Phil Mickelson?
Mickelson's kid caddy was Riley, who is a junior golfer herself. Earlier, Phil's caddie was Jim Mackay for 25 years. He is an American golf caddie and golf commentator.
How many Masters wins does Phil have?
The pro golfer has three Masters win. He has won 45 events on the PGA Tour. By using his classic-styled Odyssey, PM Blade.