Raef LaFrentz is a former American basketball player who played the position of power forward and center in the NBA.
We all are aware that only having a dream is not enough; to make it true, one must hustle hard. Raef followed his dream and wrote his name in the history of basketball.
From being born into the athlete family to being the most valuable player himself, Raef has won many people's hearts. Until 2009, he kept on making records one after another on the basketball court.
To be more specific, LaFrentz has made about 5,690 points during his entire career. Also, he has been honored with many tags.
Not only was Raef able to gain fame, but he also succeeded in earning millions from his career. So, how much are his assets as of the present time?
To know everything about him, including family life, children, education, and more in detail, let's scroll through the article.
Quick Facts
Full Name
Raef Andrew LaFrentz
Nick Name
Flash
Age
46 Years Old
Height
6 feet 11 inches/2.11 m/211 cm
Weight
240 lbs/109 kg
Horoscope
Gemini
Date Of Birth
May 29, 1976
Birth Place
Hampton, Iowa, USA
Religion
Not Available
Nationality
American
Ethnicity
White
Hair Colour
Black
Eye Colour
Dark Brown
Tattoos
None
Marital Status
Married
Spouse
Joie A. LaFrentz (M. 2011)
Kids
Four Sons
Father's Name
Ron LaFrentz
Mother's Name
Not Available
Siblings
A Sister
High School
MFL MarMac High School
University
University Of Kansas
Graduated Year
1998
Profession
Retired Basketball Player
Active from
1998-2009
Position
Power Forward/Center
Teams

Denver Nuggets (1998-2002)
Dallas Mavericks (2002-2003)
Boston Celtics (2003-2006)
Portland Trail Blazers (2006-2009)

Jersey Number
45, 9
Total Points
5,690
Awards And Honors

Big 12 Conference Men's Basketball Player of the Year
NCAA Men's Basketball Consensus All-Americans (1997, 1998)
NCAA Division I men's basketball player with 2000 points and 1000 rebounds
Most blocks in an NBA All-Star Weekend Rookie Challenge Game
Also, the most blocks per game in NBA All-Star Weekend Rookie Challenge history
All-USA 1st Team in 1994
McDonald's All-American
Selected for the 1994 U.S. Olympic Festival's North Team

Net Worth
$40 Million
Social Media
Not Active
Merch
Signed Card
Last Update
March 2023
Age, Childhood & Family
The former athlete was born on May 29, 1976, in Hampton, Iowa. As of March 2023, he is 46 years old.
Widely known as "Flash," his birth name is Raef Andrew LaFrentz, and his zodiac sign is Gemini.
Raef was born to his father Ron LaFrentz, but the name of his mother is not revealed. Back in the early 1990s, his father was the assistant coach for his high school team.
Other than his dad, his family members' detail is out of reach as he has kept his matter confidential to date. However, he does have a sister who resides in Columbia.
Body Measurements, Height, And Weight
The former power forward possessed a solid and muscular physical structure while he was active until 2009.
However, it doesn't mean that he has been in bad shape in recent days. Indeed, once an athlete, always an athlete.
Talking about Raef's height, he stands tall at 6 feet and 11 inches (2.11 m), the height which every player dreams about.
Similarly, LaFrentz's listed weight is 240 lbs (109kg), which is slightly larger than the average NBA players.
Education
The retired NBA player went to the MFL MarMac High School, which is located in Monona Lowa. While he was at school, Raef played basketball and earned many honors and recognition.
For instance, the newspaper USA Today regarded him as the All-USA 1st Team in 1994. Also, Raef was the McDonald's All-American.
In 1994, he was allowed to play at the U.S. Olympic Festival North Team. Indeed, he showed his exceptional skills by averaging 11.8 points per game and 6.8 rebounds per game.
College And Stats
After passing out of high school, Raef got enrolled at the University of Kansas in 1994. He made numerous records that are worth remembering forever.
Specifically, LaFrentz ended his four-year playing tenure by scoring 2,066 points and 1,186 rebounds.
His records are not limited to his scores only, as he was named the Big Big 12 Conference Player of the Year by the A.P. in 1997 and 1998.
Net Worth, Income, And Investments
Raef LaFrentz, who played for four NBA teams from 1998-2009, has collected a vast fortune.
"The more hard work, the more rewards," this proverb is what describes the life of every athlete so far.
The former basketball player Raef LaFrentz has piled up a net worth of $40 million as of March 2023.
He has earned millions after agreeing to contracts with teams like the Denver Nuggets, Dallas Mavericks, Boston Celtics, and Portland Trail Blazers.
Raef was provided with $69,973,750 by the Portland Trail Blazers for playing with the team from 2003-2009. On top of that, his salary was about $9,996,250.
Furthermore, LaFrentz has collected around $84 million throughout his playing career.
Physical Assets
LaFrentz is living his life in a luxurious villa located in Tualatin, Oregon. Though his house's accurate price is uncovered, it is sure that the house's worth is millions.
Previously, he had invested in a house covering around 5,451 square feet in Lexington, Massachusetts.
As per the report, it had four bedrooms along with four and a half bathrooms. Eventually, the home was on sale for $1.785 million.
Career Highlights
Going back to the late 1990s, Raef was already in the spotlight though he still had time to make his enormous NBA entry. Yes, it was evident from his outstanding records while he was at his college and high school.
After graduating from the University of Kansas, Raef tried his luck for the 1998 NBA Draft. Without a doubt, the Denver Nuggets drafted him, and the rest is history.
Except for the specified team, LaFrentz also played for teams like the Dallas Mavericks, Boston Celtics, and Portland Trail Blazers.
Denver Nuggets
The retired player started his professional journey with the Denver Nuggets in 1998.
During his rookies days, Raef played only 12 games. He had to skip many seasons as he injured his left knee while playing against Dallas on 25th February 1999.
However, LaFrentz came back to the field and averaged he averaged 12.4 ppg between 1999-2000. Also, he was ranked eighth in the NBA in blocked shots by averaging 2.2 blocks per game.
Likewise, Raef started 74 of the 78 games in his third year, the 2000-2001 season. The retired athlete scored 12.9 points per game, 2.6 blocks per game, and 7.8 rebounds per game.
Dallas Mavericks
On 21st February 2002, Denver Nuggets traded Raef to the Dallas Mavericks. Between 2001-2002, LaFrentz gave his outstanding performance for the Mavericks.
Also, the Mavs must have seen something exceptionally brightening in him to offer him a deal worth $70 million.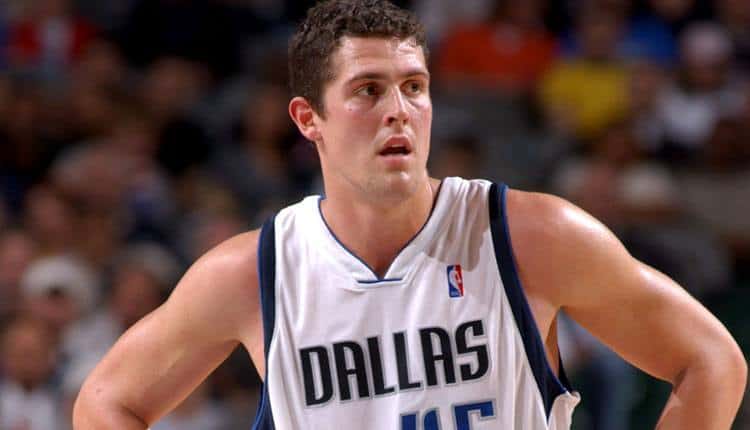 Plus, he played in the 2002 FIBA World Championship from the US national team.
Boston Celtics
Raef played for almost one and a half years for the Dallas Mavericks. Later on, he joined Boston on 20th October 2003.
He participated in several matches as a player for the Boston Celtics.
Portland Trail Blazers
LaFrentz's former team traded him to Portland Trail Blazers for the athletes Theo Ratliff and Sebastian Telfair.
During his period with the Blazers, LaFrentz achieved many victories.
Retirement
If we were a machine, nothing would have to be paused, including our careers, work, and more. But we all need to give rest to our bodies.
Similarly, Raef, who was active for more than a decade, decided to end his playing career in 2009. Nowadays, the retired athlete is living his life as per his wish.
What Is He Doing Now?
Raef is currently fulfilling his duty as a volunteer assistant coach at Decorah High School in Decorah, Iowa.
The former NBA player has been involved with the youth basketball program for years now under head coach Jonathon Carlson.
He is doing well and is present at every practice game. According to LaFrentz, they got a great group of seniors and a great group of varsity players.
He settles down on the bench with Carlson and fellow colleagues Gunnar Rollins, Jerry Robinson, Jim Heick, and Corey Schuman during games and talks to the team at times during breaks.
And he is really keen on sharing his experiences and knowledge with the mid-level students who are aiming high.
LaFrentz pretty much knows that Decorah has been a strong school traditionally in football, wrestling, and baseball. Now, he says it's time for the school to prove itself in basketball.
Card Evolution
The new light-out card revolution of Raef Lafrentz is a big surprise out there to his fans.
Award & Honours
The legend Raef has been awarded and honored with various trophies and rewards throughout his career. You can get the information on his recognition in the points below:
Raef LaFrentz was the third overall pick in the 1998 NBA Draft.
He led Western Conference in Blocks and Blocks per game between 2001-2002.
LaFrentz played for the 2002 United States Men's National Basketball Team.
He was the NCAA Men's Basketball Consensus All-American in 1997 and 1998.
Wife & Children
The former professional basketball player is happily married to his wife, Joie A. LaFentz. The couples exchanged their wedding rings in 2001.
Having said that, LaFrentz has not spilled any information when it comes to his relationship. Moreover, he doesn't have social media, so there is no way to peek inside his personal life.
Nonetheless, Raef is parenting four sons with his sweetheart Joie, but the details about the kids are kept secret.
Social Media Presence
Social platforms have become the mediums for both fans and players to keep in touch.
As a result, almost everyone expects their idols to be available on social media like Instagram, Facebook, Twitter, and more.
Sorry to break your expectations, but the legend Raef is not active on any media. But who knows, he might join very soon, so wait till then.
Popularity Graph
Raef LaFrentz, the former NBA player, is still one of the highly searched athletes.
The line graph illustrates his search results in the past 12 months.
Frequently Asked Questions (FAQs)
Where is Raef LaFrentz now? What is his college stats like?
The retired player is serving as an assistant basketball coach at Decorah High School in Decorah, Iowa. During his time at Kansas, he held an average stat of 15.8 points, 9.1 rebounds, and 0.7 assists. Often Raef's '97 Kansas Jayhawks team is known to be the greatest college basketball team to never win a national title.
Who held Raef LaFrentz's expiring contract?
The Portland Trail Blazers held the athlete's expiring contract.
Who is Raef LaFrentz married to?
The retired basketball player is married to Joe A. LaFrentz. The pair tied the knot in 2001. Also, they are blessed with four sons.
What is the net worth of Raef LaFrentz?
The retired power forward is filthy rich. Raef LaFrentz has a net worth of $40 million.
What pick was Raef LaFrentz?
During 1998's NBA Draft, Raef became able to attract the NBA's team, Denver Nuggets. The team selected him in the third overall pick. Similarly, the former Centre played for the Nuggets from 1998-2002.