In the 75 years of rich NBA history, it has been blessed with many great players to play in power forward. Kobe Bryant, LeBron James, and Curry brothers, to name a few.
However, some players sit on top among others due to their incredible performance and achievements in their playing days.
Looking deep into reliable and popular online sites like ESPN, Clutch Points, and NBA, this article assembles the top 10 best power forwards ever to play in the NBA.
Let's look at the players who made it into our list without any delay.
10. Bob Pettit
St. Louis Hawks
1x NBA championship / 2x NBA MVP
Back in his 60s, centers and guards were main scorers for the team, whereas power forward was rebounder.
However, Bob Pettit was one who extremely did well on both ends of the floor.
In his career, Pettit never averaged fewer than 24.6 PPG and 12.4 RPG. In each season, he managed to average a double-double.
That's the reason why Pettit dominated every power forward matchup in his career.
First to earn 20k points
To win his first ring, Pettit scored a playoff-high score of 50 points against the Celtics in the series-clinching game 6 of the NBA Finals in 1958.
Moreover, Bob Pettit is the first player to win the NBA MVP award back in 1956. Later, in 1959 he won his second MVP.
Furthermore, over his 11 years in NBA, Pettit was NBA All-Star each season, winning four All-Star MVP. He also has 10 All-NBA First Team selections to his name.
Likewise, Bob Pettit is the first player in NBA to record more than 20k points. Similarly, his career average of 26.4 PPG and 16.2 RPG is placed 8th and 3rd on the all-time list.
Later, in 1970 he was inducted into the Naismith Memorial Basketball Hall of Fame. So, undoubtedly, Bob is one of the best power forwards ever to grace the court in the NBA.
9. Anthony Davis
New Orleans Pelicans, Los Angeles Lakers
1x NBA championship
Anthony Davis is a unique player and can become the greatest power forward by the time he retires.
AD is already a superstar making a huge difference on the defense and the offensive end of the floor for the team.
Although being a big man, Davis is a huge offensive threat and can punish you from midrange, three-pointers, or paint.
He also makes a strong presence in defense, acting as a rim protector and excellent rebounder.
In his 9th year, Davis is 8 times NBA All-star, only missing out in his rookie season.
Likewise, his resume of 4 times All NBA First Team and 2 times NBA All-Defensive First Team shows he is a complete player.
Anthony Davis Net Worth | Contracts, House & Lifestyle >>
Soon after joining the Lakers, Davis won his first NBA championship in 2020. He has already won the 2012 Olympic and 2014 World Cup representing the USA.
Still, a long way to go 28 years old Anthony Davis has more to accomplish in his career.
Washinton Bullets, Houston Rockets
1x NBA Championship
Elvin Hayes is a talented forward and, dare we say, the best power forward to play basketball. The Big E made his mark in NBA despite playing in the Kareem Abdul Jabbar era.
In his rookie season, he set the NBA record for youngest player to win the scoring title, averaging 28.4 PPG in 1969.
Moreover, in his 12 years as a pro, he didn't miss more than 2 games in any season.
Furthermore, Hayes is Washington Wizards' all-time leading scorer scoring 27,313 points.
Despite recording MVP numbers, Hayes didn't win league awards in his career. But Elvin won his first and only NBA championship in 1978.
Likewise, All-star in every 12 and 3 times All-NBA First team, Elvin Hayes was enshrined into Hall of Fame in the year 1990.
7. Kevin McHale
Boston Celtics
3 NBA Championship
Kevin McHale is legit the top 10 best power forwards of all time, although coming off the bench for almost half of his career.
Out of 971 NBA games, he only started 400 games, but his mindset to sacrifice team success rather than individual numbers deserves respect.
Alongside Larry Bird and Robert Parish, Mc Hale led Celtics to 3 NBA championships out of 5 finals.
Hall of Famer, Charles Barkley, mentions Mc Hale as the toughest opponent ever faced in his career.
His footwork and post moves were unstoppable, making him hard to guard. Moreover, he was also a good defender making it into All-Time Defensive First Team on 3 occasions.
Naismith Hall of Fame inductee Kevin McHale played all of his 13 years as a pro for Boston Celtics.
During the first 5 seasons, Hayes mainly came off the bench and won the 1984 and 1985 NBA Sixth Man of the Year awards.
Furthermore, he is one time All- NBA First team and 7 times NBA All-star.
The 10 Best Shooting Guards of All Time>>
6. Charles Barkley
Philadelphia 76ers, Phoenix Suns, Houston Rockets
1x NBA MVP
Standing 6 ft 5 inches tall, Charles Barkley is definitely the best undersized big man in NBA history.
He dominated the low post during his career, utilizing his skills and strength, aggressiveness, speed, and good positioning.
He would go coast to coast with anyone, jump higher than bigger guys for rebounds and slam monstrous dunk after overpowering inside.
1993 NBA MVP Barkey is an all-around player recording 23,757 points, 12,546 rebounds, and 4,215 assists over his career.
Furthermore, he is 11 times NBA All-Star, 5 times All-NBA first team. Not to forget Barley is two times hall of fame inductee, 2006 for his individual career and 2010 as Dream Team member.
133 inspiring Charles Barkley Quotes >>
However, like many other great players back in the 90s, the failure to win NBA championship rings is the only flaw in his resume.
Playing career apart, Barkley was a popular name for controversy and fights back in his 80's and 90's.
5. Giannis Antetokounmpo
Milwaukee Bucks
2x NBA MVP
Giannis Antetokounmpo's achievements in NBA are already enough to rank him on the top 5 list of best power forwards of all time.
In 2020, Greek Freak joined the ranks of Michael Jordan and Hakeem Olajuwon to win NBA MVP and Defensive Player of the year in the same year.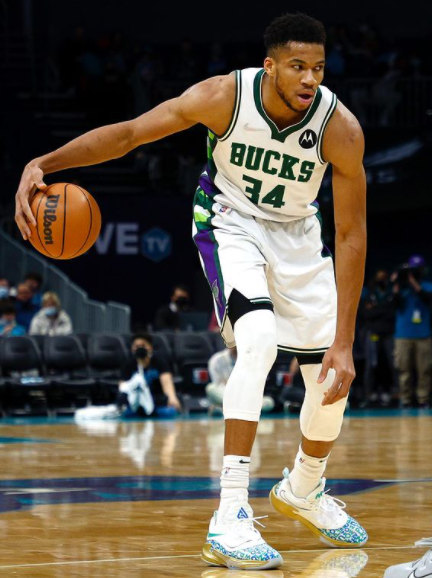 With two consecutive MVP, Giannis has established himself as one of the top players in NBA history.
Moreover, Antetokounmpo is the youngest player to win 2 NBA MVPs before 26 years old.
Although listed as a power forward, Antetokounpo is an all-around player to play in all five positions.
Moreover, he is called Greek Freak due to his size, speed, athleticism, ball handling. His physical traits help him get past defenders to slash for a dunk.
Although he is yet to win the NBA championship, Giannis is still in his prime and has a long career to chase the missing title.
Likewise, he is already 5 time NBA All-Star where he was named a captain twice and MVP once.
Furthermore, Giannis Antetokounpo also has 2 All-NBA first and second-team selections to his name.
99 Famous Giannis Antetokounmpo Quotes for success >>
4. Kevin Garnett
Minnesota Timberwolves, Boston Celtics, Brooklyn Nets
1x NBA championship/ 1x NBA MVP
Only a few players can match up the intensity, versatility, athleticism, and defensive ability that 15-time All-Star Kevin Garnett possesses in NBA history.
In the 1995 NBA draft KG came straight from high school, making Minnesota Timberwolves into a title contender.
Before Garnett, the Wolves hadn't made any playoff appearance or won more than 29 games in a season.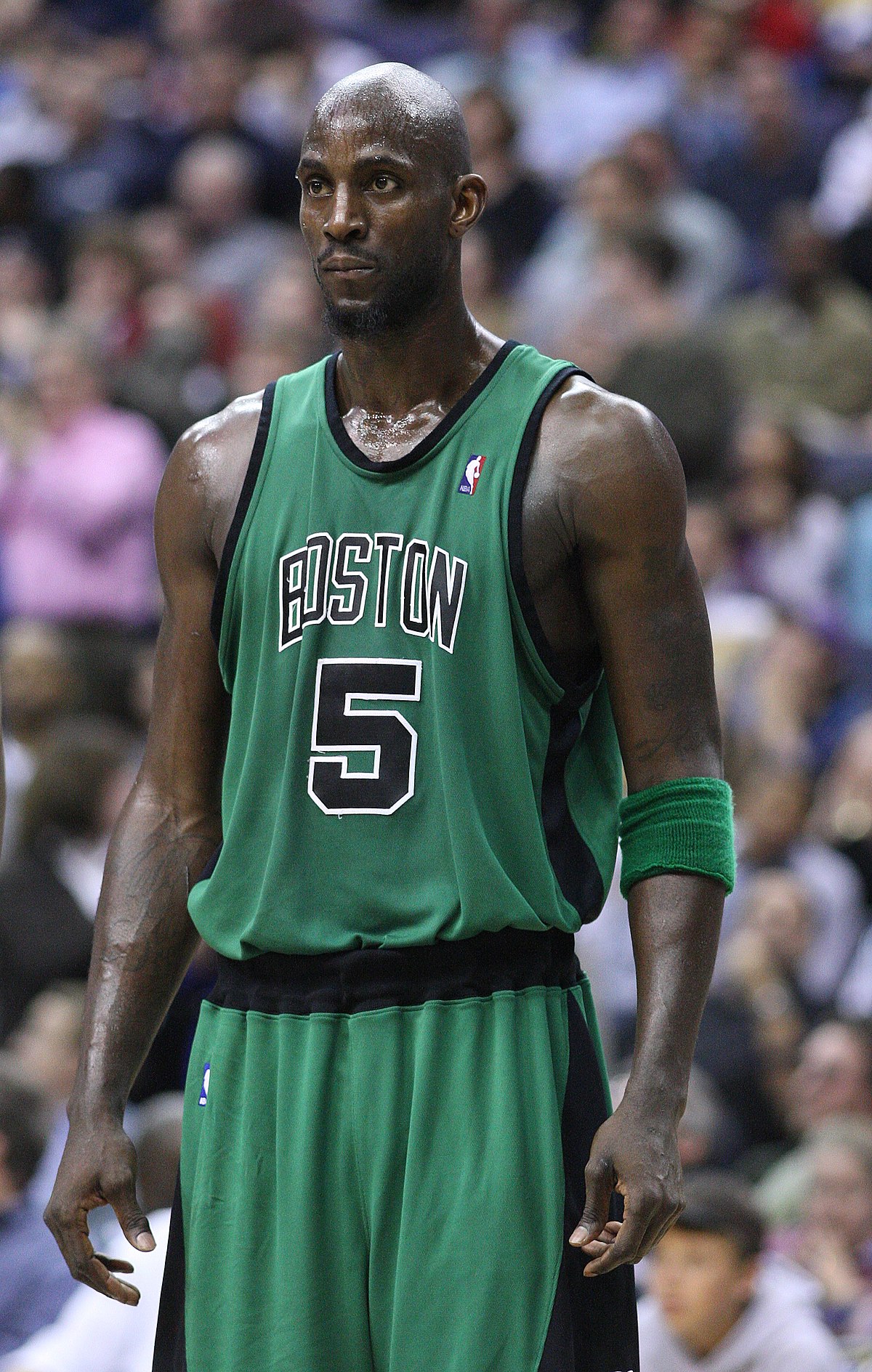 However, "The Big Ticket " Kevin Garnett carried the burden and led the team to the front, becoming their highest scorer, rebounder, playmaker, and excellent defender.
During Garnett's first spell, Wolves made 8 successive playoff appearances from 1997 to 2004. Later in 2008, NBA championship triumph with Celtics Garnett showed excellent leadership dinging his playoff track record.
Moreover, Garnett, NBA MVP and Defensive Player of the year, honor proves his two-way finesse.
Furthermore, he also has 4x All NBA First team and 9x NBA All-Defensive First Team in his impressive resume.
Later, in 2021, KG was inducted into the Hall of fame, claiming his spot as one of the best power forwards of all time.
The 20 Richest NBA Players in the World>>
3. Dirk Nowitzki
Dallas Mavericks
1x NBA championship, 1x NBA MVP
Dirk Nowitzki is the one who should be credited for revolutionizing the power forward position. He transformed the number 4 position into the skilled bigs capable of shooting, dribbling, and passing.
The German legend is definitely the best European player to play in NBA.
Well known for scoring ability and versatility, his signature one-legged fadeaway is one of the impossible moves to guard.
Furthermore, Nowitzki is the first and only NBA player to play 21 seasons for one franchise.
Nowitzki won his sole NBA MVP award in 2007. Later, in the 2010-11 season, he led Dallas to their only NBA championship.
He performed as champion in playoff series on the road to glory, defeating Portland, defending champions Lakers, OKC, and Heat Big 3 in the finals.
With 31,560 points, he ranks 6th in all-time NBA points leaders. Moreover, Nowitzki is the first international player and second power forward to score more than 30k points.
Besides his several records in NBA and Dallas, Mavericks Nowitzki is also 14 times NBA All-Star and 4 times All NBA First Team.
2. Karl Malone
Utah Jazz, Los Angeles Lakers
2x NBA MVP
14-time All-Star Karl Malone is one of the best power forwards in the NBA; however, 0 NBA championship is only what's missing from his prolific career.
For his consistent performance, Malone was called "Mailman." He is an elite scorer with 36,928 points and also NBA's second all-time points leader.
Likewise, Malone is the all-time leader in free throw attempted and made a list.
Malone was also a physical defender and rebounder. At the age of 40, he became the oldest player to register a triple-double and start in NBA Finals.
Likewise, two-time NBA MVP Malone is the only NBA player selected in All-NBA's first team for 11 successive seasons.
In 2010, he was inducted into the Hall of Fame for his individual career and a member of the 1992 Dream Team.
1. Tim Duncan
San Antonio Spurs
5x NBA championship/ 3x NBA MVP
Nobody deserves the throne of the best power forwards of all time other than Tim Duncan. Moreover, his resume would place him in one of the greatest players in NBA history.
Duncan is the ultimate franchise player playing 2 decades for the Spurs leading them to 5 NBA titles. Alongside his 3 finals MVP, he also has 2 league MVP awards to his name.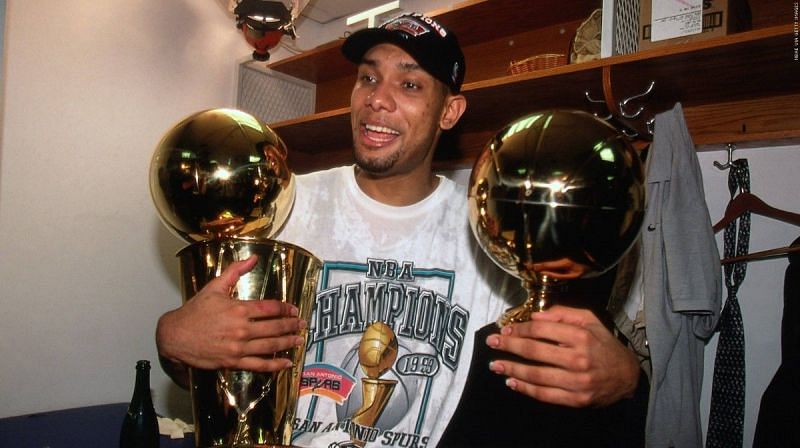 Nicknamed "The Big Fundamental," he would make his presence on both offense and defensive end of the floor with his simple, effective textbook skills.
Over his 20 seasons in NBA, he scored 26,496 points ranking him 14 on the all-time points leaders board. Moreover, his signature bank shot was simply unstoppable.
During his career, he was a consistent scorer, rebounder, and rim protector. That the reason he is 10 times All NBA First Team and 8 times All NBA Defensive First Team.
Furthermore, Duncan is 15 times NBA All-Star and one-time All-Star MVP.
Later in 2021, Tim Duncan was enshrined into the Naismith Basketball Hall of Fame alongside Kevin Garnett and Kobe Bryant.
Summary
The above list of players completes our list of best power forwards of all time.
The players were ranked based on their accomplishments, records, and stats from their careers.
Let's look at the quick summary.
Tim Duncan
Karl Malone
Kevin Garnett
Giannis Antetokounpo
Charles Barkley
Kevin McHale
Anthony Davis
(Feel free to comment about dropping your opinion on players mentioned in the article.)