When you start so young, you seem older than your peers. Likewise, the quote is reminiscent of Ray Borg as he started fighting professionally at just 18.
Since then, Ray has established himself as one of the top flyweight fighters in the world.
From having fought in small unknown MMA organizations to battling probably the best flyweight in UFC history, Demetrius Johnson, for the title, Borg has achieved it all.
Added to that, the Arizona native is only 30 years old at the moment, which means that he still has another decade left in his body.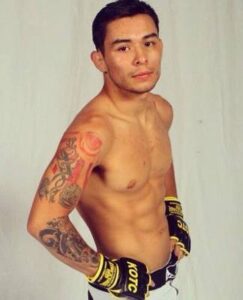 Let's get started on this journey of Roy, where we will take you through his early life to his professional career.
We have also provided details regarding his net worth, fight purse, wife, son, age, record, social media, etc.
Quick Facts
| | |
| --- | --- |
| Full Name | Raymond Anthony Borg |
| Birth Date | August 4, 1993 |
| Birth Place | Tucson, Arizona, U.S.A |
| Nick Name | The Tazmexican Devil |
| Religion | Not available |
| Nationality | American |
| Ethnicity | Not available |
| Education | Not available |
| Horoscope | Leo |
| Father's Name | Not available |
| Mother's Name | Not available |
| Siblings | Jonathan Borg |
| Age | 30 Years Old |
| Height | 5'4″ (1.63 m) |
| Weight | 125 lb (57 kg) |
| Hair Color | Black |
| Eye Color | Black |
| Net Worth | $350,000 |
| Married | Yes |
| Spouse | Amanda Borg |
| Children | Anthony Borg |
| Profession | Mixed Martial Arts |
| Reach | 63 inch (160 cm) |
| Style | Gaidojutsu |
| Team | Jackson's MMA Acoma (Current), FitNHB, Jackson Wink MMA Academy (Former) |
| Organization | UFC |
| Fighting out of | Albuquerque, New Mexico, United States |
| MMA Record | 13-4-0 |
| Division | Flyweight |
| Social Media | Instagram, Twitter |
| Last Update | November, 2023 |
Ray Borg: Early Life
Raymond Anthony Borg was born to his parents on August 4, 1993, in Tucson, Arizona. But unfortunately, the information regarding Ray's parents seems to have been kept in the dark.
Nonetheless, what we do know is that Borg has a younger brother, Jonathan Borg, with whom he shares a strong bond and still does.
Likewise, the duo and their grandfather used to go on hunting trips when young Ray was only 11 years old.
Thus, from very early on in his life, the Arizona native was exposed to dangerous environments. As a result, it made him strong-willed and fearless, which has undoubtedly helped his fighting career.
Ray Borg: Career
Borg started his professional career in 2012 at the age of 18 but did not seem fazed a bit.
In fact, the then 18-year-old won his first professional bout against Gene Perez in the very first round. Moreover, the fight ended due to a rear-naked choke.
Thus, having won his debut match with stunning fashion, Ray was gaining momentum.
After that, the 5 feet 4 flyweight used his confidence to win his next five bouts as he won all the fights via stoppages except one.
As a matter of fact, even the one decision victory against Angelo Sanchez was total domination that led to a unanimous decision victory.
Besides, Borg won the SCS Flyweight Championship in only his fifth professional bout.
To illustrate, Ray was fighting then-champion Jeimeson Saudino on November 23, 2013.
Then, with only 48 seconds of the second round left, the Arizona native managed to submit Jeimeson via a rear-naked choke to win the SCS Flyweight Championship.
Following his impressive 6-0 run, major MMA promotions, including the UFC, took an interest in the talented flyweight fighter.
However, Borg appeared for the Legacy promotion to fight Nick Urso.
Although organizations might have changed, the results were the same Ray was beaten by a rear-naked choke.
Thus, having won his first seven fights and having gained a reputation as a submission artist, UFC signed the then-promising 20-year-old.
It seemed as though everything Borg worked for had been rewarded as he reached the peak of MMA.
But sadly, the 5 feet 4 flyweight was brought back down to earth in his first fight in the UFC.
To explain, Ray faced a talented fighter in Dustin Ortiz, who was by far his toughest competitor at that moment.
Subsequently, the match turned into a downright battle as both fighters viciously beat each other up.
But in the end, it was Dustin who won the fight via a split decision, which further highlights the epic battle.
Nevertheless, Borg vowed to himself that he would win his next bout as his UFC career depended on it.
Thereafter, the Arizona native was supposed to face Ryan Benoit in his second fight. However, the match got canceled due to an injury to Ryan.
Therefore, Shane Howell, who was also making his UFC debut, was brought in last minute to replace the injured fighter.
Justin Wren Bio: Wife, Charity, Height, Twitter, Career, Age Wiki >>
Subsequently, Borg won via his tried and trusted submission move, rear-naked choke, in the first round.
Consequently, the 5 feet 4 flyweights earned his first Performance of the Night bonus, making his night even better.
Thereafter, Borg won his next two fights against Chris Kelades and Geane Herrera. Furthermore, both those fights made headlines for extremely opposite reasons.
To explain, Ray took home his second consecutive Performance of the Night bonus against Chris Kelades, but then against Herrera, the Arizona native missed the weight limit by 1.5 lb.
Nonetheless, having won all those fights, everyone believed that the 30-year-old had earned the right to face then Flyweight Champion Demetrius Johnson.
However, UFC wanted him to take another fight before battling for the title.
Consequently, Borg fought Justin Scoggins and was a heavy favorite going into the fight. However, the match turned out to be completely different as the 5 feet 4 fighters lost via a unanimous decision.
As a result, his title shot had to be postponed for a while. After that, Ray faced some of the top flyweights in UFC, Louis Smolka and Jussier Formiga.
Both those fights turned out to be relatively easy as the Arizona native won via unanimous decisions.
Vergil Ortiz Jr. Bio: Record, Career, Net Worth, Parents, Weight Wiki >>
Thus, having won against top contenders for the title, Borg finally got his opportunity to face the then-undefeated UFC Champion, Demetrius Johnson.
Although no one gave the 30-year-old a slight chance, contrarily, he put up an incredible fight.
Unfortunately, in the fifth round, Johnson caught him in an impressive flying armbar just as he was about to get up from a takedown. As a consequence, Ray tapped and lost the fight.
After that, the 5 feet 4 flyweights decided to move upto bantamweight in the hopes of vying for another title shot.
However, Borg lost his only fight in bantamweight as Casey Kenney defeated him via a unanimous decision.
Nevertheless, being the fighter he is, Borg won the next two fights against Gabriel Silva and Rogerio Bontorin. As a result, it has again pushed him into the reckoning for a future title shot.
However, the talented 30-year-old still needs to win a few more fights before getting his title shot, as he currently sits in the 7th position in UFC's flyweight rankings.
And with Deiveson Figueiredo and Joseph Benavidez set to face each other for the vacant title, Borg can expect to get a title shot in the near future.
The young UFC fighter faced Gabriel Silva and won the fight unanimously decision. In early 2020, Borg faced Ricky Simón and lost the fight.
Likewise, the player was removed from the fight which against Nathan Maness on August 1, 2020.
However, Ray later returned to the UAE Warriors on June 19, 2021. He faced Jesse Arnett and won the match via unanimous decision.
Ray Borg: Fight Record
Professional record breakdown
19 matches
14 wins
5 losses
By knockout
1
0
By submission
6
1
By decision
7
4
Ray Borg: Age, Height & Body Measurements
Ray was born in the year 1993, which makes him 30-years old currently.
Although the Arizona native might seem a bit young for a top-level MMA fighter, he started fighting professionally at 18.
Hence Borg's eight years of experience have helped him become one of the top flyweights in the UFC.
Furthermore, the UFC Fighter stands at 5 feet 4 inches (1.63 meters) and weighs 125 lb (57 kg), the maximum weight limit for a UFC Flyweight Division fighter.
However, it seems as though Ray needs to fight in heavier divisions because he has missed the weight limit twice in his last four fights against Casey Kenney and Rogerio Bontorin.
Ray Borg: Reach
Borg has a reach of 63 inches (160 cm), which is quite low when compared to top-level flyweight fighters.
To explain, former UFC Flyweight Champion Demetrious Johnson has a reach of 66 inches (167.6 cm), while the most recent champion, Henry Cejudo, has a reach of 64 inches (162.6cm).
Ray Borg: Net Worth & Fight Purse
As of 2023, Ray has a net worth of $350,000 accrued mainly through his career as an MMA fighter.
Although his net worth may come as a bit of a surprise contrarily, MMA has been around for only a handful of years, which means that they are not paid as much as their boxing counterparts.
Furthermore, Borg fights in the flyweight division, which is the smallest division in the UFC.
As a result, the fighter earns much less than the bigger guys. Nonetheless, he does make quite a substantial amount of money.
As of 2023, Ray has a net worth of $350,000.
To be precise, for his most recent fight, Ray earned $50,000 after his win against Rogerio Bontorin on February 15, 2020.
However, the Arizona native received his biggest payday when he fought Demetrious Johnson for the UFC Featherweight Title at UFC 216.
Even though Borg lost the bout, he still received $100,000 for his troubles. Moreover, the 5 feet 4 fighter has earned more than $500,000 with UFC alone.
Thus we believe that Ray can become a millionaire in the near future if he continues to produce the goods in the UFC.
Net Worth of Ray Borg in Different Currencies
Below is the net worth of Ray Borg in different currencies, including the cryptocurrency BitCoin.
Currency
Net Worth
Euro
€

294,338

Pound Sterling
£

250,675

Australian Dollar
A$

474,898

Canadian Dollar
C$

435,768

Indian Rupee
₹

26,039,423

BitCoin

฿9
Ray Borg: Wife & Son
At the moment, Borg is happily married to his wife, Amanda Borg. Moreover, the couple had been dating for years before deciding to tie the knot.
Interestingly, Amanda is a professional MMA fighter as well.
Furthermore, the couple has been blessed with a son, Anthony Borg, born in 2018.
But, sad to say, their son was born with hydrocephalus disease, which affects the brain. Since then, the little champ has had to go through various surgeries to cure hydrocephalus.
Borg was working hard to meet his son's medical expenses. But his old and good friend Brendan Schaub announced to cover all the medical expenses of Ray's sons.
Brendan Schaub announced the news during the latest episode of the JRE MMA Show.
Nevertheless, Ray and Amanda's love and support, along with Anthony's fighting desire, have seen the child get back to normal health.
In fact, just recently, on March 28, 2020, the two lovers celebrated their child's birthday.
Added to that, Ray posted a series of photos of his beloved child from his birth to his present state.
Hence, we wish the fighting pair and their son all the best for their future endeavors and hope that young Anthony successfully recovers from his disease.
Social Media Presence
Instagram: 18.1k followers
Twitter: 22.7K Followers
Some FAQs
Did Ray Borg Forgive Conor McGregor?
Ray was one of the victims of the bus attack that involved Conor McGregor. However, Borg forgives Conor and focuses more on returning to his career rather than involving in legal issues.
Who Won the Match Between Jesse Arnett and Ray Borg?
Borg won the match with unanimous decisions.
Who was Ray's Last Fight Scheduled with for the Year 2020?
Ray was scheduled to fight with Nathan Maness in August 2020. However, he was later removed from the fight for an undisclosed reason.