The American professional boxer, Vergil Ortiz Jr., has been a WBO international welterweight champion since 2021. He is also known for his punching power and finishing fights in early rounds.
Ortiz has quickly made a name for himself due to his knockout power and fast reflexes. As a result, he remains undefeated in his 19 professional bouts now.
Thus, expectations are enormous on the 25-year-old's shoulder to carry the boxing flag after the retirement of its greatest boxer, Floyd Mayweather.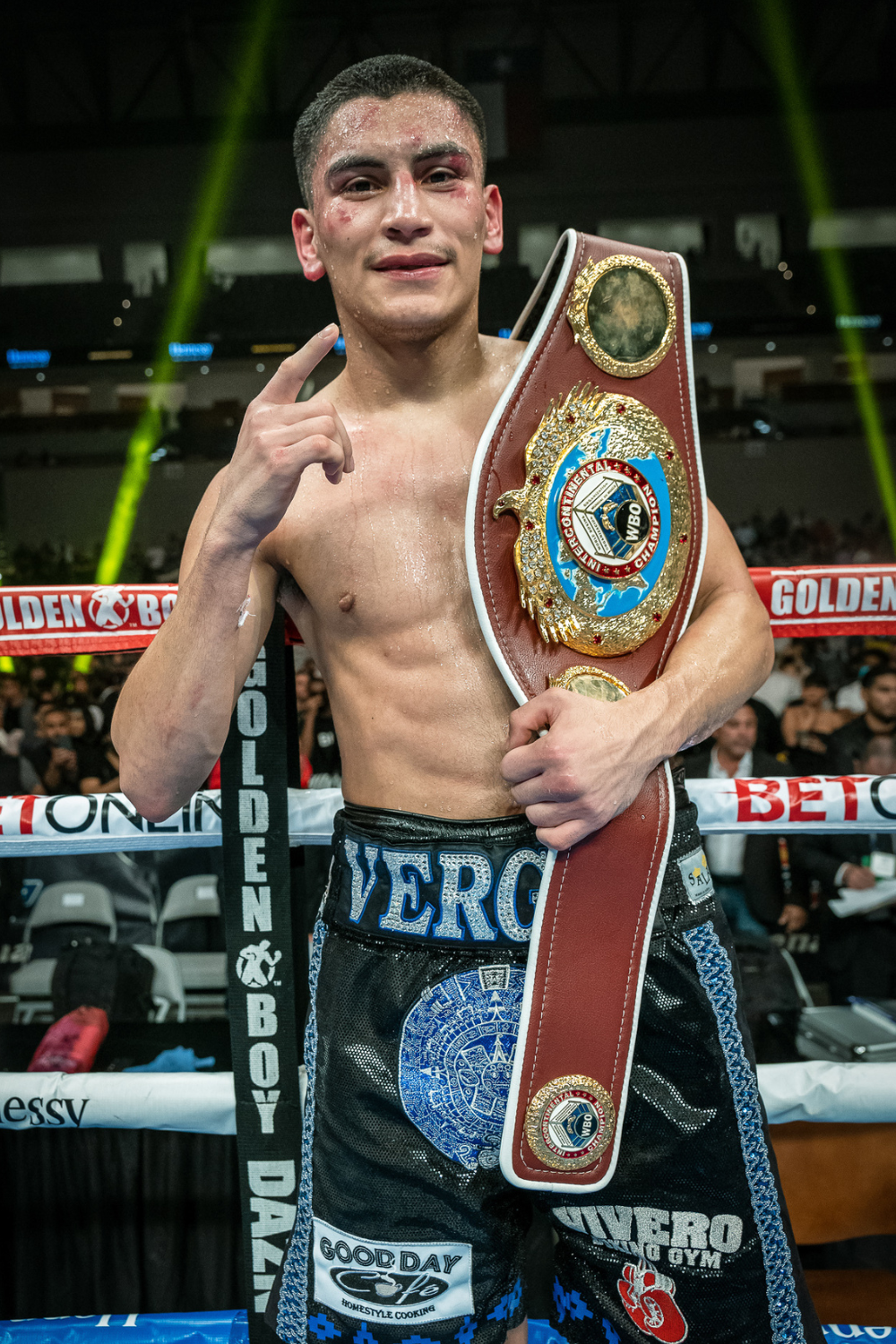 On August 6, 2022, Ortiz added one to his 18-0 winning streak making it 19-0 by winning the match against Michael Mckinson with a TKO.
However, we are not here to talk about the future. Rather, we are here to discuss Vergil's past and present.
We have also provided details on his net worth, fight purse, early life, age, height, boxing record, family, and social media.
So, just like boxers do before their fight, let's warm up with some quick facts before we get onto the serious stuff.
Vergil Ortiz Jr. | Quick Facts
| | |
| --- | --- |
| Full Name | Vergil Ortiz Jr. |
| Birth Date | 25 March 1998 |
| Birth Place | Dallas, Texas, U.S.A |
| Nick Name | Not available |
| Religion | Christian |
| Nationality | American |
| Ethnicity | Latin American |
| Education | Not available |
| Horoscope | Aries |
| Father's Name | Vergil Ortiz Sr. |
| Mother's Name | Mela Reveles |
| Siblings | Three |
| Age | 25 Years Old |
| Height | 5'10″/1.78 m/ 178 cm |
| Weight | 58.9-66.6 kg/130-147 lbs. |
| Hair Color | Black |
| Eye Color | Black |
| Net Worth | $1 million |
| Married | No |
| Spouse | No |
| Children | No |
| Profession | Boxing |
| Reach | 70 inch (178 cm) |
| Stance | Orthodox |
| Promotion | Golden Boy Promotions |
| Division | Light Welterweight, Welterweight, Super Lightweight |
| Fighting out of | Dallas, Texas, United States |
| Record | 19-0-0 |
| Championships | WBA Gold Welterweight, WBC-NABF Super Lightweight |
| Merch | Gloves |
| Social Media | Instagram, Twitter |
| Last Update | May, 2023 |
Vergil Ortiz Jr. | Early Life
Vergil Ortiz Jr. was born on 25 March 1998 in Dallas, Texas. Although his father, Ortiz Sr., is of Mexican descent, Vergil was born in theU.S., which made him American by nationality.
Unfortunately, there is no further information regarding his childhood.
As an amateur boxer, Ortiz was a seven-time national champion, an unbelievable feat.
Moreover, the American boxer also won the 2013 Junior Olympics gold before making his professional debut.
Vergil Ortiz Jr. | Professional Career
Early Career And First Fight
Even before Ortiz had fought a single professional bout, he was already seen as the next best thing to come out of the U.S. in the welterweight division after "The Best Ever," Floyd Mayweather.
Thus, the pressure was immense on young Vergil's shoulders when he made his debut at the tender age of 18.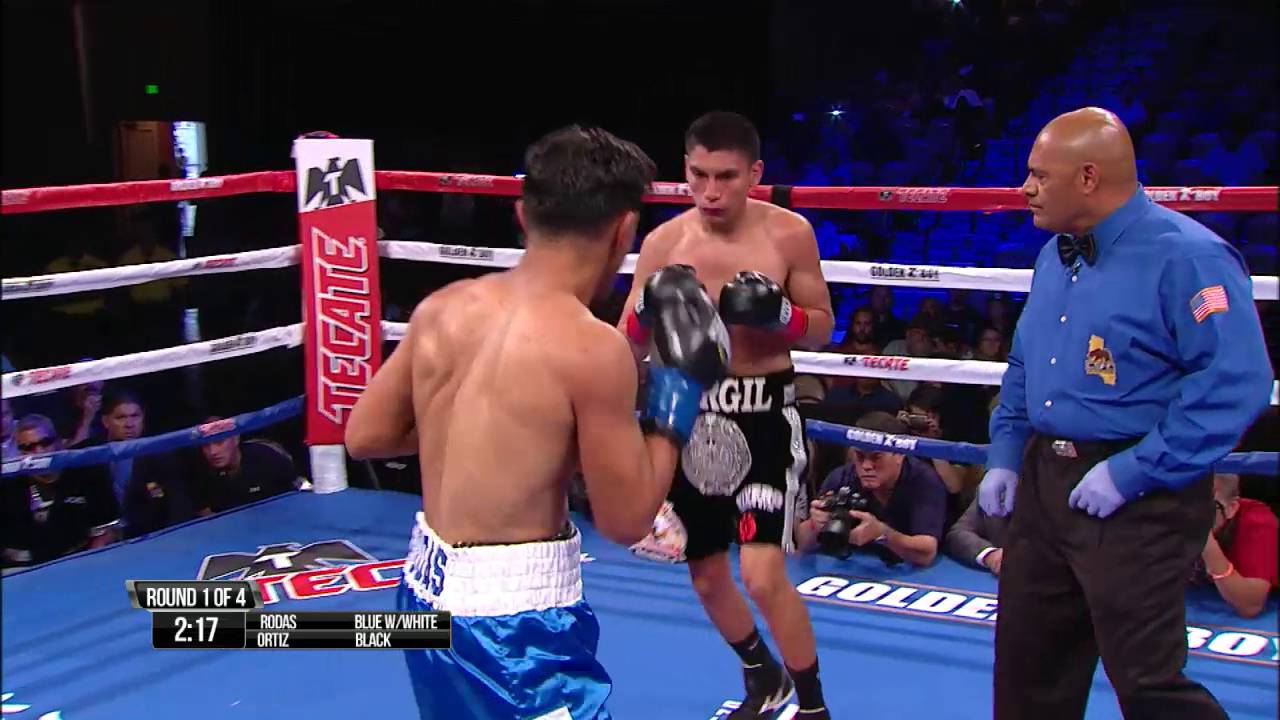 Living up to the expectations, the Texas-born boxer made an immediate impact when he knocked out Julio Rodas in the very first round of his first-ever fight.
Consequently, any doubts regarding the abilities of young Vergil were put to rest.
Vergil Ortiz Jr. Vs. Evandro, Jesus Alvarez, Juan Carlos, And Roberto
In fact, the Welterweight boxer's hype grew even further as in his next three fights, Ortiz spent less time in the ring than he would in his bathroom.
To explain, the then 18-year-old knocked out all three of his opponents in a combined five minutes and six seconds.
It was phenomenal and absolutely unbelievable. Amazingly, in Vergil's first eight professional bouts, only two of his opponents reached the second round or more.
In his eighth fight, he fought against Brazilian boxer Evandro Cavalheiro. The Mexican won by a technical knockout.
After that, Vergil established himself as one of the top contenders in the Welterweight and Lightweight divisions.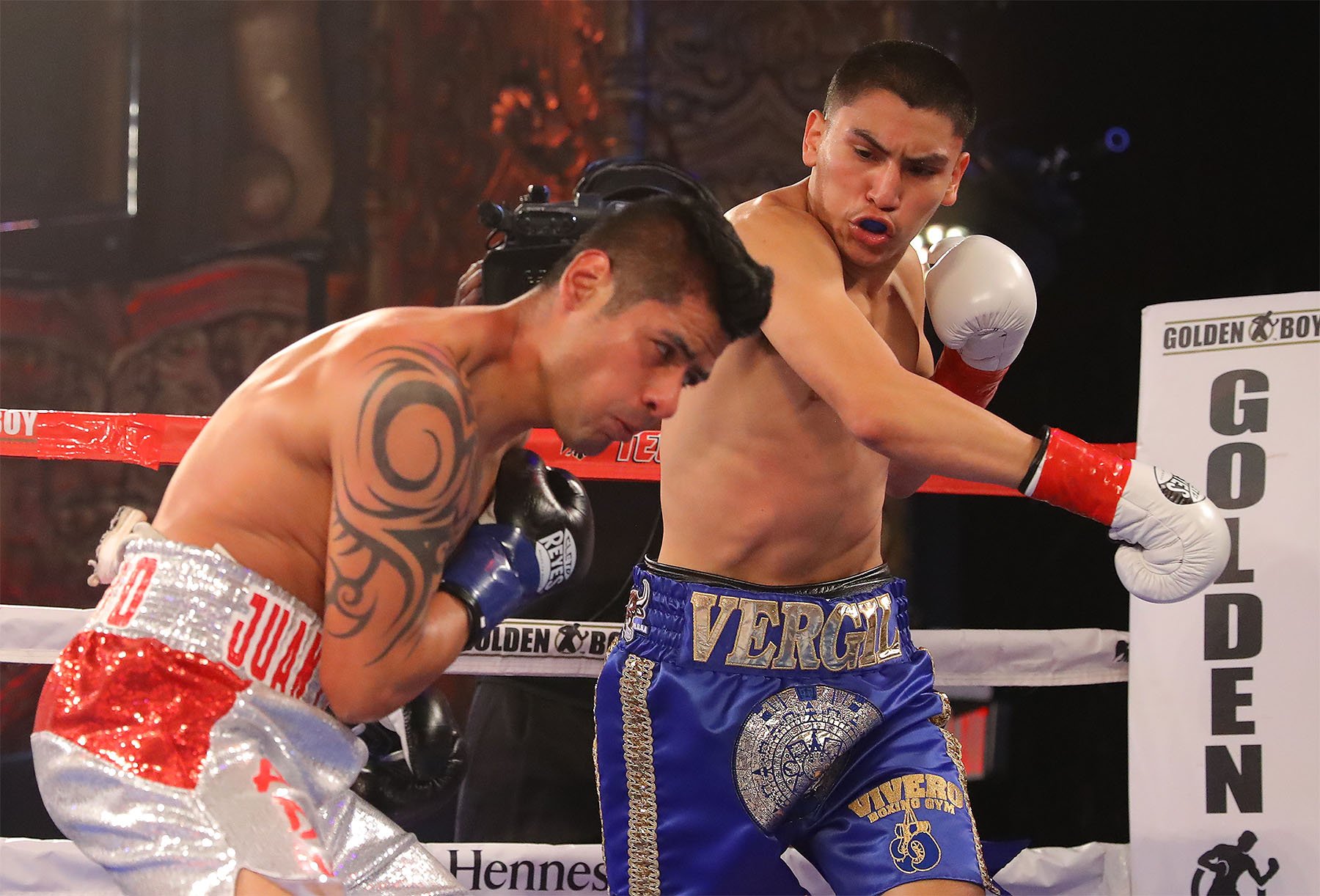 Call it fate or call it a chance; Ortiz got scheduled to fight for the vacant WBC-NABF Junior Super Lightweight Championship.
The athlete fought against Jesus Alvarez Rodriguez on 22 February 2018. Consequently, expectations were high for the young boxer to win his first title as a professional.
And staying true to his hype, Ortiz defeated Jesus in the third round via TKO. All the blood, sweat, and tears Vergil spent got rewarded as he won his first-ever championship.
In his 10th professional match, he fought against Juan Carlos Salgado. Ortiz knocked out the Mexican boxer in the third round.
Moving on to another Mexican boxer Robert Ortiz, Vergil earned a victory through a TKO in the second round. Even though it was an intense fight, Ortiz Jr. managed to earn a win.
Get To Know More About The MMA Fighter Justin Wren Bio: Wife, Charity, Height, Twitter, Career, Age Wiki >>
Vergil Ortiz Jr. Vs Mauricio Herrera, Antonio Orozco
Following a series of wins and victories, the Mexican athlete, Mauricio Herrera, fought against the American boxer. Furthermore, Herrera was the 2014 WBA Interim Super Lightweight Champion.
Believing in his abilities, Vergil won the match by knockout. Soon after his championship victory, the Texas-born boxer faced tough opposition.
Nevertheless, just like nine times before, Ortiz won all those bouts via stoppages.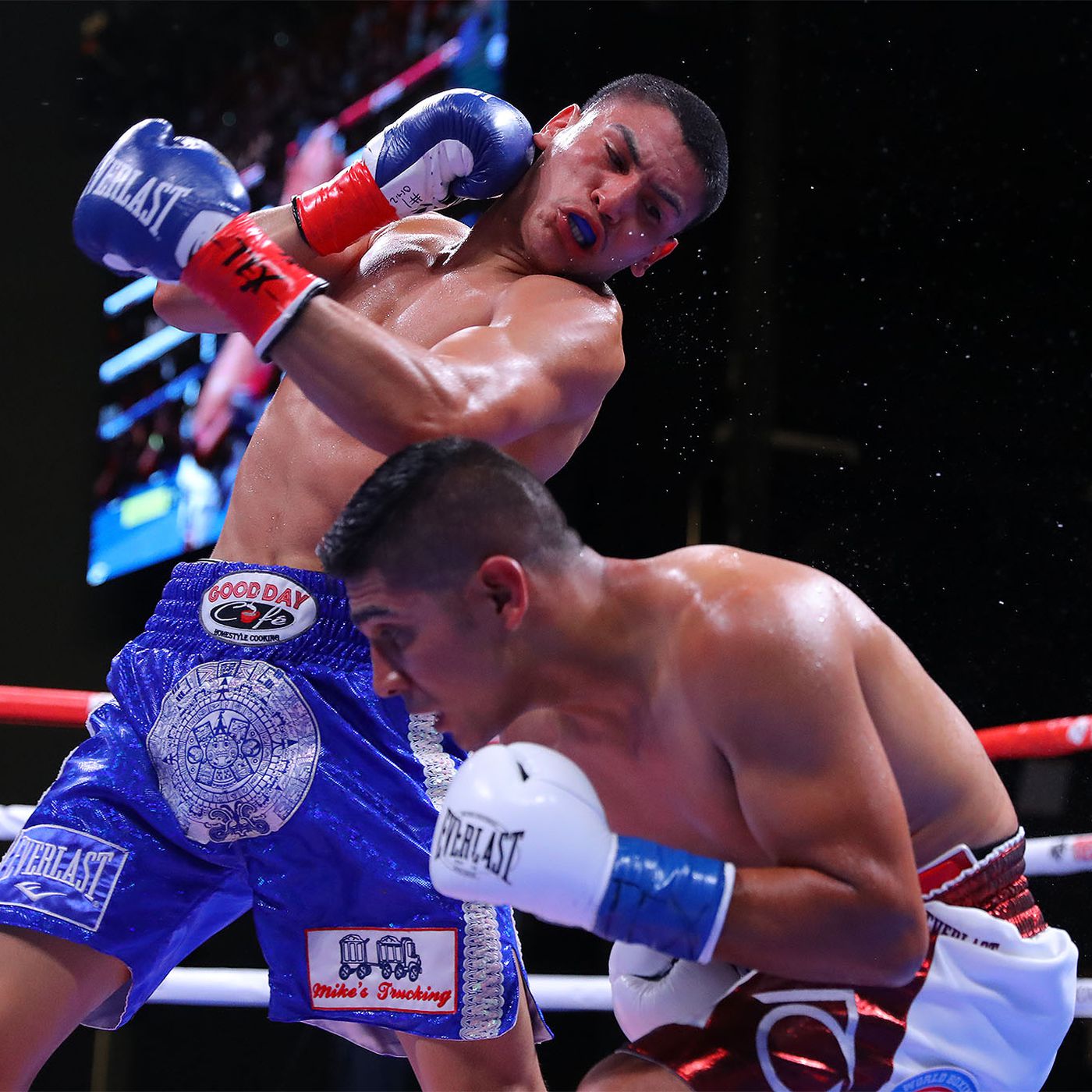 In his next fight, the boxer fought against Mexican-born boxer Antonio Orozco. Moreover, his toughest one happened to be with Antonio.
To explain, the fight was ebbing and flowing both ways as it went into the sixth round.
At the 2 minutes 16 seconds mark, Vergil landed a four-punch combo, which finished with a left hook that knocked out Antonio.
Vergil Ortiz Jr. VS Samuel Vargas And Brad Solomon
After defeating Orozco in 2019, Ortiz became the new WBA Gold Welterweight Champion. The win made him the champion of two different divisions.
It was also the first time the 25-year-old had headlined a fight, making it even more special.
The athlete defended his title when he fought against three-time National Golden Gloves Champion Brad Solomon. Ortiz knocked out Solomon in the fifth round.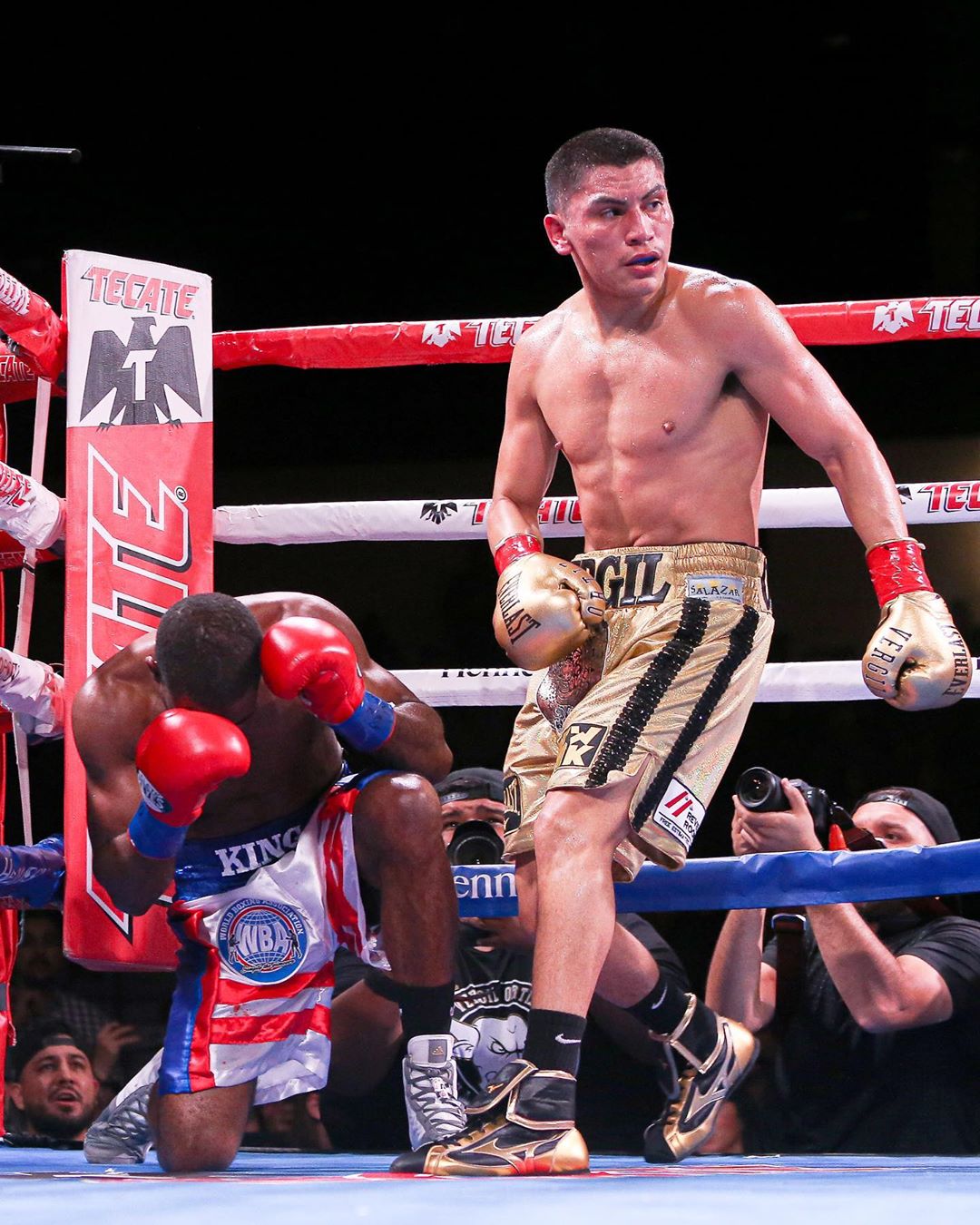 Subsequently, after a three-month break, Vergil was supposed to defend his WBA Gold Welterweight Championship against Samuel Vargas on 28 March 2020.
Due to the Corona Virus (COVID-19) pandemic, the fight had to be canceled last minute as government rules have prohibited mass gatherings.
However, after the pandemic, on 24 July 2020, the fight took place at Fantasy Springs Resort Casino, Indio, California. Ortiz continued his winning streak by finishing the match in the 7th round with a technical knockout.
Vergil Ortiz Jr. VS Michael McKinson
The fight was held on August 6, 2022, at the Dickies Arena in Fort Worth, Texas, USA. From the very first round, Vergil landed some solid jabs and hooks. Mckinson was keeping space with Ortiz and blocking his shots most of the time.
Both the boxers fought for 7 full rounds and were not able to do any damage to one another. However, in the last minute of the 8th round, Vergil landed a brutal body shot that made Michael get down on his knees.
Finally, in the 9th round, Mckinson again went down and could not continue boxing, and his team stopped the match, resulting in Vergil's victory.
In the post-fight interview, Ortiz told DAZN's Chris Mannix, "Honestly, I thought I didn't really do anything good (in the first seven rounds)." "I had to adjust big time. I should have listened to my corner from the beginning."
He added, "I felt like I figured him out in the first round but just went away from it. My corner had the game plan laid out, my dad bitched me out for three or four rounds, and I finally listened to him, and we got him out of there."
Achievements And Highlights
Seven-time National Champion (Amateur Record)
Junior Olympics Winner in the year 2013
2019 The Ring magazine Prospect of the Year
Won vacant WBA Gold Welterweight title on August 10, 2019
Retained WBA Gold Welterweight title on Dec 13, 2019, and July 4, 2020
Vergil Ortiz Jr. | Stats
| | | | | | | | | |
| --- | --- | --- | --- | --- | --- | --- | --- | --- |
| No. of Fights | Wins | Losses | Round KO % | Opponents Stopped | Been Stopped | Been KO'd % | Average Winning Round | Average Losing Round |
| 19 | 19 | 0 | 21.43% | 3 | 0 | 0 | 4.7 | 0 |
Vergil Ortiz Jr. | Age, Height & Boxing Record
Vergil fights in the Light-Welterweight, Welterweight, and Super-Lightweight divisions, which means that his weight varies from 130-147 lbs (58.9-66.6 kg), depending on the weight class.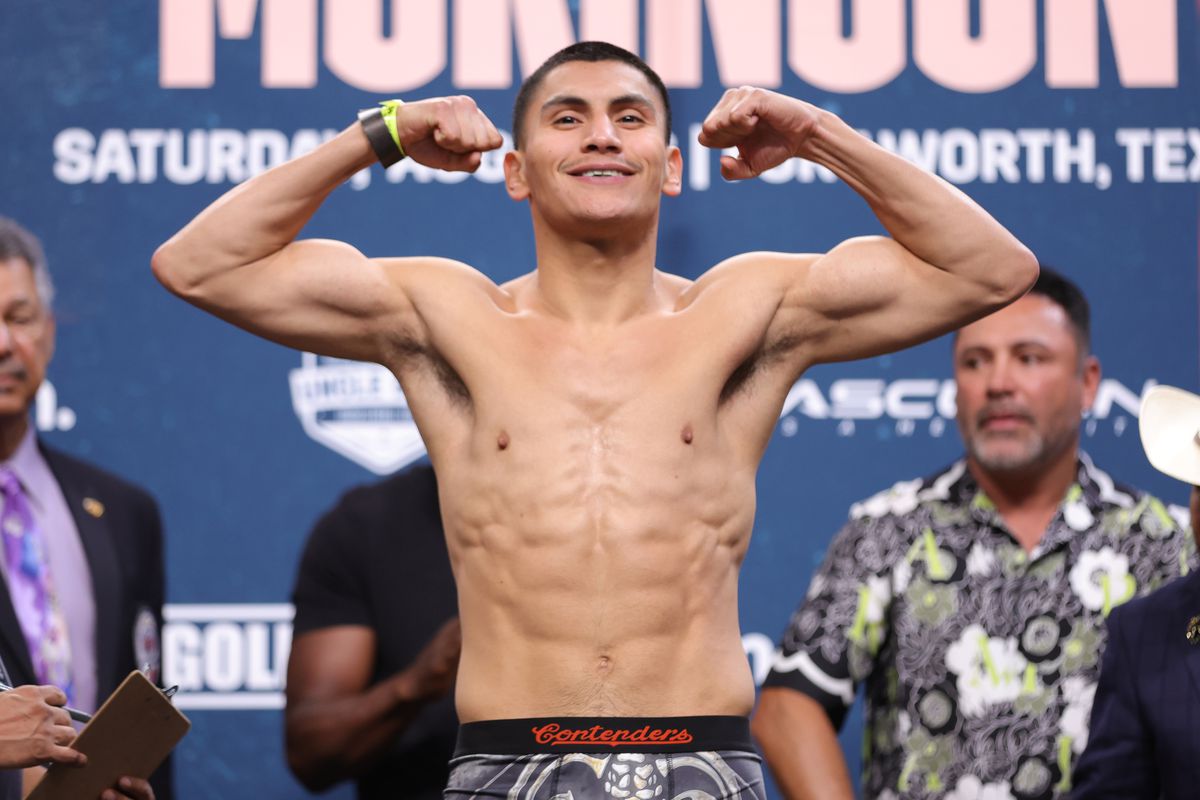 Likewise, Welterweight fighters are usually short, which is Ortiz's case, as he stands at 5 feet 10 inches. The Texas fighter was born in 1998, which means that Vergil is 23 years old at the moment.
And talking about his boxing record could not be more impeccable because the Welterweight boxer holds a perfect record of 19 wins and zero losses, with all those wins coming via knockouts.
Learn About One Of The Female MMA Fighters Alexa Grasso Bio: Career, Age, Height, Salary Wiki >>
Vergil Ortiz Jr. | Net Worth & Fight Purse
As of 2023, Vergil has a net worth of $1 million. He accrued his wealth amount mainly through his professional boxing career.
Although it might seem a respectable amount of money for a 22-year-old, top fighters like Floyd Mayweather and Manny Pacquiao earned tens of millions for each fight.
Therefore, we believe that Ortiz's net worth will skyrocket when he starts getting more significant matches against top-class opponents.
Furthermore, Vergil earns a base fight purse of $75,000 for each of his fights under the Golden Boy Promotions.
But, it does not include his share of the PPV buys and sponsorship money.
Thus, when we add up all those extra income, we are pretty sure that the Texas-born fighter earns above $100,000 per fight.
Vergil Ortiz Jr. | Parents, Wife & Girlfriend
Ortiz Jr. was born to his father, Vergil Ortiz Sr., a professional boxer, and his mother, Mela Reveles. Likewise, Ortiz Sr. was born in Mexico and fought professionally for several years, albeit unsuccessfully.
Furthermore, Ortiz's mother looks very young. Many have joked that she could easily pass as his sister or girlfriend.
About Vergil's girlfriend, the 25-year-old does not have one right now as his primary focus is to become the best fighter in the welterweight division.
For example, when Ortiz was asked about his relationships, he once said,
"I'm just focused on boxing right now. That'll come later."
The quote mentioned above says everything you need to know about the undefeated fighter from Texas.
However, if Vergil does decide to be involved in a relationship, then we have no doubts that the prized boxer will have no shortage of women falling for him.
Vergil Ortiz Jr. | Trainer
The man behind Vergil's 19-0 record is none other than the well-renowned trainer, Robert Garcia.
Among others, Garcia has worked as a trainer for some of the world's best fighters that include Canelo Alvarez, Miguel Cotto, and Marcos Maidana, to name a few.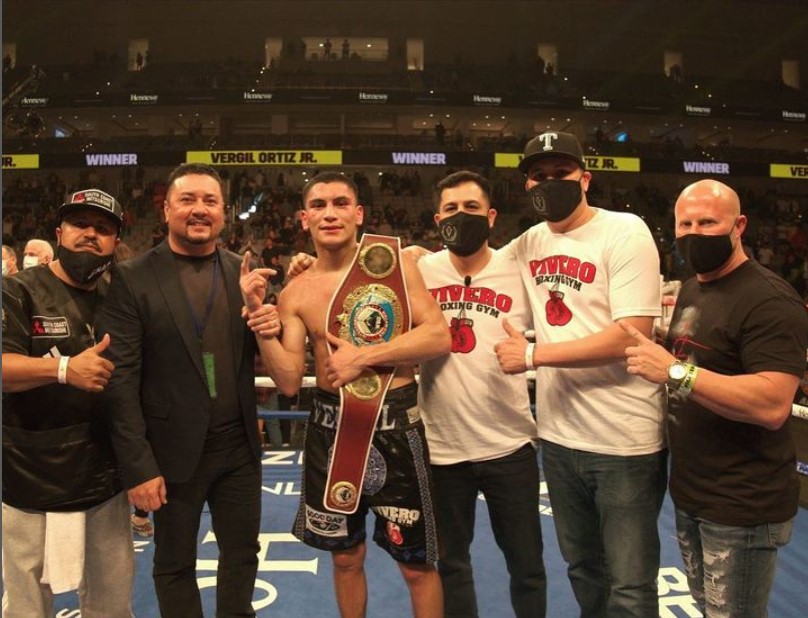 Furthermore, Robert himself was a professional boxer back in the day who had an excellent record of 34 wins and 3 losses.
In addition to that, he was also the NABF and IBF Super Featherweight Champion.
Hence, we believe that Garcia is handing out all the wisdom he gained over the course of more than 28 years in the boxing business to his prodigy.
Vergil Ortiz Jr. | Social Media Presence
The professional boxer is quite active on multiple social media platforms. Hence, he has an Instagram account under the handle @vergilortiz and a twitter account @VergilOrtiz.
The athlete mostly shares his life as a boxer. As a result, he has posted several pictures of himself in the ring and with championship belts.
Likewise, the fighter has shared his training video and workout routines through his Instagram account. Besides that, Vergil has posted adorable pictures of his family.
Instagram: 201k followers
View this post on Instagram
Twitter: 44.3k followers
Vergil Ortiz Jr. | Popularity
After getting successful at such a tender age would surely give him immense popularity. He is popular for his fierce and powerful left hook and for finishing the game in the early rounds.
The above graph illustrates his popularity all over the world over a year.
Vergil Ortiz Jr. | FAQs
When is Vergil Ortiz Jr.'s next fight?
Vergil does not have a fight scheduled as of this writing.
Where is Vergil Ortiz from?
Vergil Ortiz is from America. He was born in Dallas, Texas. Nevertheless, he is of Mexican descent.
Where was Vergil Ortiz Jr. Vs. Juan Carlos Salgado held?
The Vergil Ortiz Jr. Vs. Juan Carlos Salgado match was held in Belasco Theater, Los Angeles, California, the United States. Ortiz won the match in the third round via a knockout.
Who is Vergil Ortiz signed to?
Vergil Ortiz is signed to Rick Mirigian and MTK Global. Furthermore, Mirigan is a California-based manager who will work as the fighter's manager.
Likewise, MTK Global will serve in an advisory role. They have signed the undefeated boxer for a 5-year deal.
How much is Vergil Ortiz worth?
The Texas-born fighter is worth over $1 million. Moreover, his approximate salary is $250 thousand. Besides that, he earns quite well through endorsements and sponsorships.
You Can Also Read About The Top 15 Hot Boxers In The Boxing World>>