The number one kickboxer in the world, Rico Verhoeven's net worth, is estimated at $3 million.
Rico Verhoeven is a professional kickboxer from the Netherlands who competes in the heavyweight division of the international kickboxing promotion, Glory. He is also known as the king of Kickboxing.
Moreover, he is considered to be one of the best kickboxers in the world. Currently, he is the Glory Heavyweight Champion and has retained the title since 2014.
The Dutch boxer won the vacant title after defeating Romanian professional kickboxer and politician Daniel Florin Ghiță, who is known as one of the greatest active kickboxers.
Likewise, barely anyone knows him in the kickboxing world, and he is well known as the Savage Samurai. However, Rico defeated him twice in his kickboxing career.
Besides that, Verhoeven has fought 68 matches and won 58 of them while losing 10. Similarly, he has also ventured into the boxing and MMA world.
The fighter fought one boxing and MMA match in his career and was victorious in both of them. Not to mention, he also has some experience working in films and television.
Some of the films and television programs are Vechtershart, Kickboxer: Retaliation, Hotboxin with Mike Tyson, etc.
Well, we must admit that the kickboxer is an all-rounder and, through his hard work, has been able to achieve the success he has today.
Before getting into details about the renowned kickboxer's life and career, here are some quick facts about him.
Quick Facts
| | |
| --- | --- |
| Full Name | Ricardo Verhoeven |
| Birth Date | April 10, 1989 |
| Birth Place | Bergen op Zoom, Netherlands |
| Nick Name | Prince of Kickboxing, King of Kickboxing |
| Religion | Christian |
| Nationality | Dutch |
| Ethnicity | Dutch people |
| Education | Not Available |
| Horoscope | Aries |
| Father's Name | Jos Verhoeven |
| Mother's Name | Jacqueline Deurloo |
| Siblings | Sister; Nadia Tsouli |
| Age | 33 Years Old |
| Height | 6 feet and 5 inches (196 cm) |
| Weight | 264 lb (119.6 kg) |
| Hair Color | Black |
| Eye Color | Light Grey |
| Build | Athletic |
| Profession | Kickboxer |
| Current Team | Superpro Sportcenter |
| Reach | 77 in (196 cm) |
| Active Years | 2004 – Present |
| Marital Status | Unmarried |
| Ex-Girlfriend | Jacky Duchenne |
| Kids | Three; Mikayla Verhoeven, Jazlynn Verhoeven, and Vince Verhoeven |
| Net Worth | $3 million |
| Social Media | Instagram, Twitter |
| Website | RV |
| Last Updated | December, 2022 |
Rico Verhoeven | Net Worth, Income, and Endorsements
Rico earns most of his wealth through his professional kickboxing career. Since he is a very well-known figure in the kickboxing world, his promotion pays well to keep him.
Moreover, he manages to garner a lot of live and TV audiences. Besides that, his net worth is estimated at $3 million.
Not to mention, the king of Kickboxing is also one of the highest-paid Kickboxers in the world. He has spectacularly defended his title nine times and has remained an undefeated kickboxer since January of 2015.
As a result, many brands and companies want to collaborate with one of the best. Hence, he earns well through sponsorships and other endorsements.
Learn More About Ukrainian Kickboxer and MMA Fighter, Lena Ovchynnikova Bio: Husband, Kickboxing & Next Fight.
Endorsements and Partnerships
Verhoeven is endorsed by well-known South Korean multinational electronics company Samsung, a German automobile manufacturer Porsche, an American video game publisher Activision and fitness brand Matrix Fitness.
Likewise, he recently partnered with the popular motorcycle-manufacturing division Ducati, a British automotive manufacturer that is well-known for its involvement in Formula One McLaren Utrecht, and a German multinational corporate manufacturer of luxury vehicles BMW.
Furthermore, he is the ambassador of the Dutch Olympic Committee*Dutch Sports Federation, NOC*NSF, and VooR SARA.
Similarly, he is in partnership with Superpro Sportcenter gym, and his logistic partner warehousing serves as a personal trainer in the FYTFYT app.
The former prince of Kickboxing also has built an online platform for ending unemployment in the Netherlands called Heel Nederland Werkt.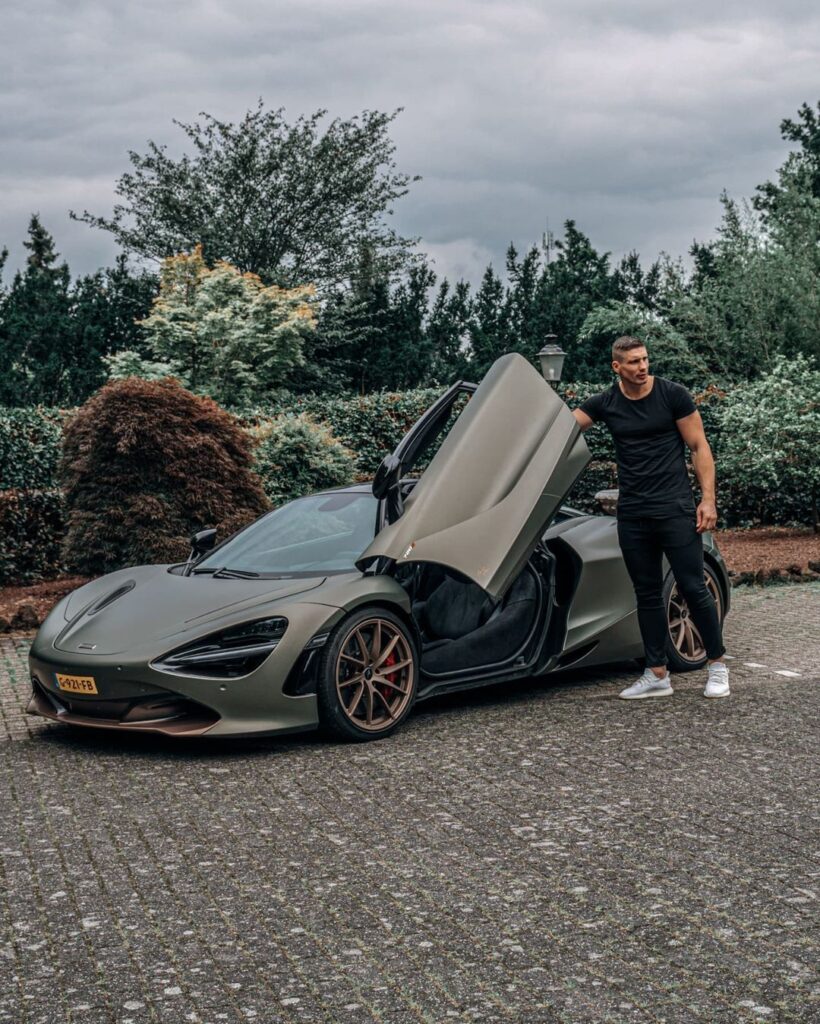 As it is no secret that Verhoeven loves chocolate and food, he has partnered with Johnny Doodle and helped develop Mood Street food.
The companies are aiming to increase the status of healthy eating without compromising on taste. He has also collaborated with the manufacturer of electrically operated cryo chambers MECOTEC.
Besides that, he is also the founder and CEO of RV Brand which sells clothing, accessories, boxing gloves, etc. His website has a shop section where he sells his merchandise.
Although his earnings through endorsements and sponsorships are not estimated yet, it is said to be in the millions. Apart from that, many sources allege that the kickboxer invests a lot of his money too.
However, the details of his investments are unknown as of now. Other than that, the Heavyweight Champion has signed an exclusive multi-year agreement with Glory that ensured his future in the promotion for a long time.
Rico Verhoeven's Net Worth In Different Currencies
Let's take a look at Rico Verhoeven's Net Worth in several currencies.
| | |
| --- | --- |
| Currency | Net Worth |
| Euro | € 2,538,608 |
| Pound Sterling | £ 2,166,450 |
| Australian Dollar | A$ 4,080,660 |
| Canadian Dollar | C$ 3,793,110 |
| Indian Rupee | ₹ 220,852,500 |
| BitCoin | ฿ 66 |
Rico Verhoeven Net Worth | House & Cars
The kickboxer owns a beautiful and magnificent luxury villa in Halsteren, North Brabant. He bought the house in 2018 for €688,000 (est. $813,879.92).
The initial cost of the house was €730,000 (est. $863,564.45), and it seems like the fighter got a good deal. Not to mention, the villa had been on the market for over 2 years before Rico decided to buy it.
The property has ​​213 square meters of living space with eight rooms, including six bedrooms and one restroom. Moreover, the kitchen is well-furnished and includes a lot of in-built appliances.
Likewise, the kitchen also leads to the beautiful garden with a pool, jacuzzi, patio, and barbeque area. The garden encloses the entire villa.
Furthermore, the villa has a garage that has the capacity to accommodate three cars. Besides that, he lives in a very safe neighborhood, and the villa is on camera surveillance 24/7.
However, since his breakup with his long-term girlfriend Jacky Duchenne, the mother of his three kids, Rico expressed that he feels a bit lonely in the spacious house.
He said, "The situation now is that I have a spacious house. And a spacious house alone is really alone. That is sometimes difficult… I just miss the kids. Then I did shed a tear, yes."
Cars and Motorcycles
The king of kickboxing is the owner of various luxurious cars and motorcycles. In 2017, he owned a Porsche Panamera.
As of now, he drives a luxurious car, BMW X7. It is a black car whose estimated worth is 168,290 euros (est. $199,162.80).
Besides that, Rico also owns a McLaren 720S. After his ex-girlfriend gifted him motorcycle lessons for his 30th birthday, he went ahead and bought a Suzuki GSX-R1000R.
It has 202 horsepower and weighs 203 pounds. Furthermore, it is no secret that the fighter owns a Ducati Diavel that has 159 horsepower and costs him $35,503.50.
You Might Be Interested In Retired Kickboxer and MMA Fighter, Rick Roufus: Family, Injury, Wife & Net Worth.
Rico Verhoeven Net Worth | Lifestyle and Vacations
Verhoeven is a very well-known and successful kickboxing figure. Likewise, he has fought against well-respected and famous fighters.
Some of these are Badr Hari, Daniel Ghiță, Jamal Ben Saddik, Alistair Overeem, etc. Besides that, he shares a close relationship with one of the greatest British fighters Tyson Fury.
Likewise, Rico is well acquainted with the Baddest Man on the Planet, Mike Tyson, who is also one of the greatest heavyweight boxers of all time.
Moreover, he has been pictured with celebrities like Sylvester Stallone, Kevin Hart, Irish mixed martial Connor McGregor, etc.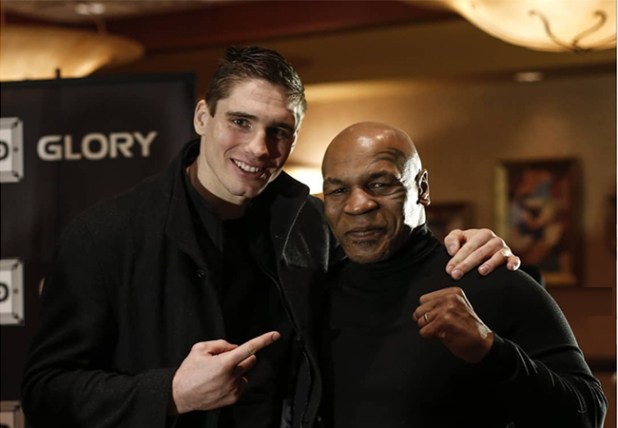 Furthermore, the King of Kickboxing is invited to several prestigious events. As a motivational speaker, he has been asked to share his journey as a kickboxer.
Due to the pandemic, Verhoeven hasn't been on a lot of vacations for a while. However, in 2018, he took his family to Dubai on vacation.
Aside from that, his work requires him to travel a great deal. Hence, he used to be on the road quite often for his fights.
Don't Forget To Check Out Swedish MMA Fighter Alexander Gustafsson's Bio: Early Life, Career, Stats & Net Worth.
Rico Verhoeven Net Worth | Charity
The fighter has helped raise money for quite a few charities. For example, he collaborated with Heroes for Heroes to raise money for cancer.
Besides that, he has attended and even fought fights to raise funds and awareness for several charities. Moreover, Verhoeven is also the ambassador of Voor Sara.
The organization helps raise awareness against rare muscle diseases. Furthermore, they organize different events to fund research and awareness programs related to diseases.
Rico Verhoeven Net Worth | Book Publications and Movies
The King of Kickboxing has not written a book himself. However, a well-known writer Leon Verdonschot wrote a book based on Verhoeven's career and personal life.
Moreover, the book is titled "RICO" and features the fighter on the cover page. The writer followed the renowned kickboxer through his fighting journey and observed his life closely, which has been enclosed in the book marvelously.
Besides that, Rico has appeared in four movies to date, namely Kickboxer: Retaliation, Ferdinand, Angry Birds 2, and Undercover.
He had a small role in the 2018 movie Kickboxer: Retaliation, where he played Moss. Likewise, he played as Diederik-Jan in De Film van Dylan Hagens.
Furthermore, Rico did a voice-over of the lead character in the movie Ferdinand and was the voice of Hank, the security guard in Angry Birds 2.
Not to mention, Rico recently starred in the 2020 Netflix movie Underground where he was the bodyguard of drug Kingpin Ferry Bouman.
Know More About Former Kickboxer and MMA Fighter, Israel Adesanya Bio: Career, Net Worth, Girlfriend & UFC.
Rico Verhoeven Net Worth | Professional Career
Rico Verhoeven was born in April 10, 1989, at Bergen op Zoom, Netherlands. His parents are Jos Verhoeven and Jacqueline Deurloo.
The kickboxer's father was a karate black belt, so he started training his son early on. At the age of 5, Jos got his son into martial arts, and by 7, he was already learning kickboxing.
Moreover, Rico turned pro as a 15-year-old and has been dominating the kickboxing world ever since then. He was named the Kickboxer of the Year in 2013 by Bloody Elbow.com.
Likewise, the fighter was awarded the Glory Heavyweight World Championship Tournament title in 2014. Not to mention, he has defended his Glory Heavyweight Championship title nine times successfully.
Besides that, Verhoeven was well known for his rivalry against Daniel Ghiță in his early professional career. He was usually victorious against Ghiță, who is a well-respected persona in the kickboxing world.
Furthermore, Kickboxingplanet.com named him the 2016 Kickboxer of the Year. Similarly, the following year he was the recipient of the Glory Fighter of the Year title.
The King of Kickboxing won the Glory Knockout of the Year in a match against Jamal Ben Saddik. In 2017, Liverkick.com named him the Fighter of the Year.
On top of that, he was the Glory Highlight of the Year in 2019. Recently in 2021, Rico was declared the Glory 77 Heavyweight Tournament title winner.
Facts About Rico Verhoeven
The kickboxer was formerly known as the Prince of Kickboxing.
Frequently Asked Questions (FAQs)
What is Rico Verhoeven record?
Rico Verhoeven has fought 68 matches and won 58 of them. Glory Record: [58-10-0 (18 KO)].
When was Rico Verhoeven last fight?
The kickboxer's last fight was against Moroccan-Dutch kickboxer Tarik Khbabez. Rico won the fight.
Who is the No 1 kickboxer?
Rico Verhoven, also known as the King of Kickboxing, is considered the No.1 kickboxer by various media outlets and experts. The fighter has retained the Glory Heavyweight Championship title since 2015.