Robbie Grossman's girlfriend, Amanda Sedley, is yet to be his wife. The baseballer went public with his relationship in 2020.
Robbie and Amanda seem to be a perfect match as both aren't much interested in sharing their personal life. Their last picture together came in 2020.
The Texas Rangers outfielder Grossman made his MLB debut with Houston Astros in 2013. Since then, he has played for five franchises, and his last stop before joining the Rangers was Atlanta Braves.
At Texas, Grossman has found a new life. With teammates Dane Dunning and Brad Miller, Robbie will look to help Rangers out of their slump, having finished fourth in AL West last season.
Robbie Grossman Wife: Is He Married?
Robbie Grossman is yet to make his girlfriend, Amanda Sedley, his wife. A baseball player cautious of sharing his private matters, Robbie Grossman, has only been pictured a few times with his girlfriend.
One of the first pictures Robbie shared with his girlfriend was on July 6, 2020. The couple sat at Crissy Field, Public recreation area in San Francisco, striking a pose toward the camera.
An article from City Lifestyle stated the baseballer rented a home with his long-time girlfriend in Birmingham. This was after Grossman signed with the Detroit Tigers; the said girlfriend is Amanda.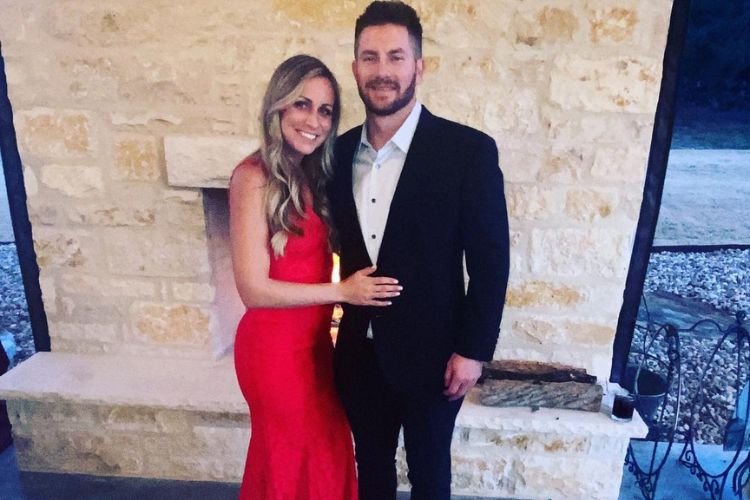 In 2020, as Oakland Athletics entered the playoff season, Amanda, with several other wives and girlfriends, cheered for their better halves.
In one of the pictures shared by the San Francisco Chronicle, Amanda can be seen out in the window rooting for the Athletics.
2020 also marked the last time Robbie shared any pictures of his girlfriend. After the end of the baseball season, the couple attended a friend's wedding in Texas. In the photo shared by Robbie, the baseballer looked sharp in his suit, and Amanda looked pretty for the occasion.
Robbie Grossman Girlfriend, Amanda Sedley, Is A HR Professional
Robbie Grossman's girlfriend, Amanda Sedley, works as an HR Onboarding Specialist at Cornerstone Building Brands.
Amanda graduated from Indiana University of Pennsylvania with a degree in Business Marketing. Since her graduation in 2012, Amanda has worked in several fields.
One of her first works came as an account executive for PLS Logistics Services. She then joined LJA Engineering as a Recruiting Coordinator and worked there for a year.
Before joining Cornerstone Building Brands, one of her long-term jobs was at Envision Energy as a human resources generalist. Most of her jobs made Amanda stay in and around Houston, Texas, only 30 minutes from Robbie's home in Cypress, Texas.
On Facebook, Amanda goes by the name Amanda Christine, using her middle name. She has an older brother Matt Sedley and shares a strong bond with her sister-in-law Sadie Elliot Sedley.
In Amanda's profile picture, she can be seen with a little girl, who is her niece, Siena Sedley. Her brother welcomed a second child with his wife in 2020, a little boy named Milo.