Roman Josi is a professional ice hockey player who has been serving as a defenceman for the Nashville Predators since his NHL Entry Draft in 2006.
Currently, the Swiss national serves as the captain for the Predators of the National Hockey League(NHL).
Likewise, in 2020, Josi won the James Norris Memorial Trophy, which made him the first Predators player and the first Swiss to win the award. Along with that, he has won many other awards.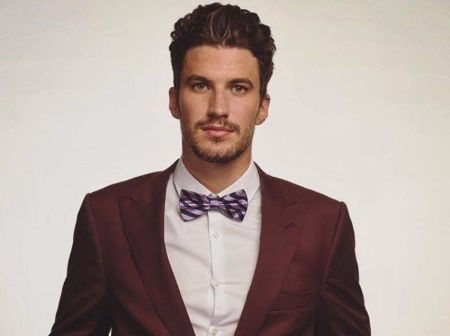 Besides serving as the Predators' captain, Roman has played for his national team on numerous occasions, including the Ice Hockey World Championship.
However, today, we will talk about some other aspects of his life as well. Like his personal life, net worth, wife, and many others. If you are his fan, then make sure to read this article.
Roman Josi: Quick Facts
| | |
| --- | --- |
| Full Name | Roman Josi |
| Birth Date | June 1, 1990 |
| Birth Place | Bern, Switzerland |
| Known as | Roman Josi |
| Religion | Unknown |
| Nationality | Swiss |
| Ethnicity | White |
| Education | Unknown |
| Horoscope | Gemini |
| Father's Name | Peter Josi |
| Mother's Name | Doris Josi |
| Siblings | Yannick Josi |
| Age | 32 Years Old |
| Height | 6 feet 1 inch (185 cm) |
| Weight | 91 kgs(201 lbs) |
| Build | Athletic |
| Eye color | Blue |
| Profession | Professional Ice Hockey Defenseman |
| Active years | 2007-present |
| Position | Defense |
| Team | Nashville Predators |
| Number | 59 |
| Marital Status | Married |
| Spouse/ Partner | Ellie Ottaway |
| Net Worth | $24 million |
| Social Media | Instagram |
| Merch | Jersey, Trading Cards, Autograph, Rookie Card |
| Last Update | March, 2023 |
Where is Roman Josi? Early Life, Family, and Education
The captain of the Nashville Predators, Roman Josi, was born in the city of Bern, Switzerland.
Despite being part of the American National Hockey League (NHL), Josi is Swiss by nationality. Also, his ethnicity is white.
As for his family, Roman was raised by his father, Peter Josi, and mother, Doris Josi. Aside from his parents, Josi also has a brother named Yannick Josi.
Any further information on them is unknown for now.
Likewise, there is no information regarding his education as well. Hence, we have no idea from where and what degree Josi acquired.
How old is Roman Josi?- Age and Body Measurements
Known for his stellar performance as the captain and his play on the ice, Roman Josi is just 32 years old at the moment.
The Swiss ice hockey player was born on June 1, 1990, under the sun sign, Gemini. And from what we know, people of this sign are smart, intelligent, and out-going.
Chelsie Kyriss Bio: Age, Career, Boyfriend, Net Worth, IG Wiki >>
Likewise, other than his dedication inside the field, Josi's physical prowess also benefits him on the ice. Josi is 6 feet 1 inch(185 cm) tall and weighs around 91 kgs(201 lbs).
For those unfamiliar, ice hockey is a close contact sport and requires every ounce of skill and strength to stay standing.
Nonetheless, we are sure his years of training have made him prone to the aspects of this game. Not to mention, Josi would not be assigned the captain position otherwise.
Who is Roman Josi married to?- Personal Life and Wife
Being an athlete, no less a captain is a heinous and demanding task. Despite the challenge, Roman has always met the expectations of his team and fans alike.
And when he is not practicing or slaying on ice, the Captain is busy spending time with his girlfriend.
Yes, Roman is in a relationship and has been dating his girlfriend, Ellie Ottaway, for a long time. However, the two have not revealed the time and place they met for the first time.
Nonetheless, this has not stopped Roman from posting a couple of pictures on his Instagram. So just who is his girlfriend, Ellie?
For those who don't know, Ellie is an aspiring model who is currently signed to Wilhelmina Models and also serves for The Block Agency in Tennessee.
She graduated from Belmont University back in 2014 with a bachelor's degree in Music Business.
But looking at them and how happy they are with each other, it is only a matter of time before Josi makes Ellie his wife.
Just when we thought such, Ellie and Roman did tie their knot on July 20, 2019. As expected, they had a gorgeous ceremony where Ellie looked stunning in her white gown, and Roman dashed the aisle in his classic black tuxedo.
After two years of marriage, the couple welcomed their first child, a son, on February 2, 2021. The couple named their son Luca James Josi.
Roman Josi- Early Career
Currently, the captain of the Nashville Predators, Josi, did not start from the top. Like all the other athletes, he too began playing ice hockey from a young age.
Though there is no information on his start, Roman started his professional play from the SC Bern in 2006.
Because of his impressive skills and stamina, the Nashville Predators picked the young Josi in the second round, 38th overall, in the 2008 NHL Entry Draft.
His selection did not come as a surprise, as Roman was considered one of the top Swiss prospects in the draft.
Nilmarie Huertas Bio: Age, Career, Boyfriend, Insta Wiki >>
Thanks to that, Roman became a full-time member of Bern during the 2007-08 season. Before this, he spent the last two seasons with the club's NLB team.
Moreover, after his impressive play, Josi won a National League A championship back in 2010.
Roman Josi in Nashville Predators
Following the 2010-11 season, Roman joined the Predators' organization, where he spent the entire year with the Milwaukee Admirals of the American Hockey League.
Now part of the Admirals, Josi scored his first NHL goal against Dan Ellis of the Anaheim Ducks.
Likewise, Josi commenced the next season with the youth team, SC Bern, following the NHL lockout. During that time, he played alongside NHL stars John Tavares and Mark Streit.
After the lockout was resolved, Roman returned to the Predators and right after scored a career-high four points in an overtime home win against the Dallas Stars.
During the 2014-15 season, Josi had a career-high where he ranked fifth among defensemen in scoring and finishing with a then-career-high 55 points.
By the end of the season, the Swiss played completed in the top five for the Norris Trophy vote.
Moreover, in the next season, Josi was appointed as the alternate captain along with James Neal.
Also, Roman's defensive skills played a vital role in the Predators 2017 Stanley Cup playoffs run. Even after numerous injuries, Roman ended the season with 12 goals and 49 points.
Also, Josi was named the seventh captain of the Predators on September 19, 2017.
Similarly, on October 29, 2019, Roman signed an eight-year contract extension worth $72.472 million with the Predators. Since being appointed as the captain, Roman has been active in the community.
Besides playing on the ice, he made a partnership with the Best Buddies program in Nashville, where he gave tickers to each game for local kids with special needs.
Furthermore, Roman himself attends the Best Buddies prom and gala in Nashville with these kids.
In 2020, the 32-year-old Josi won the James Norris Memorial Trophy, becoming the first Predators player and the first Swiss to win the award.
Roman Josi's International Play
Following his success in the NHL, Josi became a part of the Swiss national team at the 2010 Winter Olympics.
Before this, he represented the national team in the 2007 and 2008 IIHF World U18 Championships. Added to that, Josi also played at the 2007, 2007, and 2009 IIHF World U20 Championship.
Not to forget, Roman also played for Switzerland at the 2009 Ice Hockey World Championship. At the 2013 IIHF World Championship in Stockholm, Sweden, Josi won the MVP award.
After all that, Roman made his return for the national team at the 2016 World Cup when he was selected to play for Team Europe.
At the 2018 IIHF World Championship held in Denmark, Roman won the second silver medal after falling to Sweden in the shootout.
You can view the advanced stats of Roman from here.
How much does Roman Josi make?- Net Worth-and Income Estimation
Known for his agility and speed, the captain of Nashville Predators, Roman Josi, has accumulated a net worth of $24 million as of 2023.
Also, at the moment, Josi is under a seven-year contract with the team, worth $28 million.
From his involvement with the Predators, Roman makes a base salary of $5,250,000 and a cap hit of $4 million in the 2018-19 season.
Moreover, Josi also creates an additional amount from his endorsements and brand deals.
Dak Prescott's Girlfriend Natalie Buffett Bio: Career, Net worth, IG Wiki >>
As a matter of fact, Roman owns a house in Forest Hills, which is worth $2.37 million along with other properties.
However, Roman has yet to reveal his total income and assets for public knowledge.
Net Worth of Roman Josi in Different Currencies
Let's have a look into Roman Josi's net worth in different currencies, including the cryptocurrency BitCoin.
Currency
Net Worth
Euro
€

20,346,914

Pound Sterling
£

17,435,527

Australian Dollar
A$

32,822,760

Canadian Dollar
C$

30,297,240

Indian Rupee
₹

1,763,923,200

BitCoin

฿495
Social Media Presence
Instagram– 125k Followers
Some FAQs
What Happened to Roman?
Roman suffered from an upper-body injury in a game on March 2021. Josi twisted as he fell, and his face impacted the ice.
How Many Kids does Roman Have?
Roman is blessed with a son's named Luca James Josi.
Is Josi Retired?
No, Josi is not retired and is currently playing for various teams.