Leati Joseph "Joe" Anoa'i, popular as Roman Reigns, is an American professional wrestler, actor, and former professional football player.
He is perhaps the most significant name in the world of Wrestling. In a short period, he has gained the love and joy of millions of people worldwide.
Moreover, his WWE success is outstanding, like John Cena and Broke Lesner, due to his passion and dedication to work.
The ex-Canadian football player has won not only the WWE championship but also cancer. And now he is healthy and doing great in his wrestling career.
It shows that he is quite a positive person and inspires many of us to stay positive and live a happy and successful life. This is another reason why people love him a lot.
Moreover, most of his fans worldwide only know him as a professional wrestler, but he has been a professional football player in his earlier life. It means he has also lived the life of a professional NFL footballer.
If nothing, the wrestler is well known for his stylish haircuts. To know many more facts about his career and personal life, stay up to the end with this article.
Besides, you will undoubtedly be inspired by the achievements he has received in several fields. Now let's have a look at the quick facts about Roman Reigns.
Quick Facts:
Real/Full Name
Leati Joseph "Joe" Anoa'i
Ring Names
Roman Reigns
Nick Name
First Class, The Guy, Joe, The Big Dog, The Powerhouse, The thoroughbred, The enforcer/muscle of the shield
Date of Birth
May 25, 1985
Residence
Tampa, Florida, US
Place of Birth
Pensacola, Florida
Nationality
American, Samoan
Age
37 Years Old
Height
191cm ( 6 ft 3 in)
Weight
130kg (280 lbs)
Eye Color
Brown
Hair Color
Black
Zodiac Sign
Gemini
Occupation
Professional Wrestler (Debut in 2010)
Wrestling Career
2010–present
Net worth
$12 million
Salary
$5 million
Father's Name
Sika Anoa'i
Mother's Name
Patricia Anoa'i
Siblings
Vanessa Anoa'I
Myritza Anoa'i
Summer Anoa'i
Matthew Anoa'I (aka Rosey died in 2017)
Marital Status
Married
Married Year
2014
Wife Name
Galina Becker
Children
5 (one daughter and twin sons, twins)
Children's name
Joelle Anoa'i
School
Pensacola Catholic High School
College/University
Georgia Institute of Technology, Atlanta, Georgia
Education Level
Majored in Management
Religion
Roman Catholic (Christianity)
Ethnicity/Race
Samoan, Italian
Food Habit
Non-Vegetarian
Body measurements
Chest: 52 inches
Waist:36 inches
Biceps: 20 inches
Social media
Instagram, Twitter
Car Collection
Lamborghini Huracan and a stunning Corvette Z06.
Merch
Action figure, Costumes, WWE Elite, Glove, Fanfiction
Last Update
September, 2022
Roman Reigns Bio | Early Life, Family, and Education
Leati Joseph "Joe" Anoa'i, shortly Roman Reign, the world-famous WWE superstar, was born in Pensacola, Florida, to parents Sika Anoa'i (father) and Patricia Anoa'i (mother).
His dad, Sika Anoa'i, and his uncle, Afa Anoa'i, are the former WWE Tag Team Champions known as "Wild Samoans." And they had won 21 Championships in the pro-wrestling circuit in their career.
Besides his parents, Roman has three sisters named Vanessa Anoa'i, Myritza Anoa'i, and Summer Anoa'i, and a brother Matthew Anoa'i.
Moreover, Matthew Anoa'i was also a pro wrestler. Under Rosey's ring name, he and the Hurricane captured the WWE Tag team championship.
Rosey's wrestling career ended due to heart failure with his untimely death in 2017.
As for his education, Roman attended Pensacola Catholic High, and later, he switched to Escambia High School.
After that, he joined the Georgia Institute of Technology college and achieved a degree in management.
How old is Roman Reigns? Age, Height, and Body measurements
Having born on May 25, 1985, makes Roman age 35 years old at the moment. Not to mention, Reigns' birthday falls under the star sign of Gemini.
And from what we know, his personality is supposed to be enthusiastic, energetic, and stubborn. Moving on, Roman stands at the height of 6 feet 3 inches (191 cm) and weighs 130kg (280 lbs).
Added to that, Reign's also has a robust body, measuring 52 inches of the chest, 36 inches of waist, and 20 inches of biceps.
Moreover, he does intense workouts and follows strict diet plans to remain in shape and maintain his body.
Likewise, Roman eats healthy food most of the time, containing high protein, carbs, vitamins, and minerals. He mostly likes to eat meat, chicken, and steak as a part of his meals.
Other than that, Reigns has got a pair of Brown-colored eyes and long black hair. Not to mention, most of the time, he wears contact lenses to make his eyes look blue.
Roman Reigns | Football Career
Roman began his career as a college footballer and played at the 'Canadian Football League' (CFL). He played soccer for three years at Pensacola Catholic High School and one year at Escambia High School.
In his final year, the Pensacola News Journal had elected him as defensive Player of the year. Moreover, he was also selected to the first All-Atlantic Coast Conference (ACC) team in 2006.
There he won the All-ACC First-Team Awards with 40 tackles, two fumbles, and 4.5 sacks. In 2007 he was drafted and signed by Minnesota Vikings in NFL.
Similarly, in 2008, he was selected by the Edmonton Eskimos of the Canadian Football League (CFL), where he played for one season wearing jersey number 99. And on November 10, 2008, he retired from his football career.
Roman Reigns | WWE Career
WWE Championships
After taking retirement from the football career, he is contractually bound to WWE, in which he performs at the SmackDown brand with the ring name Roman Reigns.
In 2010, he signed a contract with 'WWE' and was part of the 'Developmental Territory Florida Championship Wrestling (FCW).
He made his debut FCW on August 19, 2010, in a 15-man royal rumble with Alex Riley and was the winner.
WWE renamed FCW to NXT in August 2012, and Roman, with the new ring identity of Roman Reigns, started his career on the October 31 episode of NXT by beating CJ Parker.
In November 2012, he made his main squad debut, including Dean Ambrose and Seth Rollins as "The Shield". Reigns, as a team member of The Shield, won many matches.
In WrestleMania 32, he had a match with Triple h and won the WWE world heavyweight champion title for the third time, becoming more popular in Wrestling.
Later, he also became the United States Champion on September 25, 2016, by defeating Rusev in a clash of champions' paper view.
Furthermore, on November 20, 2017, in Monday Night Raw, he took the intercontinental championship from the MIZ.
In this way, Roman also became the WWE grand slam champion. Not to mention, the biggest win of Roman was in WrestleMania 33, where he defeated WWE's legend, The Under Taker.
In 2018, he also won the universal championship by defeating the Broke Lesner in the summer slam.
Roman Reign | WWE Departure & Battle with Cancer
It is a universal truth that everything in the globe is changeable except time. Similarly, Roman's life also turned on October 22, 2018.
Roman revealed that he would temporarily be out of the ring as his cancer had risen. His announcement shock waves throughout the sports and entertainment world.
Previously, Roman was diagnosed with blood cancer in 2008 at the age of 22 during the Minnesota Viking's physical examination process.
That time, he quickly went into remission, but he has been fighting the disease since then.
Moreover, Roman was again diagnosed with chronic myeloid leukemia (CML), which is a slowly progressing disease that is typically caught doing routine bloodwork.
After numerous treatments, Roman made his WWE return after a 5-month absence on February 25, 2019, where he revealed that his leukemia is recovering once again.
Return to WWE
In February 2019, Reigns returned to the ring of WWE and announced the remission of his disease.
A few weeks later, his squat team The Shield had a match against Lesley, Cubin, and McIntyre, which ended, favoring Shield's victory.
Check out some Awards & Achievements of Roman Reigns:
In 2014, he was awarded the 'Slammy Award' for 'Superstar of the Year.'
On September 25, 2016, he defeated Rusev in the 'Clash of Champions.
Reigns beat The Miz in 2017 and claimed his first Intercontinental Championship. He beat Brock Lesnar the following year and won his early career 'Universal Championship.'
How much is Roman Reigns worth? Salary and Net Worth 2021
Roman has achieved a lot during his comparatively brief career, and his popularity is just increasing with time.
Likewise, his pay is seen increasing as WWE is continuously making efforts to promote him as the company's face. Moreover, Roman is one of the highest-paid wrestlers in WWE.
According to reports, the WWE superstar has a net worth of $15 million as of 2021. Likewise, he receives an annual salary of $5 million and above.
However, this is not his only source of income, as Roman also acts in movies and has cash-rich endorsements. He is one of the richest WWE Superstars in the current times.
Not to mention, Roman owns a Lamborghini Hurricane, Range Rover, Toyota Frontrunner, Mercedes Benz SUV, and many more other cars.
Roman Reigns |Tattoo
Roman Reigns has a Polynesian-inspired tattoo crafted by the prominent tattoo specialist 'Samoan Mike' Michael Fatutoa. His Tattoo, which took almost 17 hours to create, is a sign of the Anoa'i family.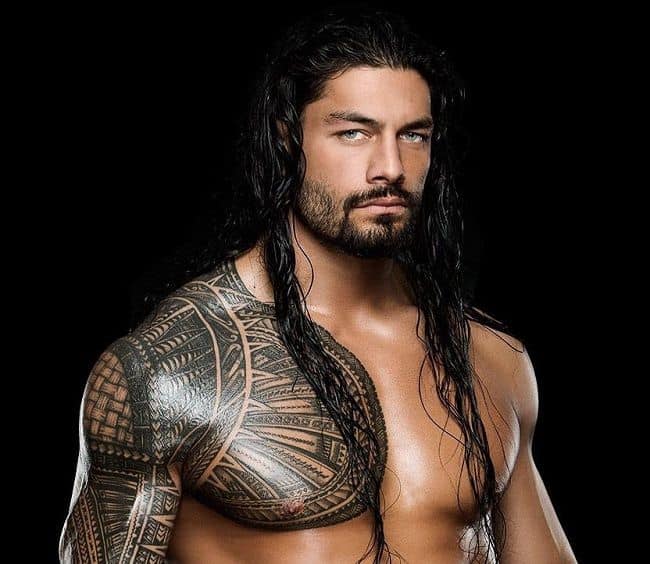 According to Roman, his Tattoo stands for courage, fairness, justice, and true sportsmanship. Moreover, he also has a tiny tattoo of a turtle on his inner wrist, which is devoted to his daughter Joelle.
In the Samoan culture, the turtle means love, well-being, harmony, and longevity. The tattoo of Reigns covers his entire right arm and his right side.
Roman Reigns | Acting Career
Roman has also acted in TV shows and movies. He has performed on TV shows like Conan, Total Divas, and Good Morning America.
Hence, most people also know him as a television actor. Many WWE superstars have also involved in the film industry as an actor and actress.
Likewise, Roman also has shown a tendency to be attached to Hollywood, just like other WWE stars, The Rock, Miz, John Cena, etc.
Moreover, Roman greatest entertainment movie was Fast & Furious Presents: Hobbs & Shaw (2019), where he played Mateo Hobbs. This movie was probably the most noteworthy appearance of Roman in a film.
Who is Roman Reigns' wife? Personal life & wife
Roman Reigns is happily married to his wife, Galina Becker. Galina is an American fitness model who is famous for her beauty and photogenic poses.
Roman and Galina first met at the Georgia Institute of Technology. Both of them were studying management when they met at the institution. They started dating each other since then.
After graduating and knowing each other for many years, they decided to make it forever and got engaged in 2012. Likewise, after two years of their engagement, they got married in 2014.
Their wedding was held on a private island in the Bahamas. Moreover, the couple is blessed with three children.
Roman and Galina welcomed their first child, a beautiful daughter Joelle Anoa'i on December 14, 2008. After that, the couple welcomed the twin's son in 2016.
Interestingly in 2020, in an interview with Muscle & Fitness, Roman mentioned in passing almost as though by accident that they were expecting their second set of twins.
The proud parents are very secretive when it comes to their kids. They rarely share information about their kids.
Social Media Presence:
Roman believes that his well-wishers are everything for him and loves all of them who support him. Therefore, he is active on Twitter and Instagram and has gained a massive number of followers.
Twitter: 4.5 million followers
Instagram: 5.6 million followers
Some FAQs:
Are Roman Reigns and The Rock cousins?
Dwayne Johnson, aka "The Rock," and Roman Reigns are both non-biological cousins.
Is Roman Reigns a relative of Nia Jacks?
Roman Reigns has no blood connection with Nia Jax, but they are linked from the grandparent.
Are Tama Tonga and Roman Reigns related?
Tama Tonga and Roman Reigns are not related. Tonga is the adopted son of Haku (Tonga Fifita), who happens to be a family friend of the Anoaʻi family to which Roman belongs to.
Are Jey Uso and Roman Reigns related in real life?
Yes, Jey Uso and Roman Reigns are cousins. Jey Uso or "The Usos" are members of the renowned Anoaʻi family of Samoan wrestlers, including their father Rikishi, uncle Umaga, and their father's cousins Yokozuna and Roman Reigns.
What's the name of Roman Reigns' new theme song?
The wrestler's new theme song is called Head Of The Table.
Is Roman Reigns With Paul Heyman?
Yes, Roman Reigns is aligned with Paul Heyman. Reigns joined forces with Heyman a few days after making his WWE return.
Is Roman Reigns the father of Sasha Bank's child?
Some sources claimed that Roman Reigns is the father of Sasha Bank's child. Check out this video to find more information on it.
Why had Roman Reigns left the WWE?
Roman Reigns had left WWE for the treatment and cure of his cancer.
Which belt does Roman Reigns have currently?
Roman Reigns has the WWE Universal Championship belt as of writing.
What does the Roman Reigns iconic logo or symbol mean?
Roman reign's iconic logo consists of two R, which stands for Roman Reigns. Likewise, it consists spike in the middle, which is a stake memento of Roman's victory over The Undertaker at WrestleMania.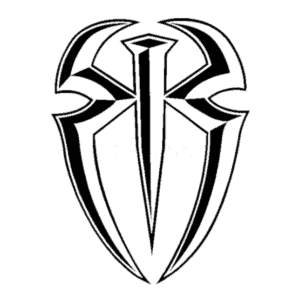 Moreover, the logo forms a sort of diamond shape that resembles a shield when looked at from a distance. Reigns use his logo as a trademark for his merchandise sales.
What was the move that Roman Reigns wasn't allowed to use previously?
Roman Reigns mentioned that he wasn't allowed to use a Guillotine choke move.
Do roman reigns have blue eyes?
Roman Reigns naturally has brown-colored eyes, but as part of his WWE persona, Reigns wears contact lenses to make his eyes look as though they are blue.
Is Roman cured of cancer?
Roman has reported that his leukemia is in remission. Hence, he returned to WWE.
What is the Roman Reigns theme song?
Roman Reigns' theme song is The Truth Reigns (Entrance Theme).
What haircut does Roman Reigns have?
Roman haircut and style change regularly. However, the WWE star is famous for his long hair and French beard style.
Why do Roman Reigns wear a Gold Glove?
Roman Reigns wears a gold glove because he believes that it has a great significance in his life.