Ryan Nece, originally Ryan Clint Nece, is a former American football linebacker and the son of four times Super Bowl champion former cornerback and safety Ronnie Lott.
Following his father's footsteps, Ryan pursued football professionally but was left undrafted in the NFL Draft.
However, lucky for him, the Tampa Bay Buccaneers of the NFL signed him as an undrafted free agent in 2002 and gave him a chance to advance his career.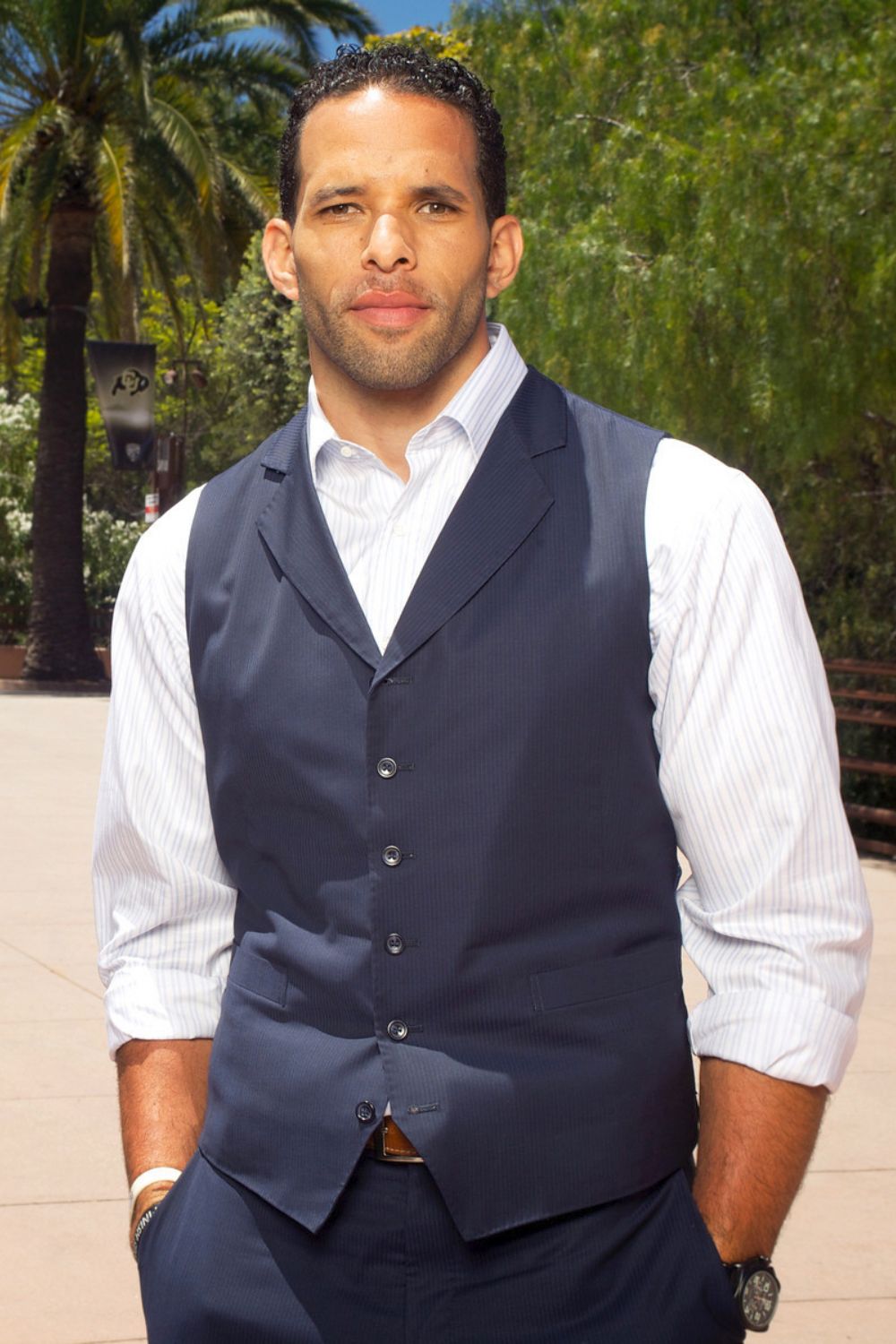 Interestingly, he won Super Bowl XXXVII in his first year with the Buccaneers, which made Nece and his father Lott the second father-and-son duo to both win a Super Bowl joining Bob and Brian Girese.
Even though his career in football abruptly ended in 2008, he has done quite well for himself in life with broadcasting jobs and business pursuits.
On October 13, 2022, Forbes reported that his Redwood City, California-based firm Next Play Capital, a minority-owned investment platform, had raised $200 million for its third fund.
For more details like this, please read the whole thing and also check out the facts table below.
Ronnie Lott Son | Quick Facts
Birth Name
Ryan Clint Nece
Known As
Ryan Nece
Date of Birth
February 24, 1979
Birthplace
San Bernardino, California, United States
Current Residence
Tampa, Florida, United States
Religion
Christian
Sexual Orientation
Straight
Father Name
Ronnie Lott
Mother Name
Cathy Thomas
Gender
Male
Age
44 Years Old
Profession
Former Professional Football Linebacker
Famous For
Former NFL Player, Son of Former NFL Safety Ronnie Lott, and Husband of Willa Ford
Nationality
American
Education
Pacific High School, University of California Los Angeles
Height
6 ft. 3 in/1.91 m/191 cm
Weight
224 lb./102 kg
Eye Color
Black
Hair Color
Brown
Build
Large
Marital Status
Married
Spouse
Willa Ford
Children
One Child (Elijah)
Siblings
Hailey Lott, Isaiah Lott, Chloe Lott
Zodiac Sign
Pisces
Played For
Tampa Bay Buccaneers (2002-2007), Detroit Lions (2008)
Position
Linebacker
NFL Stats
Tackles: 304

Sacks: 5.0

Passes Defended: 10

Interceptions: 3

NFL Draft
Undrafted
Roster Status
Retired
Career Highlights
Super Bowl champion (XXXVII)
Jersey Number
56, 55
Net Worth
$10 Million
Social Media
Instagram
Merch
Ronnie Lott Jersey
Last Update
November 2023
Ronnie Lott Son | Early Life & Education
Ryan Nece was born in a well-off family in San Bernardino, California, United States, on February 24, 1979.
His father, Ronnie Lott, played in the National Football League for 14 seasons during the 1980s and 1990s.
He was raised by his father, Ronnie, and his mother, Cathy Lott, in a posh household.
Nece's parents chose to give him his mother's maiden name hoping one day their son would create his own identity and would avoid expectations as the son of football star Ronnie Lott.
Well, it seems like their prayer has been answered, as Ryan has created his own identity inside the football world and the business world, to say the least.
Talking about his education, Ryan attended Pacific High School in San Bernardino, California, and played football for the Pacific Pirates.
After high school, he went to the University of California Los Angeles and played for the UCLA Bruins. He was a four-year starter for the Bruins and finished his collegiate football with 281 career tackles and ten sacks.
Ryan started out his redshirt year as a safety and later converted to linebacker.
You Might Want To Read About Justin Jefferson's Father: John Earl Jefferson's Bio, Children & Facts>>
Ronnie Lott Son | Age & Body Measurements
Ronnie Lott's son Ryan Nece was born in 1979, which makes him 44 as of 2023. And as a February 24 born, he falls under the sun sign Pisces.
Nece stands 1.91 meters tall and weighs around 224 lbs.
Ronnie Lott Son | Career
Ryan had an outstanding college football career. He was a Butkus Award semifinalist at UCLA in his senior year.
After graduating from UCLA, he was signed by the Tampa Bay Buccaneers of the National Football League as an undrafted free agent in 2002.
Unfortunately, a tragedy struck as he tore his ACL in his rookie year. Consequently, he had to spend the entire season in a special team.
The following season saw Nece's improvement. He moved into the starting spot and completed the season with one interception and seven tackles.
He also was a member of the Super Bowl-winning squad that defeated the Raiders by 48–21.
Nevertheless, Buccaneers released Nece during final cuts on August 30, 2008.
The very next day, Detroit Lions signed Nece. After almost a year with the team, he was released in the 2009 off-season.
After that, Ryan did not sign with any team and focused more on broadcasting.
A Short Bio On Ronnie Lott
One of the most known names in American football, Ronnie Lott is a Pro Football Hall of Famer and four times Super Bowl champion.
Considered to be one of the best players in NFL history, Lott was named All-Pro eight times, All-NFC six times, and All-AFC once.
He played safety and cornerback in the NFL for teams such as the San Francisco 49ers, Los Angeles Raiders, New York Jets, and Kansas City Chiefs.
In 1981, he tied his record for the most interceptions and returned for a touchdown in a season by a rookie (3) with Janoris Jenkins and Lem Barney.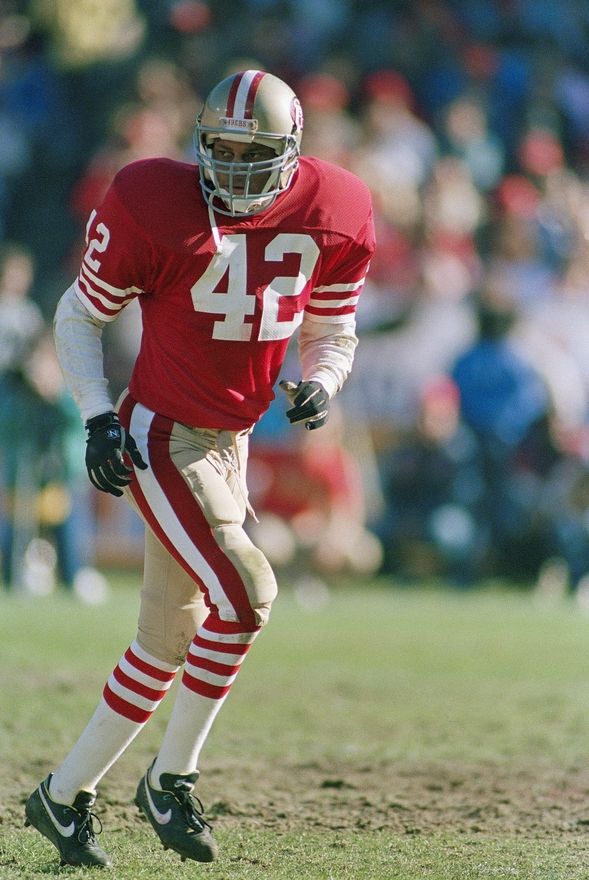 The University of Southern California (USC) alumnus Lott was drafted by the San Francisco 49ers in the first round of the 1981 NFL Draft.
Interestingly, he won all four of the Super Bowls: XVI (1981 season), XIX (1984), XXIII (1988), and XXIV (1989) with the 49ers.
After the 49ers, Lott signed with the Los Angeles Raiders as a free agent in 1991 and with the New York Jets in 1993.
He played for the Jets for two seasons before injuries ended his career in 1995, after which he pursued a broadcasting career.
Besides broadcasting, he also managed his entrepreneurial endeavors side by side.
Also Read About Clay Matthews Father: Clay Matthews Jr. Career & Net Worth
Ronnie Lott Son | Wife & Children
Ryan Nece is married to Amanda Lee Williford, better known by her stage name Willa Ford.
Willa is an American singer, dancer, model, film actress, and TV personality.
She was formerly married to hockey player Mike Madano. However, they announced their separation in August 2012.
After three years, Willa tied the knot with Ryan Nece in April 2015. The following year in March, the couple announced they were expecting their first child.
And shortly after, they welcomed a baby boy Elijah.
Ronnie Lott Son | Business & Other Pursuits
Business
In 2014, Ryan started a minority-owned investment platform, Next Play Capital, to help guide the investments of tech-impaired people.
He came up with the idea after watching his fellow athletes throw money into bad tech investments.
And exactly after a decade, co-founder Ryan announced in October 2022 that the Redwood City-based firm had raised $200 million for its third fund.
This was more than double the size of the firm's $80 million Fund II which was announced in 2017.
The firm's average initial venture capital fund was around $5 million, and it has begun to see returns on its early investments.
About $300 million of its $425 million in assets under management come from the VC fund side.
Other Pursuits
Aside from being a venture capitalist and former athlete Ryan is also a published author. He co-authored a booklet titled Go Pro Like a Pro along with Marc Isenberg.
It was created in 2011 for athletes, their parents, and others who influence, advise, and work on athletes' behalf.
Moreover, Ryan has been involved in several non-profit organizations throughout the Tampa Bay area in Florida.
Despite his busy schedule, he carves time out to help those in need.
Ryan is on the board of Tampa's Lowry Park Zoo and Tampa Bay Sports Authority.
He established an eponymously named foundation funding programs for youths and families.
Also Read About Aaron Boone's Father: Bob Boone's Career, Net Worth & Personal Life
Ronnie Lott Son | Net Worth
Ryan Nece played in the NFL for eight seasons, and we presume he bagged a handsome amount from the sport.
Nece has not revealed his actual net worth but based on his current business pursuits; it is safe to say that he is worth at least $10 million or even more.
Similarly, according to Celebrity Net Worth, his wife Willa is worth $1 million as of November 2023.
The same source claim that his father, Ronnie, is worth $5 million.
In 1988, Lott signed a three-year $2.3 million deal with the 49ers, making him the team's highest-paid defensive player after making just $460,000 the year before.
And even after his career ended after 14 seasons, he never left the money game and started building his business empire, capitalizing on his football fame.
Along with former teammates Joe Montana and Harris Barton, Ronnie was a managing partner and a founder of HRJ Capital.
Similarly, he still owns both Mercedes-Benz and Toyota car dealerships.
Ronnie Lott Son | Social Media
Ryan is active on Instagram and Twitter with sizable followings.
He has over 6k Insta and 4k Twitter followers.
View this post on Instagram
The former NFL linebacker shares his vacation pictures, professional updates, and social work updates with a few family time pictures on both these platforms.
Unknown Facts
Ryan was an honorable mention All-Pac-10 selection at UCLA.
He joined the Pac-12 Network as a sideline reporter and football analyst in 2012.
Ryan's father, Ronnie, was honored as a consensus All-American at the University of Southern California.
Similarly, his father has been inducted into the San Francisco 49ers Hall of Fame, and the team has retired his jersey number 42 out of respect.
Frequently Asked Questions (FAQS)
Did Ronnie Lott amputate his finger?
Yes. Ronnie famously had part of his pinky amputated so that he wouldn't miss a game.
What does Ronnie Lott do now?
Ronnie currently lives with his wife, Karen, and his children, Hailey, Isaiah, and Chloe, in Cupertino, California. He runs several successful businesses and also does investing and consulting work.
What game did Ronnie Lott hurt his finger in?
The former 49ers safety broke his left pinky finger trying to tackle running back Timmy Newsome in a game against the Cowboys in December of 1985.
You Might Want To Read About Peyton Manning's Father: Archie Manning's Bio, Career & Family