The "Big Stiff" Roy Denzil Hibbert is a Jamaican -American former basketball player who last played for the Denver Nuggets of the National Basketball Association (NBA).
Moreover, Hibbert is a two-time NBA All-Star and received NBA All-Defensive Second Team honors in 2014.
Furthermore, the former 7'2″ center named a consensus second-team All-American in 2008. Also, he was runner-up for the NBA Defensive Player of the Year in the 2013-14 NBA season.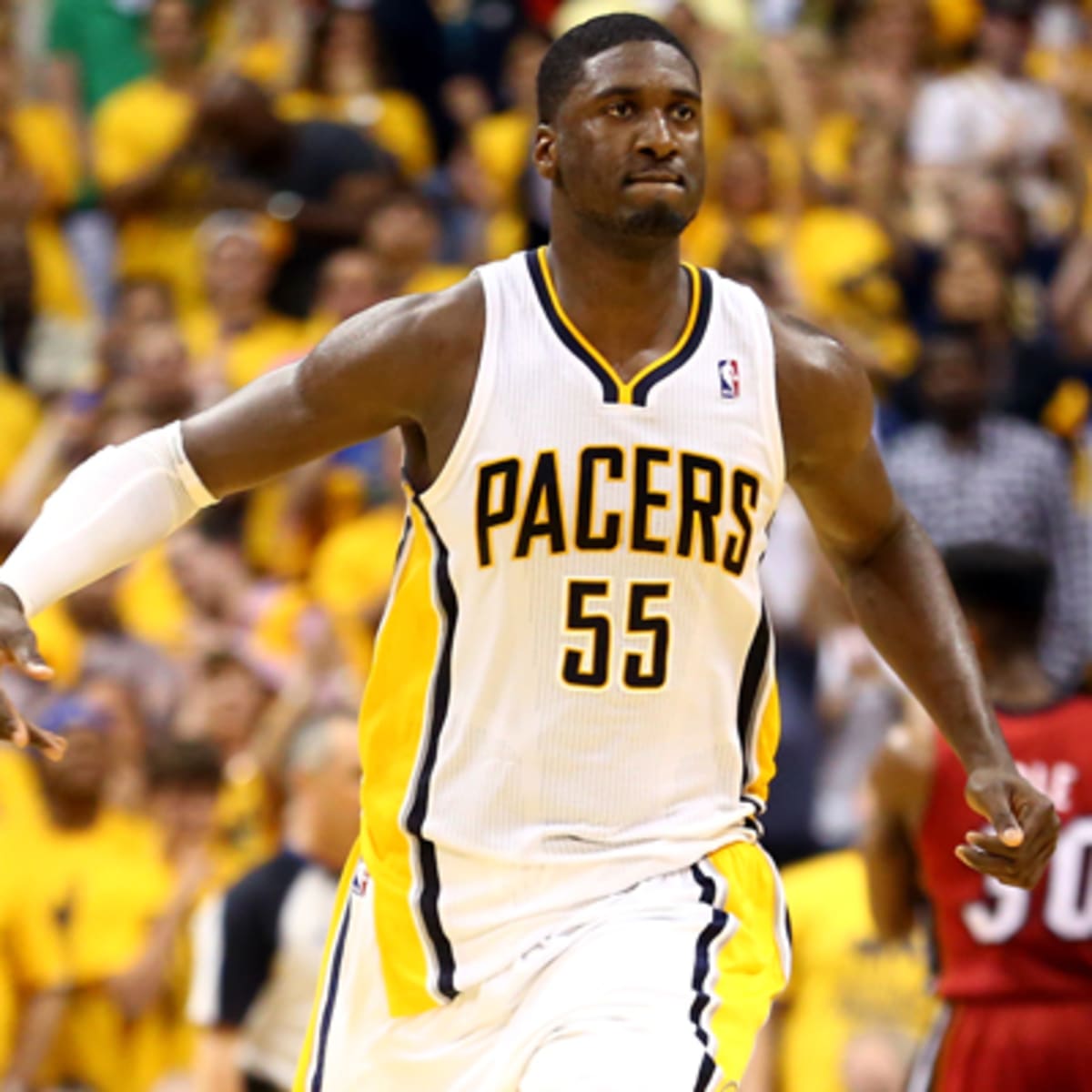 Scroll down for more intriguing details about former professional basketball player Roy Hibbert.
However, before going further, glance at the briefly presented quick facts.
Quick Facts
Full Name
Roy Denzil Hibbert
Birth Date
December 11, 1986
Birth Place
Queens, New York
Nick Name
Big stiff
Religion
Christianity
Nationality
American/Jamaican
Ethnicity
Black
Education

Georgetown Prep, North Bethesda, Maryland
Georgetown

Horoscope
Sagittarius
Father's Name
Roy Sr.
Mother's Name
Pat Hibbert
Siblings
None
Age

36 years old

Height
7 feet 2 inches
Weight
122 Kilograms (270 lb)
Jersey no.
55, 17, 34
Hair Color
Black
Eye Color
Black
Body Type
Athletic
Profession
NBA Player
Professional Career Teams

Indiana Pacers
Los Angeles Lakers
Charlotte Hornets
Denver Nuggets

The draft Year
2008 (Round: 1 / Pick: 17th overall)
Drafted By
Toronto Raptors
Active Years
2008 – 2017
Sexual Orientation
Straight
Marital Status
Married
Wife
Valarie Cooke
Kids
Two
Net Worth
$35 million
Position
Center
Social Media
Twitter, Instagram, Facebook
Merch
Hip Hop Cap
Last Update

March, 2023
Roy Hibbert: Early Life & Family
His full birth name is Roy Denzil Hibbert, popularly known as Roy Hibbert.
Tall and handsome, Hibbert was born on December 11, 1986, in Queens, New York City.
Thus, he is 36 years old.
Moreover, his parents are Roy Sr. and Pat Hibbert. His father, Roy Sr., is initially from Jamaica, whereas his mother is from Trinidad.
Then, the family moved to Adelphi, Maryland, when Hibbert was two years old.
Further, a self-subsistent only child, Hibbert was engaged in several activities like video games, tennis, and piano lessons in his childhood.
At first, his parents acknowledged tennis would be Hibbert's chosen sport, but as he grew up to 7'2″, that changed his career preference to basketball.
Education
Hibbert attended Georgetown Prep High School. After that, he enrolled at Georgetown University, where he was often called by the nickname "Big Stiff."
Roy Hibbert | Basketball Career
College Career
Roy Hibbert was appointed to the All-Big East Second Team in 2006.
Moreover, he earned Big East Player of the honors in 2007. Then, he, along with Jeff Green, oversaw the victory in the 2007 Big East Conference Championship for the first time since 1989 over Pittsburgh Panthers.
Thus, Hibbert contributed with the finest double-double and added 18 points and 11 rebounds for the victory.
Also, Hibbert was named Big East's preseason player of the year and pre-season All-American.
Then, Hibbert had planned to play all four years and graduate from Georgetown yet continue with the tradition of graduating from Hoya centers.
Further, his excellent performance assisted in leading the Hoyas to 2007 Final Four. However, Hibbert didn't sign with an agent despite his eligibility for the 2007 NBA Draft.
Instead, he preferred to return to school for his senior season with Georgetown.
He concluded, "My heart was here. … I feel like I have unfinished business here."
Discover everything about Patrick Christopher Bio: Career, Records, NBA & Net Worth >>
National Team Career
Hibbert played the role of center on the U.S team with colleagues players at the 2007 Pan-American Games in the summer of 2007.
Also, he has dual citizenship in the U.S and Jamaica because of his father. So, he represented the Jamaica national team in 2008.
Moreover, he was the team captain in 2010 and played in the 2010 Centrobasket hosted in the Dominican Republic.
Professional Career
Indiana Pacers
Roy Hibbert was drafted 17th overall pick in the 2008 NBA Draft by the Toronto Raptors. Then, he was traded to Indiana Pacers for Jermaine O'Neal in July 2008.
After that, Hibbert signed his professional career with Indiana Pacers on July 15.
Further, he was elected to the 2012 NBA All-Star Game. He logged 3 points, going 1-3 from the field in 10 minutes of action.
Likewise, he logged nine blocks in Game 1of the first round of the 2012 NBA playoffs over the Orlando Magic.
Career Extension
Roy Hibbert re-signed a four-year, $58 million contract with Indiana Pacers on July 13, 2012.
Then, he set a career-high 11 blocks and block triple-double in a win over the New Orleans Hornets.
Further, those 11 blocks broke the franchise record of maximum blocks in a single game and made him the second player in Indiana Pacers history to record points-rebounds and blocks triple-double.
Likewise, he recorded 24 points and 12 rebounds in an Indiana Pacers victory in game 3of the 2013 Eastern Conference semifinals against the New York Knicks.
Further, he contributed with 25 points and 12 rebounds, and five blocks that led the team to the 2013 Eastern Conference Finals.
Then, he was selected as an All-Star reserve for the East in 2014. He averaged 8 points on 4-5 shooting in 12 minutes of action.
After that, Hibbert went four scoreless postseason games, which set the NBA record for most scoreless postseason games by an All-Star.
Los Angeles Lakers
Roy was traded to the Los Angeles Lakers for the second-round pick in the 2019 NBA Draft on July 9, 2015.
In October 2015, he made his debut for the Los Angeles Lakers averaging 12 points and ten rebounds against the Minnesota Timberwolves.
Moreover, he played in 81 of 82 games with the Lakers. Thus, his (5.9) points per game remain the lowest of his career.
Charlotte Hornets
Hibbert signed with Charlotte Hornets on July 7, 2016.
Then, he recorded 15 points and nine rebounds in his debut season opener game with the Hornets. Thus, that was the finest 107-96 victory against the Milwaukee Bucks.
After that, he had a season-high 16 points on 7-of-8 shooting in a 107-85 victory against the Portland Trail Blazers.
Denver Nuggets
Hibbert was traded to Milwaukee Bucks in exchange for Miles Plumlee on February 2, 2017.
Subsequently, he was again traded to Denver Nuggets without any appearance in any game with Milwaukee Bucks.
Later, Denver Nuggets declared their free-agent exception right on Roy Hibbert during the offseason, and he became an unrestricted free agent.
Therefore, he declared his retirement on July 17, 2018.
Coaching Career
After his retirement in 2018, Hibbert chose a coaching profession.
According to reports, Hibbert was hired by the Philadelphia 76ers as a player development assistant in August 2019.
Cameo
Hibbert came up as a guest star on the three episodes of the comedy television series Parks and Recreation. He played by himself on three of the episodes of the series.
Then, he also made his appearance in an episode of the American surreal sketch comedy Television series The Eric Andre Show.
Awards & Achievements
NBA All-Defensive Second team (2014)

NBA All-Star for two times (2012, 2014)

First-team All-Big East (2007, 2008)

Consensus second-team All-American (2008)
Age, Height & Weight
The former prominent center Roy Hibbert was born on December 11, 1986. So, according to his birth date, Hibbert is 36 years old.
Likewise, he stands at a gigantic 7 feet 2 inches in height, and his body weight is around 270 lb.
Tall and graceful, Robert is physically fit with an athletic physique.
Besides his physical stats, his hair color is black, and his eye color is also black.
Social Media Presence
The former two-time NBA professional player is relatively active on social media sites.
Moreover, he comes up with tweets, retweets, pictures, and day-to-day activities, specifically on Twitter and Instagram.
You can find him on Instagram, Twitter, and Facebook with the name Roy Hibbert itself.
Who is Roy Hibbert's Wife?
Disclosing Hibbert's personal life, he has married his longtime girlfriend, Valarie Cooke.
Further, Cooke resided in Connecticut, United States, and later, she moved to Georgetown Prep in Maryland. She persuaded her degree in Marketing and International Business from the same University.
The couple first met at Georgetown University and had been dating each other since then. In September 2014, their dating life took a beautiful turnover to marriage.
Likewise, she served as a project manager at a small firm and worked at an event management company, Blue Flame, LLC, in Norwalk, Connecticut.
Thus, their matrimony procession had held in Indiana. His teammates Paul George, George Hill, and others congratulate him via Instagram posts.
In addition, the couple got engaged in 2012 and had planned to marry in 2013, but for some reason, the wedding didn't transpire on the same date and was postponed.
Similarly, Hibbert and Cooke are blessed with adorable a son and a daughter.
Cheating scandals
For the fact, some of the basketball players got into the trivial juicy drama off the court. Hibbert and his friend Paul George, a basketball star, slumped into the controversy in 2014.
Hibbert's wife Cooke reportedly had an affair with Paul George in 2014. Thus, the scandalous rumors argued that Paul George slept with Roy Hibbert's wife.
Also, some sources claimed that Hibbert was so preoccupied with the scandal that it affected him during games.
The rumor of cheating scandals nonetheless spread promptly on the internet.
Later, Paul George settled all the chaos to rest and finished it by posting a picture of Hibbert and himself with the caption claimed for ignorance and added #Brothers.
Roy Hibbert: Net Worth
The former proficient basketball player Roy Hibbert has a net worth of $35 million.
Moreover, in 2016-17 with Denver Nuggets, his salary was $5,000,000. Following that, his salary in 2015-16 with Los Angeles Lakers was $15,514,031.
Furthermore, in 2014-15 his earnings with Indiana Pacers was $14,898,938. And his starting income in 2008-09 with Indiana Pacers was $1,465,400.
Find everything out All About NBA Player Alec Burks>>
Frequently Asked Questions (FAQs)
What happened to Roy Hibbert?
Hibbert took retirement after the 2016-17 season with Denver Nuggets, and he became a player development associate with the Philadelphia 76ers.
Did Paul George really sleep with Roy Hibbert's fiancee?
Paul refuses all the claims sleeping with Roy's then-fiancee and now-wife. He shut every rumor with a post on Instagram captioning,
"These rumors have got to stop! Its gettin old now and all you that believe them are ignorant! #Brothers"